LSU vs. Florida: Live Scores, Analysis and Results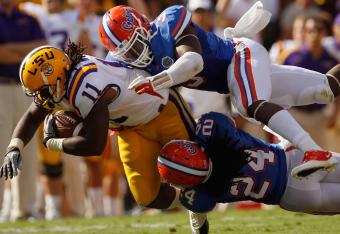 Chris Graythen/Getty Images
FINAL Florida 14 LSU 6
Florida came out in the second half like they have all year, a different team. The Gators entered the half with 46 rushing yards and finished the day with 176 yards on the ground. Florida was able to run the ball effectively and wear down LSU's front seven in the second half.
Florida continued a streak of holding opponents scoreless in the fourth quarter.
LSU will take a big plunge in the polls after looking back two weeks in a row and losing this week to Florida. Depending on what happens to the teams ranked above them, the Gators could move up a few more spots this week.
Check out our post game grades for the win against LSU.
That's going to wrap up our live blog but stay tuned on Bleacher Report for a post game grades and 10 things we learned coming up shortly.
A very big thank you to everyone who followed the game with us today and also to those who sounded off in the comments section. You can continue posting comments and I will respond to as many as I can.
This is a huge win for Florida. It shows that the SEC is not just Alabama, LSU and the rest of the league.
The Gators move to 5-0 (4-0) with a trip to play Vanderbilt a week from today.
LSU drops to 5-1 (1-1) and will host South Carolina next week.
Mike Gillislee just proclaimed on CBS that "the Gators are back, we've been back."
What say you Florida fans?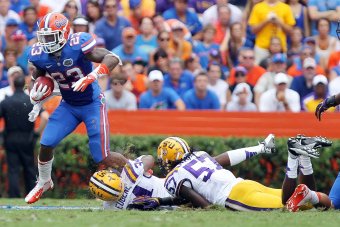 Kim Klement-US PRESSWIRE
Florida ran 60 plays today. 48 of those were rushes.
The Gators had more success on the ground than anyone could have expected against this LSU defense.
Move over Tennessee, Will Muschamp has a new signature win as the head coach of Florida.
LSU completes a pass but fumbles the lateral.
Neiron Ball picks it up and the Gators will set up in victory formation and win this game.
LSU gets a nice return on the punt return but it is negated by a block in the back. LSU will need a miracle to come back and win this game with :09 left on the clock.
20 straight runs and counting for Florida.
Jeff Driskel rolls out and picks up the first down with his feet.
Driskel took a big hit at the end of the play.
LSU is forced to punt on fourth down.
A good punt from Brad Wing will have the Gators beginning their drive inside the 15.
Jeff Driskel has likely thrown his last pass of the game. The Gators will run the ball until they have to punt or the clock hits double zeros.
Florida's defense seems to be content to let LSU hit on short passes over the middle.
LSU goes for it on fourth and three and gets it.
That was LSU's first fourth down conversion of the year.
Gary Danielson said it well. LSU can't hide Mettenberger now.
They will need their quarterback to make plays if they want to have any hope of coming back in this game.
Florida is content on running the ball, draining the clock and playing a field possession game.
Trey Burton takes a wildcat snap on third and 10 and only picks up six.
Kyle Christy has his first poor punt of the day and LSU will start at their own 20.
Florida has run the ball 15 straight plays and there is nothing to suggest we won't get to 16.
No fake.
The punt took a Florida bounce and the Gators will start their drive on the 25.
LSU is just 1-of-11 on third downs today.
Will Muschamp calls a timeout... is Les Miles going to dial up one of his trick plays?
LSU picks up a third and a mile attempt with a screen pass for 20 yards.
Until that play LSU hadn't picked up a first down since their first possession of the game.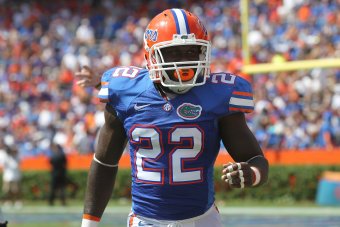 Kim Klement-US PRESSWIRE
Matt Elam is going to make an NFL GM and head coach very happy, very soon.
Fourth Quarter 13:18 Florida 14 LSU 6
Mike Gillislee scores on another touchdown run to the right.
Florida's offensive line has been dominant in the second half.
Florida is out-rushing LSU 113-39 through three quarters.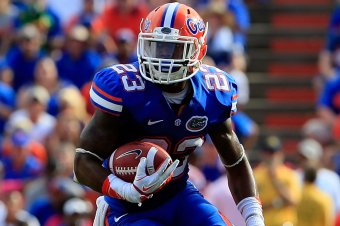 Sam Greenwood/Getty Images
Mike Gillislee is creeping towards 100 yards rushing. That's very impressive against a defense who is averaging only 83 rushing yards allowed a game this season.
This drive is the best that Florida's offensive line has looked all season. They are pushing the LSU defensive line back and LSU's defense appears to be wearing down.
Tracy Wolfson reporting that Minter will be able to return to the game but that Alexander is unlikely to return.
Minter has been having as good of a game for LSU as Matt Elam has been for Florida. His return is very good news for LSU.
Matt Elam has played like a man possessed today. He's tackled Tigers, Gators, told a LSU receiver to go to sleep and now can add a forced fumble to that.
Great game for 22.
This article is
What is the duplicate article?
Why is this article offensive?
Where is this article plagiarized from?
Why is this article poorly edited?