NBA Free Agents 2012: Top Players Still on the Market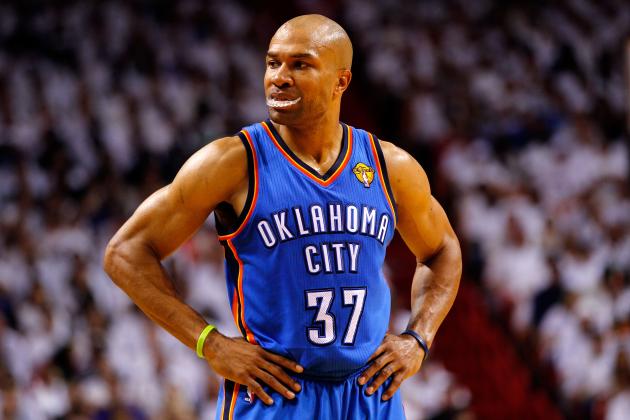 Mike Ehrmann/Getty Images

The 2012 NBA offseason has come to a close as the preseason activities have finally begun. Training camp battles have ensued, exhibition games are soon to transpire and the molding and shaping of rosters is underway.
Not all are excited for this news, however, as a surplus of veterans remain without a team. Some of whom have names that you would never expect to have been left homeless on the NBA's landscape.
For some, stardom is a distant memory and the struggle to stand out is now an equally difficult fight for a spot on a roster. For others, the money and opportunity that they have been offered simply isn't up to par with their personal standards.
Regardless of what the reason is, the following 10 slides will offer insight into the Top 10 NBA free agents that remain on the market.
Begin Slideshow

»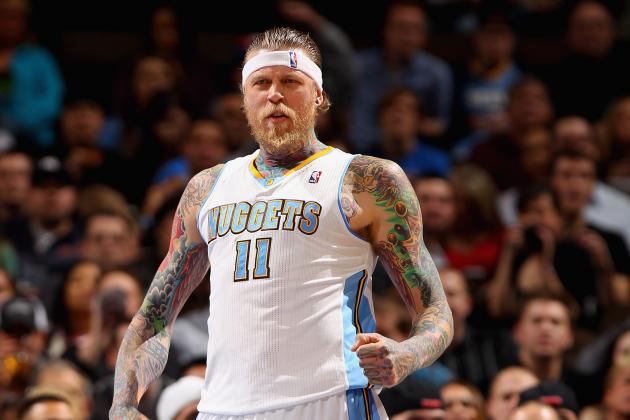 Doug Pensinger/Getty Images

Position: Center
Age: 34
Experience: 10 Seasons
Chris "Birdman" Andersen is one of the league's top interior defenders. He's averaged at least 1.0 blocks in all but one of his 10 years in the league, despite never seeing more than 22.3 minutes per game.
This past season, Andersen proved to be capable of elite play in limited minutes. His stat line of 5.3 points, 4.6 rebounds and 1.4 blocks in just 15.2 minutes per night certainly impress. His Player Efficiency Rating of 18.97 reflects just how great he was.
Unfortunately, Andersen has yet to find himself a new home.
According to Jared Zwerling of ESPN New York, Andersen is open to signing for the veteran's minimum. With that being known, it's difficult to comprehend why an NBA franchise hasn't taken a shot on Birdman. He'd bolster any defensive frontline and has proven to have efficient play left in him.
Unfortunately, Andersen's offseason legal issues may have put too large of an asterisk next to his name. Monitor his status closely but don't be shocked to see one of the true characters of our generation to be out of NBA work.
2011-12 Season Averages
18.97 PER, 5.3 PPG, 4.6 RPG, 1.4 BPG, 54.6% FG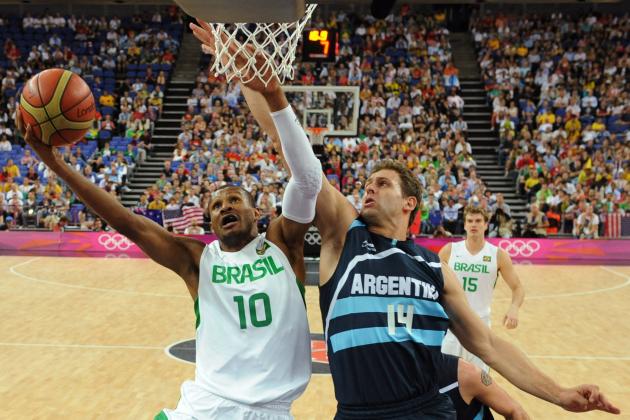 Pool/Getty Images

Position: Shooting Guard
Age: 29
Experience: 9 Years
Leandro Barbosa has been one of the most explosive scorers in the NBA for quite some time. Even as he approaches 30, he's one of the quickest players in the game and remains as lethal as any from beyond the arc.
Unfortunately, nine years of steadily declining production appears to have finally taken its toll. As a volume shooter who fails to reach 20 a night, Barbosa has seen a steep decline in terms of value.
His 2012 postseason averages of just 5.7 points per game on 37.0 percent shooting from the floor and 15.0 percent from distance may have been the final straw.
There was a point in which Barbosa was a hot commodity. He was once a big-time scorer that shot the lights out from all over the floor. Today, however, the Brazilian appears to have lost a step on the younger talent.
At best, he'll be brought on as a replacement role player in the case of injury. Even through his decline in reputation, however, it's shocking to see that he isn't yet on a roster.
2011-12 Season Averages
14.07 PER, 11.1 PPG, 2.0 RPG, 1.5 APG, 0.8 SPG, 38.2% 3PT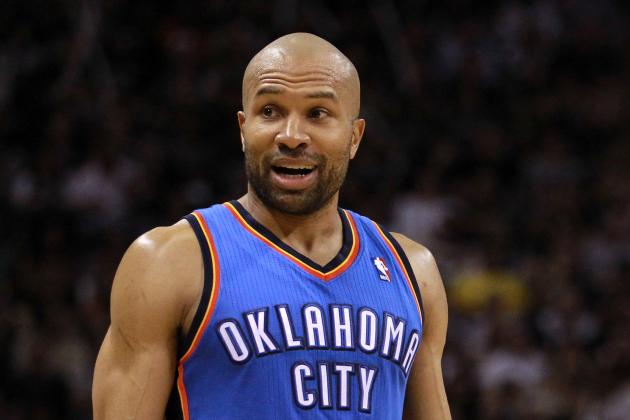 Ronald Martinez/Getty Images

Position: Point Guard
Age: 38
Experience: 16 Seasons
Derek Fisher is a five-time NBA champion and one of the most respected names in the league. Although his production has lacked in recent years, his veteran leadership and championship pedigree have earned him a consistent slot in the Los Angeles Lakers and Oklahoma City Thunder's respective rotations.
As Fisher hits 38 and his abilities continues to decrease, however, it appears as if the veteran's time in the NBA is coming to a close.
Thus far, the buzz surrounding Fisher has been limited. Some have speculated that he would re-sign with the Los Angeles Lakers, but their point guard slot is stacked with Steve Nash, Steve Blake and Chris Duhon. Even with Blake's thumb injury, Fish would struggle to find minutes.
As great as it would be to see him go out on top and win another ring, the opportunity to find the court is limited if present at all. For every great champion is an undisclosed ego and for D-Fish, there's a great chance he won't get the type of deal he's hoping for.
Injuries will strike and opportunities will arise, however, which is exactly why he remains a name to watch. Unless he's the recipient of 15-to-20 minutes a night, however, Fisher may end up calling it a career and retiring.
Where's your money being placed?
2011-12 Season Averages
8.02 PER, 5.6 PPG, 2.7 APG, 1.9 RPG, 37.0% FG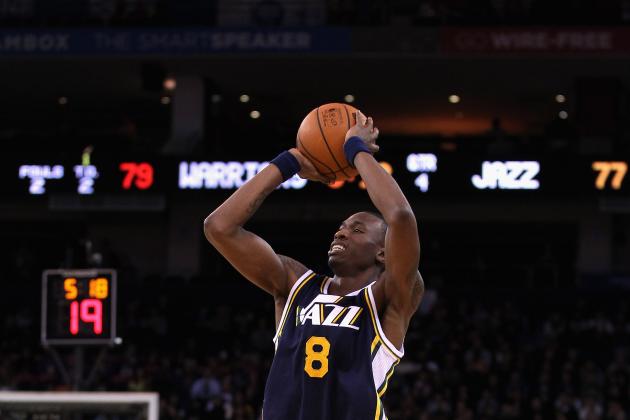 Ezra Shaw/Getty Images

Position: Small Forward
Age: 32
Experience: 9 Seasons
Just three years ago, Josh Howard averaged 18.0 points per game and further established himself as one of the Dallas Mavericks' strongest stars. In 2007, Howard even made the All-Star Game by averaging 18.9 points and 6.8 rebounds.
Since then, Howard has suffered from a series of injuries and spent underwhelming time with both the Washington Wizards and Utah Jazz. As a result, one of the 2000s' best players has become one of this decade's most underachieving.
Fortunately for Howard, all has not been lost. Jared Zwerling of ESPN New York reports that the New York Knicks are currently targeting Howard's services.
Said move would make Howard the Knicks' sixth offseason acquisition over the age of 30. He'd also be a likely candidate to take over the duties of third-string small forward behind star Carmelo Anthony and sharpshooter Steve Novak.
Regardless of what role he plays, simply spending a season with a postseason-caliber roster could help him turn things around. The fundamentals remain in place, and Howard remains a respected name around the league.
The question is, will he receive the opportunity to prove himself?
2011-12 Season Averages
10.55 PER, 8.7 PPG, 3.7 RPG, 1.2 APG, 0.7 SPG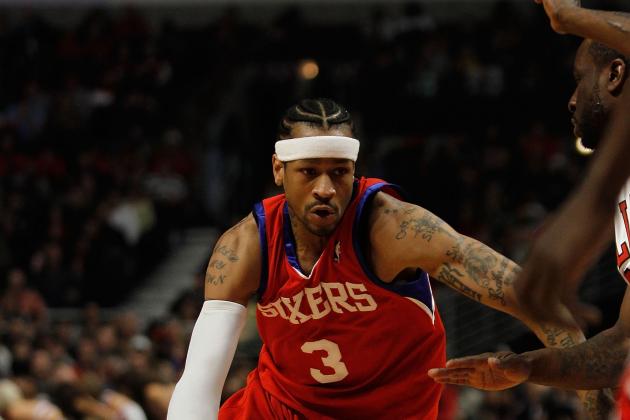 Jonathan Daniel/Getty Images

Position: Guard
Age: 37
Experience: 14 Seasons
In his prime, Allen Iverson was one of the greatest scorers the NBA has ever seen. Despite standing at just 6'0" tall, Iverson dominated in a way that the most with a full foot on him could only dream of achieving.
Over the span of his 14-year career, Iverson won a regular-season MVP award, was an 11-time All-Star, took home four scoring titles and led the league in steals on three separate occasions. For those only familiar with his reputation, I apologize that you were unable to witness true greatness.
Just know that no guard before and no player since has dominated in the way A.I. was able to.
Unfortunately, the final two years of his career saw Iverson hit a steep decline. Due to his off-the-court, family and health issues, his NBA career failed to maintain the legendary pace that he had established for himself.
As a result, it appears unlikely that an NBA franchise will take a chance on him. Iverson will be appearing in China, however, and could continue to build the NBA's brand in their fastest rising international market.
If he's able to do so, a return to the league may not be out of the question.
For those looking for a more in-depth look at Allen Iverson's road to a return, it can be found here.
2009-10 Season Averages
13.46 PER, 29.8 MPG, 13.8 PPG, 4.0 APG, 2.8 RPG, 0.7 SPG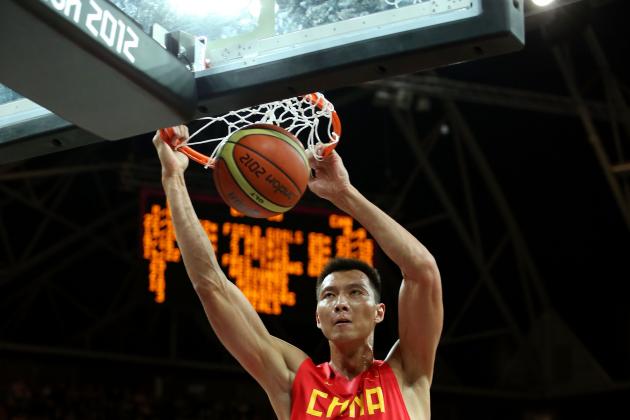 Christian Petersen/Getty Images

Position: Small Forward
Age: 24
Experience: 5 Seasons
If you are shocked to find out that Yi Jianlian is only 24 years old, know that you're not alone. My eyes bulged at that number, as well.
And then I remembered that no one knows how old Yi Jianlian actually is.
It seems as if it were forever ago that Yi entered the NBA with high expectations and full nation behind him. It also seems like a distant memory when Milwaukee, New Jersey and Washington all finally gave up on the former Top 10 draft choice.
The fact of the matter is, it wasn't. Whether Yi is 24 years old or 28, he remains capable of providing valuable minutes. He broke out as one of the London Olympics' best individual performers, dropping 30 points in China's 98-81 loss against Spain.
He finished the competition with an average of 14.8 points per game and brought many to believe that the Chinese star could actually be in store for big things in the NBA. Unfortunately, no NBA franchise has bought the hype just yet.
Yi averaged just 6.8 minutes a game as a member of the Dallas Mavericks during the 2011-12 regular season. That appears to be the final straw, as Jianlian has signed a contract to play in China.
Maybe next year.
2011-12 Season Averages
10.48 PER, 6.8 MPG, 2.6 PPG, 1.6 RPG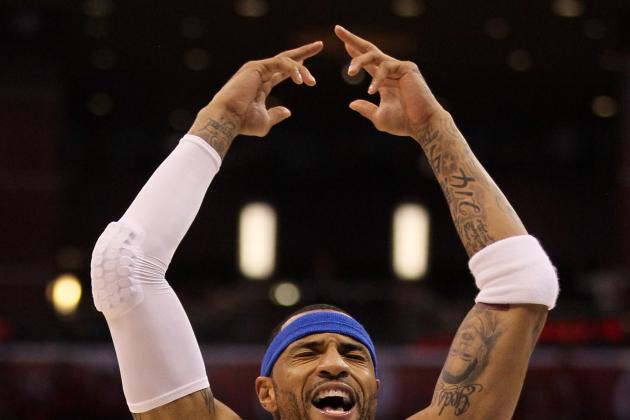 Stephen Dunn/Getty Images

Position: Power Forward
Age: 34
Experience: 12 Seasons
For a 34-year-old with recent history of injuries, signing a one-year contract for the veteran's minimum appears to be the logical course of action. In that time, one could prove themselves worthy of a bigger deal during the following offseason.
Kenyon Martin, however, is not one to compromise. According to Alan Hahn's post on the Sulia network, Martin will not accept the veteran's minimum.
In turn, he may not play in the NBA during the 2012-13 NBA season.
There is reason to believe that Martin deserves more money than he is being offered. Despite seeing just 22.4 minutes per game, Martin was one of just six players to average at least 1.0 blocks and 1.0 steals simultaneously during the 2011-12 regular season.
He finished with averages of 5.2 points, 4.3 rebounds, 1.0 blocks and 1.0 steals per game. This only further enforces his reputation as a consistent defensive impact player.
Martin is one of the few remaining enforcers in the NBA. He's as tough as they come and is an excellent leader in the locker room and on the floor.
Unless he's willing to take the veteran's minimum, however, he may not be leading anything but an NBA-less life.
2011-12 Season Averages
9.94 PER, 22.4 MPG, 5.2 PPG, 4.3 RPG, 1.0 BPG, 1.0 SPG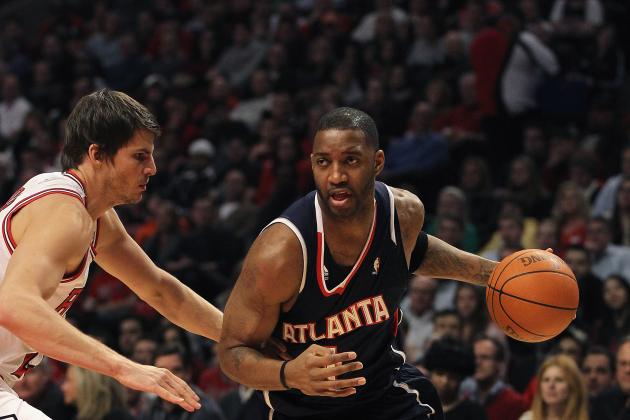 Jonathan Daniel/Getty Images

Position: Small Forward
Age: 33
Experience: 15 Seasons
Tracy McGrady is a seven-time All-Star, two-time scoring champion and won the 2001 NBA Most Improved Player of the Year award. After a long history of injuries has taken the life out of his knees, however, it appears as if the glory days are not the only time that is over.
His time in the NBA may have come to a close, as well.
According to Chris Broussard of ESPN.com, McGrady is considering a move overseas. Although his preference is to sign with an NBA franchise, T-Mac could sign with a team in China if a deal cannot be struck within the league.
With McGrady having worked out for the New York Knicks and San Antonio Spurs, it may be a little too soon to write him off just yet.
Regardless of what he ends up doing, McGrady has built up a Hall of Fame-worthy resume. Although his lack of postseason success could be a hindrance, T-Mac was once the best scorer this league had to offer.
An incredibly impressive feat considering he was competing with the likes of Kobe Bryant and Allen Iverson.
In recent years, McGrady has shown flashes of brilliance. Although he's no longer a threat to light up the scoreboard, he can score in quick bunches while coming off of the bench.
Any team looking for a playmaking spark could consider McGrady before the year is done.
2011-12 Season Averages
13.69 PER, 16.1 MPG, 5.3 PPG, 2.9 RPG, 2.1 APG, 45.5% 3PT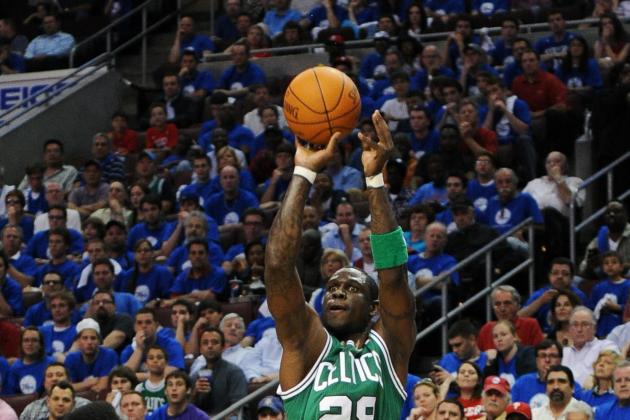 Drew Hallowell/Getty Images

Position: Small Forward
Age: 30
Experience: 9 Seasons
The fact that Mickael Pietrus remains without an NBA contract is rather puzzling. Although his ability to shoot the three-ball is no longer as prevalent as it once was, Pietrus proved during the 2012 postseason that his defensive tenacity remains intact.
Doc Rivers would certainly write him a letter of recommendation, so why is it that the Frenchman can't get signed?
Chris Haynes of CSNNW.com had reported that three anonymous NBA teams had interest in signing Pietrus. That was nearly a full month ago, however, which suggests that the interest has died down from whoever had it previously.
Another option alluded to in the report was the possibility of Pietrus playing overseas. With no NBA contract and training camp underway, it appears as if that will not change in the immediate future.
PIetrus is the type of player who could come in at midseason and contribute for a postseason contender. He remains in respectable physical shape and spent this past summer fully recovering from all lingering injuries.
If he is healthy and working on improving his jump shot, Mickael Pietrus could become a key role player on a championship contender. If he is not, Pietrus could end up overseas after all.
2011-12 Season Averages
8.58 PER, 21.9 MPG, 6.9 PPG, 3.1 RPG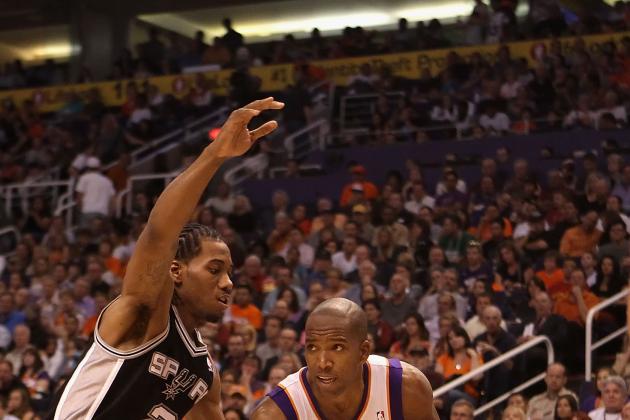 Christian Petersen/Getty Images

Position: Shooting Guard
Age: 33
Experience: 12 Seasons
For the season, Michael Redd's statistics appear far from impressive. They suggest that the former All-Star has failed to recover from his past injuries and that he isn't even a shell of his former sharpshooting self.
The final month of the 2011-12 regular season offers an opposing view on what Redd has left in the tank.
During the month of April, Michael Redd averaged 11.4 points per game on 40.5 percent shooting from beyond the arc. This came in a mere 18.3 minutes per game and included a four-game span in which he averaged 18.3 points per game.
He may not be a star, but the former Milwaukee Buck has rediscovered his shooting form. Considering every team needs a sharpshooter and even more need veteran guidance, there is no reason to pass up on the opportunity to sign Michael Redd.
Not when he's such a low-cost, high-reward type of player.
Much like Kenyon Martin, it appears as if the league isn't holding out on Michael Redd. Instead, it's Redd who is refusing to sign with the teams interested in his services.
The previously interested suitors included the Chicago Bulls, Denver Nuggets, Memphis Grizzlies, Oklahoma City Thunder and Washington Wizards. Has Michael Redd burned his bridges or will he be able to swallow his pride and prove himself worthy of a rotational position?
2011-12 Season Averages
14.00 PER, 15.1 MPG, 8.2 PPG, 1.5 RPG, 31.8% 3PT