Arkansas vs. Auburn: Live Scores, Analysis and Results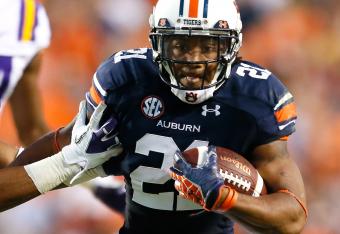 Kevin C. Cox/Getty Images
Final:
Arkansas - 24
Auburn - 7
Arkansas beat Auburn by a score of 24-7 in Jordan-Hare Stadium. Auburn turned the ball over five times and could not do anything offensively against Arkansas.
Auburn falls to 1-4 overall and 0-3 in the SEC. Arkansas improves to 2-4 overall and 1-2 in the SEC.
It's been a lot of fun today. Thank you to both Auburn and Arkansas fans for following along. Let us know your thoughts by dropping a civil comment below.
We'll see you next Saturday!
Looking ahead, Auburn goes to Oxford, MS next week to take on the Ole Miss Rebels. It will be an underdog and rightfully so.
We've had enough of a sample to draw conclusions on this team and simply put, Auburn is just a bad football team this year.
The defense has shown improvement since 2011, no where else on the football team has improved.
The offense is worse in 2012 than it was in 2008. That offensive coordinator lost his job. Does this one? Scot Loeffler did not receive a vote of confidence after the game from his head coach.
Gene Chizik: "You can start with turnovers and sacks. Don't have to go any further than that. The offense has regressed."

— Aaron Brenner (@wareagleextra) October 6, 2012
Yes, there is a great recruiting class coming in. What does that matter when he's had three great recruiting classes and they have not amounted to anything yet?
I'm teetering a little more on the Gene Chizik as Auburn coach opinion. I still think he stays and deserves another year, but that was one of the worst Auburn performances I've ever seen.
With today's performance, there isn't a winnable game left in the SEC. I'm not saying Auburn won't win any games in the SEC, but it has given me nothing to beleive that it will so far this year.
Hindsight is 20-20, but Auburn should have stayed with Kiehl Frazier in the second half. Sure, he made plenty of mistakes (like watching the rush and not getting rid of the ball), but he was having his best day through the air.
Frazier was 9-for-14 with 118 yards through the air. His one interception came late in the half when Auburn was attempting to get some points on the board before halftime.
How does a team coming off of a bye week play so poorly against a team like Arkansas that has been much worse than Auburn at times this year?
This Tigers team isn't in very good company, either.
First time #Auburn falls to 1-4 since 1998. Terry Bowden's last year. Finished 3-8.

— Aaron Brenner (@wareagleextra) October 6, 2012
Peering at those stats, the obvious problem is turnovers. Arkansas came in as last in the nation in turnover margin. Auburn lost that battle today.
40 yards rushing will not get the job done, as we saw today. I still do not understand why Auburn doesn't use Jay Prosch more than it does.
Auburn is getting in long down-and-distance situations after first down. An easy remedy to that is to let Mason run behind Prosch and get a few yards.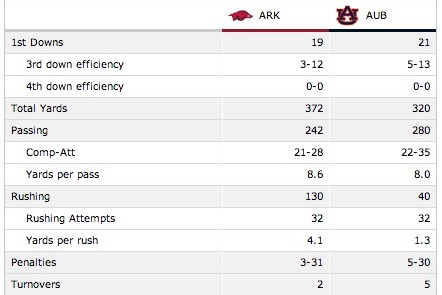 Here are some final stats for Auburn and Arkansas via ESPN.com.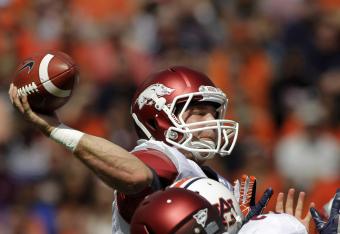 Ballgame: Arkansas 24, Auburn 7
I thought that Auburn could not have a worst performance than it did against Mississippi State. I was wrong.
Thanks for following along with us today!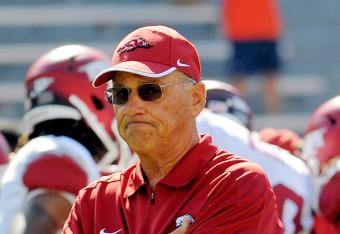 John L. Smith comes into Jordan-Hare and beats Auburn. Are these words really coming off of my fingertips?
Interception by Arkansas
Clint Moseley was looking for Phillip Lutzenkirchen in the end zone and he under-throws it. Arkanss Ball on the 20-yard line.
Why not let Jonathan Wallace get a few snaps in? His redshirt is already burned. We haven't seen his arm at all this year.
With the recruiting class that Gene Chizik has coming in, I still think he is head coach in 2013. I can't say for sure that Scot Loeffler will be the offensive coordinator at that time. I'm leaning towards no.
Arkansas fumble
Probably a little too late, but Auburn recovers an Arkansas fumble in Arkansas territory.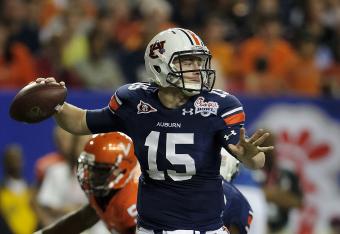 Interception by Arkansas
Clint Moseley over-throws Sammie Coates and it is Arkansas' ball at the 20-yard line.
Auburn moving the ball down the field through the air. It is nearly in the red zone with a little over five minutes.
We're glad to know the headsets are working, Mr. Referee!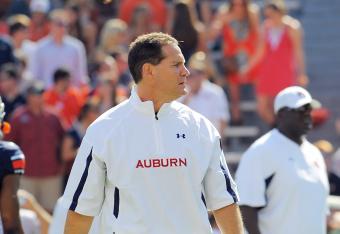 What a poor performance by Auburn here in Week 6. How much longer can Gene Chizik put this product on the field? We've said that barring disaster, he will be Auburn head coach in 2013. Disaster is pretty close to what we are seeing now.
Touchdown, Arkansas
That should be the nail in the coffin for Auburn. Arkansas runs it in from a couple yards out for the score.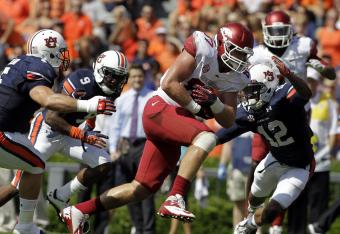 If Auburn can hold Arkansas to a field goal, it is still a two-possession game. It's not looking like the Tigers can do that, though.
Auburn may now be in the national cellar for turnover margin.
Arkansas has forced 3 turnovers today. Had forced 2 through 5 games. .... Defense has 8 sacks. Had 7 through 5 games.

— Robbie Neiswanger (@NWARobbie) October 6, 2012
There's your answer on why we didn't see Blakely after his fumble against ULM in Week 3.
Auburn fumble
Still eleven minutes left but that feels like it might be the ball game.
Roughing the passer penalty on Arkansas.
Auburn will take a first down anyway it can get it.
This article is
What is the duplicate article?
Why is this article offensive?
Where is this article plagiarized from?
Why is this article poorly edited?

Auburn Football: Like this team?