Northwestern vs. Penn State: Live Scores, Analysis, and Results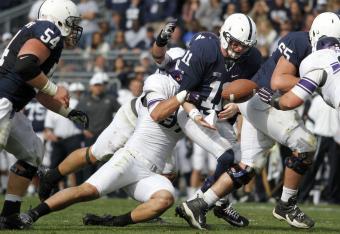 Justin K. Aller/Getty Images
Penn State 39, Northwestern 28; Final
Penn State moves to 4-2 on the season, and improves to 2-0 in Big Ten play after handing the Northwestern Wildcats their first loss of the season (5-1, 1-1 Big Ten).
Matt McGloin had a career day, finishing 35-of-51 for 282 yards and two touchdowns while adding a third score on the ground in the game's closing minutes.
Penn State also dominated time of possession, holding the ball for 20 minutes longer than Northwestern.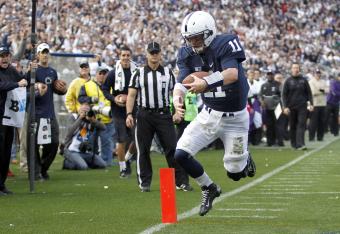 Check out our "10 Things We Learned From Penn State's Win Over Northwestern."
Thanks for staying with out Live Blog of Northwestern vs. Penn State. Be sure to check out all of today's college football action on Bleacher Report!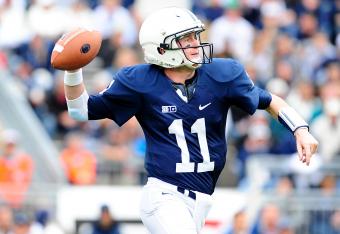 Penn State held the ball for 39:15 today—almost 20 minutes longer than Northwestern.
The Nittany Lions also out-gained the Wildcats, 443-245.
Matt McGloin, once a quarterback left for dead, went 35-of-51 for 282 yards and two touchdowns. He also added another rushing touchdown.
All-in-all, Penn State put together a great Big Ten performance today, and stayed calm even when the game began to tip in Northwestern's favor.
There may not be a bowl game at the end of this particular rainbow, but the Nittany Lions are certainly playing with a great deal of pride, and today's win should rightly be celebrated.
Penn State recovers a fumble to take over with 38 seconds left.
Impressive second half for Penn State's defense, holding Northwestern in check for most of the half.
Penn State wins, and moves to 4-2 (2-0) while Northwestern falls to 5-1 (1-1).
Stay tuned for some final thoughts, stats, and analysis.
Penn State will improve to 4-2 overall, and 2-0 in the Big Ten.
After a terrible start to the season, the 2012 season looks a lot different today than it did a few weeks ago for Penn State.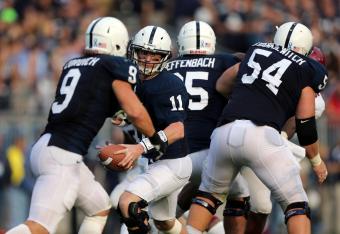 Touchdown, Penn State.
Zordich takes it in from three yards out, PSU leads, 39-28.
Play stands as called after review.
Michael Zordich with a huge first down run down to the Northwestern three.
That pretty much seals the game for Penn State...
Incomplete on fourth down, and Penn State takes over with just 1:48 remaining.
Great comeback for Penn State, and the Nittany Lions look as if they'll cruise to victory now.
Three plays, three yards, and decision time for Northwestern.
It's now or never for the Northwestern offense. Four points down with under three minutes to go... Can the Wildcats' hurry-up offense find a way to get the points they need?
Touchdown, Penn State, and the Nittany Lions retake the lead late, 32-28 with 2:37 remaining.
Penn State dodges a huge bullet, McGloin recovers his own fumble on the six...
1st and Goal, Penn State.
Gutsy call, great patience from McGloin.
Fourth and two. Under five minutes left. Down by three. Going for it...
Penn State is just tearing the Wildcats' defense apart on this drive.
Northwestern is completely unable to answer the offensive onslaught... Are the Cats' defenders gassed?
McGloin has now completed 32 of his 47 passes on the day.
That's the biggest reason Penn State has a chance to win this game against a very good Northwestern team.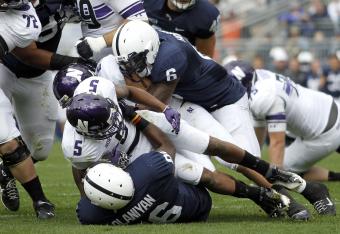 Penn State can take the lead on this drive.
Northwestern isn't really a drain-the-clock kind of team when it comes to offense, but with less than eight minutes left, it's probably important that Penn State gets something on this drive.
Penn State forces a three-and-out.
Momentum: Nittany Lions. Big time.
Penn State crowd definately fired up.
Will the Nittany Lions' defense respond?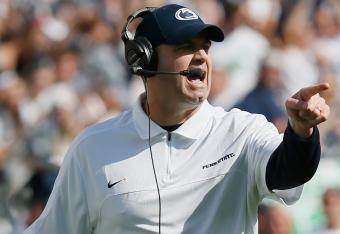 Okay, so Penn State is now within three points.
But Bill O'Brien has already proven that he has absolutely no faith in his field goal kicker. The three might as well be six...
Penn State goes for it on fourht-and-four instead of kicking a 30-yard field goal...
TOUCHDOWN, Penn State! 28-25, Northwestern, 9:28 left in the game after a two-point conversion.
Bill O'Brien seems to have changed his offensive scheme. Penn State has been a pass-first team so far this season, but there has been a lot of running today.
Can the Nittany Lions continue to pound the football down by a couple of scores in the fourth quarter?
I like this Northwestern team a little bit. Coach Fitzgerald can coach a little too.

— Desmond Howard (@DesmondHoward) October 6, 2012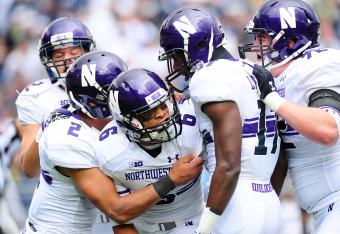 Northwestern is just fifteen minutes away from going 6-0 for the first time since 1962...
Penn State is not built for quick scores. What can the Nittany Lions do to get back into this game with just one quarter left?
Defensive stops are a must for the Lions from here on out.
Touchdown, Northwestern!
A 75-yard punt return gives the Wildcats a 28-17 lead with 50 seconds left in the 3rd quarter.
Penn State looking a little flat after that Northwestern touchdown.
Nittany Lions now facing a 3rd-and-24...
This article is
What is the duplicate article?
Why is this article offensive?
Where is this article plagiarized from?
Why is this article poorly edited?