Oklahoma vs. Texas Tech: Live Scores, Analysis and Results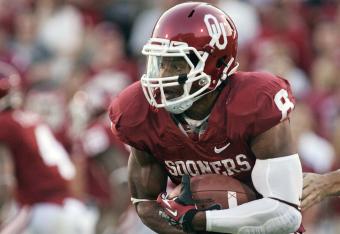 Brett Deering/Getty Images
Oklahoma 41, Texas Tech 20 — FINAL
The No. 17-ranked Oklahoma Sooners traveled to Lubbock, Texas, with the hope of getting revenge on the Texas Tech Red Raiders. I think it's safe to say that the Sooners mission was accomplished.
After getting out to a 21-13 lead at halftime, this game appeared like it was going to be a shootout. My instant analysis at halftime said, "This game is going to be won on defense. Both offenses can (and will) score more points, but which defense is going to step up and make the most stops in the second half?"
The Sooners picked off Texas Tech quarterback three times and held the Red Raiders to just seven second-half points. Those seven points came with one minute left in the game against the Sooners' second-string defense.
Coming off of a bye week, the Sooners were rejuvenated and looking to prove themselves to doubters and pollsters. Senior quarterback Landry Jones completely redeemed himself after his embarrassing performance in the loss against Kansas State.
If the Sooners can keep up with this kind of performance, winning the Big 12 conference still isn't out of the picture.
If any of you are still around, here is the link to my "10 things we learned" article: http://bleacherreport.com/articles/1361257-oklahoma-football-10-things-we-learned-from-the-sooners-win-vs-texas-tech
Thanks for staying with me throughout the game!
Okay guys, I'm off to write/publish the "10 things we learned" article. I'll post the link on here when I'm finished. Shouldn't be too long.
Thanks for reading!
I promise, this is the last Jake Trotter tweet I'm posting. If you guys aren't following him, I'd highly suggest it.
Lot of hoopin and hollerin in the OU locker room. Sooners wanted this one and played like it

— Jake Trotter (@Jake_Trotter) October 6, 2012
I've posted some thoughts following the win, but here is another quick analysis:
Landry Jones needs to play with that kind of confidence every game. He was great.
Oklahoma's defensive line is weak, but its secondary is much improved. Mike Stoops is making his presence felt.
Despite losing by 21, Texas Tech isn't a bad team by any stretch of the imagination. Seth Doege and the Red Raider offense were completely deflated after going down a few scores. They have to become more mentally tough to succeed this season.
Oklahoma had less than 20 yards more than Texas Tech and won by 21 in a dominant performance. That's pretty neat, AND THAT'S THE GAME.
Final Score:
Oklahoma 41, Texas Tech 20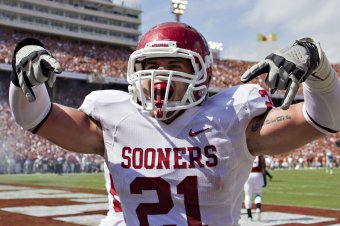 Wesley Hitt/Getty Images
Who is ready for the Red River Rivalry, and who do you have in the Texas/West Virginia game tonight?
Texas Tech scores with under a minute to go—its first (and likely last) score of the second half.
Score Update:
Oklahoma 41, Texas Tech 20 — :56 Fourth Quarter
Seriously, what's going on with Metoyer?
Freshman WRs today: Shepard 3 catches, Neal 2 catches, Trey Metoyer 0 catches. #Sooners

— Jason Kersey (@jasonkersey) October 6, 2012
I want to thank ESPN Insider Jake Trotter for all of these great tweets.
OU up four touchdowns, and airing it out with the starters with 7 minutes to go...

— Jake Trotter (@Jake_Trotter) October 6, 2012
Brewer has ignited this offense! The Red Raiders are threatening to score and the stadium appears to be only 1/8 (if that) full.
Shortly following the game I will be publishing a "10 things we learned from the Sooners" article. Stick around!
This has become a game of punts and it just won't end. Seth Doege is out of the game, but backup Michael Brewer comes in and completes a screen pass for 36 yards. Good job, freshman.
It really feels like this game is just dragging by now, doesn't it?
Sooners offensive lineman Nila Kasitati hobbling off the field. The Sooners really can't afford to lose anymore offensive linemen.
What's actually going on in this second half? Are the Sooners playing that much better, or are the Red Raiders deflated?
Belldozer package on third and three? I get that it works almost all the time, but I'd like to see Damien Williams take that carry, or at the very least see a jump-pass out of Bell a la Tim Tebow.
In other news, Florida and LSU have combined for 13 points? Is this good defense and bad offense, or really good defense and average offense?
If the Sooners hold on for the next 15 minutes, this will be their first victory in Lubbock since 2003. That's nuts.
Fourth quarter! This game has gone from shootout to blowout. Boy, things escalated quickly.
Mark D. Smith-US PRESSWIRE
It's definitely worth mentioning that Oklahoma middle linebacker Tom Wort has been on the sidelines for the majority of this game.
This is a very good point.
Seeing what Oklahoma is doing today to Texas Tech today makes K-State look even scarier.

— David Ubben (@davidubben) October 6, 2012
Michael Hunnicutt connects on his second field goal of the game—this time from 42 yards.
Score Update:
Oklahoma 41, Texas Tech 13 — :37 Third Quarter
ESPN's Dari Nowkhah shows some love for Oklahoma.
Landry and the #Sooner D look awesome today!I will pick against them every week if it means this...

— Dari Nowkhah (@ESPNDari) October 6, 2012
The ball is literally bouncing the Sooners way today. Shepard coughs up the ball and ends up falling back on it after being touched by a few Red Raiders.
This article is
What is the duplicate article?
Why is this article offensive?
Where is this article plagiarized from?
Why is this article poorly edited?