Virginia Tech vs. North Carolina: Live Scores, Analysis and Results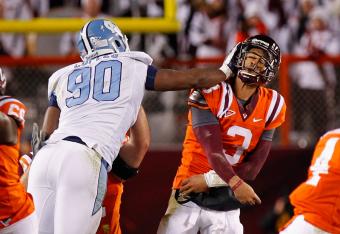 Geoff Burke/Getty Images
Final Score: North Carolina 48, Virginia Tech 34
Virginia Tech attempted to make this game exciting over the last five minutes, but Logan Thomas was sacked on a fourth-down play deep in North Carolina territory. The drive was helped by a Tar Heel pass interference penalty, but no harm came from the foul.
The game was sloppy overall. North Carolina managed to dominate despite committing 15 accepted penalties for 126 yards. Virginia Tech helped out with a pair of turnovers.
Both teams had a kickoff return for a touchdown but in the end there was too much Giovani Bernard. He gained 262 yards on 23 carries.
Darin Pike is a writer for Bleacher Report's Breaking News Team and a Featured Columnist covering the NFL and Seattle Seahawks.
One parting comment, courtesy of the Washington Post, on Virginia Tech's season thus far.
Virginia Tech is off to its worst six-game start since 1992 after a loss to North Carolina. wapo.st/VwUMeq #Hokies

— Post Sports (@PostSports) October 6, 2012
North Carolina dominated more than just the scoreboard. They had 27 first downs to just 22 for Virginia Tech.
The Tar Heels' biggest stat was rushing yards. They had 339 on the day to go with 194 yards though the air. Their 533 yards overshadowed the 394 put up by the Hokies.
North Carolina's pressure on Logan Thomas was important down the stretch, but the game might have been different had Travis Hughes not stripped the ball from Michael Holmes in the third quarter.
Virginia Tech was driving and would have had a chance to tie the game.
The key to North Carolina's offense was simple to find.
SC NCAAF - North Carolina RB Giovani Bernard rushes for 262 yds, TD; North Carolina defeats Virginia Tech, 48-34 es.pn/MJAqLd

— SportsCenter Alerts (@ESPNSCalerts) October 6, 2012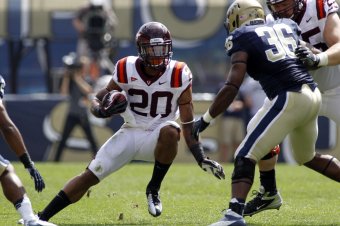 Justin K. Aller/Getty Images
Final stats for Virginia Tech:
Passing Stats
Logan Thomas: 26/49, 354 Yards, 2 TDs, 1 INT
Rushing Stats
Thomas 7 CAR, 20 YDS, 1 TD
M. Holmes 8 CAR, 19 YDS
M. Scales 2 CAR, 8 YDS
M. Davis 1 CAR, 7 YDS
B.J. Coleman 6 CAR 5 YDS
Leading Receivers
Corey Fuller 5 REC, 143 YDS, 1 TD
Demitri Knowles 6 REC, 83 YDS
Lance King/Getty Images
Final Score: UNC 48, VT 34
Virginia Tech falls to 1-1 in ACC play as North Carolina evens their mark on the year with the same conference record.
The Tar Heels have a huge game coming up next week against Miami. They aren't eligible to win the ACC title but are playing for bragging rights and building their program.
The Hokies will look to rebound as they host the Duke Blue Devils next Saturday.
1:50 4th Q
I'm not sure the logic behind not using a timeout following the first down play. There is nothing to save them for at this point, but the first down run by Bernard puts an end to the little hope Virginia Tech had left.
The Hokies will need to burn their timeouts right now. They would have a little over two minutes to drive the field, recover an onside kick and then find the end zone again.
3:00 4th Q
There's the pressure North Carolina was showing earlier in the game! That sack on fourth down should allow the Tar Heels to breathe a little easier.
It is time for Bernard to chew up some yards and some clock.
3:30 4th Q
The Hokies catch a break by virtue of nothing other than ANOTHER penalty on the Tar Heels.
This infraction was the double-whammy variety. Not only did it provide the automatic first down but it also stopped the clock.
3:30 4th Q
Virginia Tech is covering some ground here but is using too much clock. If they find the end zone they may have to rely on an onside kick as opposed to asking their defense to get a stop.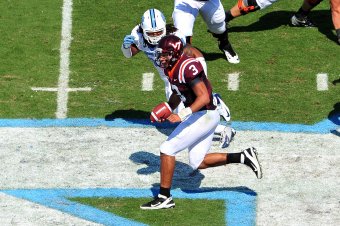 Lance King/Getty Images
Logan Thomas has the arm and accuracy to engineer a quick drive here. Cutting the lead to a single touchdown would put some pressure on North Carolina.
7:00 4th Q
Virginia Tech now needs to find the end zone twice and stop the Tar Heels. It's a 14 point game with half a quarter left to play.
Do the VT fans have faith?
7:40 4th Q
That was a brutal call on the Hokies. The contact looked negligible and certainly didn't impact the play.
Virginia Tech needed a stop and the ball but the Tar Heels are now in striking distance.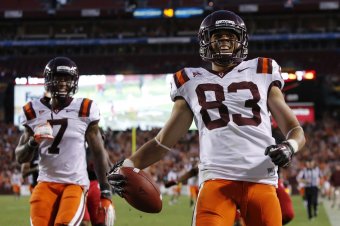 Jonathan Ernst/Getty Images
BOOM! We've got a game again!
The Hokies kept working the deep ball and it paid off, finally. Thomas threw that one on line, showing off his strong arm.
10:00 4th Q
In case you weren't aware, the 66 points North Carolina scored on Idaho last week set a new high water mark for the Tar Heels. They scored 65 points twice before but none of us were alive to see it.
Oh, we also had another penalty. That brings to total on the day for UNC to 14 for 117 yards.
This game could REALLY be out of hand if the Tar Heels were playing a more disciplined game.
This game is setting up a huge game against Miami next week. The Hurricanes will be playing to take hold of the ACC Coastal, while UNC will be playing for pride.
The Tar Heels aren't eligible for the postseason due to NCAA sanctions.
This would be a monumental loss for Virginia Tech. Just how big?
Since joining the ACC, Virginia Tech has never lost in the state of North Carolina. Will that change today? #GoHeels

— Tyler Keith Lee Tew (@TylerTew) October 6, 2012
This sums up the game fairly well.
Through three quarters, Giovani Bernard has 16 carries for 221 yards. Heels' 45 points most for either team in 35 games in this series.

— Andrew Carter (@_andrewcarter) October 6, 2012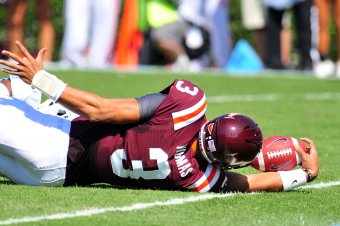 Lance King/Getty Images
1:00 3rd Q
Oops. Virginia Tech had position on that pass but Thomas' throw was offline. Perhaps they tried to get too much back at once, but the play was open.
Penalties, turnovers and failed execution.
And then along comes Gio. And Blue. And we officially have a blowout in the making. Sorry, VT fans.
1:40 3rd Q
You...have...to...catch...that...ball. Ugh. Thomas was engineering a great drive and put the ball right into Davis' hands. It is early, but that could be the deciding play in this game.
Beautiful stunt by the Tar Heels! Redick made his presence known there and reminded his coaches what they need to do to shut down Thomas. PRESSURE!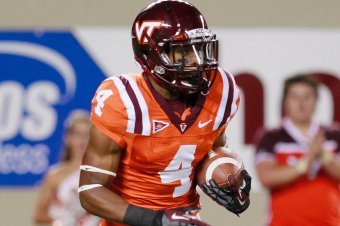 Geoff Burke/Getty Images
Seriously? Second and 10 and they try to push J.C. Coleman up the middle? He has more carries than yards to this point.
Fortunately for the Hokies, Thomas responds with a nice pass to pick up the long first down.
3:30 3rd Q
It is too early for Virginia Tech to panic, but they have struggled to stop the Tar Heel offense. They can't afford too many empty offensive possessions over the final 19 minutes of play.
Logan Thomas will need to put the offense on his shoulders and hope his defense can respond.
This article is
What is the duplicate article?
Why is this article offensive?
Where is this article plagiarized from?
Why is this article poorly edited?

Virginia Tech Football: Like this team?