UFC on FX 5 Results: 10 Memorable Moments from Browne vs. Silva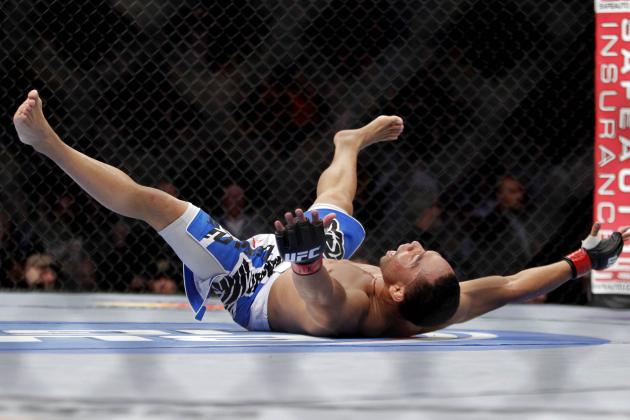 Bruce Kluckhohn-US PRESSWIRE

That's a wrap, folks. UFC on FX 5 is now officially in the record books.
The event was headlined by a heavyweight bout between Antonio Silva and Travis Browne, which produced the knockout most expected, though the source of the finishing blow came as something of a surprise.
Surprise was the theme of the night as a whole, as unexpected outcomes, sudden finishes and come-from-behind victories ruled the day.
Here, we will take a look back at some of the surprises that will continue to define UFC on FX 5 as we recap the most memorable moments of the event.
Begin Slideshow

»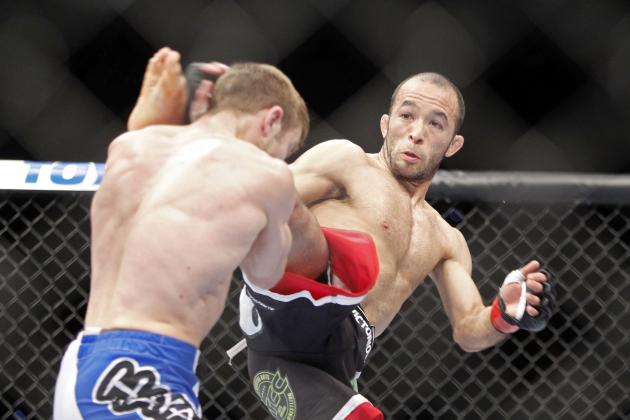 Bruce Kluckhohn-US PRESSWIRE

Though the flyweight spotlight was firmly planted on the John Dodson vs. Jussier Da Silva match, Uyenoyama earned a little bit of attention from fans, who watched the submission specialist put another notch in his belt.
This time, the unlucky prey was UFC newcomer Phil "Billy" Harris. That might not mean as much as Uyenoyama's last win—a dominant decision victory over Kid Yamamoto—but it was still another great showcase for him.
After a first round that consisted mostly of an extensive feeling out process, Uyenoyama was able to get the fight to the mat in the second. From there, he had his way with Harris, securing a rear-naked choke without much delay.
Given that the UFC's 125-pound weight class is still very much in its infantile stages, a win like this propels Uyenoyama pretty close to the top of the heap. He'll still need to beat a tougher opponent before gaining consideration for a title shot, but his performance at UFC on FX 5 was at least good enough to earn him a trip to the next divisional tier.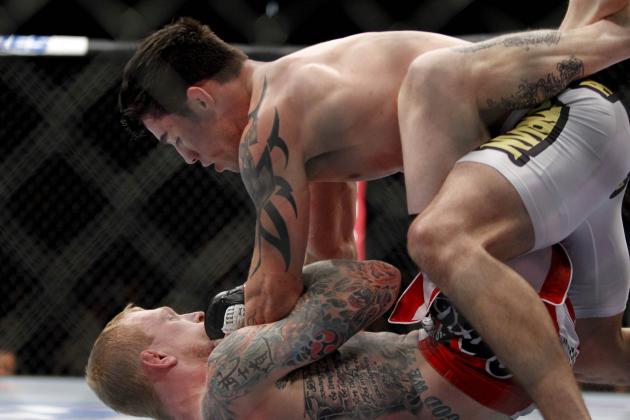 Bruce Kluckhohn-US PRESSWIRE

Nunes has always been a good fighter, but he has always struggled to take his career to the next level. A win over Bart Palaszewski—though meaningful—won't get him there, but if he is able to replicate the effort he put in at UFC on FX 5, he may very well beat whomever is put in front of him.
The Brazilian vet looked as good as he ever has, fighting more aggressively than we're accustomed to seeing him fight.
Several times throughout the match it looked like Nunes was on the brink of putting away his wounded opponent. It was only Palaszewski's sheer force of will that allowed him to make it to the the final bell.
Even though he didn't get the finish, Nunes really improved his stock with this performance. Don't be surprised if he is tasked with taking on a contender in the near future.
Still, it's worth mentioning that Nunes faded a bit in the final period. It's difficult to say whether that was a result of fatigue or the hard shot Palaszewski fed him shortly after the round's opening bell.
But even with the slow finish, this was the best Nunes we've seen to date.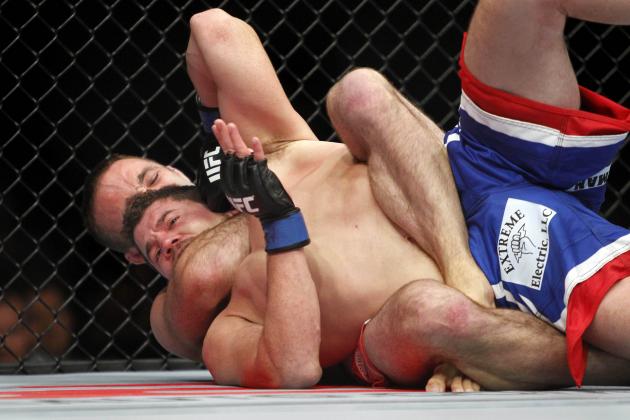 Bruce Kluckhohn-US PRESSWIRE

Volkmann has very quietly become one of the UFC lightweight division's best kept secrets. After beginning his time in the promotion with consecutive losses, "Christmas" had posted a 5-1record heading into his UFC on FX 5 bout with Shane Roller.
Now that that fight is in the books, you can make it 6-1 for Volkmann over his last seven fights.
Just as importantly as the win itself, Volkmann's first-round submission over Roller stands as his first and only UFC stoppage to date.
That's right, it took the wrestler nine fights before he was able to finish an opponent. Better late than never I guess.
It took Volkmann a while before he found the win column as a UFC roster member. Maybe he's just a late bloomer, and this stoppage will be the start of a new trend for him.
Time will tell.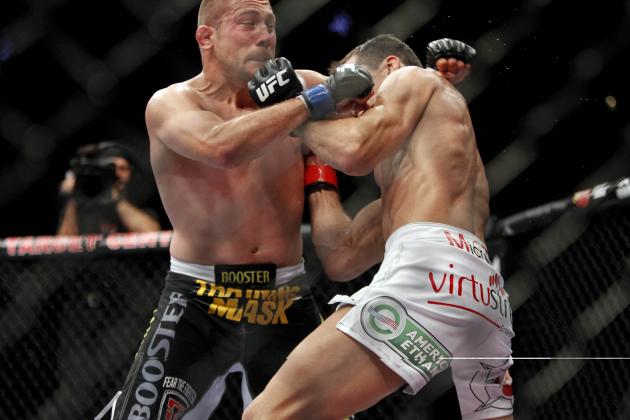 Bruce Kluckhohn-US PRESSWIRE

Aaron Simpson has been a moderately successful UFC fighter these past few years, but there has always been one prevailing knock on him—he rarely finishes fights.
Hoping to get the monkey off his back, Simpson entered his UFC on FX 5 contest against Mike Pierce looking to score not only a victory, but a finish as well.
The "A-Train" came out guns blazing, taking the fight to his overwhelmed foe in the bout's opening frame. After landing several big punches and executing a powerful slam, it was only the bell ending Round 1 that stopped Simpson from achieving his objective.
When the fighters returned for second-round action, Simpson continued to hunt his wounded prey. It seemed that an end was inevitably drawing nearer, a big knockout only moments away.
And then it happened. Only it was Pierce scoring the big finish, not Simpson.
A massive right hand from Pierce sent a stunned Simpson to his knees and the stunned crowd to its feet.
The comeback may not have been Tim Boetsch vs. Yushin Okami or Cheick Kongo vs. Pat Barry, but Pierce's knockout still ranks pretty high on the meter of things unlikely to happen.
A very memorable knockout.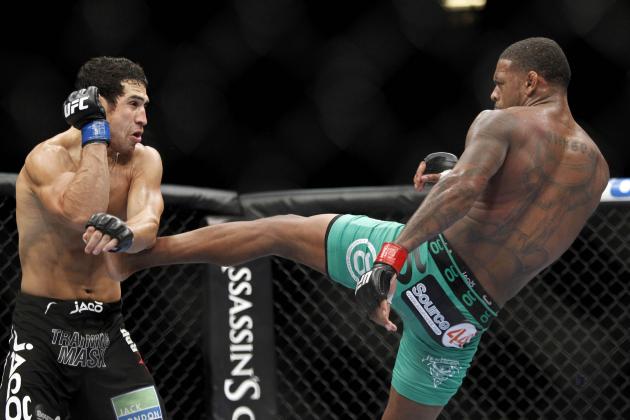 Bruce Kluckhohn-US PRESSWIRE

Come-from-behind knockout wins like the one Mike Pierce scored are quite rare. That's why it was even more surprising when Michael Johnson replicated the feat the very next fight.
After being tagged early on by Danny Castillo, Johnson spent the majority of Round 1 in deep trouble, trying to fend off an arm triangle choke while recovering his equilibrium. Between the devastating shot and persistent submission attempts, it seems improbable Johnson should make it to the first bell.
But he did, somehow. And he entered Round 2 in a fury.
Coming out for the second frame, Johnson appeared to be moving in fast-motion. He fired off a few leg-kicks and straight punches before landing a strong left hand that toppled Castillo, and instantly smothered his wounded prey. It didn't take long for him to score the stoppage.
The performance was very much like that of Pierce's from the previous bout, though Johnson looked like he was actually in greater danger—and for longer—during the opening round of his match.
Another very memorable comeback knockout win on the UFC on FX 5 card.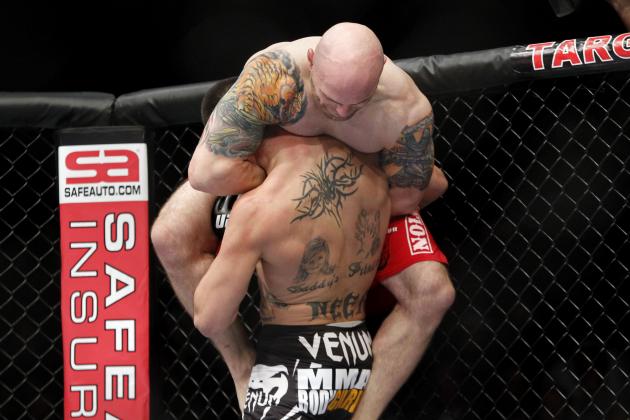 Bruce Kluckhohn-US PRESSWIRE

Coming into UFC on FX 5, Justin Edwards was in serious jeopardy of losing his job. Since failing to capture an Ultimate Fighter title, Edwards had posted a pedestrian 1-2 UFC record with zero finishes.
Exiting UFC on FX 5, Edwards is now 2-2 with a first-round stoppage win over a grizzled veteran. That's much better.
Beyond the statistics of it all, the performance couldn't have looked any better for Edwards, who came out aggressive, pushed the pace, found an opening and made no mistake in sinking in a deep guillotine choke.
The win not only keeps Edwards alive in the UFC, it puts a little momentum behind him. We'll see what he is able to do with it next time out.
Unfortunately for Neer, the technical submission loss to Edwards was the second time in two fights he's suffered a first-round loss. This is troubling for a fighter well reputed for his grit and toughness.
No doubt the spirit remains willing, but it's beginning to look like all those brutal wars of attrition that have defined Neer's career might be catching up with him.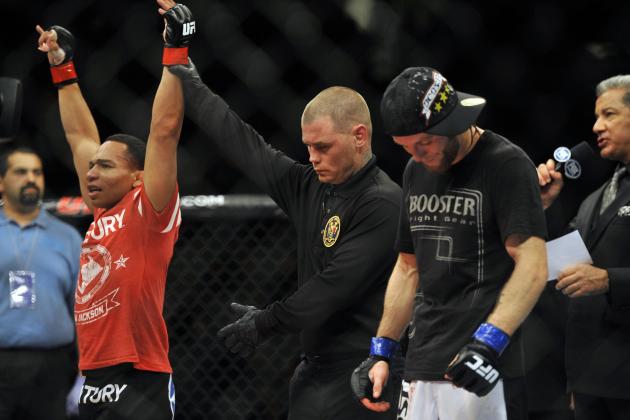 Joe Camporeale-US PRESSWIRE

Now 3-0 as a UFC fighter, John Dodson used UFC on FX 5 as a direct avenue to a title shot.
After a lackluster first round that saw little action from either Dodson or Jussier da Silva, "The Magician" took control in Round 2, twice landing a big left hand that floored his opponent. The second time he did so, Da Silva did not recover.
All-in-all the contest was not the enthralling type of bout that the smaller weight classes are famous for putting on, but it was a meaningful performance for Dodson, who has officially gone from promising TUF champion to UFC title contender.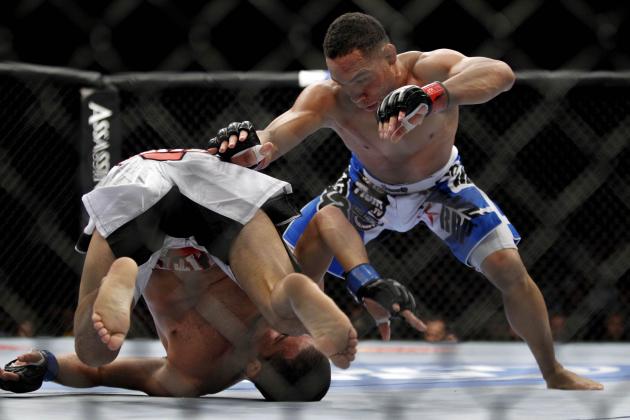 Bruce Kluckhohn-US PRESSWIRE

Jussier da Silva was billed as a legitimate championship-caliber flyweight fighter coming into UFC on FX 5, but looked like anything but during his bout with now No.1 contender John Dodson.
"Formiga" was unable to take the fight to the mat, where he excels, and could not seem to mount much of an offense on the feet. Being forced to contest the match from his opponent's realm proved too much for the Brazilian, who eventually succumbed to the knockout power of Dodson in the second round of the affair.
The loss in itself is not entirely surprising—Dodson entered the bout as the favorite—but da Silva's performance could best be defined as utterly ineffectual.
At no point did it seem da Silva was posing much of a threat to Dodson, nor did it seem like he was very interested in doing damage.
The fight as a whole was quite dull until Dodson landed a series of knockout blows. Considering the only real action of the match was da Silva suffering a knockout, there is really nothing positive for him to take away from his UFC debut.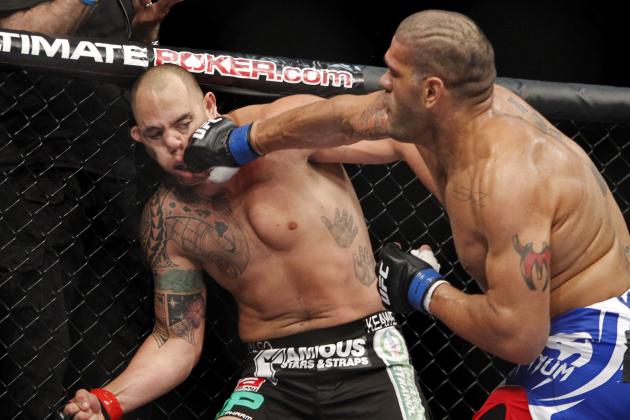 Bruce Kluckhohn-US PRESSWIRE

The UFC on FX 5 main event was a short but sweet fight for Antonio "Bigfoot" Silva, who scored his first UFC win, knocking out highly touted heavyweight destroyer Travis Browne with a crushing right hand.
The bout, which lasted all of 3:27, featured little threatening offense from either man until Silva landed a fight-ending series of punches.
But rather than the action itself, the focus of the match seemed to lie on the physical condition of Browne, who pulled up lame after missing with a combination of punches early in the fight.
The Hawaiian was favoring his left leg as he tried to avoid the power of Bigfoot, but the injury was clearly restricting his mobility, and he wound up a crumpled heap before making it to the first bell.
Though Browne's injury undoubtedly affected his performance, the victory was a meaningful one for Silva, who got back in the win column after two recent losses.
He desperately needed a "W" and he got it—and in impressive fashion I might add.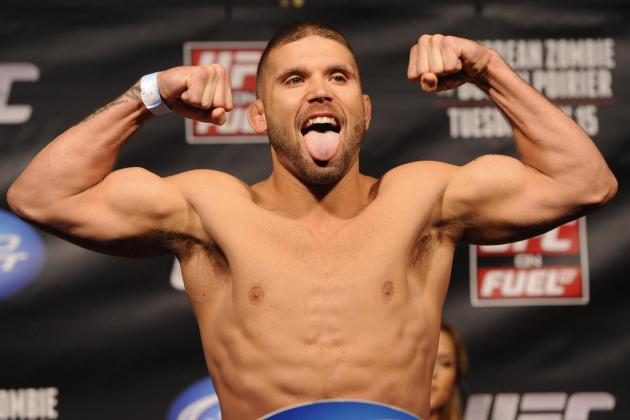 Rafael Suanes-US PRESSWIRE

First, a lightweight bout between Dennis Hallman and Thiago Tavares was scrapped when Hallman failed to make the 155-pound weight limit. Hallman was subsequently let go by the UFC.
Then, rumors started to fly that another lightweight match on the card—Jeremy Stephens vs. Yves Edwards—might have to be shelved when it came out that Stephens was having some legal problems and may be incarcerated the night of UFC on FX 5.
Turns out, Stephens was being held on bail, and despite Dana White's best effort to get him out in time for the fight, things just weren't meant to be, and the match had to be conceded.
The whole situation with Stephens was very peculiar and will continue to play a large role in defining the UFC on FX 5 event, even more so than Hallman's failure to make weight and subsequent release.
Anyway you slice it, both the Hallman and Stephens cases aren't things you see every time a UFC event is put together.