Complete Grades for Broncos Against Patriots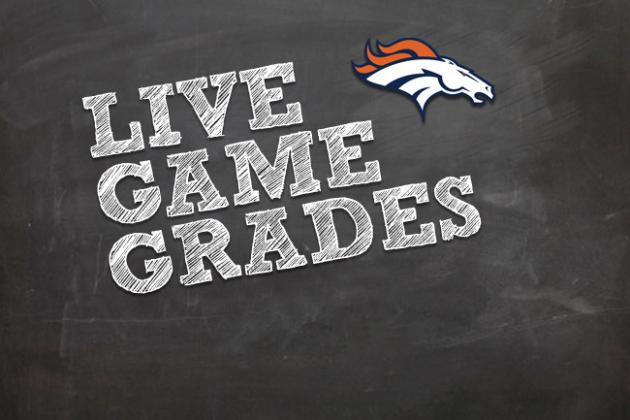 The Denver Broncos have fallen to the New England Patriots on the road.
At the end of four quarters, Peyton Manning and his offense are still waiting to complete their effort for a late-game comeback.
Two drives during the fourth were cut short for Denver, either due to a turnover or due to a lapse in judgement.
Whatever the case, the Broncos are flying home with a losing record for the second time in this young 2012 season.
Begin Slideshow

»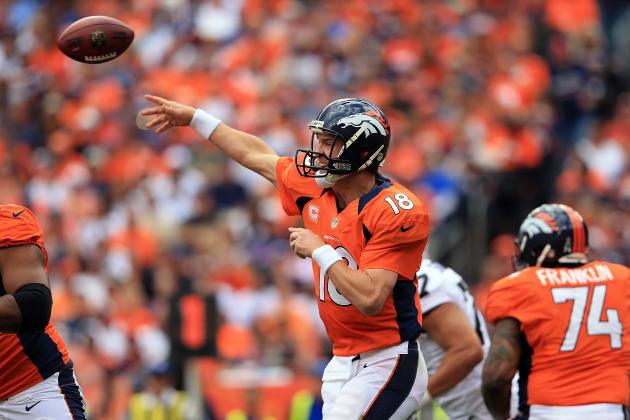 Doug Pensinger/Getty Images

Fourth Quarter Game Grade: B+
Peyton Manning went crazy in the fourth quarter. When the ball was in his control, he was masterful.
Unfortunately, it didn't stay in his hands long.
He totaled 345 yards and three touchdowns for the game, but failed to keep the score close against the New England Patriots.
Third Quarter Game Grade: C
Peyton Manning and his Denver Broncos offense have completely stalled in the second half.
Manning has hardly even tried to pass in the third quarter, and when he has it's been for short yardage and minimal gains.
When it seemed like it couldn't get any worse, or rather any more mediocre, for Manning and his offense, he was strip-sacked by the Patriots defense and Denver has turned the ball over again.
LATE UPDATE: As the quarter is expiring, Manning has found Eric Decker for an amazing touchdown pass-and-catch to pretend to be in the game.
Second Quarter Game Grade: B+
Peyton Manning pushed his offense into the endzone during the second quarter with an easy touchdown pass to Joel Dreessen as the quarter began.
The following drives didn't go quite as well, stalling as Manning was unable to connect with a wide-open Jacob Tamme and then missed a third down conversion pass to Brandon Stokley.
He's doing a decent job at moving the offense, but not everything that's required to keep up with a power-house like the New England Patriots.
First Quarter Game Grade: B
The first quarter hasn't been a great one for Peyton Manning today against the New England Patriots.
But not because he hasn't been playing well. His one deep pass found Demaryius Thomas streaking on a post pattern. The pass was perfect, the catch was made. And Thomas continued by fumbling the ball back into New England's hands.
Afterwards, Manning has found it difficult to find open receivers any further than five yards down the field.
He'll need to start picking up his game if he wants to keep pace with Tom Brady on the other side.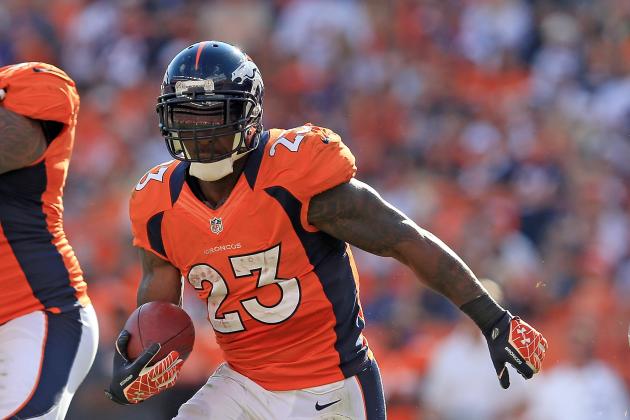 Doug Pensinger/Getty Images

Fourth Quarter Game Grade: C
While the Denver Broncos offense did make a valiant effort in the fourth quarter to overcome what would inevitably become an insurmountable lead, there were mistakes and failures that were unforgivable.
Third Quarter Game Grade: D
This Denver Broncos offense has shown no sense of urgency in the third quarter until the time was almost gone and it had already fallen into a 31-7 deficit.
Even starting the quarter down by 10 points wasn't enough to motivate this unit.
Willis McGahee has been slightly effective, but he's had no help from the remainder of the offense in the second half.
Demaryius Thomas may not even be on the field, he's been absolutely invisible since his catch in the second quarter. Eric Decker's only catch in the first 13 minutes of the period gained just two yards. The tight ends have been unable to continue their impact play from the first half. This whole quarter has been a wash for the Broncos.
Thomas did finally make an appearance on Denver's final drive of the quarter.
It seems this lackluster offense may finally realize that it's getting its butt kicked bad in New England.
As the quarter is expiring, Decker has finally made an impact with a beautiful touchdown catch after Thomas helped the team down the field with a great catch in double coverage. Apparently this team only really likes to play when it's way down on the scoreboard.
Second Quarter Game Grade: B
The scoreboard no longer displays a goose egg for the Denver Broncos, but it also doesn't show a score higher than the New England Patriots'.
The tight ends continue to be the most effective part of Denver's offense. Joel Dreessen has Denver's only score, and Jacob Tamme has been very active. Tamme would have more yards and the team might have more points if Manning could have connected with him on their second drive.
First Quarter Game Grade: C
The tight ends for the Denver Broncos seem to be doing their job adequately. Jacob Tamme and Joel Dreessen have been active in the passing game early.
The receivers on the other hand have not been nearly as effective. As stated previously, Demaryius Thomas caught a huge pass on a post pattern on Denver's first drive only to have the ball hit out of his hands from behind and fumbled back to New England.
Willis McGahee has so far been unable to find a crease in the defense.
Denver will need much more to keep up going into the second quarter.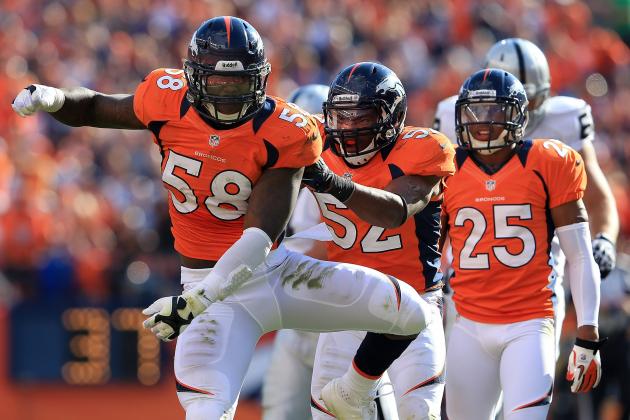 Doug Pensinger/Getty Images

Fourth Quarter Game Grade: D
Over and over again on Sunday afternoon the Denver Broncos defense allowed the New England Patriots to convert huge third down plays and keep the chains moving.
The Patriots accumulated 33 total first downs in the game, and there was no slowing down in the fourth.
Von Miller did his part, forcing a fumble by Stevan Ridley and sacking Tom Brady once.
Third Quarter Game Grade: D
The Denver Broncos defense have now made it so easy for Tom Brady and company that they're not even having to pass the ball much anymore.
On third and seventeen, the Broncos allowed the New England Patriots to run the ball straight down the middle of the field for a gain of 20.
And the penalties are starting to pile up getting into the last quarter of play. Joe Mays, after playing like he was asleep for one half has now managed to commit a pass interference penalty to move New England up to the goal line.
Denver is sinking fast. All that's left is a punt by Brady and we'll be watching the 2011 playoffs all over again.
Second Quarter Game Grade: B-
Tom Brady continues to move the ball efficiently against the Denver Broncos' defense.
Wes Welker is tearing the middle of the field up regularly.
But the Denver defense has kept the game within reach, stopping Brady and his offense at the goalline and forcing the New England Patriots to settle for a field goal to end the half.
First Quarter Game Grade: C
The Denver Broncos defense started the game well with a quick stop on New England's opening drive. They earned a few hurries and hits on Tom Brady as well.
But shortly after their fast start, Brady and his offense worked efficiently through the secondary and scored easily with a pass to Wes Welker.
It's too early to know how this unit will do on the day. But so far, it's not looking great.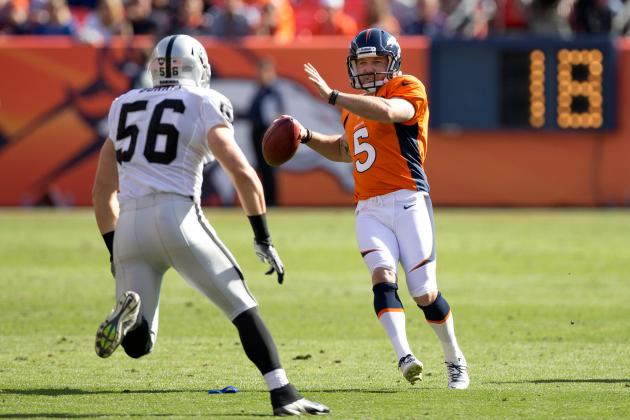 Justin Edmonds/Getty Images

Fourth Quarter Game Grade: C
There's never much to write about Denver's special teams. They are, as a whole, a low-impact, low-energy squad that rarely makes an impact on the field.
The one highlight from this unit during the fourth quarter that furthers its mediocrity was its fake onside kick attempt that floated lazily into Rob Gronkowski's hands at the 40-yard line.
Third Quarter Game Grade: C
Once again, the special teams for Denver has vaporized. There's been zero impact from this squad almost every week, and it continues in the third quarter today.
Second Quarter Game Grade: A
Denver's Omar Bolden finally made an impact for the special teams unit of the Broncos in this second quarter returning a kick to the 35-yard line.
Shortly afterwards, when Denver was forced to punt, the coverage team managed to pin Tom Brady's offense on its own two-yard line.
First Quarter Game Grade: B
There hasn't been much special teams play yet for either side.
Britton Colquitt punted for the first time in two weeks. The coverage team missed their first tackle on Wes Welker, allowing him to gain a decent return.
Otherwise, it's been quiet for special teams this afternoon.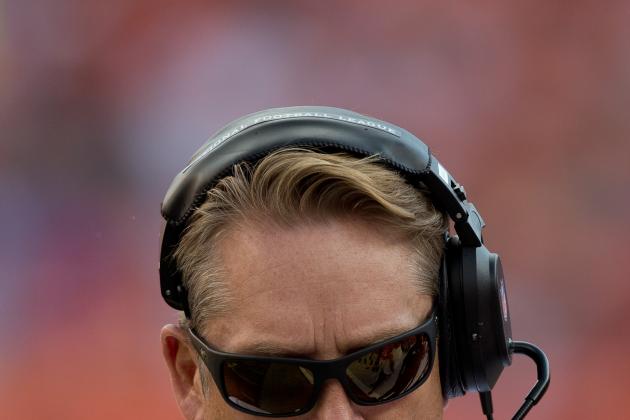 Justin Edmonds/Getty Images

Fourth Quarter Game Grade: F
John Fox earns an F for the fourth quarter and an overall F for the game.
When faced with a decision to either kick an extra-point and guarantee a need for three total scoring drives to tie the game, or attempt a two-point conversion to try for a one-possession game, Fox decided simply to accept his fate as a loser in New England and kick the ball.
Right afterwards, Fox lined his special teams unit up to kick an on-side kick and continue the Broncos' march back into contention, but it was a fake. Matt Prater simply kicked the ball into the air and let Rob Gronkowski fall on it at his own 40-yard line.
Finally, during the last drive of the game for Denver's offense, Fox took the ball out of Peyton Manning's hands, who had been masterful so far on the drive, and handed it off to Willis McGahee who promptly fumbled the ball back into New England's possession.
Fox's conservative playcalling needs to go fast if Denver ever hopes to compete with teams like the Patriots.
Third Quarter Game Grade: D
Are the coaches for the Denver Broncos still asleep in the locker room?
Where is the urgency? Where is the sense of responsibility as the team as a whole is failing terribly?
The Broncos have failed to run a complete game in 2012, but now they're managing to play a completely terrible game, and it starts and finishes with the coaches.
Second Quarter Game Grade: C
The Denver Broncos' coaching staff is seriously mediocre today.
Jack Del Rio hasn't been able to get the defense fired up enough until it's almost too late. And John Fox and Mike McCoy aren't making the right calls to get Peyton Manning's offense moving smoothly.
They've focused far too much on the run game, playing keep-away football. But they're not finishing drives, and giving Tom Brady more than enough time to operate a no-huddle offense.
First Quarter Game Grade: C
I'm giving the coaching a C because the play-calling seems a bit confusing in the first quarter for the Denver Broncos.
Mike McCoy is trying to fool the New England defense by moving wide receivers like Demaryius Thomas into the backfield, but it isn't fooling anyone.
The defense started well, but the playcalls and formations were way off later in the quarter and allowed Tom Brady and his offense to march down the field with ease.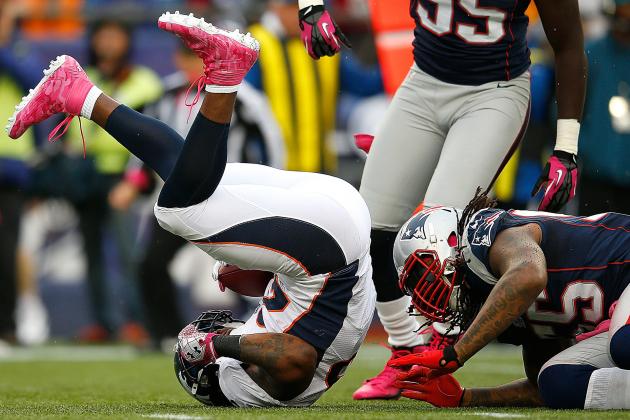 Jim Rogash/Getty Images

Overall Game Grade: F
Willis McGahee was responsible for the end of two potential scoring drives for the Denver Broncos on Sunday.
Early in the fourth, when Denver needed a conversion on a short fourth-and-one in New England territory, Peyton Manning found McGahee on the flat with room to run. McGahee didn't finish the play, taking his eyes off of the ball and looking up the field before he had possession. The play resulted in a drop, and a turnover on downs.
If that wasn't enough, when Denver was driving for their second score of the quarter, McGahee fumbled just yards short of the goal line and gave the ball right back to the Patriots.
McGahee has done plenty for the Broncos over the last two years, but his mistakes on Sunday were absolutely unforgivable.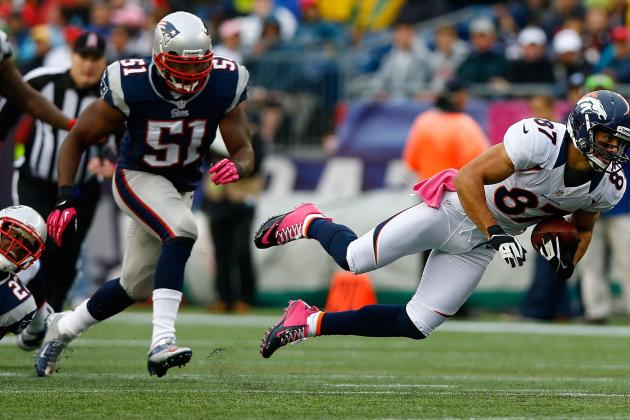 Jared Wickerham/Getty Images

Overall Game Grade: C
For every great play the Denver Broncos receivers are good for, there comes a bad one.
In the first quarter, on Denver's first drive, Demaryius Thomas took in a pass for 44-yards and then let the ball go flying away from him and into the hands of New England's secondary.
Then, much later in the third quarter, Eric Decker slightly redeemed this receiving corps by catching a breathtaking touchdown pass to move Denver closer to the Patriots on the scoreboard.
Overall, the corps is not doing everything in their power to help this team. Simply catching a few of Peyton Manning's many passes is not enough to beat a team like New England. And turning the ball over is never okay.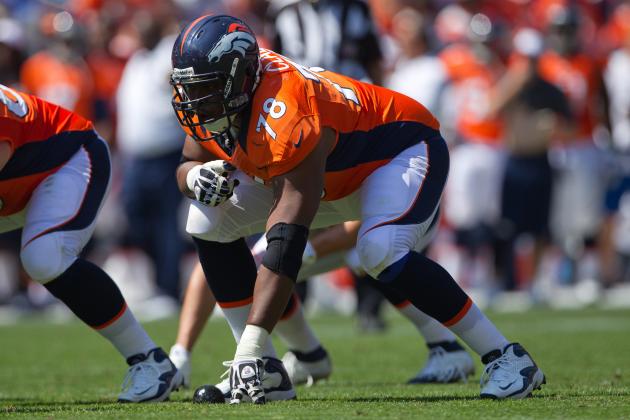 Justin Edmonds/Getty Images

Overall Game Grade: B
Peyton Manning didn't find himself in the dirt very often on Sunday afternoon. The offensive line did a good job of picking up blitzes when necessary and give Manning adequate time to find his receivers.
But when they did falter, it was on important plays. When it was time to convert on a third down like New England had done so well during these four quarters, this line let too many defenders through and forced Manning to make his decisions too soon.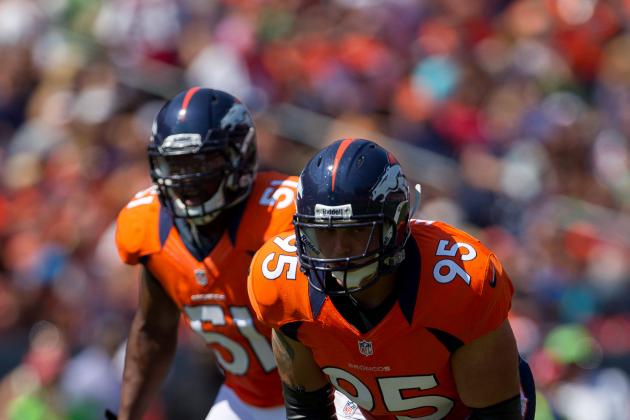 Justin Edmonds/Getty Images

Overall Game Grade: D
Tom Brady looked comfortable for most of the game on Sunday afternoon. And New England's running game was top-notch again.
Stevan Ridley was rarely contacted by the Denver Broncos' front four, allowing him to find plenty of room in the defensive backfield and forcing Denver to rely on its secondary to move away from its coverage and make important tackles in the middle of the field.
Defending the rushing attack starts on the line, at least for a good defense. On Sunday, the defense didn't start until halfway down the field.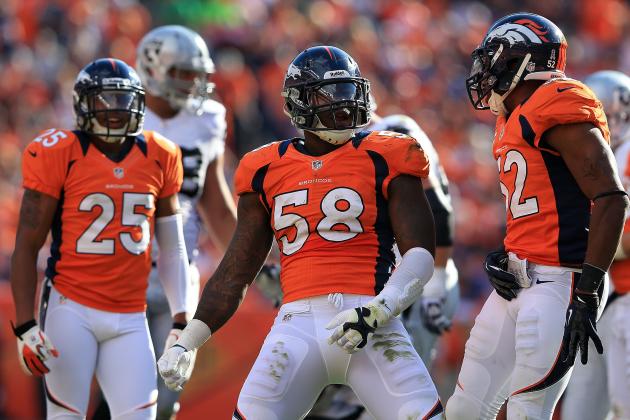 Doug Pensinger/Getty Images

Overall Game Grade: C-
The linebacking corps for the Denver Broncos was responsible for both of New England's turnovers on Sunday.
Wesley Woodyard forced a fumble by Tom Brady that resulted in a 20-yard negative play and ended with Denver taking over on downs. Later, Von Miller stripped the ball from Stevan Ridley's arms and forced it to fall onto the turf and into the possession of cornerback Mike Adams.
But this corps is still responsible for the defense of the running game and of the passing attack. Both elements of New England's game ran almost flawlessly for all four quarters, and some of that blame has to fall on the three to four linebackers lining up in the defensive backfield.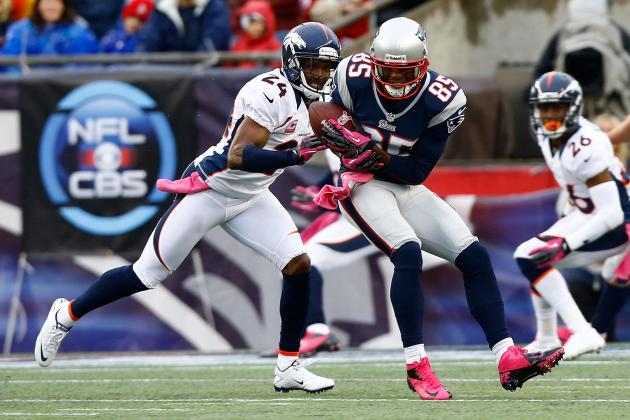 Jared Wickerham/Getty Images

Overall Game Grade: D
While the Denver Broncos' secondary did not allow any huge plays by the New England Patriots' receivers, they were responsible for allowing Wes Welker to have one of the most efficient games of his career.
There wasn't much of a gap between plays featuring Welker catching a bullet from Tom Brady and threading the Denver secondary for extra yards. Almost every critical third down play for New England's offense ended with Welker just beyond the first down marker will ball-in-hand.
Denver's secondary rounds out a defense that under-achieved for four entire quarters on Sunday afternoon.