Baltimore Ravens vs. Kansas City Chiefs: Live Score, Video & Analysis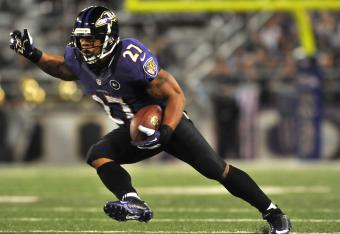 Larry French/Getty Images
Final: Ravens 9, Chiefs 6
Ray Rice and an opportunistic Baltimore Ravens defense added to the team's win column. Joe Flacco had a sub-par afternoon in terms of production, but his key 3rd-and-long conversion late in the fourth quarter sealed the victory.
Jamaal Charles, the NFL's leading rusher, added 140 yards to his 2012 total. But another dismal performance from Matt Cassel proved to be too much to overcome.
The Baltimore Ravens will always be favored in a game that is free of touchdowns. Today, they showed why.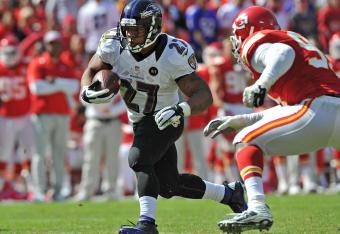 Final thoughts
Both teams walked off of the field with more questions than answers.
Once again, Kansas City's offense tallied more yardage but failed when it mattered most. It wasn't a pretty win for the Ravens, but they don't play for style points.
Baltimore Ravens
The good: Ray Rice eclipsed the century mark with 102 rushing yards. He eventually authored today's ending with a crucial third-down conversion that allowed Baltimore to run the clock out.
The bad: The offensive line allowed four sacks. Joe Flacco was under constant duress, and his receivers dropped passes like they were hot potatoes.
The ugly: Baltimore's vaunted defense was gashed for 214 rushing yards. The absence of Terrell Suggs was never more apparent than today.
Kansas City Chiefs
The good: Jamaal Charles continued to chew up yardage like he was starving. Kansas City's favorite tailback rushed for 140 yards on 30 carries and kept the Chiefs within striking distance.
The bad: Penalties plagued the Chiefs throughout the day. Yellow flags frequently halted any progress made by the offense and negated a potential touchdown that would have handed Kansas City the lead.
The ugly: Quarterback controversy will dominate local headlines throughout the week. Despite an overwhelmingly run-oriented game-plan, Matt Cassel was still responsible for three turnovers. The most costly of the trio occurred when Cassel fumbled the snap on Baltimore's 1-yard line, wiping out an all-but-guaranteed touchdown for the Chiefs.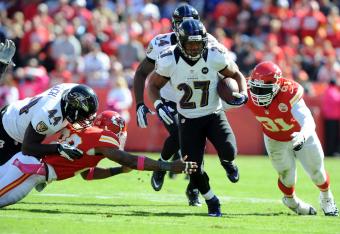 2:00, fourth quarter:
Ray Rice's will to win just chalked up another victory for the Ravens.
Kansas City's defense performed valiantly today. But on the final drive, Baltimore's offense wanted it more.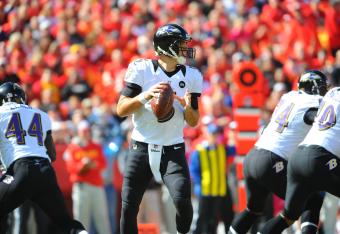 2:29, fourth quarter:
Give Flacco credit: His stats have been unimpressive, but he made a play when Baltimore needed it most.
His conversion on 3rd-and-15 may have erased Kansas City's last ray of hope.
4:01, fourth quarter:
Another penalty prevents a would-be touchdown for Kansas City.
Brady Quinn's regular-season debut was promising in his first drive. But he will only leave Arrowhead as a winner if he sparks a comeback.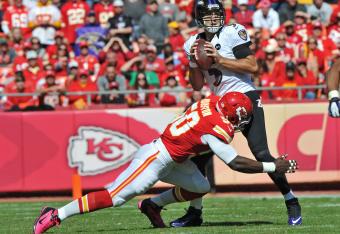 12:45, fourth quarter:
Flacco has been under constant pressure throughout the game. Justin Houston and Tamba Hali have combined for three sacks, and rookie Dontari Poe forced an unsuccessful heave downfield.
Offensively, this game makes the SEC look like the Big 12.
0:11, third quarter:
Kansas City has now committed 10 turnovers in their last seven quarters.
Outside of Jamaal Charles, Dwayne Bowe has been the only source of reliable production for Kansas City's offense. However, his latest drop sacrificed points for his team and made Cassel's day a lot worse than it already was.
Baltimore looks stale offensively. Considering how many golden opportunities Flacco and Co. have been handed, nine points is inexcusable.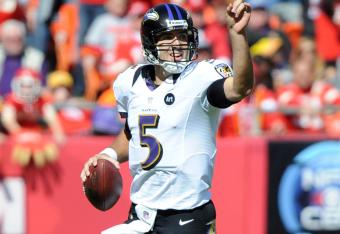 4:01, third quarter:
Brandon Flowers personifies consistency.
With that interception, Flacco's numbers (11-22, 143 YDS, 1 INT) look nearly as mediocre as Cassel's (7-9, 50 YDS, 2 INT).
5:49, third quarter:
This, by far, has been the most one-dimensional offense that Kansas City has showcased in recent memory.
The Chiefs have rushed the ball 32 more times than they have passed it. At this rate, Brady Quinn will be a local celebrity by next Sunday.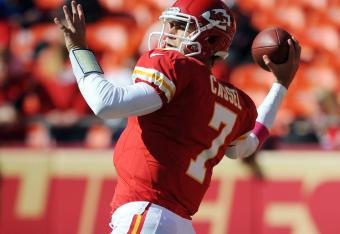 11:37, third quarter:
Matt Cassel's fan club may have just dipped to double-digits.
On 1st-and-goal with one yard to go, he fumbled the snap from Ryan Lilja, and Ed Reed emerged from the pile with the ball. The Chiefs have now fumbled on the 1-yard line twice this season.
The Kansas City Star's Sam Mellinger sums up the sentiment embedded in Arrowhead Stadium:
That fumble goes toward the top of the obituary of Cassel's career in Kansas City. #Chiefs

— Sam Mellinger (@mellinger) October 7, 2012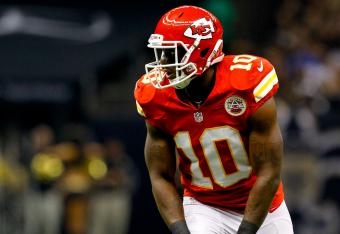 14:54, third quarter:
Terrance Copper has only jogged onto the field a few times today, but he has made a significant impact via special teams.
He contributed a lengthy punt return in the first half after catching a one-hopper and forced a fumble on the opening play of the second half.
Halftime:
It's tied at halftime.
The offensive output has been more lopsided than Chris Farley teeter-tottering with David Spade—Kansas City has produced 216 total yards and Baltimore was limited to 106.
But the Chiefs offense continues to look allergic to the end zone. The Ravens defense appeared to be at its breaking point several times throughout the half but it ultimately held strong.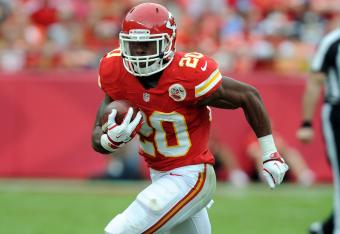 0:28, second quarter:
He remains shadowed by Jamaal Charles, but Shaun Draughn has proven to be an effective complement to the All-Pro speedster.
He and Cyrus Gray should provide plenty of relief for No. 25 in upcoming years.
1:05, second quarter:
Flacco's numbers aren't spectacular throughout the first two quarters, but it's partially due to drops becoming a trend for Ravens receivers.
Matt Cassel has attempted four passes in the first half—that speaks volumes about Romeo Crennel's (lack of) trust in his quarterback.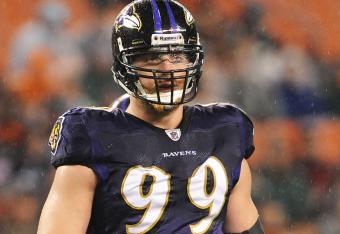 3:55, second quarter:
The same demons—turnovers and inopportune penalties—continue to haunt Kansas City's offense.
Paul Kruger has menaced the Chiefs in the first half.
8:01, second quarter:
Jamaal Charles has already eclipsed the 100-yard mark. Without a shadow of a doubt, he has looked like the best back in the league this year. Kansas City's offensive line walked into Arrowhead on a mission and have accomplished it in the first half.
The Ravens are getting punched in the mouth up front.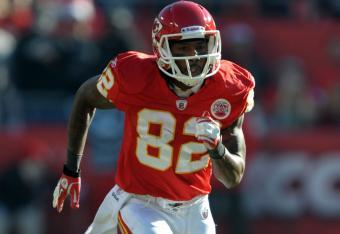 10:55, second quarter:
There are two reasons why the Chiefs boast the fourth-ranked offense coming into today: They effectively move the ball and constantly win the time-of-possession battle due to offensive turnovers.
It's hard to blame Cassel or Bowe for the last interception—more than anything, it was a case of exceptional defending. But Baltimore has already caused two fumbles and one interception.
More times than not, gambling with the Ravens defense is a bad bet. The Chiefs will find that out first-hand if they continue to do so.
1:45, first quarter:
Both offenses look out of sync in the first quarter.
Kansas City's rush-happy mindset has resulted in two fumbles, and Baltimore's receivers have struggled to create separation with defenders.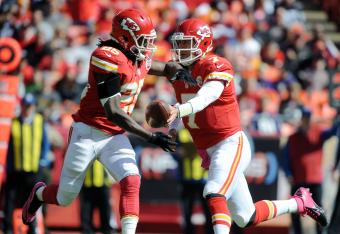 4:01, first quarter:
Fumbles continue to plague Kansas City's running backs.
Ex-Chiefs safety Bernard Pollard successfully ripped it from Jamaal Charles' arms, and rookie Cyrus Gray dropped a perfect pitch from Matt Cassel.
While Kansas City's backfield is its biggest asset, it's been undependable as of late.
7:21, first quarter:
Thus far, the Chiefs' conservative play-calling brings back memories of Herm Edwards. Three consecutive rushes by Shaun Draughn isn't the recipe to success, and the second drive proved it.
Following an uncharacteristically slow start, Tamba Hali racked up his first sack of the season.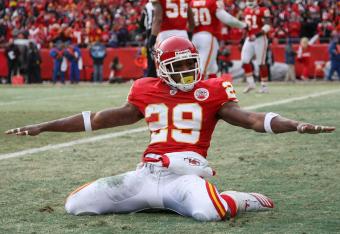 10:36, first quarter:
Eric Berry faced the most criticism of his young career throughout the past week.
Baltimore seemingly adopted San Diego's strategy of targeting him on its opening drive, but Kansas City ultimately stopped Joe Flacco and Co.
13:52, first quarter:
Kansas City's strategy to run a hurry-up offense out of the gates is interesting.
Cassel has thrived in it this season, but the Chiefs went three-and-out following a trio of rushes by Jamaal Charles.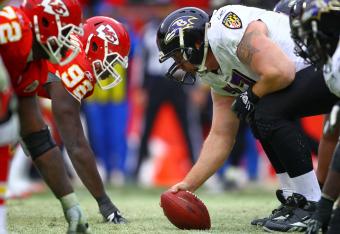 It's safe to say that there's no local-media bias, as The Kansas City Star's scouting report favors Baltimore.
If the Chiefs hope to win today, they will have to avoid turning the ball over—six turnovers handed a victory to the San Diego Chargers on a silver platter in Week 4.
Much like 2010, the key for the Ravens will be stopping Jamaal Charles and forcing Matt Cassel to air it out. While Charles averaged 9.1 yards per carry in their wild-card showdown, the Ravens forced the Chiefs to abandon their running game by piling up the points.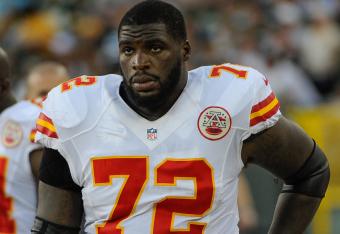 The Ravens will be relatively healthy heading into today's game, but the injury bug continues to hamper the Chiefs (NFL.com):
Baltimore Ravens
Reid, Jah (Questionable)
Smith, Torrey (Probable)
Kansas City Chiefs
Baldwin, Jon (Probable)
Brown, Jalil (Doubtful)
Dorsey, Glenn (Out)
Flowers, Brandon (Probable)
Hillis, Peyton (Out)
Johnson, Derrick (Questionable)
Lewis, Kendrick (Questionable)
Lilja, Ryan (Probable)
Pitoitua, Ropati (Questionable)
Wylie, Devon (Out)
This article is
What is the duplicate article?
Why is this article offensive?
Where is this article plagiarized from?
Why is this article poorly edited?