UFC on FX 5 Results: The Real Winners and Losers from Browne vs. Silva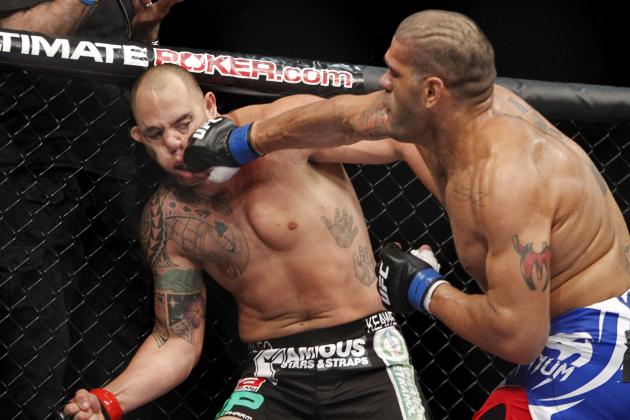 Bruce Kluckhohn-US PRESSWIRE

The UFC hasn't been back to Minneapolis, Minnesota since Brock Lesnar was first climbing the heavyweight ladder all the way back in 2008. They finally returned to the Twin Cities after years of pleas from the region's fight fans, and once again with another exciting heavyweight prospect. This time with rising star Travis Browne featured in the main event.
Instead, Antonio "Big Foot" Silva brought the Browne hype train to a crashing halt. He was the clear winner of the night, knocking Browne out in the first round. Suddenly the UFC has another potential contender—one more puzzle piece for matchmaker Joe Silva to play with in the days to come.
But Silva wasn't the only winner. At every UFC event there are literal winners and losers, and some whose victories and losses are metaphorical. A fighter can have his hand raised and still be a loser, if only in the eyes of the fans and UFC brass. Likewise, a loser who fights with heart and spirit can make a name for himself in a way he never could with a dull win.
Who were the real winners and losers on FX? Let's explore together.
Begin Slideshow

»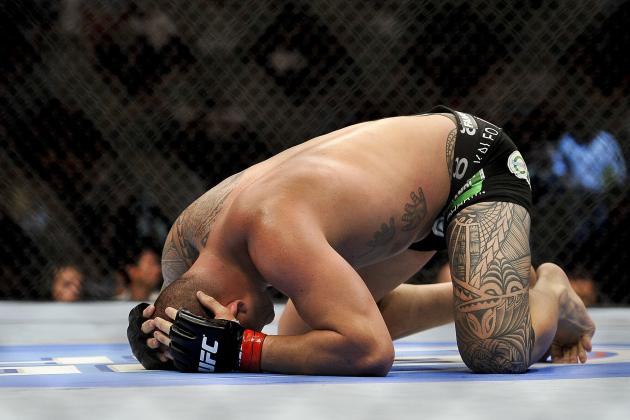 Paul Abell-US PRESSWIRE

Silva had his hand raised, but the win should come with a tiny asterisk attached. Silva clobbered Travis Browne with a powerful punch, but only after the big heavyweight was hobbled, walking gingerly and unable to engage properly.
It was unclear how Browne injured the knee. He did a flying kick, a weird Dominick Cruz style shuffle and generally looked a little spastic throughout. It may have come when he planted his leg to throw a kick. Possibly it was a training injury he hid in order to meet his obligations to the company and fans.
Either way, Silva's win is a little less emphatic than it might have been and Browne doesn't lose much ground, at least in my eyes.
(Update: During the post-fight presser, Browne said he felt his left hamstring pop three times with his first kick of the night).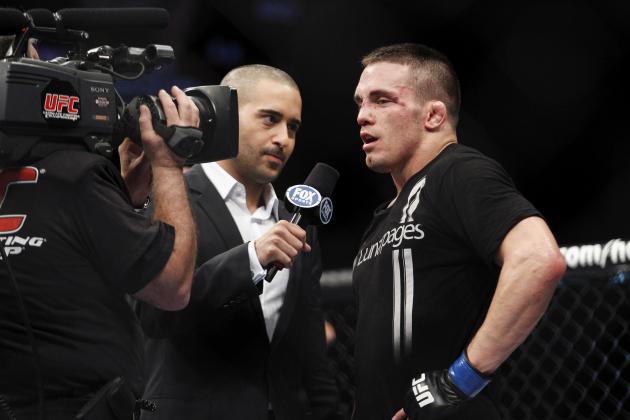 Matt Ryerson-US PRESSWIRE

Ellenberger was dealt a difficult hand. Jay Hieron is a tough, wily veteran. He just happens to be a tough, wily veteran no one has ever heard of.
Hieron has fought his career on the margins—but that doesn't make him one iota less dangerous than other fighters who are MMA household names. Ellenberger weathered "Hurricane" Hieron and continued his march toward the top of the welterweight division.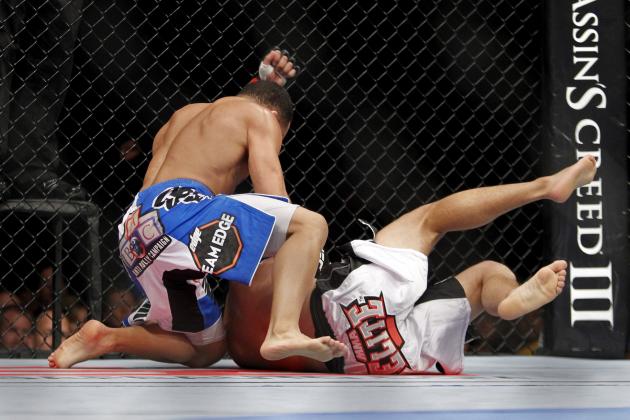 Bruce Kluckhohn-US PRESSWIRE

John Dodson, after inspiring boo after boo with a flyweight dance-a-thon, finished UFC newcomer Jussier Formiga in spectacular fashion with a series of thunderous punches.
Can a flyweight have thunderous punches? If they weren't M-80s, at the very least they were some solid pop and hoppers.
Unfortunately, referee Daryl Guthmiller didn't seem to notice Formiga was out cold. Punch after punch landed on the defenseless grappler. Although the knockout wasn't enough to satisfy a booing crowd, Guthmiller's inaction gave violence fetishists a chance to really enjoy themselves.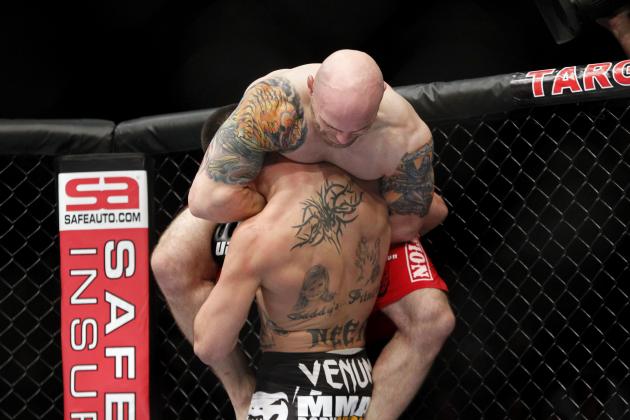 Bruce Kluckhohn-US PRESSWIRE

I had barely gotten done making fun of Justin Edwards' "mean face" when he went and justified it, choking Josh Neer unconscious with an arm-in guillotine in just 45 seconds.
Edwards flew under the radar before the bout, with much of the attention going to the veteran Neer. After less than a minute in the cage, Edwards flipped the script. Changed the paradigm. Made his bones. It was an impressive performance, one that left me wanting to see more.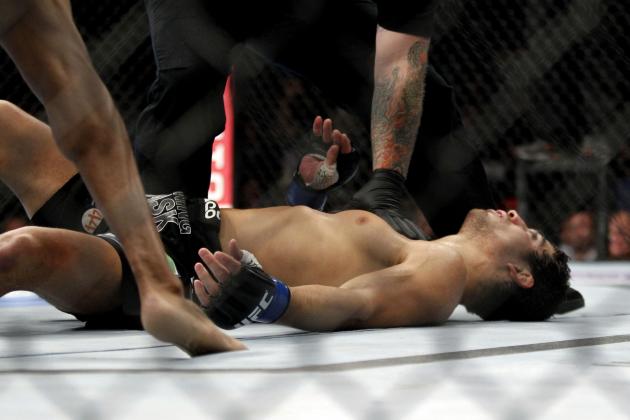 Bruce Kluckhohn-US PRESSWIRE

It was Castillo's fight to lose. A hard right hand in Round 1 left Michael Johnson with the "O" face, sitting shocked on the mat. Castillo had minutes, much of the round, to finish the bout. He couldn't get it done.
In Round 2, Johnson landed a short left hand, a little push punch that didn't look like much, even with the benefit of slow motion replay. But it was enough to drop Castillo. And when Johnson got an opportunity, he made the most of it.
Hard punches sent Castillo to dream street. When he awakes, he'll have plenty of time to think about how he had the win in hand and let it slip through his hands.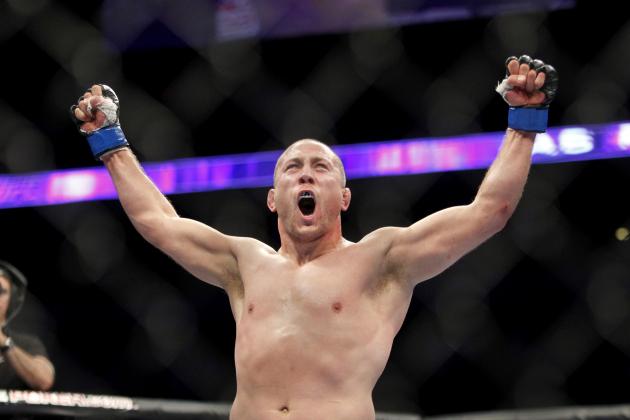 Bruce Kluckhohn-US PRESSWIRE

Pierce was taking a beating at the hands of the ageless Aaron Simpson. The 38-year-old wrestler had Pierce on the ropes, clobbering with hard punches and knees.
Cornerman Robert Follis, the coach who helped propel Randy Couture and Dan Henderson to MMA gold, encouraged Pierce to press the action in the second round. It didn't take long for that advice to pay off.
Pierce landed a crushing right hand to finish the fight and put fellow welterweights on notice—against Mike Pierce you better fight all 15 minutes like your livelihood depended on it.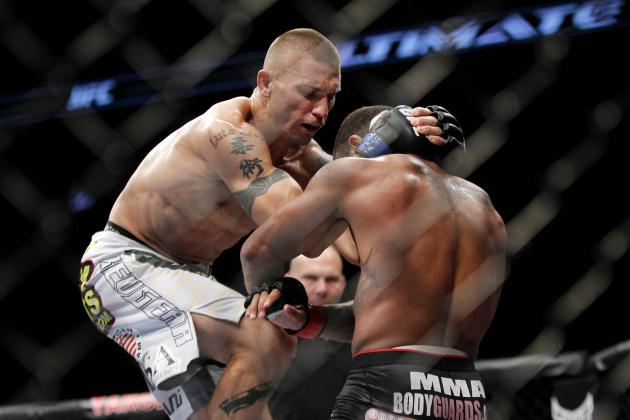 Bruce Kluckhohn-US PRESSWIRE

If you ever wanted to watch two men in an extended hugging match, one that was neither violent nor romantic, you are in luck. Save this show to your DVR for the hug-a-thon of the century.
Prater and LeVesseur were equally awful, but Marcus was given the split-decision win. Many disagreed with the verdict. Because the fight was so terrible, however, no one could really muster much umbrage.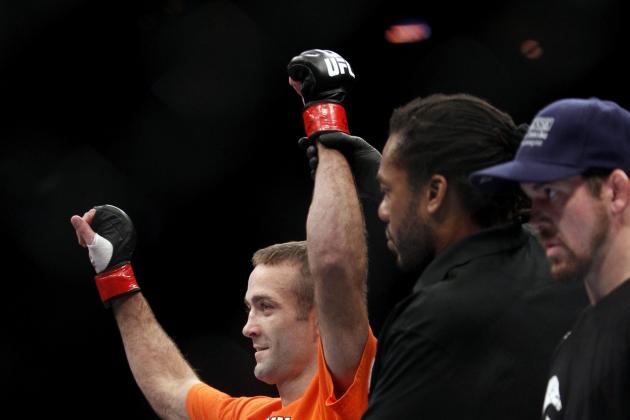 Bruce Kluckhohn-US PRESSWIRE

No one ever says the ninth time is the charm. Most people give up long before that. Not Jacob Volkman. The wrestler may not have shed his "boring" label with a submission over Shane Roller, but he certainly took a big step toward being as entertaining as he is effective.
After the bout, Volkman tried awkwardly to get a Minnesota chant going, then encouraged fans to vote for him in the upcoming Presidential election. One problem—the 32-year-old Volkman isn't qualified to be President. You have to be 35.