Las Vegas-Style Odds for the Top 15 2012-13 NHL Rookie of the Year Candidates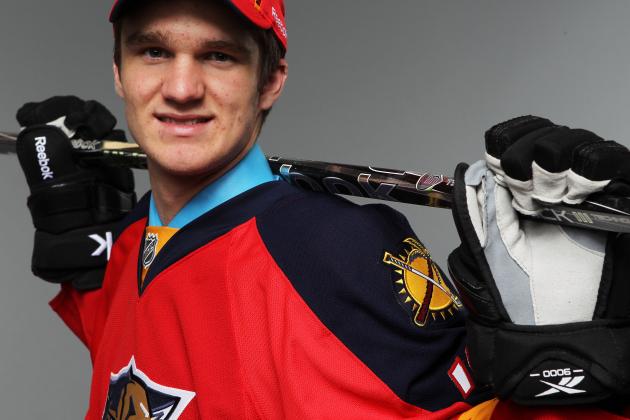 Nick Laham/Getty Images

The 2012-13 NHL season is slated to feature tons of top prospects making their NHL debuts. These premier youngsters will all be competing for the storied Calder Trophy.
Right now, the 2012 NHL lockout has enabled some of these youngsters to gain some more experience and playing time outside of the league, and their prospect and rookie status is still intact.
Here are Las Vegas-style odds for the top 15 2012-13 NHL Rookie of the Year candidates.
Begin Slideshow

»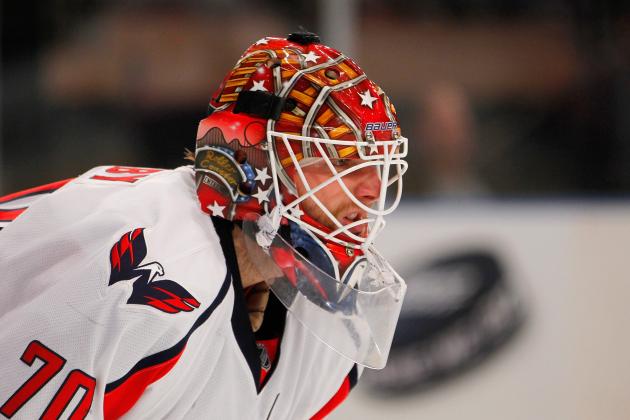 Paul Bereswill/Getty Images

Braden Holtby went on an impressive run with the Washington Capitals during the 2011-12 Stanley Cup Playoffs. He was an enigma who appeared to be unbeatable at times and that gave the Capitals a huge advantage.
During the lockout, Holtby has returned to the Hershey Bears, and he is expected to continue having success as he develops into one of the NHL's top young goaltenders.
If Holtby can continue his success for Washington during the 2012-13 season, he should compete for the Calder Trophy.
Odds: 50/1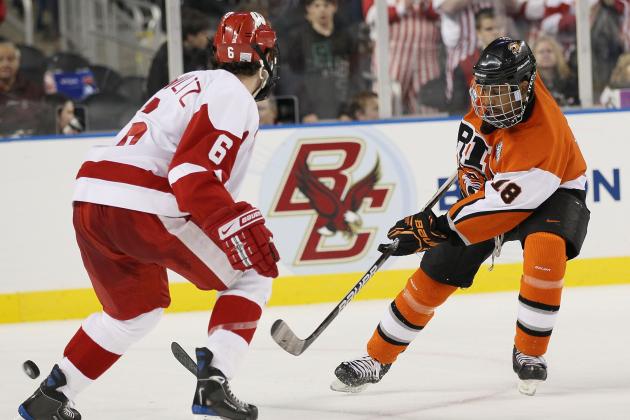 Elsa/Getty Images
Schultz (6)
Justin Schultz is a defenseman who appears to be the complete package for the Edmonton Oilers. He has superior offensive skills, a high hockey IQ and is a solid power-play quarterback.
Training camp and AHL experience with the Oklahoma City Barons during the 2012 lockout will only turn Schultz into a more complete player. Schultz is going to be a top star for the Edmonton Oilers and he has an average chance to win the Calder Trophy.
Odds: 50/1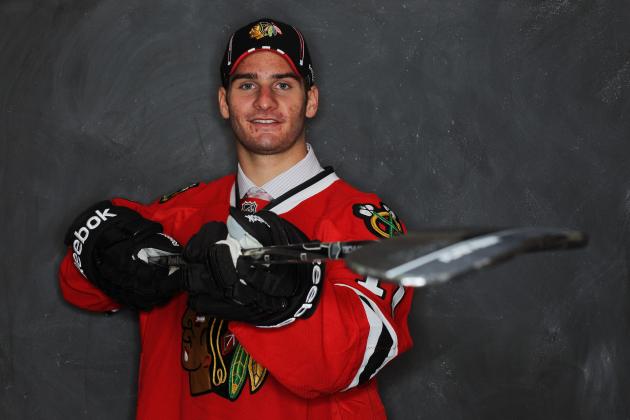 Nick Laham/Getty Images

Brandon Saad is a big-bodied winger, skating at 6'1", 208 pounds. Saad was a member of the Saginaw Spirit of the OHL before he joined the Rockford IceHogs of the AHL.
In 2011-12, Saad finished with 34 goals and 76 points in 44 games with Saginaw.
Saad may be known is for his physical play and speed, but he also an accomplished offensive goal scorer, and that makes him a really solid prospect for the Chicago Blackhawks.
He is a dark-horse candidate because his size and speed should make him effective in the Blackhawks system, and that will give him a shot at capturing the Calder Trophy.
Odds: 20/1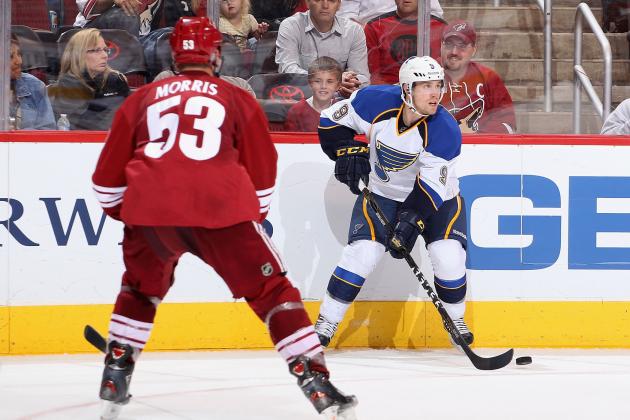 Christian Petersen/Getty Images

Jaden Schwartz is a scoring prospect who will be skating for the Peora Rivermen while the NHL is locked out. Schwartz is a talented forward who likes to skate the puck into the zone before targeting an open man to pass to.
He has pinpoint accuracy and a solid shot that he will continue to develop in the NHL.
There is no denying Schwartz' talent, but historically, St. Louis Blues coach Ken Hitchcock doesn't give rookies a lot of ice time—see Jeff Carter in Philadelphia— so Schwartz will be at a slight disadvantage going in.
Odds: 20/1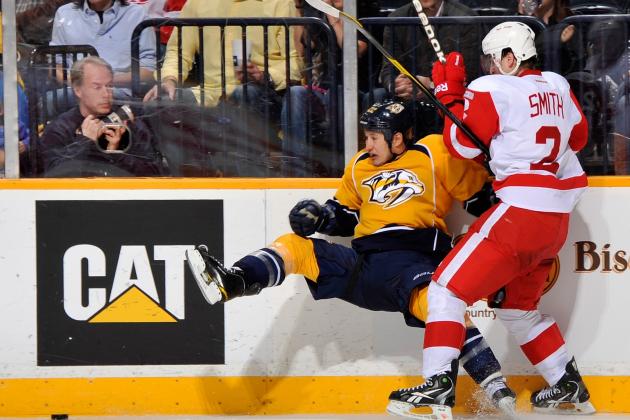 Frederick Breedon/Getty Images

Brendan Smith had 34 points for the Grand Rapids Griffins of the AHL in 2011-2012, and he will walk onto a depleted Detroit Red Wing blue line this season.
Smith has great vision and hands that complement his overall skating abilities. This sizable 6'2" defender has future Norris Trophy-winner written all over him, and he is a defender who could fill the the void left by Nicklas Lidstrom in a few years.
Defenseman are usually forgotten about when it is time to vote for the Calder Trophy, but Smith could change that this year.
Odds: 20/1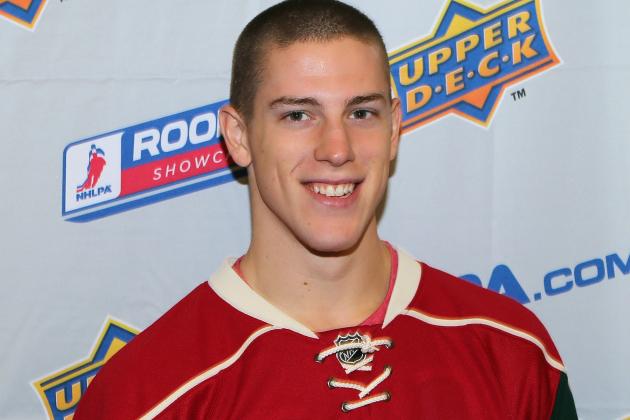 Bruce Bennett/Getty Images

Charlie Coyle started his 2011-12 season with Boston University but dropped out and joined the Saint John Sea Dogs of the QMJHL.
It was an interesting change of pace for the skilled forward, but it really paid off.
With the Sea Dogs, Coyle had 38 points in 23 regular season games and 34 points in 17 playoff games.
Coyle is a good-sized forward—6'2", 207 pounds—with tons of offensive potential. Unfortunately, he likely will be a third or fourth line center with the Minnesota Wild in 2012-13.
Odds: 20/1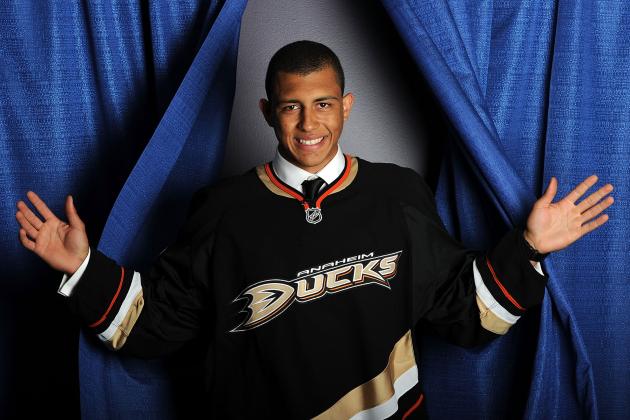 Harry How/Getty Images

Emerson Etem lit it up at the WHL level the past three seasons, including his 61 goals and over 100-point campaign in 2011-12.
Etem's offensive acumen and skating abilities are extraordinary, and he will be able to enter an Anaheim Ducks squad starving for secondary offense. Etem will get a taste of professional hockey during the lockout when he plays for the Norfolk Admirals of the AHL.
The AHL is closer to the NHL in structure and strategy than the WHL. With Etem playing against tougher competition and NHL talent, he should be able to illustrate why he will contend for the Calder Trophy.
Odds: 15/1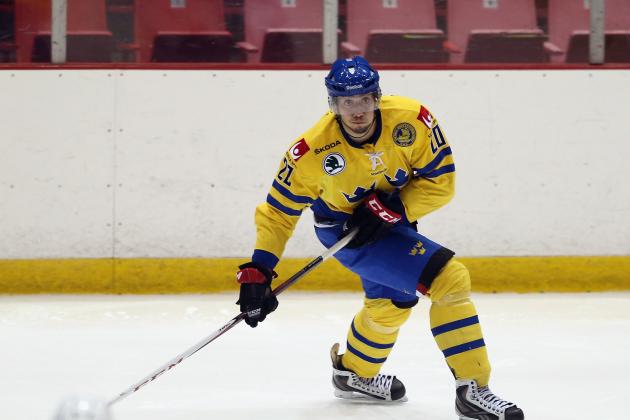 Bruce Bennett/Getty Images

Mika Zibanejad is a skilled center who has the potential to become an above-average power forward because of his soft hands and his great scoring touch.
Zibanejad is a great skater with good on-ice vision, and the AHL will allow Zibanejad to acclimate to the ice surface space and style of North America.
Zibanejad will start off the season with the Binghamton Senators of the AHL because of the lockout. While in the AHL, he should have enough time to prove that he belongs in the NHL and why he will be a contender for the Calder Trophy.
Odds: 15/1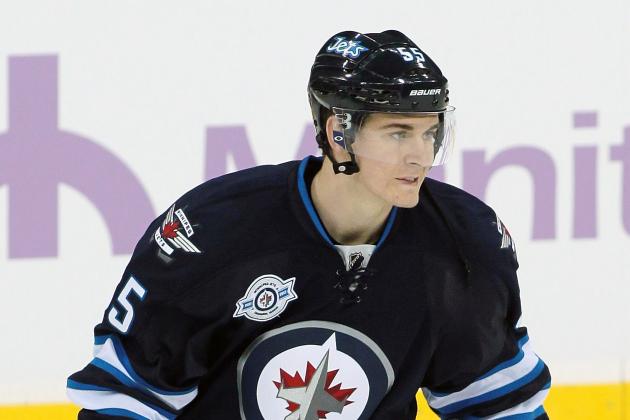 Marianne Helm/Getty Images

Mark Scheifele is a player who is ready to make an impact during the 2012-13 season. The Winnipeg Jets sent Scheifele back to the juniors team instead of keeping him for an entire season, and it really helped his development.
Upon his return to the Barrie Colts, Scheifele recorded 63 points in only 47 games. Right now, Scheifele is skating for the St. John's IceCaps of the AHL, which will give him a chance to experience extended professional action.
Scheifele is a playmaker with skilled and agile hands. His speed and legs are essential to his game. He is a smart two-way forward who has the makings of becoming a dominant power forward in the NHL.
He will be a star for Winnipeg, and he has an outsider's chance to win the Calder Trophy.
Odds: 12/1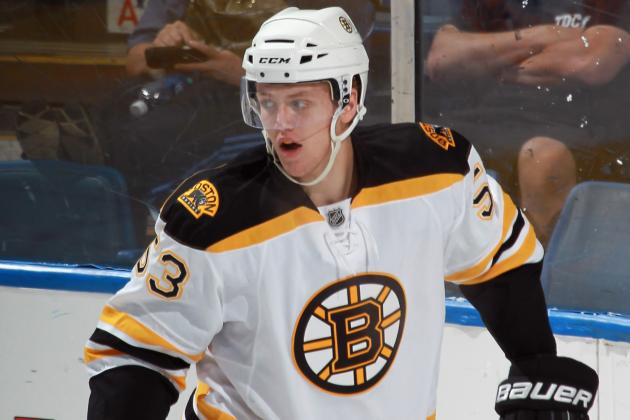 Bruce Bennett/Getty Images

Dougie Hamilton is a sizable two-way defender who has a booming shot and good hands.
Adding him to the Boston Bruins makes them an impressive defensive team. He joins a team already stacked with players like Zdeno Chara and Dennis Seidenberg.
Hamilton is a 6'6", 193-pound physical defender, whose hands make him able enough to run a power play.
Hamilton will be a Bruin in 2012-13, but he will have to earn his minutes, and that could cost him the Calder Trophy.
Odds: 12/1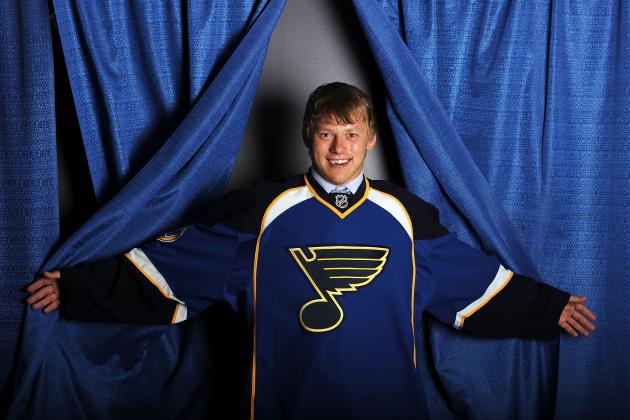 Harry How/Getty Images

Vladimir Tarasenko's greatest asset is his goal-scoring ability, which is complemented by his quick hands.
Tarasenko is a feisty competitor who plays with grit and aggression.Tarasenko has KHL experience, and he has proven himself against opponents older than him, so he should be able to make a transition to the NHL level.
Tarasenko will eventually have great opportunites with the St. Louis Blues, but, like Jaden Schwartz, he will be kept on a tight leash by Ken Hitchcock.
Odds: 8/1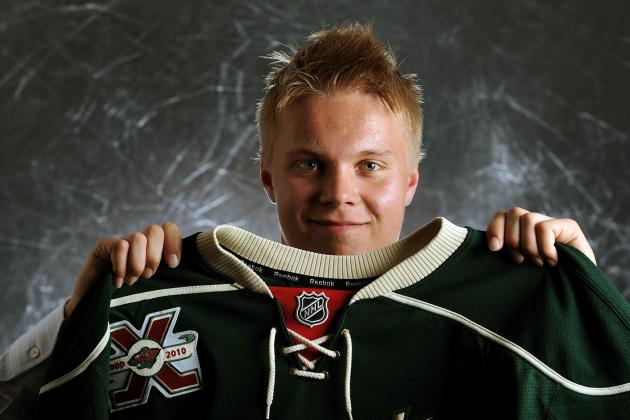 Harry How/Getty Images

Mikael Granlund is another top-prospect center who has a big upside, and he will suit up for the Houston Aeros in 2012-13.
Granlund has worked hard and has illustrated that he has the tools to be one of the NHL's next top playmakers. He has the speed, skill and finesse to be successful, so expect him to tear it up in the AHL during the 2012-13 season.
In terms of Calder Trophy chances, he will be second on the Wild's center depth chart behind Mikko Koivu, and he won't have Zach Parise or Dany Heatley on his wings. Granlund has a good chance, but he will likely finish fourth in voting.
Odds: 6/1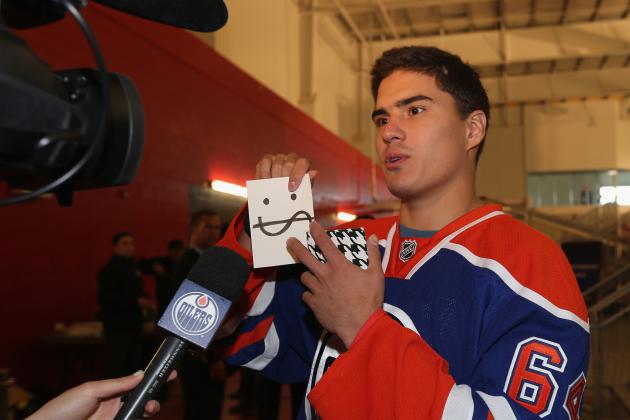 Bruce Bennett/Getty Images

Nail Yakupov is a player with tremendous skill and the potential to be the next big thing. However, there will be an adjustment period, so don't expect him to light things up off the bat.
With the Sarnia Sting, Yakupov has put up some impressive numbers and displayed a well-rounded skill set that included speed and a goal scorer's touch.
With the Edmonton Oilers, he will be surrounded with like-minded players, and he will be given opportunities to succeed.
He has the skills, potential and supporting cast to be a breakout player in 2012-13, and he will be a finalist for the Calder Trophy.
Odds: 5/1
Chris Kreider is a speedy forward who made the jump to the NHL from the NCAA level during the New York Rangers' playoff run, and he scored five goals and seven points overall.
Kreider is built like a typical power forward at 6"3' and 230 pounds, and the rookie forward could be paired with Rick Nash or Marian Gaborik on the right wing and Brad Richards or Derek Stepan at center.
Kreider's skill set, maturity and experience in the NHL playoffs give him a huge advantage when it comes to winning the Calder Trophy.
Odds: 5/1
Jonathan Huberdeau was The Hockey News' pick for Rookie of the Year in their most recent magazine release, and it is hard to disagree with them.
Huberdeau has had a knack of rising to his game, and that goes back to his 2011 draft year. Huberdeau skyrocketed up the depth chart at the NHL Entry Draft when he was coming off a 105-point season.
Huberdeau has a lot of the tools required to be a top center in the NHL, and he also can line up on the wing if necessary.
The Flordia Panthers' top prospect is gifted with a great skill set, which is complemented by his agile hands and his size.
Huberdeau's speed, size, skills and composure should enable him to win the NHL's Calder Trophy this season.
Odds: 9/2