Cardinals Win, Umps Take Center Stage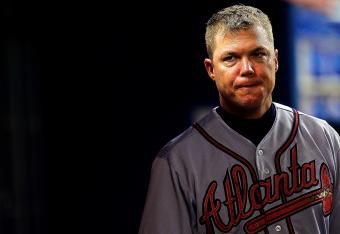 Keep it locked right here as we bring you live NL Wild Card coverage!
Torre said he disallowed protest because its a "judgment call"

— Jon Heyman (@JonHeymanCBS) October 6, 2012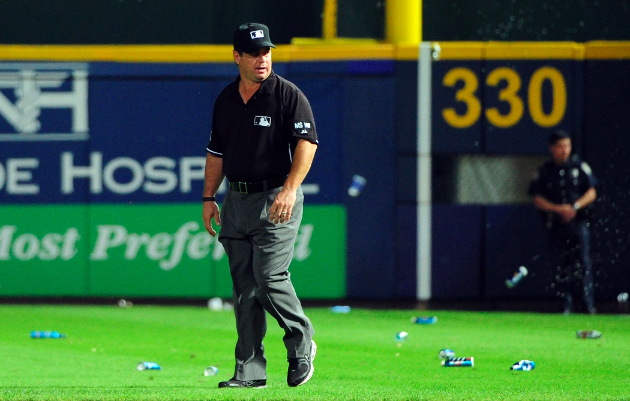 Umpires were hustled off the field as debris came down at Turner Field.
Career stats for Chipper Jones: 2,726 Hits, 468 HRs, 1,623 RBI, 1,512 BB, .303 AVG

— Bleacher Report (@BleacherReport) October 6, 2012
MLB has already denied protest

— JIM BOWDEN (@JimBowdenESPNxm) October 6, 2012
Why Chipper said 1-game wild card playoff was 'stupid' in Sept.: "Anything can happen in one game - a blown call by an umpire..." #prophetic

— CBSSports.com (@CBSSports) October 6, 2012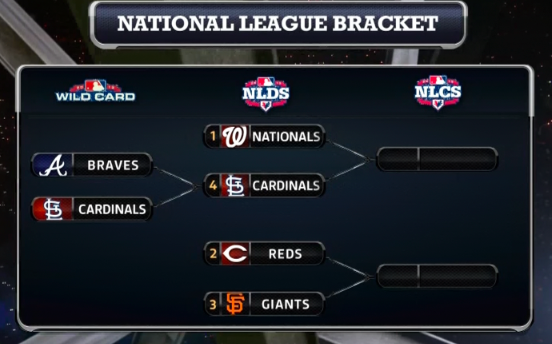 The National League playoff bracket is set.

It's a final in Atlanta. The St. Louis Cardinals have advanced and will play the Washington Nationals in the NLDS.

Here we go...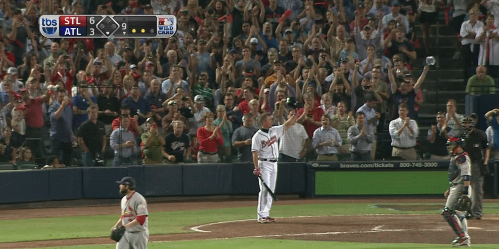 Chipper Jones gets a standing ovation in what could be his last at bat.

Chipper up to the plate for potentially the final at bat of his career.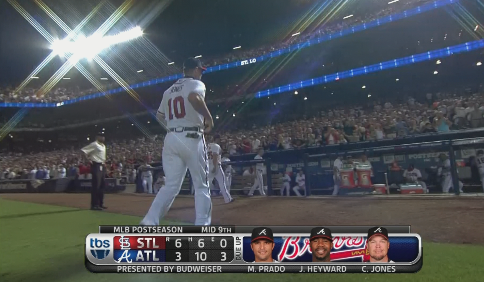 The Braves head into the bottom of the 9th down 3 runs. Chipper Jones is due up 3rd.
Now the game's under protest by the Braves. We know what the odds are that will be approved.

— Landon Hall (@Landon_Angels) October 6, 2012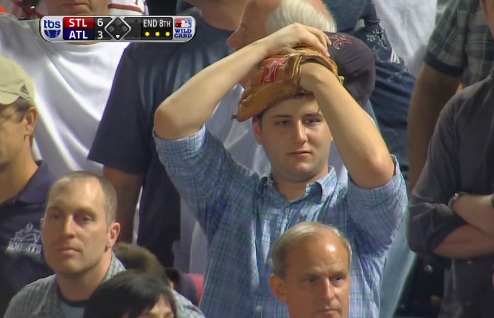 Braves fans in utter disbelief.
Great job by Motte battling back from that ball-strike count against Bourn. 6-3 STL...

— Buster Olney (@Buster_ESPN) October 6, 2012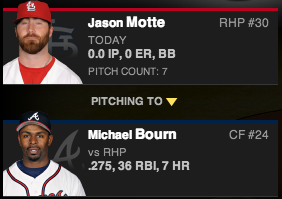 Bases loaded for Michael Bourn — Braves down 6-3 with 2 outs.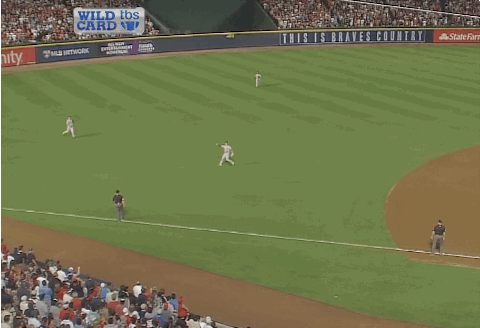 The infield fly play.
tom verducci on tbs reports umpire jeff kellogg was hit by an airplane-style liquor bottle. & he didnt even make the call.

— Jon Heyman (@JonHeymanCBS) October 6, 2012
Fans from the upper deck still throwing full bottles of soda/beer down onto the field. Scary stuff. Also embarrassing.

— B.J. Rains (@BJRains) October 5, 2012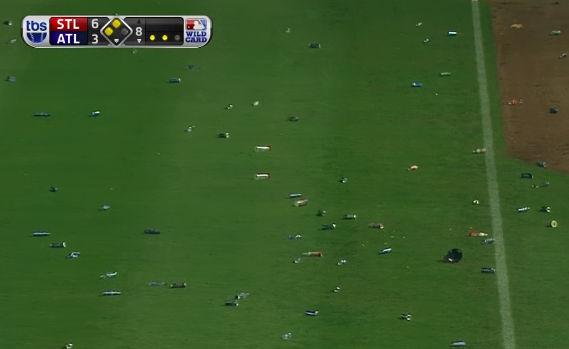 Beer bottles have been thrown all over Turner Field after the controversial call. The grounds grew trying to clean up the mess as quickly as possible.

Twitter doesn't agree with that call.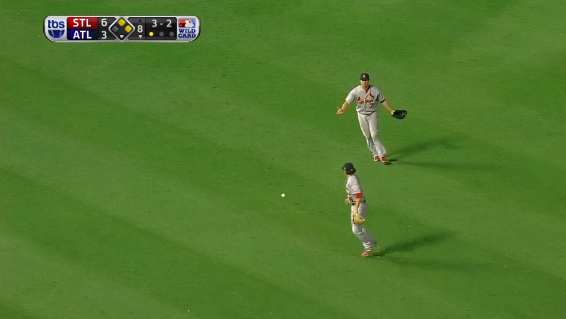 Infield fly rule! Umps make a game-changing call. Cards' SS Kozma ran into left field to make the grab and then at the last minute the ball dropped.

Braves made the right decision starting David Ross over Brian McCann at catcher. Ross 3-4 on the night with a homer.
This article is
What is the duplicate article?
Why is this article offensive?
Where is this article plagiarized from?
Why is this article poorly edited?