Baltimore Orioles vs. Texas Rangers AL Wild Card Game: Live Score and Results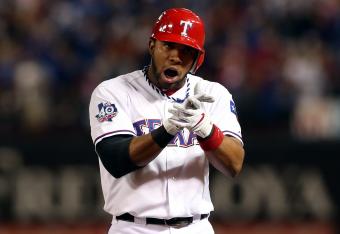 Ronald Martinez/Getty Images
Baltimore 5, Texas 1- F
Josh Hamilton Tracker: 0-for-4, GIDP, 2 K, RBI
On a night when Yu Darvish was supposed to steal the show in Texas, Joe Saunders pulled a magic trick out of the Orioles magic bag, and helped keep their remarkable season alive.
The lefty matched Darvish pitch-for-pitch, and was able to pitch out of jams with runners on base. Darvish was no slouch, but some bad defense and no offense helped doom him in the end.
Josh Hamilton was a no-show, and Nate McLouth came up with big hits to fuel the Orioles. Texas heads home with plenty of questions this offseason, the most glaring being "How the heck did we blow this?"
The Orioles head to New York to take on the Yankees in the ALDS, marking their first appearance in an ALDS since 1997. Our night together is finished, but keep checking back with Bleacher Report tonight and over the course of this 2012 postseason for instant analysis, highlights and more.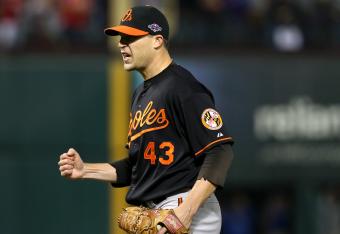 Three Quick Hits:
O's Bullpen vs. Rangers Bullpen
The Orioles put in 3.1 of shutout relief for Joe Saunders, while Derek Holland and Joe Nathan combined for nothing productive during their time on the field.
Darren O'Day, Brian Matsuz and Jim Johnson shut the door for the Orioles, and Buck Showalter effectively managed his pen better than Texas.
Ron Washington, however, left his best lefty specialist, Koji Uehara, on the bench in the 7th, and it cost him. Uehara came in and struck out the side in the 8th, but by that time it was too late.
The O's dominated this matchup, and it showed in the 5-1 final.
Where in the world is Josh Hamilton?
You saw the line that Hamilton was a .227 postseason hitter, and he went 0-for-4 in what's likely his final game as a Ranger. Mike Napoli was also 0-for-3 with a walk, and the Rangers just couldn't get that one hit to push this game over the edge.
Hamilton saw eight pitches. He swung at six of them, and didn't see a ball all night. I repeat, didn't see a ball. Not one.
It's only going to throw fuel on the fire that this guy doesn't care about Texas anymore. If you watch his body language, it's sure hard to argue, but you can bet the questions will abound in his exit interview, and the Rangers won't be jumping to overpay a guy they don't believe is a true team player.
O's Magical Season Continues
If the home runs and great defense wasn't enough, Buck Showalter finally advanced in a postseason game.
I'll leave you with this, per ESPN's Stats and Information Twitter account.
Via ELIAS: Orioles are 1st team Buck Showalter managed that ADVANCED in the postseason.

— ESPN Stats & Info (@ESPNStatsInfo) October 6, 2012
It's setting up nicely for an A's/O's ALCS. It would be a great storyline, and a perfect segway into either "Moneyball 2" or "The Year of the O."
Jokes aside, great win by the Orioles on the road. They showed heart, grit and fought for this win, while Texas looked complacent as losers, with the exception of a very chosen few.
Hamilton career .227 hitter in postseason

— Jean-Jacques Taylor (@JJT_ESPNDallas) October 6, 2012
That will do it from Texas. Murphy flies out to left field and the O's complete Texas' stunning collapse by handing them a home loss in the first ever AL Wild Card game.
Baltimore will head to New York to take on their division foes, the Yankees, in one of the most anticipated matchups of these playoffs.
Stay tuned for some quit-hitting analysis, and we'll wrap it up.
5-1 final in Arlington, and the 93-win Rangers, who were one game away from winning the AL West, are now out of these 2012 playoffs.
And Profar delivers to load up the bases. You can't make this stuff up.
David Murphy is up for the Rangers, as the tying run.
Napoli walks to bring Jurickson Profar to the plate. The rookie will have his shot to make a mark on the 2012 season.
Profar is 19 years old.
Hit-and-run keeps Cruz out of what would have been Young's 27th and final DP of the season. It's all up to Napoli now.
Nelson Cruz keeps hope alive with a single to left field. Still one out, and Michael Young is at the plate.
Beltre takes a strike, then flies out to center field. One out.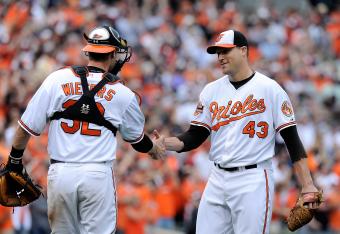 Jimmy John is trotting in from the bullpen for the O's. Three outs remain on this dominating performance on the road. They've come in and completely out-played, out-hustled and out-managed the two-time AL Champs.
In the process, they've also likely started the rebuilding effort in Texas. Napoli and Hamilton are heading into what could be their last half-inning as Rangers.
McLouth hits a sacrifice fly to Hamilton in center. Hamilton lazily gets it back in to Kinsler. Rangers have no life, and it's showing.
5-1 Orioles.
Manny Machado acting like he's been here for years. Shades of Cal Ripken Jr. on this play, as he lines the ball into left field to extend the lead to 4-1.
O's still threatening, and have runners at the corners with one out.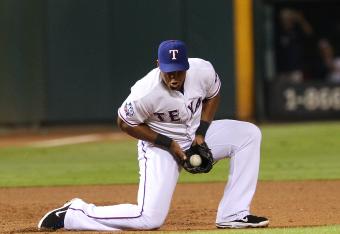 Beltre finding the fun in playing third base, which is always nice to see. Checks the runner several times before returning the ball to Nathan.
Andino doubles off the left field wall to put runners at second and third against Nathan. There's one out in the top half of the 9th, and the O's are threatening to put this game away right now.
Mark Reynolds against Joe Nathan is the kind of AB I think we all expected to see out of Hamilton vs. Matsuz. Great AB by the O's 1B.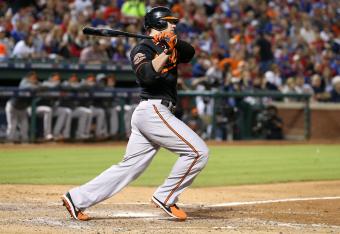 Joe Nathan on to pitch what could be his final inning of 2012, and he starts the inning with a leadoff walk to Jim Thome.
Great question from DFW sports writer Dwain Price.
What has happened to Josh Hamilton? The great ones don't go down that easy. They claw, they scratch, they battle. Something's missing here.

— Dwain Price (@DwainPrice) October 6, 2012
Hamilton strikes out on three pitches. 0-for-4 with 2 Ks and a GIDP in the first inning. Not exactly the Hobbs-esque exit that will be loved by all Rangers fans.
O's up to bat in the 9th with a chance to extend the lead.
Brian Matsuz is the lefty facing Hamilton.
If anyone has seen "The Natural" with Robert Redford, this would be the time to start dropping comparisons to Roy Hobbs.
And here comes Josh Hamilton. Showalter plays the numbers game, and is going with a lefty in his bullpen. Two outs in the bottom of the 8th with Kinsler still on second.
HUGE break for Texas. Mirrors Holland's mistake in the 7th. No double play for the Rangers, and it ensures Josh Hamilton an AB no matter what happens with Andrus.
Will Hamilton get a shot at redemption?

— Jean-Jacques Taylor (@JJT_ESPNDallas) October 6, 2012
Break for the Rangers as J.J. Hardy is unable to come up with the jam shot infield hit by Kinsler. Rangers must capitalize with Andrus and Hamilton coming up.
New stat of the night on the O's:
74-0 when leading after 7 innings this season.
Murphy grounds out to first, and the O's are five outs away from the ALDS.
David Murphy on to pinch hit for the Rangers against O'Day. He will move to left field, and Josh Hamilton will go to center during the final half of the ninth for Texas.
This article is
What is the duplicate article?
Why is this article offensive?
Where is this article plagiarized from?
Why is this article poorly edited?