MLB Playoffs: Breaking Down the Inaugural MLB Wild Card Games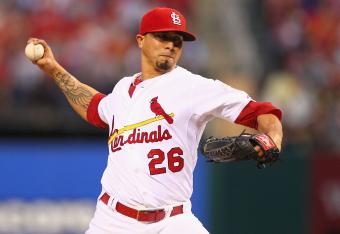 Dilip Vishwanat/Getty Images
Sudden death.
That is all the four teams who are playing today can think of as they begin the playoffs this evening. It is a format that fans have never quite experienced in baseball. Sure, we have seen plenty of elimination games and must win games, but never this. Not a game in which both teams immediately have their backs thrown up against the wall and will fight tooth and nail to survive past tonight and into the weekend. There is no series, no margin for error, no game two if you lose, no tomorrow.
For the Cardinals, Braves, Orioles, and Rangers, it could all end today. Win and advance to the LDS or lose and see the hard work of a 162 game season come to a bitter end.
Here is a preview of each Wild Card game that will be seen today.
The 2011 Cardinals were the team that would not go away. They did not know when to tap out, they did not know what the word quit meant, all they knew was how to fight and fight and fight some more until they came out on top.
Now, this year's version of the Cardinals are in the same spot as last year's. They have been told that they can not win without Albert Pujols and Tony La Russa. They have been told that they can not pull off a miracle season twice in a row. And frankly, they don't care what you think.
With Kyle Lohse taking the mound today in Atlanta, the Cardinals have reason to believe that they have just as good a chance as anybody to win the 2012 World Series. And why shouldn't they?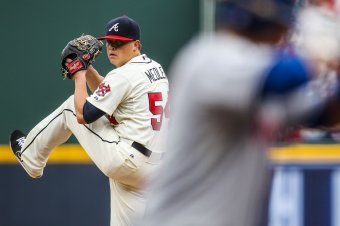 Daniel Shirey/Getty Images
After all, Lohse is 16-3 on the season and posted a 2.86 ERA. The offense, led by Matt Holliday, Yadier Molina, Carlos Beltran, and last year's postseason hero David Freese is one of the best in baseball. And with the supporting cast of Jon Jay, Allen Craig, Pete Kozma, and Daniel Descalso rounding out the starting lineup, the Cardinals can certainly kill you very quickly with their bats.
For Atlanta, revenge is on their mind. After all, the Braves had a postseason spot all but locked up last September before these same St. Louis Cardinals rallied back from the grave to stun the Braves on the final day of the regular season and take away the Wild Card spot.
Atlanta will send Kris Medlen to the mound and he has been sensational all season. Medlen made his first start on July 31st and since then has posted a 9-0 record and 0.97 ERA. In fact, the Braves have won 23 straight games in which Medlen has started dating back to 2010.
Atlanta also sends a pretty stellar lineup onto to the field today. Future Hall of Famer Chipper Jones, in what could be his final baseball game of his career, Michael Bourn, Jason Heyward, and Dan Uggla will lead the way for the Braves offensively.
It is sure to be a great game, but it will all come down to pitching.
Medlen vs Lohse.
Which pitcher can dominate the other lineup more?
The answer is Lohse. The Cardinals have more power in their lineup than Atlanta does and Medlen will have a much tougher time holding the Birds in check.
Who do you think will win today?
The defending World Series champions will win today 3-1 and head home to continue their title defense against the Washington Nationals.
While the first game of the inaugural Wild Card round in MLB will be dominated by pitching, the second game is going to be dominated by the lumber.
The Texas Rangers are not going to be stopped offensively. They lead the league with 808 runs scored this season and the Baltimore Orioles are either going to have to put up runs or go home.
Sure, the Orioles pitching staff can slow the Rangers down to some extent, but there is no way to completely stop them offensively. Just look at the World Series last year. It took the Cardinals ten runs in Game 6 to finally put away the Rangers.
With Josh Hamilton, Nelson Cruz, Adrian Beltre, Mike Napoli, and Ian Kinsler in the lineup, the Rangers are going to score early and often.
So, can the Baltimore bats keep up with those of the Rangers?
Texas sends Yu Darvish to the mound to face off against the Orioles' Joe Saunders. Darvish is 16-9 this season with a 3.90 ERA for the Rangers. While those statistics may not be as impressive as the one's that Medlen and Lohse have on the National League side, it is important to note that Darvish was also pitching in the American League West. Facing opposition from the Athletics and Angels very frequently throughout the season.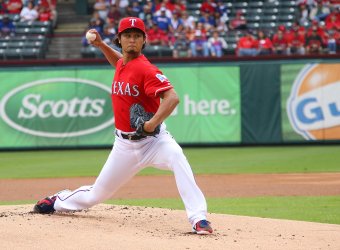 Rick Yeatts/Getty Images
To answer the previous question then, is yes. Yes, the Orioles can keep up with the Rangers. For a little while at least.
The Orioles will eventually lose though because of their batting average. This season Baltimore ranked 20th in baseball with a team average of .247 and they ranked 23rd in on-base percentage at .311. The Orioles have been all about power all season. Players like Matt Wieters hitting .249 and Mark Reynolds hitting .221 will just not cut it in the postseason.
Baltimore will fight hard, but come up short to a far superior team in the Texas Rangers.
The two time defending American League champions will win 11-7 and look to make it three American League titles in a row.
Maybe the third time will be the charm in Arlington this season.
This article is
What is the duplicate article?
Why is this article offensive?
Where is this article plagiarized from?
Why is this article poorly edited?