St Louis Cardinals vs. Atlanta Braves NL Wild Card Game: Live Score and Results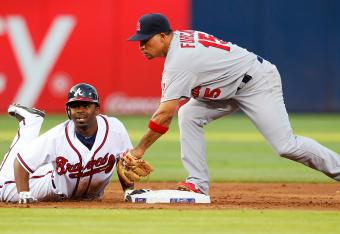 Kevin C. Cox/Getty Images
Cardinals 6 Braves 3 Final
Chipper Tracker: 1-5, K, infield single
It was an ugly showing by both the Atlanta Braves and their fans, as the Braves made three costly errors and Braves' fans made the stadium rain garbage and debris following a blown infield fly rule call by the umpires.
In what will go down as "The Infield Fly Rule Games," the St. Louis Cardinals advance to the NLDS where they'll meet the Washington Nationals.
Farewell to Chipper Jones, one of the best third baseman to ever play the game.
Follow me on Twitter: Follow @Pete_Schauer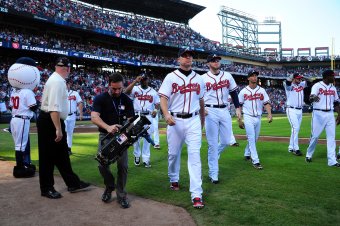 Scott Cunningham/Getty Images
Uggla grounds out to second base and this one is over, folks.
St. Louis is unable to celebrate due to the classy Atlanta fans throwing more garbage onto the field.
Cards win this one 6-3 in Chipper Jones' final major league game.
Atlanta isn't quite ready to go home.
Freeman doubles to deep center and now the tying run is at the plate in the form of Dan Uggla.
Postseason baseball truly is incredible.
Chipper Jones gets a gimme infield hit for what is probably his last AB!
Cardinals doing the opposite of Braves fans and showing class for Chipper Jones.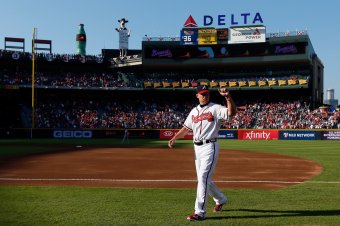 Kevin C. Cox/Getty Images
Heyward flies out to left field and now here's what will probably be Chipper Jones' last MLB AB. Real storybook stuff here!
Motte retires Prado on a grounder to second. The Braves are down to two outs left in their season. And not to be forgotten is the fact that is game is officially under protest.
Last licks for the Atlanta Braves. NLDS appearance on the line. Chipper Jones coming up for what is probably his last MLB AB.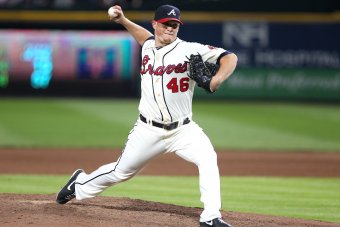 Mike Zarrilli/Getty Images
Kimbrel sets the Cards down in order in the top of the 9th. Last ups for the Braves and Chipper Jones coming! Down three runs heading into the bottom of the 9th, Atlanta will be looking to make a large comeback. This is postseason baseball.
The Braves' failed attempt at a rally in the 8th means that Chipper Jones will get another AB in this game.
Karma comes back to bite the Braves' fans in the behind. Atlanta strands the bases loaded as Motte Ks Bourn to end the 8th inning.
With all the momentum on their side, that was their chance to win the game. I'm calling it now—St. Louis will hang onto this lead.
Jason Motte really struggling to find the strike zone here. He's down in the count 2-1 to Bourn with the bases loaded.
I really don't think I want to see Atlanta win after what the fans did. I haven't quite made up my mind. I'll get back to you..
McCann draws a big walk in a pressure situation and now the Braves have bases loaded with two outs. This isn't a situation Motte is used to.
Here's Brian McCann in a big spot for Atlanta as garbage continues to fall from the stands. Just a classless act by Braves fans.
McCann has two on and two out.
Looks like gameplay is finally going to resume.
Jason Motte is on for the Cardinals after the 18-minute delay.
ESPN fantasy football guru Matthew Berry getting in on the fun:
Someone tell Mike McCarthy he's gonna need to call an Ump...

— Matthew Berry (@MatthewBerryTMR) October 6, 2012
When (if) play ever resumes, Atlanta should have 2nd and 3rd, as the runners are allowed to advance at their own risk on the infield fly rule.
Cardinals now back out on the field and debris continues to fly. Someone get a megaphone to Ted Turner quick so he can calm down this rowdy crowd!
Apparently Braves' manager Fredi Gonzalez put the game under protest after that debacle of a call. That's what the delay was. You know, aside from the garbage raining down from the home field crowd.
Here's an explanation of the blown call by Fox Sports' Ken Rosenthal:
Rule states batter can be called out if umpires judge ball catchable by IFer with "ordinary" effort. Call made by LF ump Holbrook was late.

— Ken Rosenthal (@Ken_Rosenthal) October 6, 2012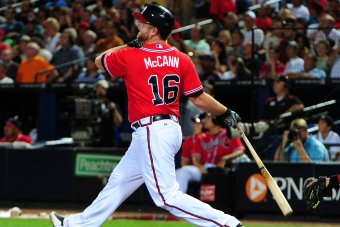 Scott Cunningham/Getty Images
Meanwhile, Brian McCann just wants his dang at-bat. Give the man his AB!
Cardinals players have been sent to the dugout to seek cover from the glass rain falling at Turner Field. Braves' fans have a right to be mad. That infield fly rule was called late, for one, and for two, IT WASN'T AN INFIELD FLY!
Nonetheless, no reason for the way Atlanta fans are acting.
TBS going to TV timeout as bottles and cans continue to rain from the stands.
B/R's own Zach Rymer has a question!
Did these fans come straight from an ECW match?

— Zachary D. Rymer (@zachrymer) October 5, 2012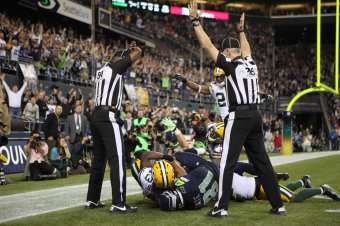 Otto Greule Jr/Getty Images
Are these the NFL replacement refs or professional MLB umpires? Looked like one in the same on that botched call.
This article is
What is the duplicate article?
Why is this article offensive?
Where is this article plagiarized from?
Why is this article poorly edited?

St Louis Cardinals: Like this team?