Chargers vs. Saints: Final Report Card, Grades for New Orleans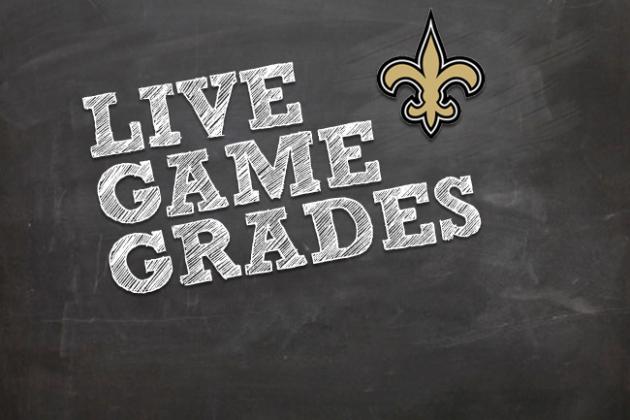 San Diego 24
New Orleans 31
Final
Sunday night the New Orleans Saints raised their games to a new level. Or at least it was a new level for the 2012 season. The result was the team celebrated its first victory of the season.
Drew Brees dominated through the air and broke Johnny Unitas' record for consecutive games with a touchdown pass at 48 when he hit Devery Henderson on a 40-yard bomb midway through the first quarter. The defense stepped up when it had to do so. And Marques Colston was an absolute beast.
That's only a small part of the story. Here are the individual grades for each of the team's key players in Sunday night's win.
Begin Slideshow

»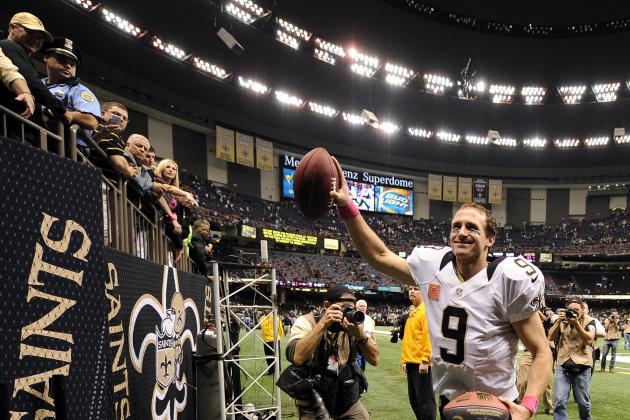 Harry How/Getty Images

Drew Brees--Grade--A-
Drew Brees almost threw two interceptions. But he threw four touchdown passes and did so the way we all would expect him to do it. The way he moved defenders' eyes and stepped up in the pocket to make big time throws was such a key to Brees' overall effectiveness. His chemistry with Marques Colston was evident Sunday night as the two regularly hooked up even when San Diego had to know it was coming.
Part of what makes Brees, and the Saints offense, so good is that he can do what the defense knows is coming and still execute. That's just the way he rolls.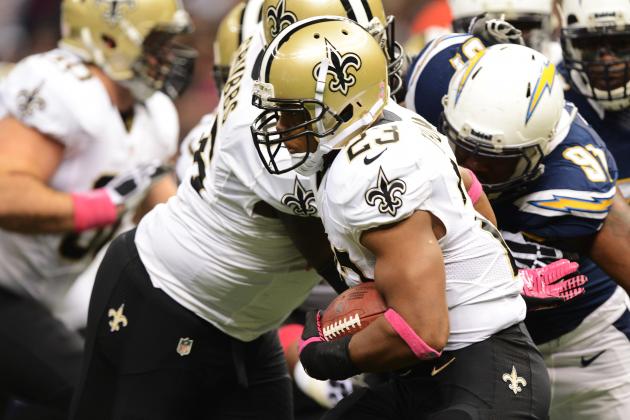 Harry How/Getty Images

Pierre Thomas—Grade—B+
I know the numbers were far from sexy. But his perseverance and pile-pushing running helped the offense create a never-say-die type attitude when the team was down 10 and in desperate need of some life. That alone lifts his grade higher than much of the statistics would, or should, indicate.
Mark Ingram—Grade—
Ingram missed a key inside blitz pickup on the opening series that nearly led to a Brees strip-sack recovery for San Diego, if Ingram had not picked the ball up and gained a yard. Aside from that Ingram remained relatively ineffective throughout the game running the ball. But, his presence in the play-action game helped create some Red Sea-like openings down the field in the vertical passing game.
Darren Sproles—Grade—C
Sproles seemed out of touch on Sunday night. He generally steps his game up in primetime. Perhaps it was playing against his former team. Or maybe it was just a great game plan employed by the Chargers' defense. Either way, Sproles was less effective than he's been all year, and it wasn't even close.
Chris Ivory—Grade—Incomplete
Though he dressed, Chris Ivory never actually saw the field on Sunday night. Thusly, his grade could only be an 'Incomplete'.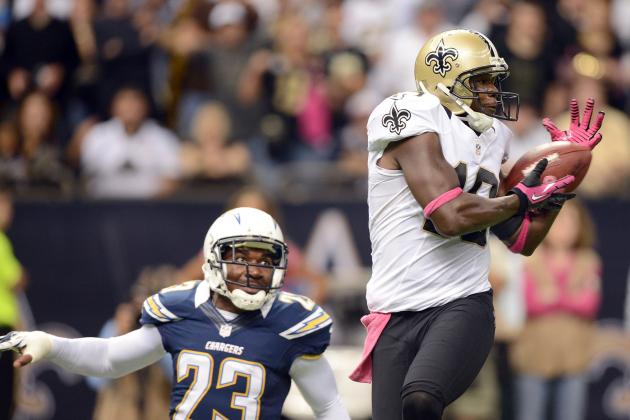 Harry How/Getty Images

Marques Colston—Grade—A+
Could Colston have played any better? Maybe…
The truth is that he didn't need to play any better. He dropped a few passes, but those were ultimately insignificant. He made some amazing catches in traffic, a la Marques Colston 2006-2011. His chemistry with Drew Brees was often on display throughout the game. He ran great routes and operated differently in traffic than he had earlier in the season. He was fun to watch.
Lance Moore—Grade—Out
Devery Henderson—Grade—A
Not only did Henderson catch Drew Brees' record-setting touchdown pass, but he also made a million catches throughout the game, or so it seemed. He constantly got open on the "bench route" because of his deep speed that caused his defender to back way off him. That room made for some easy pitching and catching from Brees to Henderson. And Devery caught all of them!
Joseph Morgan—Grade—C-
He didn't play a ton, and dropped one pass he probably should have caught. He could get an "Incomplete" but takes the "C-" simply because he played enough snaps to warrant it.
Courtney Roby—Grade—A
Roby's grade is based mostly on his outstanding coverage and play on special teams. But, he was seen at times blocking effectively for teammates in the running game and down field on run after catch opportunities.
Greg Camarillo—Grade—A
Greg Camarillo has come and gone through New Orleans more times in the last couple months than a businessman bored with his life and looking for some unknown love. If that makes sense congratulations, you get me. The point is that Camarillo was not given a stable spot on the roster at any time this year. Yet Sunday night, the Saints benefited enormously from his veteran presence and stability in catching the football at key times.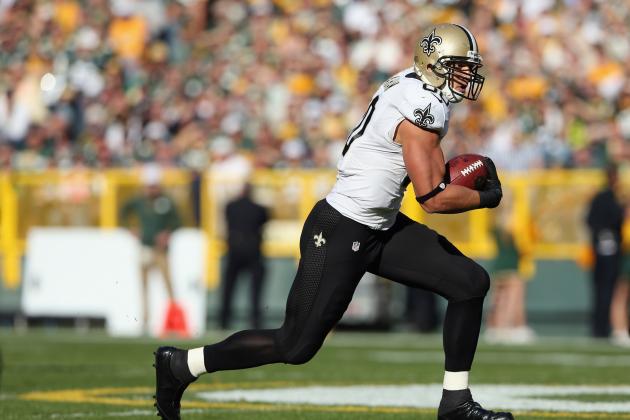 Jeff Gross/Getty Images

Jimmy Graham—Grade—A
Giving Jimmy Graham an "A" grade may seem odd given his lack of catches. Some said Graham became a glorified decoy after he came up limp in the second quarter. That is true, but his high rating is due more to his grit and determination to keep blocking for his teammates. In fact, his blocking both in pass protection and the running game should be commended.
David Thomas—Grade—C
Thomas continues to make uncharacteristic mistakes that hurt the team. For a veteran he hasn't been playing like one. Sunday night was really no different as he had a key false start penalty that hurt the team in the second quarter. But, his blocking did help the Saints move the ball effectively throughout the game.
Daniel Graham—Grade—C
Graham did a nice job blocking when he was in the game. He really is a third string tight end, so giving him a grade is a difficult task.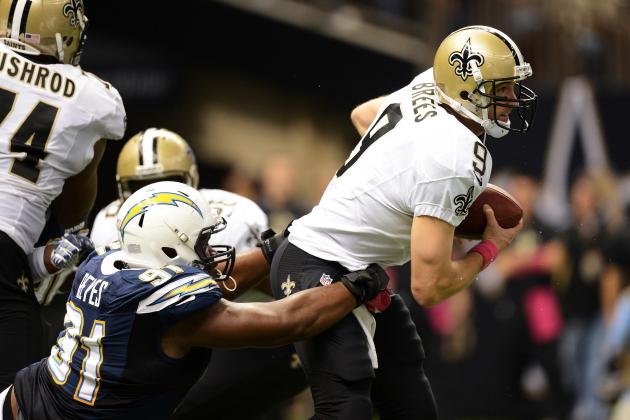 Harry How/Getty Images

LT Jermon Bushrod—Grade—B
Sure the Chargers managed some edge pressure but it was hardly due to incompetence on the part of Bushrod. In fact, Bushrod has improved each week and that includes Sunday night's start. It helped, too, that the Saints game-planned to help him.
LG Ben Grubbs—Grade—B+
Ben Grubbs isn't your average guard. He is a mammoth of a man who can move and has great feet. All of those tools were on display on Sunday night as he helped protect Drew Brees and open some holes in the running game, mostly for Pierre Thomas.
C Brian de la Puente—Grade—C
The second-year starting center, de la Puente, was seen getting worked over by second-year defensive lineman Corey Liuget in the second quarter. Liuget bull-rushed de la Puente and made him look bad frankly. Sure it's one play, but it leaves a bad taste in your mouth as an evaluator. As a result, de la Puente can earn no higher than a "C".
RG Jahri Evans—Grade—B-
I like Jahri Evans, but he is probably the most overrated offensive lineman in the game. It seems like every game he is getting flagged for something. Hardly a game goes by that he doesn't cost the offense at least five yards due to a bad penalty.
Sure he has become more physical in the running game and he continues to help Brees stay upright, but his penalties (which he had one Sunday night) continue to plague the offense. It's a good thing Brees doesn't killed. Evans did help create a pocket for Brees to move in Sunday night.
RT Zach Strief—Grade—C
Strief also was a culprit on at least one noticeable penalty in this game. He probably was called, or at least guilty, on other occasions as well. And he allowed some pressure to get to Brees. That said, this was probably his finest game of the season. That evaluation would come between Sunday's game and the Green Bay game a week ago.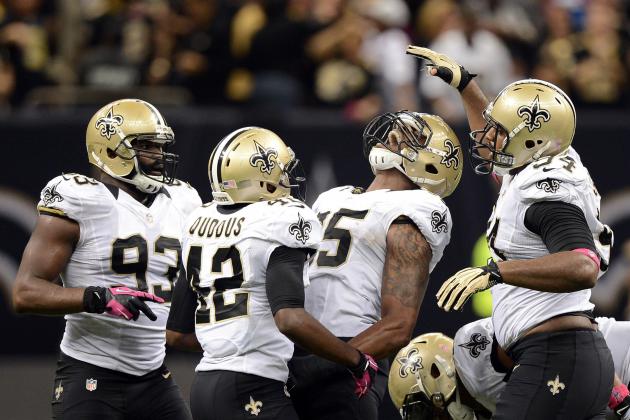 Harry How/Getty Images

DE Will Smith—Grade—B+
Some complained during Sunday night's game that the Saints were struggling to set the edge on the stretch running play featured by San Diego. To some degree that was true. And that responsibility primarily lies upon the veteran defensive end. But Smith also handled his role of creating pressure on Rivers as well as he all season long.
DT Brodrick Bunkley—Grade—B
No one has complimented Brodrick Bunkley since this season began. I literally believe NO ONE has complimented for his play. Let me be the first. Bunkley was finally seen holding the point of attack Sunday night, while also getting some key penetration to stop the Chargers from running north and south effectively. In fact, he forced the Chargers into the more lateral running approach.
DT Sedrick Ellis—Grade—B
It isn't saying much, but Sunday night was Ellis' best game of the 2012 season. He was also seen holding the point of attack and pushing offensive lineman back enough to slow down the Chargers' running game. And he even found his way in the backfield on a few occasions. I was actually kind of impressed.
DE Cameron Jordan—Grade—B
Jordan was one of many who was responsible for making life tough on Phillip Rivers, especially as the game went on. And he, like Smith, is responsible for holding the edge on outside running plays. But his performance wasn't as bad as it looked. At some point, linebackers have to flow up and make a tackle.
DT Tom Johnson—Grade—B
The Saints are better in run defense with Johnson on the field. He has the strength and will power to hold the POA and cause difficulties for the runner to get beyond the line. He did that often Sunday night. He is earning more playing time due to the improvement in rush defense with him in the game.
DT Akiem Hicks—Grade—Incomplete
I know he dressed, but I'm honestly not sure I ever saw him on the field.
DE Junior Galette—Grade—A
This may have been Galette's best game as a professional. Everyone noticed the way he would regularly burst toward the quarterback. But he even made a few nice plays in the running game as well. It's very exciting to see what this team can be when it gets a lead. Galette is one reason why.
DE Martez Wilson—Grade—A-
Wilson was used effectively on an opening drive stunt blitz to hit Rivers and force an errant throw. And then late in the game, Steve Spagnuolo realized his pass rush was best suited to include Wilson who could simply outrun Jared Gaither on the defense's right side. This was Wilson's best game as a defender to this point in his young career.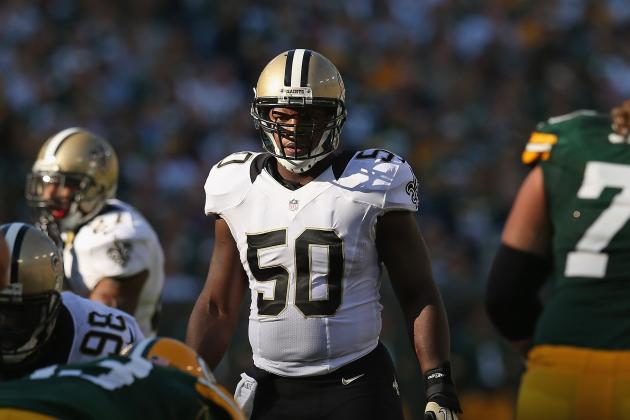 Jonathan Daniel/Getty Images

MLB Curtis Lofton—Grade—A
It would be easy to give Lofton this grade simply because he recorded a sack on the night. Don't get me wrong, that played a role here. But I was more impressed with a running play where he scraped and flew to the football with what seemed like no effort. Lofton may not earn major postseason acknowledgments but he is definitely the most underrated player on the team and its best defender.
OLB Scott Shanle—Grade—C+
This was definitely not Scott Shanle's worst game of the season. In fact, he actually appeared to be flying around the field unlike at any time I can remember. He still got lost in coverage a few times. But his range was upgraded significantly. That helped make this defense just a little better Sunday night.
OLB Will Herring—Grade—C
Herring wasn't used a ton due to a number of nickel subpackages that Steve Spagnuolo used Sunday night. When he was in the game, he also seemed to be roaming similarly to Shanle. But his role was relatively limited.
Harry How/Getty Images

CB Jabari Greer—Grade—C+
Greer had somewhat of an incomplete day since he left in the third quarter with what the team called a groin injury. When he was in, that injury was apparent as Malcolm Floyd beat him regularly deep. This was not Greer's best game, needless to say.
CB Corey White—Grade—C+
White lit up Rivers on the opening play from scrimmage on a deep corner blitz. And he numbered a few other big plays early in the game. Then his coverage woes showed up later in the game as he was taken advantage of by former Saint Robert Meachem. His talent still continued to show throughout the game, though.
CB Patrick Robinson—Grade—B-
Robinson was beat deep once or twice. But when Greer left the game, Robinson took the No. 1 job and ran with it. Combined with great pass rushing and more conservative coverage calls, Robinson locked the receivers opposite him for the remainder of the night.
S Roman Harper—Grade—A-
We don't see Roman Harper make plays with the football in his hands very often. It is rare, and that's an understatement. But his coverage skills Sunday night proved to be much improved over a season ago. The result is a more complete player who is not getting credit for his improvement. Maybe he will now with that interception and impressive return.
His pass breakup on Antonio Gates in the end zone was an example of great recovery after getting beat off the line. Overall, he had a great effort Sunday night.
S Malcolm Jenkins—Grade—C
I LOVE Malcolm Jenkins. But his inability to make a play on the ball and/or getting lost in coverage a few times Sunday night was sad. The good news is that he recovered and played better as the game went on. And his play in the run game is still quite fine for a "free safety".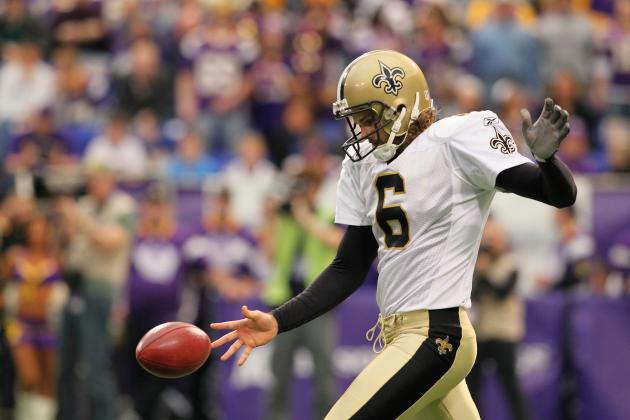 Adam Bettcher/Getty Images

Overall Game Grade--B
The special teams unit really did nothing to hurt the team. And quite often they contributed to aide field position, which it of course hoped would in turn allow for defensive stops and easy scoring drives.
That wasn't always the case, but the unit also helped turn the energy of the dome up a notch. Even Entergy couldn't have done a better job with that function.
P Thomas Morstead—Grade—B
Morstead didn't wow anybody, but he helped eliminate any significant returns from Richard Goodman. His booming punts and perfectly placed kickoffs were the key to that.
K Garrett Hartley—Grade—B
When you're only responsibility is to make field goals, and you do that successfully, a high grade should be given. He doesn't get an "A" because his level of difficulty was relatively low. But after last week's disappointing miss near the end of the game, his efforts should still be commended.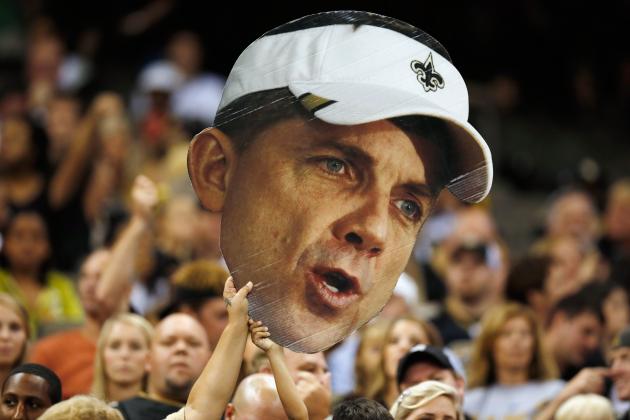 Chris Graythen/Getty Images

Overall Game Grade--B
Aaron Kromer's team played with an energy level they had not shown in 2012. Of course the bright lights of NBC's Sunday Night Football didn't hurt. But that energy level was different and refreshing. Maybe Sean Payton's in the presence didn't hurt either.
Pete Carmichael called his best game of the season, effectively mixing the run, the pass, the screen and play-action to such a degree that the Chargers genuinely seemed to be guessing by the end of the game what was coming on each call. That could not be said for much of the 2012 campaign.
Defensively, Steve Spagnuolo made some really outstanding adjustments. He found a way to get his defense adjusted to the horizontal running game Norv Turner employed, while also holding up on the back end at the end of the game. That was even more impressive, given that Jabari Greer left the game with a groin injury late in the third quarter. And the pass rush was outstanding at the end as well.