Everton: 5 Young Players Who Could Be the Next Marouane Fellaini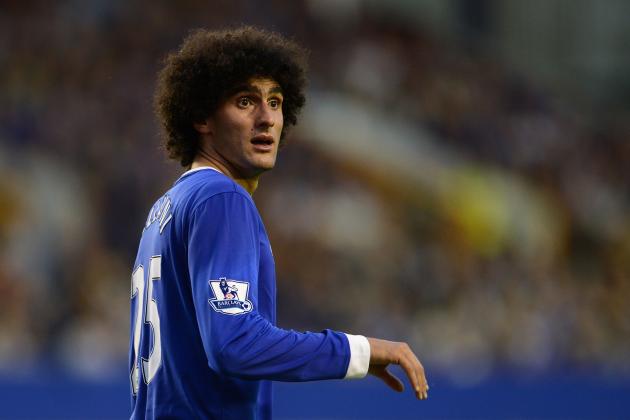 Michael Regan/Getty Images

Everton midfielder Marouane Fellaini has been one of the standout players of the Premier League season so far.
The Belgian international has been instrumental in the Toffees' early-season success, as the club currently sit fourth in the Premier League table.
Fellaini has been given more of a forward role at times this season, as manager David Moyes looks to utilize the midfielder's size, strength and control to cause havoc with opposition defenders.
The current cult hero of Goodison Park, Fellaini told a Belgian newspaper last month that he was planning a move away from Merseyside, but he has since denied these stories.
If Fellaini continues to play at such a high standard, he will be linked with moves to the best and biggest clubs in Europe.
Evertonians will hope that Fellaini will stay at Goodison Park, as the club can continue to build around the big-haired Belgian and challenge for European football.
If Fellaini is to leave, Everton may be able to call on a host of young starlets currently in the Everton system to replace the Belgian.
Begin Slideshow

»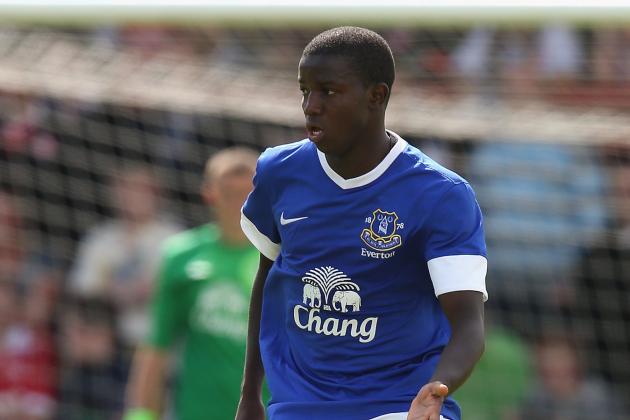 David Rogers/Getty Images

After an inauspicious first-team debut against Leeds United in the Capital One Cup, Portuguese youngster Francisco Junior still has a big future at Everton.
Junior fits the Marouane Fellaini mould, but he still has a long way to go before he is in the same class as the Belgian international.
The youngster is good on the ball and can attack as well as defend, much like Fellaini, and despite his performance against Leeds, he has impressed while at Everton.
His football career began at Benfica, and he arrived at Everton after a short spell at Manchester City, Junior was one of the players that impressed during the club's preseason games.
At 20 years old, Junior has time to develop into a player of the calibre of Fellaini, and if the Belgian stays at Goodison Park, there is no better midfield role model for the up-and-coming Junior.
Dan Istitene/Getty Images

At 18, striker George Waring could emulate Marouane Fellaini's forward role for Everton.
While the striker's height is not listed on the Everton website, Waring towers over his Under 21 teammates and could be the target man of the future for Everton.
Fellaini is renowned for his ability to hold up the ball, and his first touch, particularly on his chest, is a sight to behold.
With Waring's size and goalscoring ability (he scored in the Under 18 Premier Academy League final last year), he is a perfect fit to become the next forward Fellaini.
As an out-and-out striker, he could be a sort of hybrid Fellaini/Duncan Ferguson.
While he will not be able to offer the Fellaini versatility, if he can learn to hold up the ball like the Belgian and get his teammates involved in the play, Waring could be a thorn in the side of Premier League teams in the future.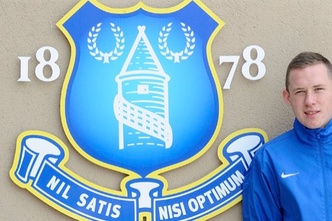 Not as hyped as Everton's latest Wayne Rooney comparison George Green, midfielder Gethin Jones has earned some rave reviews in his early career at Everton.
He is 16 years old and was signed from Wrexham in 2010. Wrexham manager Andy Davies said of the youngster (via the Daily Post): "He's got a big future in the game—he's a dominant midfielder, a good size and he'll be one Everton think a lot of."
Jones has represented, and captained, Wales at the U16, U17 and U18 levels and was part of the Welsh youth team that defeated England 4-0 in 2010.
Having made three substitute appearances for the Blues in the U21 Premier League, Jones is obviously a name to remember and could become a star for Everton in the future.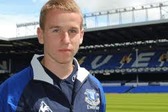 Central midfielder Tom Molyneux has been at Everton since he was 13 years old.
He is now 18 and has moved through the ranks at the club.
Molyneux compares himself to a Michael Carrick-like midfielder, a pass-first kind of player, and if he develops his forward play, he could be seen as a player in the mould of Fellaini.
Still plying his trade for the Everton Under 18 side, Molyneux will need to get some playing time in the newly-revamped Under 21 squad before he can even think of the heady heights of the Everton first team.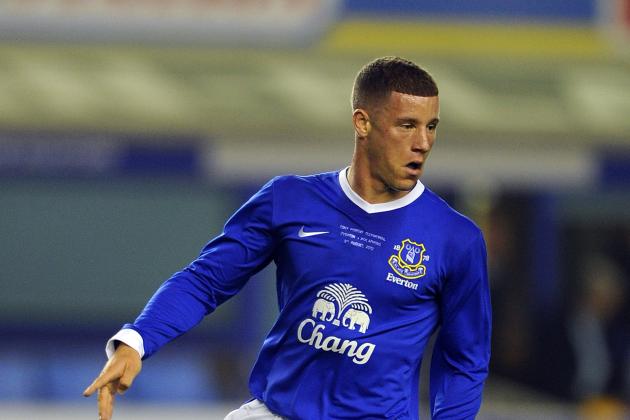 Chris Brunskill/Getty Images

Currently on loan at Sheffield Wednesday, Ross Barkley looks set to play a big role in the future of the Everton midfield.
While he is a different build to Marouane Fellaini—smaller, slighter and quicker—he does offer the same ball skills and passing ability as the big-haired Belgian.
Barkley has the potential to run the Everton midfield for years to come, and while David Moyes has been happy to employ the midfielder on either flank, his future lies in the middle of the park.
He has great awareness on the ball, has fantastic vision and can only get better as he gains experience in the Championship this season.
When Barkley returns to Everton, expect to see him begin to break into the first team, and if Fellaini departs for pastures new, Barkley will have to quickly adjust and become one of the leading lights of Everton Football Club.