MLB Free Agency: Disappointing Players Who Won't Be Cashing in Anymore
Jonathan Daniel/Getty Images
With plenty of hype attached to it, the "contract year" is a crucial one for players throughout sports. How a player performs the year before their contract expires, regardless of their past, can truly make or break their payday.
Outfielder Jayson Werth is a great example. Despite never hitting over .273 in a season where he had over 300 at bats, he managed to hit .296/.388/.532 in 2010, the year his contract was expiring. Combining hitting for average with power, Werth picked a great year to have an All-Star performance, as he was awarded a seven year, $126 million deal.
This list details players who, unlike Werth, had an off-year at the wrong time, and now are unlikely to score the mega-deals that they originally anticipated going into the season.
Russell Martin, New York Yankees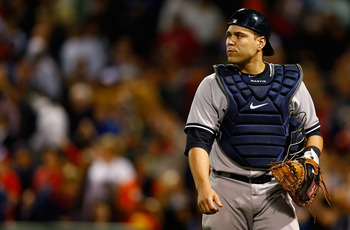 Jared Wickerham/Getty Images
Russell Martin looked nothing like the All-Star catcher for the Los Angeles Dodgers in 2007 that boasted both a Gold Glove and a Silver Slugger.
Instead, the three-time All Star appeared a mere shell of his former self.
After an All-Star last year, Martin's hitting has really dropped off in 2012. Batting just .211/.311/.403, Martin clearly had a bad year at a bad time. Hitting .179 before the All-Star break certainly didn't help, and though he picked it up during the second half, it certainly won't negate his miserable performance before that.
Martin did hit 21 home runs this year, and 18 the year before that. He has never hit that many long balls in his career, with the exception of 2007 when he hit 19. However, if you look closer and realize that he was playing in one of the most hitter-friendly parks in baseball in Yankee Stadium for half of his games, his numbers look less impressive.
At age 29, Martin still has time to hit for a better contract, and he may be a bargain for a team looking to swoop up a catcher at a discount. But I wouldn't bet on Martin getting the $7.5 million that New York was giving him.
Jonathan Sanchez, Colorado Rockies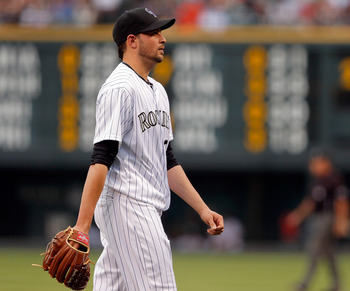 Doug Pensinger/Getty Images
After pitching a no-hitter on July 10, 2009, Jonathan Sanchez looked like he would add to an already strong rotation in San Francisco.
However, after getting shipped to the Kansas City Royals in a swap for Melky Cabrera, Sanchez struggled, yielding the worst year of his career.
In 12 starts with the Royals, the lefty posted a 1-6 record to go along with a pathetic 7.76 ERA and a 2.04 WHIP. He also had more walks (44) than strikeouts (36).
The Royals eventually gave up on Sanchez midway through the season, sending him to the Colorado Rockies in exchange for another struggling pitcher, Jeremy Guthrie.
Guthrie managed to turn it around with some quality starts in Kansas City, but Sanchez was not so fortunate.
In fact, Sanchez's stats actually got worse in Colorado, as he posted a 9.53 ERA and 2.29 WHIP in three starts for the Rockies, lasting only 11.1 innings over the course of those three starts.
A bicep injury eventually landed him on the 60-day DL.
Coming off the worst year of his career by far and an injury, Sanchez will not exactly be a hot commodity this winter. I would imagine some team would take a flier on him hoping that he can restore some of the success he had in the past, but for now Sanchez looks to be out of luck.
Melky Cabrera, San Francisco Giants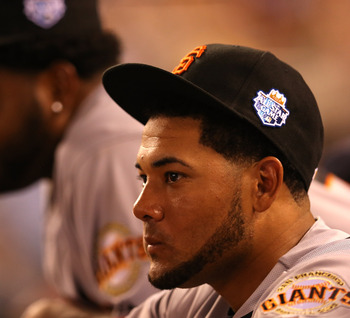 Jonathan Daniel/Getty Images
Speaking of the Jonathan Sanchez-Melky Cabrera swap, the Melk Man may have tarnished his contract value more than anyone this season.
The MVP of the All-Star game hit .346/.390/.516 and looked on his way towards the NL batting title before testing positive for performance enhancing drugs and earning a 50-game suspension.
To make matters worse, Cabrera attempted to cover up his actions by creating a fake website explaining why he tested positive.
Cabrera's character is in question to the point where the San Francisco Giants have omitted him from their postseason roster.
Despite the fact that Melky had enough dignity to withdraw himself from the NL batting title race with teammate Buster Posey, it might just be too little too late.
Teams may be willing to offer a short-term deal for Cabrera with an option for a second year, but he will surely get a short-term deal as opposed to the giant payday he was in line for prior to the suspension.
Carlos Pena, Tampa Bay Rays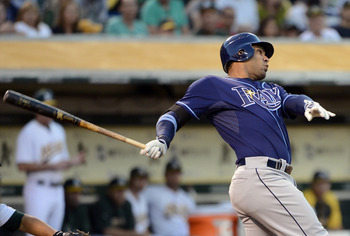 Thearon W. Henderson/Getty Images
The Rays' $7 million first baseman really struggled throughout the entirety of the year.
After hitting a walk-off hit to center field to beat Mariano Rivera and the Yankees in the first series of the season, Pena looked like he was back. So did the Rays, who swept the series.
However, Pena just never really found himself at the plate.
When a strikeout machine has a career high in strikeouts, you know it was a rough year. That's exactly what Pena did, striking out a whopping 182 times.
To make matters worse, his typically high home run rate didn't carry over either, as he posted just 19, his lowest total since 2006, before he came to Tampa Bay. His stat line was even less impressive, as he batted .197/.330/.354 for the year.
This was supposed to be the acquisition that helped boost the Rays offense to complement their outstanding pitching staff, but instead Pena fell flat, just as Tampa Bay's offense did on several occasions this season.
At age 35 after a season like this, it's unlikely there is much of a market out there for Carlos Pena.
Kevin Youkilis, Chicago White Sox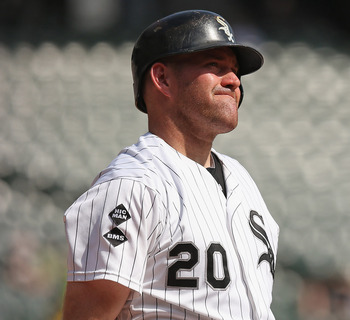 Jonathan Daniel/Getty Images
Going into the 2012 season, not many people could have imagined Kevin Youkilis anywhere but Boston.
However, with the emergence of rookie third baseman Will Middlebrooks, and Youk struggling at the plate, Youkilis was shipped to the Chicago White Sox early in the season.
The three-time All Star turned it around at first in Chicago, especially in his first series back in Boston. But over time, this hot streak cooled off and his numbers began to fade again.
Batting .235/.336/.409 for the year, Youk posted career lows in batting average, on base percentage, slugging percentage, and OPS. He still had 19 home runs, but struggled to get on base consistently like he used to in Boston.
With the White Sox likely to buy out the $13 million option, Youkilis will probably find himself on the market this winter. Despite his down year, he should not have too much of a problem generating interest due to his ability to play both first and third base and the lack of quality bats on the market, but he will likely be forced to take a pay cut.
Brian McCann, Atlanta Braves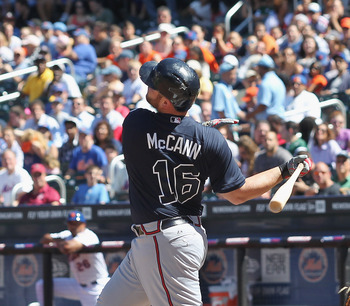 Andy Marlin/Getty Images
Going into this season, it seemed like a lock that the Atlanta Braves would elect to opt in for Brian McCann's contract. After all, McCann was a six-time All Star and five-time Silver Slugger for the Braves and had been an essential cog in their offensive scheme for many years.
Now, this former guarantee is far from a sure thing after the year that McCann is having.
Just like Youkilis, McCann is having a year in which he is producing career lows in batting average, on base percentage, slugging percentage and OPS, sporting a stat line of .230/.300/.399. Despite the 20 home runs, McCann is clearly having an off-year at the plate.
He's having such an off year that he will not be starting against the St. Louis Cardinals in the wild card game tonight, as manager Fredi Gonzalez elected to start backup David Ross instead.
Needless to say, it's been a rough year for McCann. I would imagine if the Braves opt out of his contract, they would like to bring him back at a discounted rate, as he has spent his entire career in Atlanta. However, if the two part ways, McCann would surely gather interest, as teams are constantly looking to upgrade at the catcher position.
Orlando Hudson, Chicago White Sox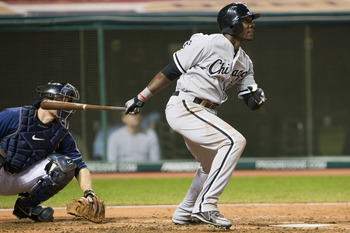 Jason Miller/Getty Images
Coming off of a down year with the San Diego Padres, Orlando Hudson desperately needed a bounce back year to prove to teams around the league that he is truly worth the $8 million he is earning this season.
Unfortunately for Hudson, that didn't happen.
His 2012 season with the Padres got off to a rough start, hitting just .211/.260/.317. San Diego didn't waste any time, as they designated Hudson for assignment after a mere 35 games.
After getting claimed by the Chicago White Sox, Hudson actually regressed. Finishing the season with a stat line of .204/.261/.312, the two-time All Star and four-time Gold Glove winner was limited to the role of a utility infielder.
With such a steep decline in the last two seasons, and considering Hudson is currently 34, there probably won't be much interest for him on the market, as Chicago is almost certain to opt out of his contract.
Grady Sizemore, Cleveland Indians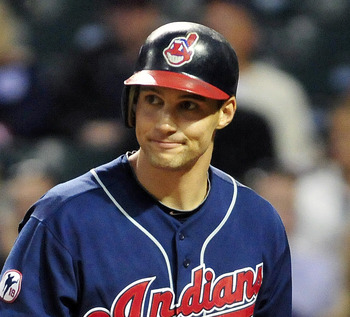 Jason Miller/Getty Images
I understand that Grady Sizemore has been injured the entirety of the 2012 season. But after playing just 104 games in the last three seasons combined, Sizemore is the definition of injury prone.
As a member of the 30-30 club with three All-Star appearances, two Gold Glove awards and a Silver Slugger award, Sizemore boasts quite the resume.
However, it appears that his best days are behind him.
At age 30, Sizemore's health will likely continue to be an issue throughout the rest of his career, despite the flashes of brilliance he has displayed in previous years.
I'm not sure if Cleveland is willing to shell out more money to keep him with no guarantee that he will be able to play the whole season. After all, they did invest $10 million this season and didn't receive a single at bat from Sizemore.
That being said, some team that needs a fourth outfielder will come calling and sign him to a low risk, high reward contract, likely on a one-year deal.
Bobby Abreu, Los Angeles Dodgers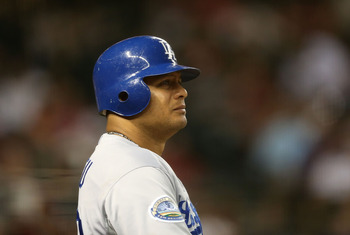 Christian Petersen/Getty Images
Another member of the 30-30 club, Abreu had a rough year as well. Starting out with the Los Angeles Angels, Abreu failed to carve out a role in a crowded Angels outfield that features Mike Trout, Mike Trumbo, Torii Hunter, Vernon Wells and Peter Bourjos.
After being shopped before the season, Abreu didn't even make it to May before he was released. In just eight games of action, he managed five hits in 24 at-bats.
When Abreu was swooped up by the crosstown rival Dodgers, he didn't fare much better.
Though he saw more playing time with the Dodgers, his numbers were still unimpressive. The two-time All Star batted .242/.350/.342. With just three home runs, his power numbers were down so much that his slugging percentage dipped below his on-base percentage.
Abreu was eventually designated for assignment on August 1, one day after the Dodgers acquired Shane Victorino from the Philadelphia Phillies.
At 39, the end is near for Bobby Abreu. His fielding ability is limited, but he might get a minor league deal such as Hideki Matsui and Vladimir Guerrero did. Unfortunately, neither of those moves panned out, and I can't imagine Abreu returning to form anytime soon.
Francisco Liriano, Chicago White Sox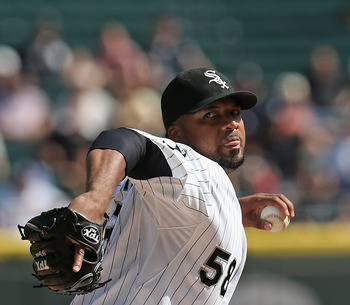 Jonathan Daniel/Getty Images
I swear, this is the last White Sox player on my list (to be fair, all three of them were acquired midseason).
Liriano has always shown flashes of potential, but his inconsistencies plagued him throughout his time with the Minnesota Twins.
Going into a contract year, Liriano could have used a big-time year to score some big-time cash this offseason.
However, the former All Star simply fell flat.
A 5.30 ERA and a 1.44 WHIP to start off the year with Minnesota was less than impressive. After a trade to the division rival White Sox, his numbers actually worsened with a change of scenery, declining to a 5.40 ERA and a 1.52 WHIP.
If Liriano displayed some of the dominance he has throughout his career right before his contract expired, that would have provided a big boost to his salary.
Instead, he will have to settle for less. He can still score a multi-year deal in a weak free agent crop with plenty of teams in need of some quality starters, but don't expect him to reap the rewards he was in line for before this decline.
Ervin Santana, Los Angeles Angels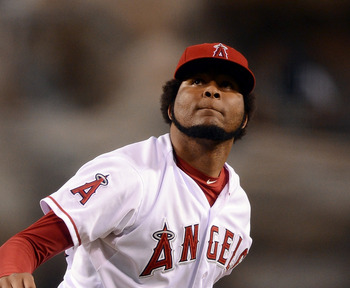 Harry How/Getty Images
Similar to Jonathan Sanchez, Ervin Santana also has a no-hitter under his belt, as recently as July 27, 2011 against the Cleveland Indians.
After the performance Santana had last year, one would think that the combination of Santana, Jered Weaver, C.J. Wilson, Zach Greinke and Dan Haren could be the best in baseball.
It might have been, if Santana's numbers didn't decline so steeply.
Posting a 5.16 ERA, his worst since 2007, the former All Star endured a difficult season.
For a team like the Angels, who invested $254 million in Albert Pujols and $77.5 million in C.J. Wilson last winter, Santana might not be in their future plans, especially given the fact that they intend to lock up Greinke.
With a vesting $13 million option, the Angels could decline to bring back Santana and use some of that money to bring back Greinke.
Santana will certainly draw interest and will likely land a multi-year deal, but it remains to be seen whether that will be back in L.A. at a discounted rate or if he will be elsewhere next April.
Roy Oswalt, Texas Rangers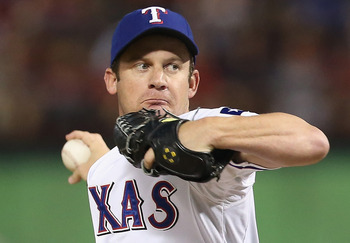 Ronald Martinez/Getty Images
Entering the winter of 2011 as a hotly pursued free agent, three-time All Star Roy Oswalt decided to wait until the season began before signing.
Eventually latching on with the Texas Rangers, Oswalt's performance was far from equal to the money he commanded.
After signing with Texas on May 29, Oswalt appeared to be the acquisition that would shore up the Rangers' rotation en route to yet another World Series appearance.
But after just six starts, Oswalt was sent to the bullpen and used as a long reliever with an occasional spot start the rest of the way.
Oswalt finished the year with a 6.37 ERA in nine starts and a 5.80 ERA overall. For some background, Oswalt has only finished with an ERA over 4.00 once until this season, when he posted a 4.12 ERA in 2009 when he was with the Houston Astros. This is not just the worst year of his career—it's not even remotely close to his typical numbers.
Maybe it's because Oswalt didn't have a full spring training and was on his own schedule for the most part. Whatever the issue is, it will certainly cost him as he tries to find suitors this winter, though he may have to settle for a minor league deal.
Keep Reading

Chicago White Sox: Like this team?