Utah State vs. BYU: Live Scores, Analysis and Results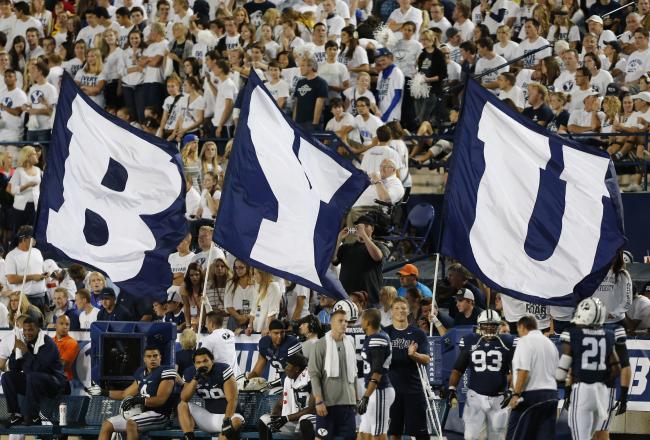 George Frey/Getty Images
UTAH STATE 3 BYU 6: FINAL
In a defensive battle, BYU that walks away with the Old Wagon Wheel.
Neither team could move the ball much against the other and kicking mistakes plagued both teams. However, BYU moves up to 4-2.
Utah State is better, but they've still got some ways to go.
Well, here's the ten things we learned from BYU's win over Utah State below.
And that will do it for me. Thanks for dropping by and come back for more football coverage right here on Bleacher Report.
Well, I thought we might get a defensive battle and we got one.
I just didn't expect both teams to score a combined nine points.
Ten things we learned coming up in a moment!
So, BYU is going to keep the Old Wagon Wheel and keep Utah State from sweeping the state.
Also, BYU will win the Beehive Boot as they have wins over Weber State and now the Aggies.
Game over, man. Game over.
Here we go. Third down and ball game.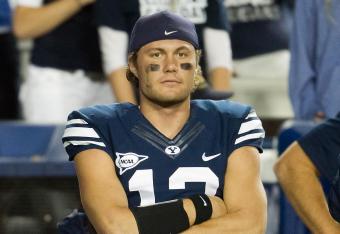 Riley Nelson is walking along the sideline and pumping up his teammates.
That's leadership.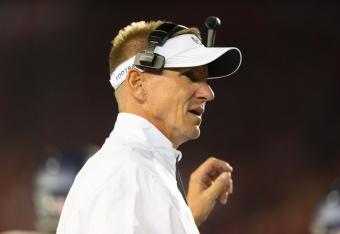 Why is Utah State punting? They're probably not going to get the ball back.
The Aggies may have just given the game away.
Bad decision by Gary Andersen.
And now a false start? Utah State is digging its own grave if they don't snap out of it.
And Chuckie Keeton gets sacked again!
That's a big sack. Utah State really running out of time here.
And that's another holding penalty. Another BYU drive stalls.
However, Riley Stephenson's punt pins Utah State back to its own 2-yard line.
Time is running out for the Aggies to score. Six points here just might be more than enough.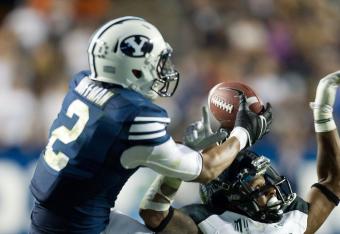 And Cody Hoffman makes another big play!
Really, why doesn't BYU go to him on every play?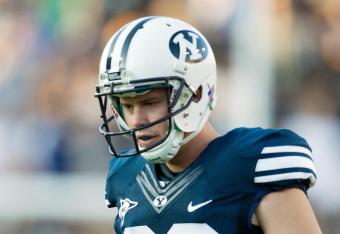 In a 6-3 game, there's a lot of points that both teams have just left on the field.
Neither team can kick a basic field goal. There's been a few turnovers in this game but neither team has been able to capitalize.
NO GOOD!
Really? Really? Where did all the good kickers go?
And the BYU defense holds and it looks like the Aggies will try to tie the game.
The frustration from BYU fans is palpable.
Really, the BYU defense is keeping up their end of the game but the offense can't score. And now Utah State is driving.
That was about as stupid a penalty as I've ever seen.
You don't shove a player from the sideline. Period.
And then Taysom Hill throws a pick.
I hope Bronco makes No. 17 run laps all day on Monday.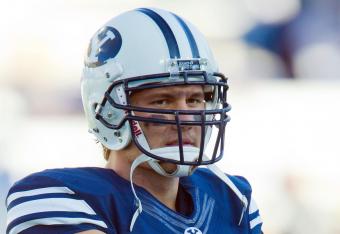 ESPN just showed a shot of Riley Nelson on the sideline.
He really, really, really, really wants to go in. I can see it in his eyes.
I do feel a bit bad for him. He's a tough man, but I think that BYU's best QB is on the field right now.
Interesting stat...
The #BYU defense has now allowed 3 points in the last 12 quarters.

— CougarStats (@CougarStats) October 6, 2012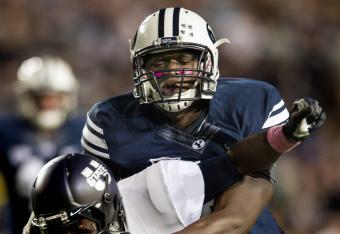 Everyone knew that Kyle Van Noy was for real, but Ezekiel Ansah's NFL stock has to be rising during this game.
He's been wrecking havoc all night long in the Utah State backfield. I would think that NFL scouts have to be watching him carefully.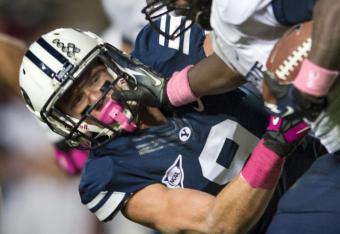 We're starting to get some pics from this game, so I want to show you some of the pink BYU's wearing tonight:
What do you think about this?
Taysom Hill moves the chains again and the comfort food comes up again.
Really ESPN. Find a different analogy.
Seriously, why do you try play action from your end zone?
I wonder about Brandon Doman's decisions sometimes.
Still, BYU is able to make a first down and get out of the shadow of their own end zone.
And that's the second turnover for Utah State as they try a trick play.
Wow.
Trick plays aren't working for either side. That was too easy for Spencer Hadley.
I tell you, I love those ESPN College GameDay Commercials.
Just saw this gem:
That was blatant pass interference.
Cody Hoffman had his hand grabbed. That was a terrible non-call.
This article is
What is the duplicate article?
Why is this article offensive?
Where is this article plagiarized from?
Why is this article poorly edited?