England National Team: Why Micah Richards Can Fill the Void Left by John Terry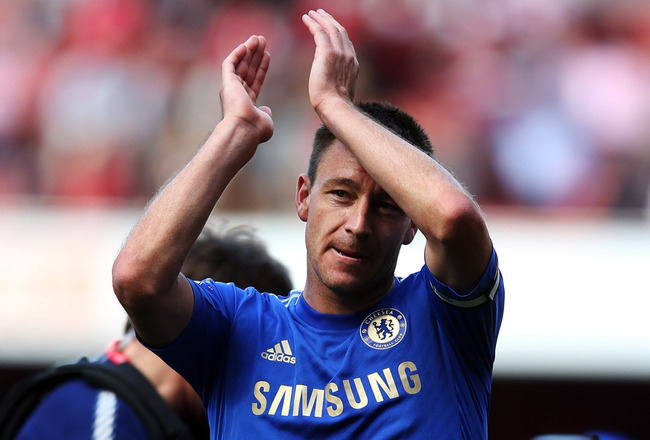 John Terry
Richard Heathcote/Getty Images
You don't have to like John Terry to appreciate that he is one of the finest centre-backs Chelsea and England have ever had.
He has become, at times, a figure of controversy but has never let that get in the way of his dedication to the team he plays for or captains.
Yes, he has made mistakes in his life and among friends is probably honest enough to admit that. But who among us is a saint? As the Bible says:
"Let he who is without sin, cast the first stone..."
He may just have been found guilty by the FA of racist remarks, but Jose Mourinho and others have gone out of their way to make clear that John Terry is not, in their opinion, a racist.
From his point of view, you can understand why he may, in frustration, have retired from playing for England following the way he has been messed around with. There is no credible reason why the Anton Ferdinand case shouldn't have been heard in 2011.
The FA now looks stupid and they have lost one of the best, most loyal and committed captains and centre-backs England has ever had.
So who can step into his shoes?
We're not looking for a clone here, because each talented player brings different qualities. It is traditional to think in terms of one captain. But these days, you need captains all across the pitch.
The goalkeeper has to command his penalty area, as Edwin Van Der Sar and Peter Schmeichel did. It is often thought that the best place for captain is in midfield, like a Roy Keane.
But you still need a commander in the heart of the defence, barking the orders, keeping the shape and putting his body on the line. Those qualities summed up John Terry.
So, at the very least you would want those attributes in the player who can step into his shoes.
It is no surprise that Rio Ferdinand has been touted now that Terry has gone, but Roy Hodgson appears to have discounted him because he will be 36 at the next World Cup.
It would be unusual to find a young player with the qualities and maturity to do all these things. There are some who might become that man, but we are probably talking about an established player.
So in summary, irrespective of age, England and Chelsea (eventually) need a man with John Terry's or Gary Neville's leadership qualities, ideally a bit more pace than Terry and a bit more ability than both if possible.
So What Are the Desirable Attributes?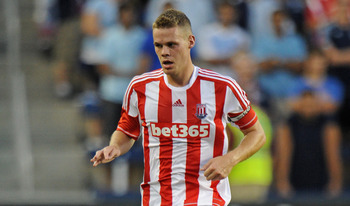 Ryan Shawcross
Peter Aiken/Getty Images
With Roy Hodgson seemingly having called time on Rio Ferdinand's England career, Ryan Shawcross has been drafted into the squad. He certainly has the combative qualities of Terry. He has captained Stoke City, possibly the most physical team in the Premier League.
There is no way of being sure how a player will respond to the challenge of being an England player until he plays for the team. Whether it is Moldova or Germany, the manager will instantly know whether somebody can "hack it" at the highest level.
Even a pedigree with a top team is no assurance. Ben Foster had played several times for Manchester United before being called up, but made too many errors and never quite made it.
Goalkeepers and centre-backs simply can't afford to make errors.
So, who are the possible candidates to fill the vacant position left by John Terry? We're not talking about captain just now, but an ideal candidate might just have that potential. If he can be as good as Terry, he will be in the team for a long time to come.
First, let's consider the key qualities:
Great in the air; good spring; strong header
Excellent at tackling
Good positional awareness
Leadership qualities; authority and respect
Well-liked by fellow professionals
Self-control and self-discipline
Combative but fair
Ideally two-footed
Good passing and distribution
Ideally no older than 27
So these are 10 characteristics or attributes that would make the perfect centre-back. Please add any others in the comments/suggestions.
There is unlikely to be one person who has all of these to the desired degree, but if he exists, he should be given a run in the team starting now.
Possible Candidates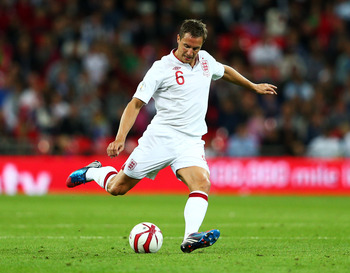 Phil Jagielka
Clive Mason/Getty Images
So let's consider a list of the possible candidates. They range from established and older players all the way to some who have not yet started a match for England. In alphabetical order they include:
Titus Bramble
Gary Cahill
Jamie Carragher
Steven Caulker
Michael Dawson
Anton Ferdinand
Rio Ferdinand
Phil Jagielka
Phil Jones
Joleon Lescott
Michael Mancienne
Nedum Onuoha
Micah Richards
Steven Taylor
James Tomkins
Ryan Shawcross
Chris Smalling
David Wheater
Of these, we can immediately dismiss Jamie Carragher and Rio Ferdinand as being too old, and Titus Bramble, James Tomkins, Anton Ferdinand and David Wheater as not good enough.
Also, we can take it that Joleon Lescott is established in the squad. He is also 30, so a longer-term replacement for him should emerge from this list, because Rio Ferdinand isn't coming back.
Established Players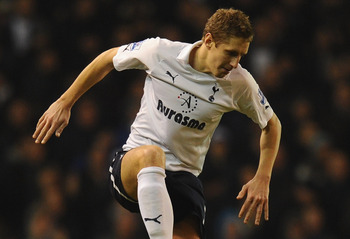 Michael Dawson
Mike Hewitt/Getty Images
Believe it or not, Michael Dawson is 29. The fact that he is still not an established member of the England squad says it all. In fact, given that he was on the verge of being sold to QPR in the summer, he can't be counted as a long-term fixture in the Spurs squad.
Steven Taylor certainly looked like an England prospect when he first broke into the Newcastle team. Unfortunately, he has been hampered by injuries. He has a combative style and has captained the Toon in the past. If he gets a run in a successful side, he is worth considering.
Phil Jagielka will not let England down. He is also 30 and only has 14 caps to date. He is having an excellent season at Everton. He could at the very least be a stop-gap through the next World Cup.
In fact at this stage, if everyone is fit, you would expect Lescott, Jagielka and Gary Cahill to be automatic call-ups.
Cahill is a strong candidate to succeed Terry. He was clearly bought by Chelsea to fulfil that role. He is waiting patiently for his time. David Luiz is the "footballing" centre-back, as Rio Ferdinand was for England and has been for Manchester United.
Finally, Nedum Onuoha looked like he was a certainty to be a top England defender when he was younger. He also hasn't fulfilled his potential. Recently sold by City to QPR, he can surely be discounted.
The Younger Generation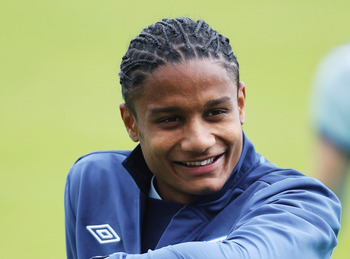 Michael Mancienne
Ian Walton/Getty Images
Let's look at the under 25.
When Michael Mancienne was younger he looked set to play for England. He was called up by Fabio Capello in 2008 but didn't actually start.
He is also a footballing centre-back and can play in midfield. Despite a promising career as an underage player for England at all levels, he hasn't managed a full cap. He also did not make it at Chelsea and is currently playing for Hamburg in the Bundesliga. He is not the answer.
Chris Smalling of Manchester United looked immediately at ease when he arrived at Old Trafford and simlarly when he was picked for England. When he's fit he will surely be a fixture in the England squad. He is also a footballing centre-back like Rio Ferdinand. He will get plenty of caps as a right-back.
He is not the "rock" that we are looking for. Among the combative centre-backs, Ryan Shawcross, Micah Richards and Phil Jones stand out.
Ryan has just got his first call-up and is renowned in the Stoke City side for being uncompromising in the tackle. He is club captain.
He originally came through the Manchester United Academy and like striker Giuseppe Rossi and centre-back Gerard Pique, left in search of first-team football. This was successful in Ryan's case because he has been virtually a fixture for Stoke.
He ticks a lot of the boxes. Sir Alex was rumoured to be interested in buying him back a couple of years ago, so he is probably good enough.
Micah Richards is currently Manchester City vice-captain and will surely succeed Vincent Kompany in due course. He is immensely strong, fearless and has been playing top-level football for six years, believe it or not. He got his first cap for England at age 18.
Phil Jones has been tipped for stardom ever since United signed him. Within months he was being talked of as a future England captain. He has all the qualities of Richards and is four years younger. He also has been injured during the last few months.
So England could be well-blessed in the centre-back department with the above and Lescott, Jagielka and Cahill for the next few years.
You can certainly add to them another youngster, Steven Caulker.
The press does tend to get carried away when a bright young star rises above the horizon. Caulker was outstanding for Team GB in the Olympics and has carried that form into the Tottenham first team this season. Like Phil Jones, he surely has a long-term future for England.
The Short List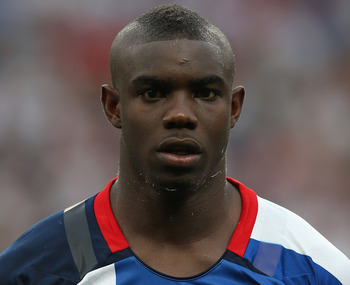 Micah Richards
Julian Finney/Getty Images
Of the established players, Gary Cahill is the most obvious to succeed John Terry. He has been patient since arriving at Stamford Bridge. Surely it is only a matter of time before he is getting more games than his mentor.
The Chelsea scouts searched for a successor, and Cahill is who they chose.
Looking beyond that, there are three very strong candidates.
Steven Caulker has done himself no harm and his reputation has soared to the extent that he is already being talked of as Terry's successor, despite being only 20.
If Phil Jones hadn't been unlucky with injuries, he might not have fallen off the radar. His day will come. England are blessed in this department.
But when you scan the entire list to find the player who most nearly matches the criteria we set out at the start, you need to look no further than Micah Richards. We have not even seen the best of him yet. When he is fully fit, he can be a beast.
Like Terry, he has had his moments of poor judgement in the past but seems to have put them behind him.
He has been played at right-back more often than centre-back for England, but there is no shortage of candidates in the former position with the likes of Kyle Walker and Chris Smalling. That doesn't mean Micah won't get games there while he is waiting to step up in the centre.
He is very strong, an excellent ball player and as dangerous in the air as any member of the England squad.
It is for that reason that he is our pick to succeed John Terry within a couple of years at the most, if not before.
Who do you think should succeed John Terry?
Keep Reading

England (National Football): Like this team?