NFL Power Rankings: Teams With Most Momentum Going Into Week 5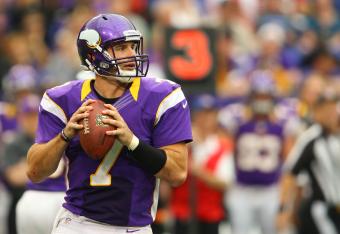 Adam Bettcher/Getty Images
The first few weeks of the NFL season is always full of surprises, which was especially true with the replacement referee disaster during the first three weeks. But as we head into Week 5, the teams' true colors will start to show as the weather turns cold and the season wears on.
Injuries start to pile up, early-season breakout players are studied more carefully by opponents and some teams improve as they get into a rhythm.
It's crucial for teams to build and sustain some momentum heading into these cold months, when the brutality of the football season really starts taking its toll.
Here are my team power rankings, as well as four squads that have a lot of momentum going into Week 5.
Minnesota Vikings
The Vikings have sort of slid under the radar a bit this season even though they're a surprising 3-1. After a disappointing loss in Week 2 against the Colts, they stormed back and won two in a row.
What makes the two victories so impressive is that they came over the 49ers and Lions. Many people consider the 49ers to be Super Bowl favorites and the Lions made the playoffs last season.
The Vikings outgained the 49ers 344-280 and forced three turnovers, while only conceding two, in a 24-13 victory. Then they went and held the Lions to 55 rushing yards and kept Calvin Johnson in check while beating Detroit 20-13.
If they can continue to run the ball effectively and play great defense, the Vikings will be legitimate playoff contenders.
New England Patriots
After their loss to the Cardinals, many people started doubting the Patriots. Then after coming out on the losing side of a hard-fought battle against the Ravens, the Patriots were faced with a sort of must-win game against the Bills.
In the first half, the Patriots looked somewhat pedestrian. But then Tom Brady stepped up and took over and the Patriots looked like themselves again.
Brady led the offense on an absurd six-consecutive touchdown drives in the second half and finished with 340 passing yards and three passing touchdowns. The defense did their part as well, forcing six turnovers.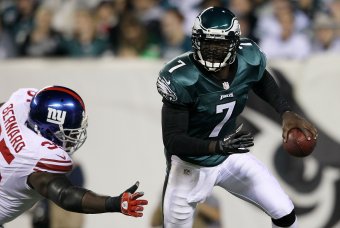 Alex Trautwig/Getty Images
Brady and New England showed that they aren't going anywhere. Look for them to build off their strong second half in Week 4.
Philadelphia Eagles
The Eagles have shown a surprising resilience over the first four weeks of the season. They won an ugly contest against the Browns in Week 1, followed by a thrilling comeback victory over the Ravens in Week 2.
But then the Eagles rolled into Arizona and got embarrassed with a 27-6 loss. In Week 4, they had a primetime Sunday night game against division rival and defending Super Bowl Champion, the New York Giants.
The Eagles responded in a big way. Michael Vick finally took decent care of the ball and the defense made a number of big stops. LeSean McCoy went off in the second half, rushing for 121 yards.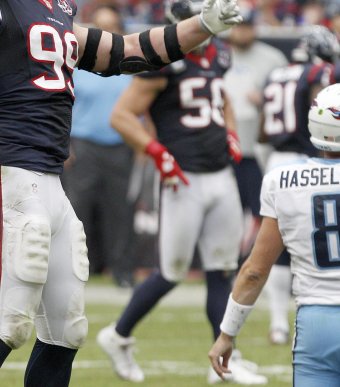 Thomas B. Shea/Getty Images
Lawrence Tynes missed a 54-yarder to give the Eagles a win and a huge boost of confidence. They escaped a rocky start with a 3-1 record, and remain as one of the most dangerous NFC teams.
Houston Texans
The Houston Texans have been the best team in the NFL thus far. They are not the only 4-0 team, with the Falcons having the same record.
But the Texans have dominated their opponents in a way that the Falcons have not. They are scoring an average of 31.5 points per game while only allowing 14 points per game. Matt Schaub is playing well at quarterback, and their rushing game is in full force as usual.
But it's their defense, which I believe is the best in the league, that makes them so good. J.J. Watt should be in the early-season conversation for MVP and Brian Cushing and Jonathan Joseph have also had great starts.
The Texans are the NFL's best team, and have a ton of momentum going into their Monday night matchup with the New York Jets, which has the makings of a national television blowout.
Week 5 NFL Power Rankings
1. Houston Texans
2. Atlanta Falcons
3. Baltimore Ravens
4. San Francisco 49ers
5. Chicago Bears
6. Philadelphia Eagles
7. New England Patriots
8. Arizona Cardinals
9. Cincinnati Bengals
10. Green Bay Packers
11. Minnesota Vikings
12. San Diego Chargers
13. Denver Broncos
14. Buffalo Bills
15. New York Giants
16. Seattle Seahawks
17. Pittsburgh Steelers
18. Washington Redskins
19. Dallas Cowboys
20. St. Louis Rams
21. Indianapolis Colts
22. Carolina Panthers
23. Miami Dolphins
24. Detroit Lions
25. New York Jets
26. Tennessee Titans
27. Kansas City Chiefs
28. Jacksonville Jaguars
29. Oakland Raiders
30. Tampa Bay Buccaneers
31. New Orleans Saints
32. Cleveland Browns
This article is
What is the duplicate article?
Why is this article offensive?
Where is this article plagiarized from?
Why is this article poorly edited?