Carolina Panthers: Top 5 Liabilities of 2012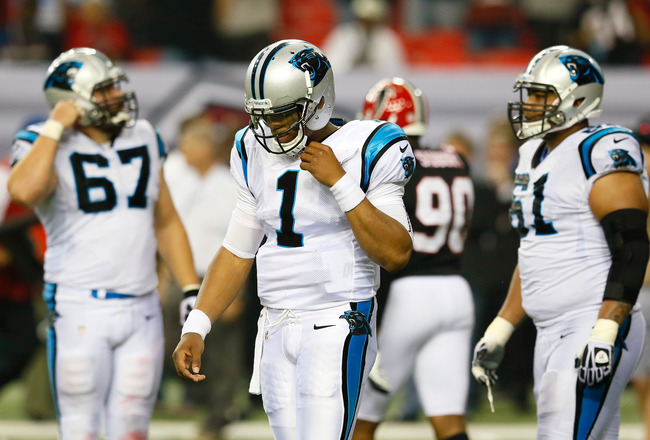 Kevin C. Cox/Getty Images
The first month of the 2012 NFL season has drawn to a close and while there is still plenty of football left to play, we have learned a lot about the Carolina Panthers and quite possibly the direction in which they are headed the rest of the way.
While there have been some positives, Greg Olsen's productivity, Charles Johnson's 3.5 sack game vs. Atlanta or finally having a punter who can pin opponents deep, there have been plenty of negative things to take away from this young Panthers team.
Carolina is currently 1-3 and barring a dramatic turn of events, will most likely disappoint this year after lofty expectations to start the season. Their record and the lack of production from both sides of the ball are not solely on one player, but rather many parts of the team in general.
If the Panthers are to turn their season around and claim some wins, they will need to address those areas that have become liabilities on game day,
Here are the top five, in no particular order...
Cam Newton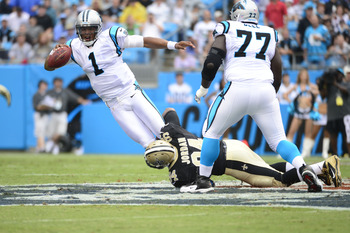 Bob Donnan-US PRESSWIRE
This one is the most obvious. Newton has received a lot of criticism for his actions following turnovers or losses.
It doesn't take a genius to figure out that the man is miserable and hates to be on the losing end following a play or a game. His antics with sulking, pouting and unsportsmanlike conduct following losses is hindering not only his progress but also the team's as well.
If Carolina has any chance of rising up this season, or even next year, Newton will need to mature quickly.
He has the skill set and the potential. He has received a vote of confidence from the Panthers brass, but he will need to learn from his mistakes and protect the ball better if he wants to remain in the long term plans of the franchise.
One troubling statistic about Newton: when he throws an interception, the Panthers lose.
He has thrown five already this year. At his current pace, he will throw 20 by season's end. That doesn't bode too well for a Carolina squad committed to winning and turning around the team.
The one positive to take away from Newton's performance is that he doesn't need to be a Tom Brady or Peyton Manning to win games.
In fact, he has produced modest numbers in the seven career games he has won for the Panthers. The more balanced the offense, the better their chances of winning.
He has the players to help him win, he just needs to take advantage of the resources given to him and stop putting the burden to win entirely on his own shoulders.
The Big Uglies Up Front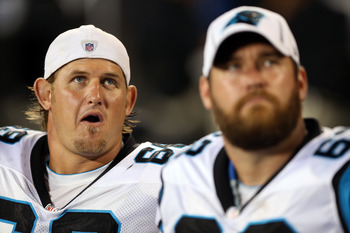 Streeter Lecka/Getty Images
The key for any team to win starts with the effectiveness of it's offensive line.
On paper, Carolina boasts one of the best lines in the league. Unfortunately, games aren't played on paper. Pro Bowlers Ryan Kalil and Jordan Gross were tasked with molding and mentoring the young Byron Bell and rookie Amini Silatolu into studs of the line.
So far, no one has looked like a stud or a Pro Bowl-caliber lineman.
Both Gross and Kalil have struggled this year, with them shouldering much of the blame for failing to open holes in the running game or protect Newton.
The depth isn't particularly great, either.
In a recent game with Bell absent, Garry Williams filled in and was not impressive. Many felt that Bruce Campbell should have started in that game. Long story short, nothing was able to get going on offense and the Panthers subsequently lost.
There is a lot of potential for this line to be one of the best on both paper and on game day. They will just need to get their acts together and play inspired, hard-nosed football.
The winner in the trenches usually yields the better results and achieves victory.
Defensive Tackles and Linebackers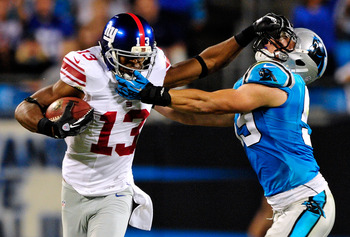 Grant Halverson/Getty Images
The defensive ends are getting a pass for now.
They played very well against Atlanta and between Charles Johnson and Frank Alexander have racked up five sacks. The play of the interior and the linebackers has left much to be desired, however.
Dwan Edwards has played somewhat well, but his combined efforts with Ron Edwards have not been nearly as solid as the Panthers would have liked. The interior has been sliced and gashed through by running backs, giving up nearly 135 yards per game on the ground.
Recently, Greg Hardy has spent some time on the interior and has yielded some positive results. There is no telling how long that will hold up, but with any luck, he will find his niche in this role.
Behind the line is what was supposed to be a solid group of linebackers. The corps of Jon Beason, Luke Kuechly and James Anderson was supposed to be the one part of the defense that would improve upon last year's numbers.
Beason hasn't really looked the same since his return from a torn Achilles and Kuechly has not looked like a top ten draft pick. Anderson currently leads the team in tackles, but could benefit greatly from Beason and Kuechly stepping up and helping out.
Maybe it's the health of Beason that is the culprit for his down season. He's missing tackles and seems to be trying to arm tackle more and more this year.
Kuechly isn't playing terribly, but he doesn't seem as involved on each play as he did during the preseason. He has a lot of potential and is very intelligent, so he should be alright. It's doubtful he will be taking home Defensive Rookie of the Year honors, however, unless he starts terrorizing opposing offenses the rest of the way.
If the play on the interior and the linebacking unit improves, the Panthers may be able to keep opponents off the board and limit the amount of yards they put up.
Secondary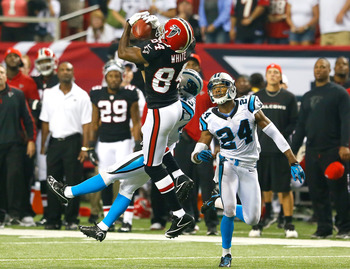 Kevin C. Cox/Getty Images
So much for an improved secondary.
Carolina was hoping this unit would be upgraded and improved entering the season. They signed free agent Haruki Nakamura and drafted Josh Norman out of Coastal Carolina looking to shore up a unit that was victimized constantly last year.
Not much has changed.
Last Sunday, Nakamura was burned several times by Matt Ryan and even allowed the big catch that allowed the Atlanta Falcons to kick the game-winning field goal. Because of his play, there was talk about benching him.
Josh Norman surprised many by getting the starting nod and his play has reminded everyone that he is a rookie.
He has drawn penalties and made mistakes that have been costly. Given the lack of depth and the absence this weekend of Chris Gamble, the Panthers really have no other option. They have to continue to play him.
It would be unfair to single out just these two, because even Gamble and Charles Godfrey have given up a lot of yards or allowed multiple completions to opposing receivers.
Captain Munnerlyn will most likely get the starting nod in place of Gamble on Sunday, and the prospects of the effectiveness of the pass defense aren't looking too good.
Coaching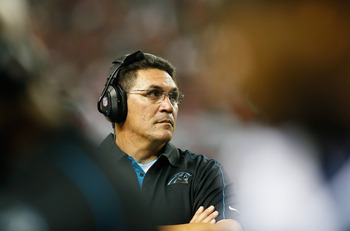 Kevin C. Cox/Getty Images
Ron Rivera has been the focal point of debates and criticism regarding his decision to punt on fourth down following a Cam Newton fumble a play earlier that negated a game-winning first down.
That's just scratching the surface.
Many fans have voiced their displeasure with his style of playcalling and the way the defense has played, despite Rivera's background as a defensive coach.
Despite his 7-13 career record as the Panthers' head coach, there is still time for him to turn the Panthers around.
In order to do that, the decision making and playcalling need to be more sound. There was a lot of concern as to why the Panthers seem to keep abandoning the running game when the running backs are still picking up decent gains.
Another criticism stemmed from the Thursday night game against the New York Giants. Many wondered why the Panthers did not employ more screens to offset the talented pass rush of the Giants defensive line. As a result, the offense could not get anything going.
Rivera is not the only one on the hook here, however. Rob Chudzinski and Sean McDermott have seemed unable to harness and employ the full potential of their players.
Last year, the Panthers offense was one of the most feared and dangerous units in the league. They would finish seventh in total offense at the end of the season.
McDermott seems to be struggling with his defense and making the most of his coaching philosophy. Essentially, he was hired to improve a weak unit formerly helmed by Ron Meeks, but there hasn't been much change in results.
If the coaches cannot get things clicking the way Jerry Richardson and Marty Hurney envisioned, there may be some major decision making at the conclusion of the season.
Keep Reading

Carolina Panthers: Like this team?