Breaking Down How Each Team's Pitching Lines Up in the ALDS/NLDS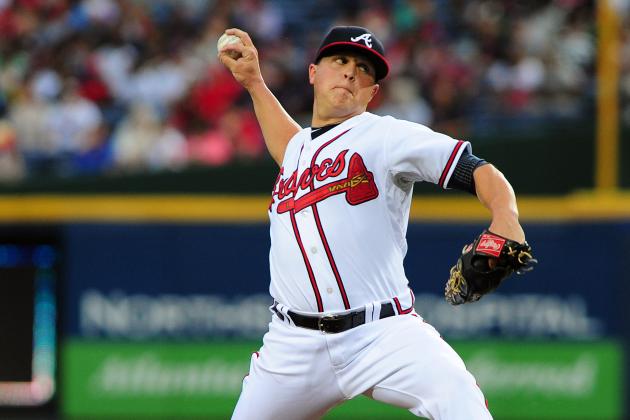 Scott Cunningham/Getty Images
When will the Braves be able to use Kris Medlen in the NLDS?
On Friday, Major League Baseball will officially kick off the new era that it planned out way back in March. Two wild-card play-in games will be played for the first time ever, with the winners moving directly to the Division Series round.
It's a cool idea, but what must be understood is that the Baltimore Orioles, Texas Rangers, St. Louis Cardinals and Atlanta Braves are all canaries in a coalmine. We have no way of knowing how the wild-card games are going to impact their chances of winning it all if they happen to advance.
Starting pitching is the primary concern. The Braves, for example, are turning to staff ace Kris Medlen on Friday in hopes that he can silence the Cardinals. The Cardinals are turning to their own staff ace, Kyle Lohse, in hopes that he can be the one doing the silencing.
This is all well and good from a theater perspective, but it means that the Braves or Cardinals won't be able to use their aces in Game 1 of the NLDS against the Washington Nationals if and when they advance.
That's probably just fine with the Nationals. And for their part, their pitching is pretty well set. The same is true of several of the other teams already locked into the Division Series round.
Here's a look at how each team's starting pitching is projected to line up in the Division Series round, complete with discussions about each team's outlook for the postseason.
Note: Projections are my own unless otherwise noted. Stats come from Baseball-Reference.com unless otherwise noted.
Begin Slideshow

»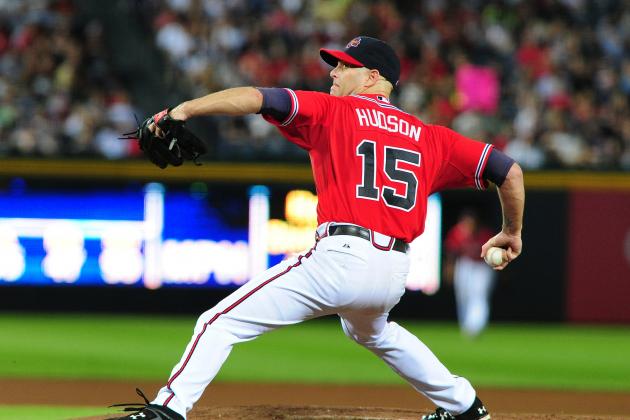 Scott Cunningham/Getty Images

Projected NLDS Rotation
Game 1: Tim Hudson
Game 2: Mike Minor
Game 3: Kris Medlen
Game 4: Paul Maholm
Medlen would be the obvious choice to start Game 1 for the Braves against the Nationals on Sunday, but the Braves are trusting him to get them there in the first place. It's a smart move on their part, seeing as how Medlen hasn't lost any of his 12 starts and has compiled a 0.97 ERA.
In Medlen's stead, Tim Hudson is the best choice to start Game 1 against the Nats. He's been shaky at times this season, and his 0-2 record and 7.71 ERA against the Nats is more than a little concerning, but Hudson's extensive postseason experience makes him worthy of Fredi Gonzalez's trust.
Plus, Hudson finished the season by posting a 3.00 ERA over his last five starts. That'll do for a Game 1 starter.
Young lefty Mike Minor should follow Hudson in Game 2 as a reward for posting a 2.16 ERA and a .560 opponents' OPS in the second half. He quietly became one of the best pitchers in baseball after the All-Star break, and having him follow Hudson will force Nats hitters to adjust to a different arm slot.
With Game 3 scheduled to take place on Wednesday, Medlen can return to pitch on full rest. No further argument is needed here (at least, I hope not).
Game 4 will be interesting. Paul Maholm will get the ball if the Braves are looking at a series victory, but I wouldn't be surprised if Gonzalez handed the ball back to Hudson on three days of rest if the Braves are facing elimination. Maholm is solid, but he can awfully hittable on a bad day.
In all, I'd say the Braves are in pretty good shape with their starting pitching, even with Medlen set to go in the Wild Card Game. They'll be able to bring him back for Game 3, and in the meantime, they'll be using two starters they can rely on in Games 1 or 2.
If the question is whether or not they have already been doomed by the Wild Card Game, the answer is no.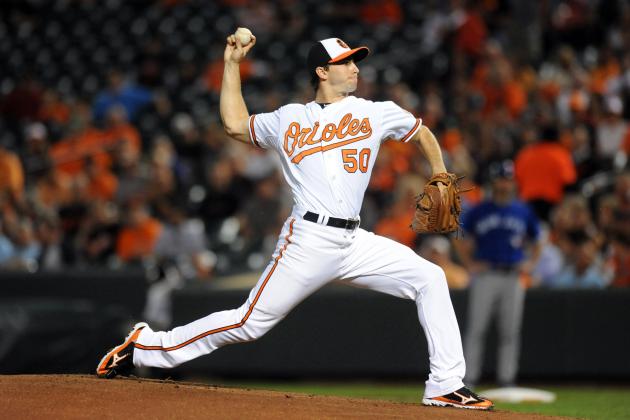 Mitchell Layton/Getty Images

Projected ALDS Rotation
Game 1: Jason Hammel
Game 2: Wei-Yin Chen
Game 3: Chris Tillman
Game 4: Miguel Gonzalez
Right off the bat, we should all realize one thing about Baltimore's prospective ALDS rotation if the Orioles happen to move on to face the New York Yankees: There is no right answer. Predicting Baltimore's ALDS rotation is like trying to tell people what the weather is going to be like.
But if I had to guess, Jason Hammel will be Buck Showalter's starting pitcher for Game 1 in Baltimore on Sunday. He hasn't pitched since September 11, but the word from MASNSports.com is that his knee is feeling fine and dandy. Beyond that, he's worthy of Showalter's trust because he's been Baltimore's most reliable starter this season when he's been healthy.
If Hammel goes in Game 1, Wei-Yin Chen will probably go in Game 2. He ended the season by posting an ERA over 5.00 in his last 10 starts, but pitching him in Game 2 will at least allow Showalter to split up his right-handers.
After Chen could come Chris Tillman in Game 3 and Miguel Gonzalez in Game 4. Tillman quietly posted a 2.53 ERA over his last eight starts this season, and Gonzalez finished the season with a 2.10 ERA in his last four starts.
There's really no right order for Tillman in Gonzalez, mind you. Showalter could easily pitch Gonzalez in Game 3 and Tillman in Game 4 if he wants, and I wouldn't rule Gonzalez starting in Game 1 and Tillman starting in Game 2, with Hammel and Chen to follow in some order.
Baltimore's ALDS starting rotation is going to look weak no matter which way it's sliced. This won't concern Showalter, of course, as he's long since gotten used to deal with a rotation that looks weak on paper.
It didn't kill the O's in the regular season. It shouldn't be assumed that it will kill them in the postseason.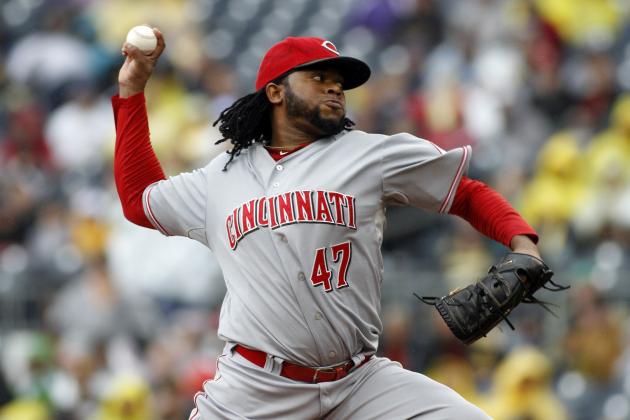 Justin K. Aller/Getty Images

Projected NLDS Rotation
Game 1: Johnny Cueto
Game 2: Bronson Arroyo
Game 3: Mat Latos
Game 4: Homer Bailey
There's really not a whole lot to discuss here. Where Atlanta and Baltimore's Division Series rotations are totally up in the air, Cincinnati's NLDS rotation is already set in stone.
According to MLB.com, Dusty Baker has already decided to start Johnny Cueto in Game 1, Bronson Arroyo in Game 2 and Mat Latos in Game 3 against the San Francisco Giants. If the series gets to Game 4, indications are that Homer Bailey will get the ball over Mike Leake (not a whole lot of speculation is needed there).
Cueto didn't look so hot for a while there, but he managed to finish things off by posting a 1.35 ERA in his last three starts. There's not a whole lot to be worried about where he's concerned for Game 1.
The curious part of Cincinnati's NLDS rotation is Arroyo being tabbed for Game 2 over Latos. This would seem to be a decision designed specifically to take advantage of the 3.57 ERA and .679 opponents' OPS Arroyo has on the road. For his part, Latos has a 3.18 ERA and a .674 OPS on the home—numbers that fairly trump Arroyo's home numbers.
If the series goes to Game 4, the Reds could ask a lot worse than to have to turn to a guy who just threw a no-hitter. It was no fluke either, as Bailey finished the season with a 1.85 ERA over his last seven starts.
Pitching was largely responsible for getting the Reds to the postseason. It will be responsible for getting them through the postseason as well. They're the scariest team that nobody is talking about.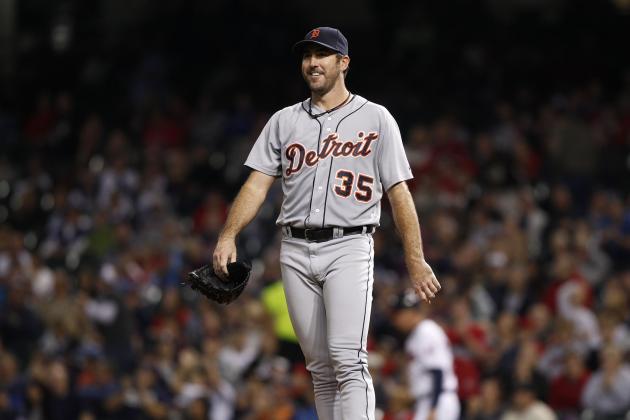 David Maxwell/Getty Images

Projected ALDS Rotation
Game 1: Justin Verlander
Game 2: Doug Fister
Game 3: Anibal Sanchez
Game 4: Max Scherzer
The Tigers are in the same boat as the Reds. Their ALDS rotation is all set and ready to go.
According to the Detroit Free Press, Justin Verlander is going to start Games 1 and 5 (if necessary) for the Tigers. Doug Fister will go in Game 2, Anibal Sanchez will go in Game 3 and Max Scherzer will go in Game 4.
There's no argument to be made about how Verlander and Fister are arranged at the top, but the decision to have Sanchez start Game 3 over Scherzer is a curious one. It could be taken as a sign that Scherzer's shoulder is still a little too tender for the Tigers to feel comfortable running him out there for Game 3. Or it could just be taken as a sign that Jim Leyland really does feel that comfortable starting Sanchez.
If so, it would be hard to blame him. Sanchez's Tigers tenure got off to a rough start, but he rebounded to post a 2.15 ERA and a .565 opponents' OPS over his last eight starts.
Regardless of the reasoning for Games 3 and 4, there's little question in my mind that the Tigers have the strongest postseason rotation of the five American League teams. They have their weaknesses as a ballclub, but their pitching could so some major damage over the next few weeks.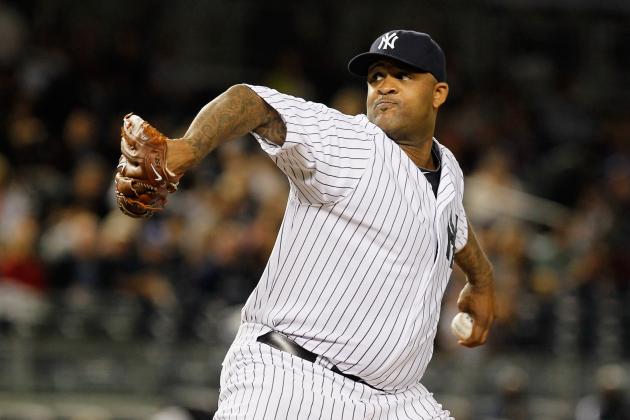 Mike Stobe/Getty Images

Projected ALDS Rotation
Game 1: CC Sabathia
Game 2: Hiroki Kuroda
Game 3: Andy Pettitte
Game 4: Phil Hughes
The Yankees would have found themselves in quite the conundrum had they failed to win the AL East, as Joe Girardi would have been tasked with picking out starters for both a tie-breaking game with the Orioles and the Wild Card Game.
But the Yankees did win the East, and that means they can start CC Sabathia on five days of rest in Game 1 of their ALDS matchup against either the Orioles or the Rangers on Sunday.
Things are less certain beyond Sabathia, but only to a degree. The most logical expectation is that Girardi will tab Hiroki Kuroda to start Game 2, with Andy Pettitte starting Game 3 and Phil Hughes starting Game 4.
There's some concern in regards to Kuroda because he was pretty rocky down the stretch, but on the whole, his body of work this season definitely fits the mold of a typical Game 2 starter. In 33 starts, he won 16 games with a 3.32 ERA and a 1.17 WHIP—solid numbers across the board.
Pettitte only got to make 12 starts this season, but what's important is that he very much looked like the Andy Pettitte of old in these starts. He doesn't have dominant stuff anymore, but you don't post a 2.87 ERA unless you're doing something right.
We could see Girardi bring Sabathia back on three days of rest for Game 4 if the Yankees are facing elimination, but expect him to go with Hughes otherwise. He has a spotty postseason track record, and he gave up way too many home runs during the regular season, but Hughes is considerably more reliable than Ivan Nova and David Phelps.
Regardless of how things end up being arranged, the Yankees are set up to have a much stronger postseason rotation than they did last year, when they couldn't even make it out of the first round. If their offense stays hot, they could easily find themselves back in the World Series.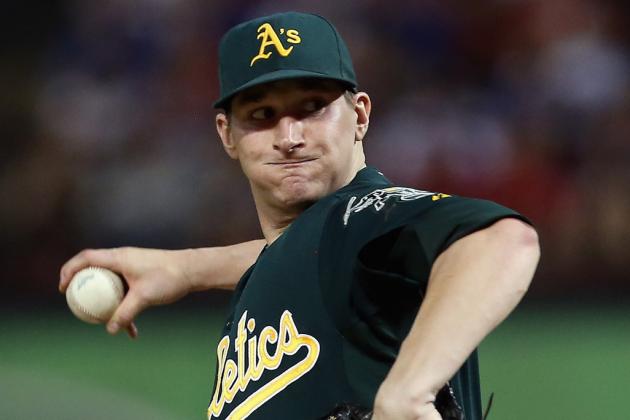 Ronald Martinez/Getty Images

Projected ALDS Rotation
Game 1: Jarrod Parker
Game 2: Tommy Milone
Game 3: Brett Anderson
Game 4: A.J. Griffin
It took them a little while, but the A's finally put a stop to the speculation in regards to their starters for Games 1 and 2. According to Casey Pratt of CSNBayArea.com, the A's are going to start Jarrod Parker in Game 1 and Tommy Milone in Game 2.
Parker's a no-brainer for Game 1, but starting Milone in Game 2 is a risky play on Bob Melvin's part. He was a solid pitcher for the A's this season, but he fared a lot worse on the road than he did at home. He posted a 4.83 ERA away from home, as opposed to a 2.74 ERA when he pitched in Oakland.
Brett Anderson would have been my choice for Game 2, but he may not be 100 percent healthy yet. However, Susan Slusser of the San Francisco Chronicle reported a couple days ago that Anderson's right oblique is coming along. He could be used in the ALDS.
If Anderson checks out OK over the weekend, my gut feeling is that he'll be used in Game 3 in Oakland on Tuesday.
There's no obvious answer for Game 4, but A.J. Griffin is the best man for the job pretty much by default. He struggled down the stretch, but he has more major league starts under his belt than Dan Straily and better stuff than Travis Blackley.
Oakland's rotation doesn't look all that sexy on paper, but don't let that fool you. The A's finished third in the AL with a starters' ERA of 3.80, and that was largely accomplished by the young pitchers they're sure to feature in the ALDS against the Tigers.
The Tigers do have the edge in the starting pitching department, but the A's will be able to hold their own on the mound.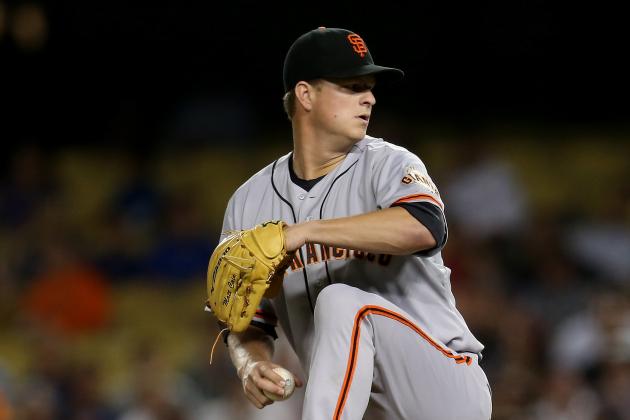 Stephen Dunn/Getty Images

Projected NLDS Rotation
Game 1: Matt Cain
Game 2: Madison Bumgarner
Game 3: Tim Lincecum
Game 4: Barry Zito
It had already been decided that Matt Cain would start Game 1 for the Giants against the Reds, and it became official on Thursday that Madison Bumgarner would start Game 2, according to MLB.com.
No argument here. Cain finished the season with a 2.79 ERA and a 1.04 WHIP, and Bumgarner finished the season with a 3.37 ERA and a 1.11 WHIP. He had his ups and downs in the last couple weeks of the season, but the Giants at least know that Bumgarner has a tendency to be money at AT&T Park. He lost only three home starts all year, compiling a 2.38 ERA in the process.
Game 3 is where the argument begins. There's no clear-cut choice, but Tim Lincecum gets my vote.
Lincecum had the worst season of his career in 2012, posting a 5.18 ERA and a ghastly 1.47 WHIP, but he deserves the start in Game 3 because of how he finished and because of his track record. He went 7-5 with a 3.83 ERA in the second half of the season, and we all remember how he performed in the 2010 postseason. He won four games, posting a 2.43 ERA in the process and beating aces like Roy Halladay and Cliff Lee along the way.
I'd start Ryan Vogelsong in Game 4 if it was a home game, but Barry Zito is a safer option for the Giants with the game set to be played in Cincinnati. His home/road splits are pretty even, whereas Vogelsong is significantly better when he pitches in San Francisco.
Plus, the Giants haven't lost one of Zito's starts in two months. That's worth some consideration.
Pitching led the Giants to a World Series title in 2010, and their arms are dangerous once again this year. These arms also happen to be backed by a much-improved offense, so the Giants must not be taken lightly.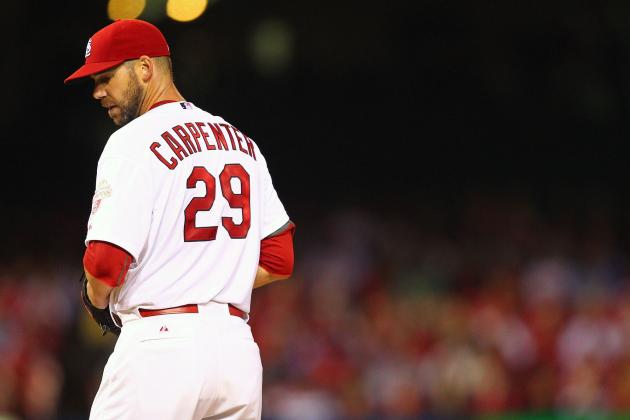 Dilip Vishwanat/Getty Images

Projected NLDS Rotation
Game 1: Chris Carpenter
Game 2: Jaime Garcia
Game 3: Kyle Lohse
Game 4: Adam Wainwright
I gave up on the idea of Chris Carpenter starting Game 1 of any series for the Cardinals in the postseason at one point, but he finds himself in line to start Game 1 of the NLDS against the Nationals on Sunday after last pitching on Tuesday.
Starting Carpenter would be a slightly risky play given his very small body of work this season, but Mike Matheny can take the chance because, well, he's Chris Carpenter. He's looked sharp enough in his three starts this season, and his track record suggests he'll handle himself just fine under the bright postseason lights against the upstart Nationals.
Game 2 could fall to several different starters, but Jaime Garcia is my pick because he finished the season strong with a 2.10 ERA in his last four starts. In addition, the Cardinals don't want to start him on the road seeing as how Garcia posted an ERA of 5.02 in his road starts this year. He posted a 2.82 ERA in his home starts.
Kyle Lohse can come back on regular rest for Game 3, and Matheny shouldn't hesitate to pencil him in. Lohse didn't end up with a ton of wins to show for it, but he was by far the Cardinals' most dependable starter this season.
I could see Game 4 going to Lance Lynn given how well he pitched down the stretch, but Adam Wainwright gets the nod for me because of his seniority. He didn't fare very well down the stretch, posting a 5.51 ERA in his last six starts, but he's a guy who's been there and done that in the postseason before. Lynn was with the Cardinals last year, but he was used only as a reliever in the playoffs.
As a whole, St. Louis' starting pitching doesn't have the look of the strongest unit in the National League. At the same time, theirs is a rotation that should not be underestimated, as it features some quality arms and plenty of experience.
The Cardinals themselves shouldn't be underestimated. Not after what they managed to do in 2006 and 2011, anyway.
Ezra Shaw/Getty Images

Projected ALDS Rotation
Game 1: Matt Harrison
Game 2: Ryan Dempster
Game 3: Yu Darvish
Game 4: Derek Holland
If there's one team that could get screwed by the new wild-card setup, it's the Rangers. They'd much rather be pitching Yu Darvish in Game 1 of the ALDS than in a do-or-die Wild Card Game.
But hey, they have only themselves to blame for that. How you lose a five-game lead with a week-and-a-half to play is beyond me.
If the Rangers do advance, Matt Harrison is pretty much a lock to start Game 1 for them in Texas against the Yankees on Sunday. Harrison can be unpredictable, but he very much earned his 18 wins. He was also pretty good the only time he faced the Yankees this season, allowing one earned run in 6.1 innings.
There's no right choice for who should start Game 2. Ryan Dempster got destroyed the last time he faced the Yankees, and Derek Holland posted a 5.55 ERA in Arlington this season. Dempster gets my vote because he's the kind of guy who can put together six or seven good innings when he's not getting lit up (fingers crossed, Rangers fans).
Darvish will be well-rested by the time Game 3 comes around, so he should get the start no questions asked. He ended up with decent numbers this season, but what really matters where he's concerned is that he was absolutely filthy down the stretch. In his last seven starts, he posted a 2.13 ERA and held hitters to a .467 OPS.
Holland can go in Game 4. You worry about him against a lineup like that of the Yankees' given Holland's bad case of gopheritis, but at least he'll be starting on the road. He posted a 3.65 ERA on the road this year, with a much lower opponents' slugging percentage than the one he posted at home.
Overall, I wouldn't say Texas' starting pitching is any stronger than it was in 2010 or 2011. The bright side is that the Rangers were able to get to the World Series both of those years anyway, and they could do so again if their offense shows up and their bullpen settles down again.
As much as people want to write off the Rangers, here's a hint: Don't.
Patrick McDermott/Getty Images

Projected NLDS Rotation
Game 1: Gio Gonzalez
Game 2: Jordan Zimmermann
Game 3: Ross Detwiler/Edwin Jackson
Game 4: Detwiler/Jackson
The first two spots in Washington's NLDS rotation require little discussion. According to The Washington Times, it's already been determined that Gio Gonzalez will start Game 1 and Jordan Zimmermann will start Game 2.
Game 3 is a little less set in stone. Edwin Jackson would seem to be the obvious choice, but Davey Johnson could decide to go with lefty Ross Detwiler if the Nats are going up against the Braves and their lefty-heavy lineup.
For that matter, the Washington Post has reported that John Lannan could get the nod in Game 4 if the Nats are facing the Braves simply because he's another lefty the Nats can throw at the Braves.
Since the Braves posted a mere .668 OPS against lefty starters this season, I'm on board with the idea.
But if the Nats face the Cardinals and their righty-heavy lineup, Jackson should start Game 3 with no questions asked. He's not always dominant, but he logged quite a few quality starts for the Nats this year. With their offense clicking so well in recent weeks, that's all the Nats really need.
I'd then start Detwiler in Game 4, but only because he logged considerably more major league starts than Lannan this season. Detwiler was also slightly better against right-handed hitters.
Washington's postseason rotation would be quite ominous if Stephen Strasburg were involved somehow, but it shouldn't be taken lightly even with him out of the picture. Gonzalez and Zimmermann can match up with anybody, and the other guys the Nats have are more than good enough to hold the line while the club's bats go to work.
They may not have Strasburg, but the Nats are still a World Series-caliber ballclub.
If you want to talk baseball, hit me up on Twitter.