UFC on FX 5 Results: Questions Heading into UFC 153 Silva vs. Bonnar Fight Card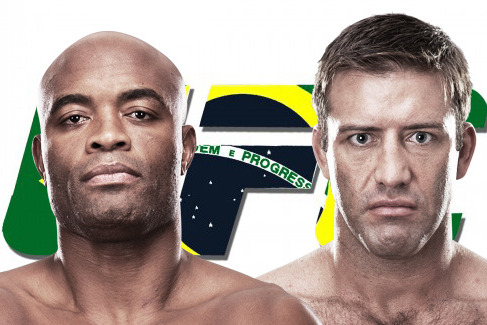 UFC on FX 5 is in the books, and among the highlights were comeback wins from Mike Pierce and Michael Johnson, John Dodson earning a shot at UFC flyweight champion Demetrious Johnson, Jake Ellenberger avenging a loss from earlier in his career and Antonio Silva earning his first UFC victory.
Here are the full results:
Antonio Silva defeats Travis Brown via TKO at 3:27 of Round 1
Jake Ellenberger defeats Jay Hieron via unanimous decision (29-28 x 3)
John Dodson defeats Jussier da Silva via TKO at 4:35 of Round 2
Justin Edwards defeats Josh Neer via technical submission at 0:45 of Round 1
Michael Johnson defeats Danny Castillo via knockout at 1:06 of Round 2
Mike Pierce defeats Aaron Simpson via knockout at 0:29 of Round 1
Marcus LeVesseur defeats Carlo Prater via split decision (29-28, 28-29, 29-28)
Jacob Volkmann defeats Shane Roller via submission at 2:38 of Round 1
Diego Nunes defeats Bart Palaszewski via unanimous decision (30-27, 29-28, 30-27)
Darren Uyenoyama defeats Phil Harris via submission at 3:38 of Round 2
Now that the FX card has wrapped up, we can look forward to the UFC's Oct. 13 trip to Brazil for UFC 153.
Begin Slideshow

»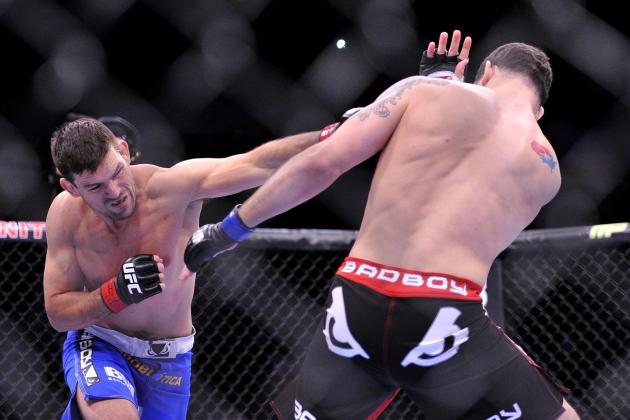 Mike Dinovo-US PRESSWIRE

After several lacklustre showings at 185, former UFC middleweight contender Demian Maia made the decision to drop to welterweight. Maia made his 170-pound debut at UFC 148, and he looked good in the brief outing against Dong Hyun Kim.

While Maia seemed a bit too focused on highlighting his striking in his last few middleweight bouts, he abandoned that style against Kim. Maia looked for a takedown and attempted to take Kim's back in the opening seconds of the fight before an injury to Kim halted the bout at the 47-second mark of Round One.
There's no way you can judge a fighter on such a short amount of time, but for how brief the bout was, Maia looked focused on his grappling skills instead of his striking. We'll get another glimpse of Maia at UFC 153 when he faces Rick Story.

If Maia can build upon what we saw at UFC 148 and walk away with a victory, he'll move up the rankings. However, Maia's age and a logjam at the top of the welterweight division may work against him seeing another shot at UFC gold.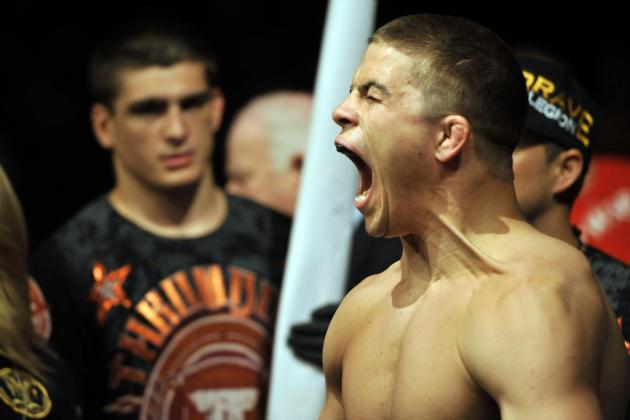 Joe Camporeale-US PRESSWIRE

Not too long ago Rick Story sported a 13-3 record, a record that included a six-fight unbeaten streak. That run earned him a main-event slot against Nate Marquardt at UFC on Versus 4.
However, that fight was not to be, as Marquardt was scratched from the event and subsequently released by the UFC after coming in with elevated testosterone levels. In Marquardt's place would step Charlie Brenneman.

Brenneman earned a unanimous decision over Story on that night in Pittsburgh. Story would follow that loss by dropping a unanimous decision to Martin Kampmann at UFC 139.
Just that fast, the fighter that had been 13-3 was 13-5. Story would bounce back in his next fight, improving his record to 14-5 with a unanimous decision over Brock Jardine.

Story has a lot on the line at UFC 153; he's opening the pay-per-view card against a popular Brazilian fighter in Demian Maia. Story's not in need of a win to save his UFC career, but he's probably in need of a victory to save his billing as a pay-per-view-card-worthy welterweight.

A win against Maia will be big for Story; a loss and he's likely tagged with the status of gatekeeper or preliminary card fighter.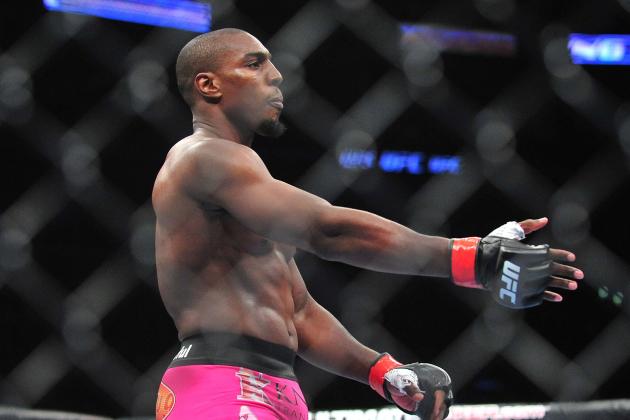 Gary A. Vasquez-US PRESSWIRE

If you watched UFC on FOX 4, you saw Phil Davis (briefly) face off against Wagner Prado. The fight was called after just 88 seconds when an inadvertent eye poke left Prado unable to continue.
It should be noted that those scant 88 seconds were enough to leave some, including Rashad Evans, questioning why the NCAA champion didn't use his wrestling skills during the contest.
Roll that over in your mind.
After 88 seconds in a fight against an individual that was making his UFC debut, there were questions as to why Davis didn't just come in and immediately go for the takedown.
Seriously?
The questioning was silly and uncalled for, and to be honest, a bit unprofessional, considering this was the first time Davis or anyone was seeing Prado inside the Octagon.
Hopefully Davis is treated a little more fairly at UFC 153, and if not, at least give the 9-1-0-1 fighter more than 90 seconds to establish a game plan before questioning him.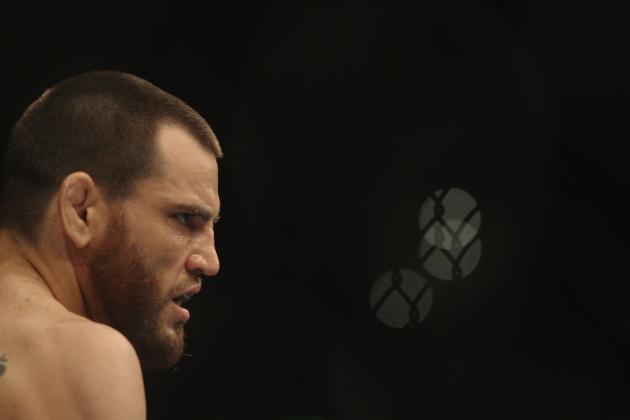 Mark Kolbe/Getty Images

Jon Fitch has not fought since he was stopped in 12 seconds by Johny Hendricks at UFC 141 in December 2011. Prior to that loss, Fitch had compiled a record of 7-1-1 with each of his fights going the distance. With that run came the reputation that Fitch was a boring fighter, more interested in the win than in delivering a fight that the fans could get behind.

Fitch will face Erick Silva at UFC 153, and he has said he hopes to finish this fight.
"I think we're going to have a really fast fight," Fitch told FCFighter.com. "I'd like to submit Erick Silva, you know, I think I can. I think I can get him to expose some things that make him vulnerable, and I think I can put him away."

Fitch is 23-4-1-1 in his career with five knockouts and five submissions. If he were to submit Silva, it would be his first stoppage victory since June 2007 when he submitted Roan Carneiro.

Fitch seems to believe in the training he put in for this fight, so we'll see if he can begin to shake the "boring" tag he has been saddled with and find a way to work himself back to the top of the UFC's welterweight division.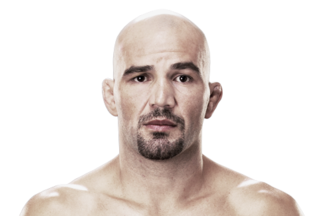 If you buy into the hype, Glover Teixeira is a top-10 light heavyweight that has former UFC champions Mauricio Rua and Rashad Evans shaking in their proverbial boots and refusing to fight the 18-2 Brazilian.

If you see things a little more clearly, you'll see that Teixeira, while sporting an impressive record, still has something to prove inside the Octagon before he can truly be anointed as a threat to the gold that currently resides around the waist of Jon Jones.

Sure, his UFC debut was an impressive and fast stoppage victory over Kyle Kingsbury, but to throw his name "in the mix" is premature and frankly unfair to Teixeira.

Teixeira was set to face Quinton "Rampage" Jackson at UFC 153, but an injury forced Jackson from the card. In his place will be Fabio Maldonado who, like Kingsbury, is a middling fighter in the 205-pound division.

Could Teixeira be a threat? Sure, but let him develop, and let him get his feet under him in the UFC before putting any more pressure on the UFC fighter.
Rafael Suanes-US PRESSWIRE

In sports, everyone is quick to declare this team or that individual as the next big thing. UFC light heavyweight competitor Glover Teixeira is the latest fighter to have that tag thrown in his direction.

Fabio Maldonado (18-5) will be Teixeira's opponent at UFC 153, and the door is wide open for him to play spoiler.
Is that likely to happen? No, but there's always the chance; the sports world is littered with a long list of "next big things" that never lived up to the hype.

An upset victory for Maldonado would add another name to that list.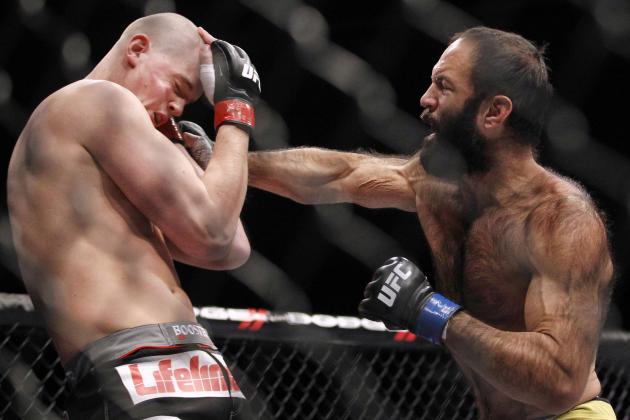 Matt Ryerson-US PRESSWIRE

Dave Herman has hit a rough patch as of late, going 0-2 in his last two fights, while also drawing the ire of his boss, UFC president Dana White.

Herman's first loss of the two came to Stefan Struve in February of this year. Herman was stopped at the 3:52 mark of the second round by Struve, but what most people will remember about Herman was how White tore into him on Fuel TV for his appearance during fight week.
"Listen, if you want to get noticed ... get noticed for your fighting skills, not for coming in like a gorilla or wearing pink scarfs," White said. "And coming in to 'Macho Man?' As I was sitting there, I'm thinking, 'Did I seriously let him come into this song?'"

What White was referring to was the fact that Herman arrived to fight week with a full beard and thick body hair, both of which were dyed black.

Herman did little to impress in his next fight, lasting 51 seconds at UFC 146 before being knocked out by Roy Nelson.

The pressure will be on Herman at UFC 153 to, at the very least, deliver a strong performance against Antonio Rodrigo Nogueira.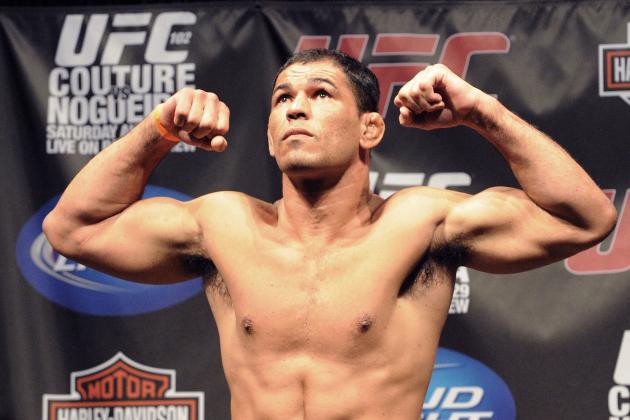 Jon Kopaloff/Getty Images

The last time we saw Antonio Rodrigo Nogueira in the Octagon, he was flat on his back and staring at his right arm, which had just been broken by Frank Mir's kimura, like that arm belonged to someone else. It didn't.

The result of that brutal submission hold was a date with a surgeon for Nogueira. That surgery resulted in a plate being installed in his arm along with 16 screws.

Nogueira had been scheduled to face Cheick Kongo at UFC 149, but his damaged arm was not fully healed, and he was forced to withdraw from that card. Heading into UFC 153, Nogueira feels that the arm is totally healed, and he is ready to face Dave Herman at UFC 153.

We'll find out if that is true on Oct. 13 in Brazil.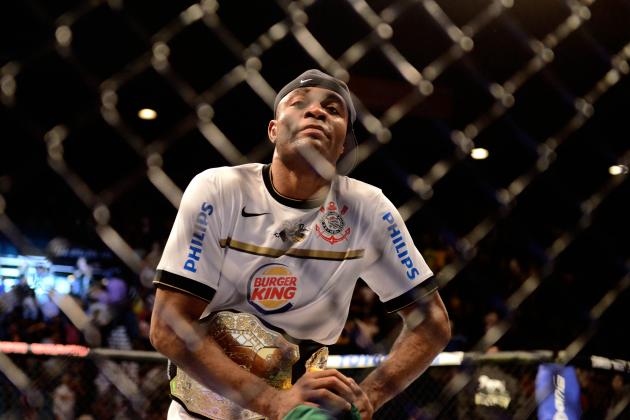 Mark J. Rebilas-US PRESSWIRE

The odds for the main event of UFC 153 imply that Anderson Silva will have a fairly easy go of things when he faces Stephan Bonnar. The odds (Silva -1350, Bonnar +800) make Silva a 93 percent favorite to win the scheduled bout.

Those odds give UFC 153's main event some of the most lopsided odds in UFC (main event) history. The recent Jon Jones versus Vitor Belfort bout had Jones as a -925 favorite at one point, while the UFC 69 main event between Matt Serra and Georges St-Pierre saw GSP as a -1000 favorite over Serra.

The Jones fight played out as expected, minus the first-round close-call armbar that left Jones dangerously close to losing his UFC crown, but the St-Pierre versus Serra bout ended with Serra unexpectedly taking the title with a first round TKO.

So how will this fight play out? Will Silva run over Bonnar as the odds would suggest, or will Bonnar surprise Silva with the upset?

Anyone expecting Silva to come in and take this fight less than seriously will be in for a surprise; there's no way he'll do that in front of a hometown crowd.
On the other hand, Bonnar is free-rolling; he has absolutely nothing to lose, which always opens the door for the upset.

Do I expect some type of crazy ending? Nope, but you never know. Just ask Matt Serra.