2013 NBA Mock Draft: Which Players Are the Most NBA Ready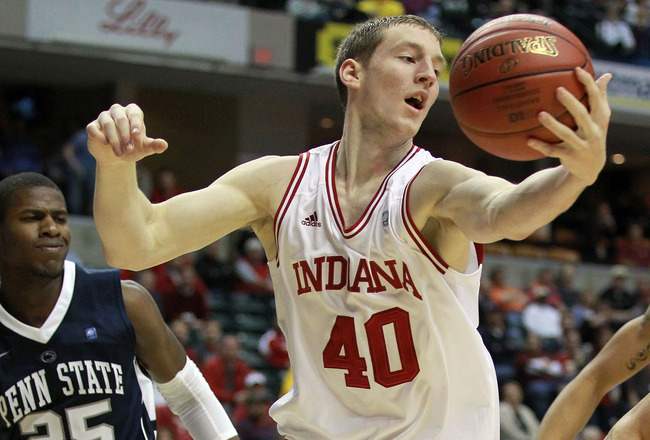 Andy Lyons/Getty Images
The 2013 NBA Draft class might not have the kind of depth we saw in the 2012 class, but don't sleep on the explosive collection of talent in the first round of the 2013 group. There are several prospects who are ready to impact the association.
As is customary in the draft nowadays, most of the top picks will be freshmen and sophomores. Consequently, there's widely-varying degrees of professional preparedness among the prospects.
Being truly "NBA-ready" entails a mature approach offensively, highly-developed ball skills, and enough court awareness to contribute defensively. It also often involves having a strong physique capable of enduring the rigors of the NBA season.
Most of the 2013 class has deficiencies that must be upgraded, but there are a handful of players who are much more advanced than the rest.
1. Shabazz Muhammad, UCLA SG/SF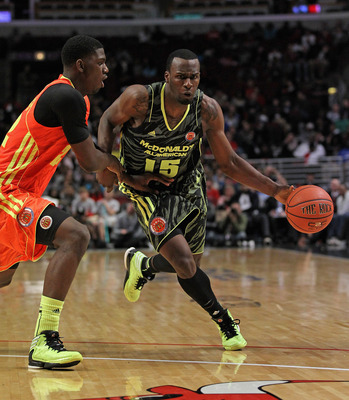 Jonathan Daniel/Getty Images
Not Quite NBA-Ready
UCLA's stock immediatey skyrocketed when the Bruins landed 6'6" scorer Shabazz Muhammad.
The dynamic wing has the potential to be an All-Star swingman in the NBA in a few years. His shooting ability, ball-handling skills, ideal physique and explosiveness make him an all-around offensive threat.
Muhammad's not without flaws, though. He favors his left hand too much, and if he keeps that up, he's going to be easier to lock down at the pro level.
Even in this short video, you can gather that he's predominantly reliant on his left-hand dribbling and left-hand shooting. He might make a fake or two towards the right, but he's probably returning to finish the drive on the left.
If he works on this during his time under Ben Howland, Muhammad will be an excellent rookie in 2013-14.
2. Cody Zeller, Indiana PF/C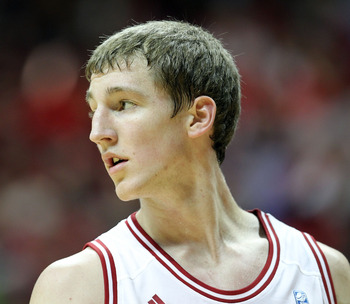 Andy Lyons/Getty Images
*NBA-Ready
Indiana Hoosiers forward/center Cody Zeller is more NBA-ready than most of the other post players in this draft class due to his advanced footwork and fluid movement around the rim.
He was instantly a huge factor in the Big Ten as soon as he set foot in Assembly Hall. Zeller can run the floor, finish with either hand and make life difficult for almost any big in college hoops.
Putting on some extra muscle should be a priority for Zeller, as it's one of the weaknesses that could prevent him from being an intimidating force in the NBA.
His mobility will allow him to play in a wide range of lineups in the NBA. He'll likely improve his jumper and ball-handling even more, and his post game is only going to get better. This will allow him to play as a stretch four in addition to center,
3. Nerlens Noel, Kentucky C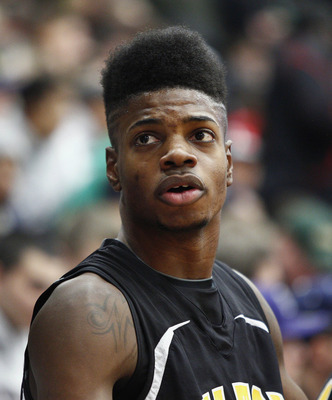 Mark L. Baer-US PRESSWIRE
Not Quite NBA-Ready
Just a few months ago, shot-blocking sensation Nerlens Noel was courting several hopeful NCAA programs. Now he's just a few months away from his short collegiate career's conclusion, and hopeful NBA franchises will get a chance to draft him.
The Kentucky freshman dominated in high school because he protected the rim better than anyone in the country. He can swat shots with either hand, something that will make him an effective defender at the next level.
Noel's offense isn't terrible, but it's far from where it needs to be for him to be a real post threat as a pro. His pivot moves, short bank shot and mid-range jumper all need improvement.
Because of the Big Blue Nation connection, people naturally want to compare Noel to Anthony Davis. They'll be disappointed if they expect him to match Davis' fabulous 2011-12 campaign.
Noel could end up having a similar impact defensively, but he doesn't quite have the same feel for the game yet offensively.
4. James McAdoo, North Carolina F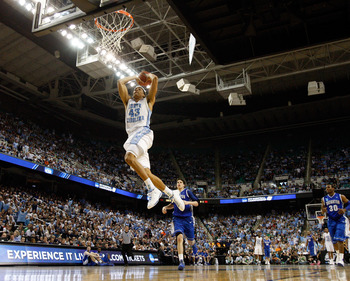 Streeter Lecka/Getty Images
Not Quite NBA-Ready
North Carolina sophomore James Michael McAdoo was overshadowed by the Tar Heel's superb 2011-12 front line, but during the playing time he did see, he impressed ACC opponents and UNC teammates alike.
He's not NBA-ready as of this moment, but if the noticeable progress from his freshman year carries over into 2012-13, he'll be a solid pro forward within a couple years.
McAdoo uses his length and strength to finish in the paint, and he's quickly developing skills that will allow him to play outside the paint when he enters the association. Ball-handling and outside shooting aren't his strong suits right now, but they won't be weaknesses for too long.
His ceiling is largely dependent on whether he can be a versatile forward and play the No. 3 and No. 4 positions.
5. Tony Mitchell, North Texas F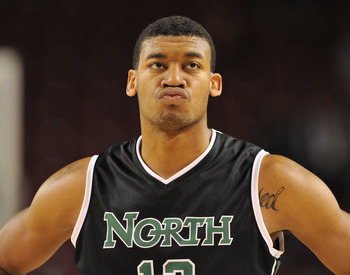 Andrew Fielding-US PRESSWIRE
Not Quite NBA-Ready
The Sun Belt Conference got a nasty dose of Tony Mitchell's punishing athleticism and power in 2011-12.
Have fun watching this extraordinary exhibition of his agility, strength and hand-eye coordination. Combine that with his reliable outside jump shot, and you have an intriguing prospect.
Mitchell shot 45 percent from beyond the arc for North Texas, but will that rate diminish from the NBA line?
Is he going to be a Perry Jones-type forward, a stretch four who has no clear role at the next level? He needs to improve his feel for the game in the half-court offense before he becomes a consistent performer in college or in the NBA.
6. Alex Poythress, Kentucky F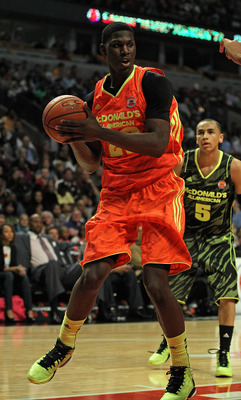 Jonathan Daniel/Getty Images
Not Quite NBA-Ready
Another fantastic recruit on John Calipari's resume is Clarksville, Tennessee native Alex Poythress.
He excelled in high school due to his ability to attack the basket off the dribble, in the post and hit the mid-to-outside jump shots.
Poythress should complement Nerlens Noel quite nicely, serving as a useful combo forward whose athleticism and offensive skills will pair with Noel's defensive domination.
Draft Express scout Jonathan Givony notes that Poythress is still trying to mature as a half-court decision-maker, something that could prevent him from maximizing his Kentucky freshman season and his draft stock.
Overall, he's a young, multi-talented forward Big Blue Nation should be excited about.
7. Rudy Gobert, France C
Definitely Not NBA-Ready
One of Europe's brightest young stars is French forward Rudy Gobert, whose length and potential is hard to miss.
He has a 7'9" wingspan. No, that's not a typo.
Although his wingspan and athleticism are ideal for the NBA, his strength and post moves are insufficient at this point.
Defensively, Gobert shows promise, and has shown that he can block shots and finish strong with either hand. But unless he packs on some mass, he'll be constantly bullied by pro power forwards and centers such as Marcin Gortat, Kevin Garnett, Blake Griffin and Andrew Bynum.
8. Isaiah Austin, Baylor PF/C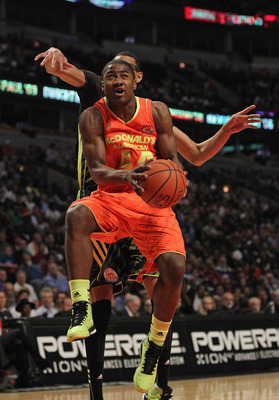 Jonathan Daniel/Getty Images
Not Quite NBA-Ready
Incoming Baylor Bears center Isaiah Austin is a classic case of length and shot-blocking ability paired with a relatively raw offensive game.
The seven-footer has a nice 15-18-foot jump shot, but his post moves and footwork are still primitive.
NBADraft.net scout Joshua Motenko aptly identifies Austin's current struggles but positive development signs:
Besides long jumpers and shots out of pick and pop situations, Isaiah doesn't have much of an offensive game. His back-to-the-basket moves are extremely simple, and a little bit uncoordinated, and he gets pushed around down low due to his long thin frame. However, he never hesitates to push back and always keeps two hands on the ball when initiating contact - both signs of a true, fundamental big-man at the next level.
A big year in the Big 12 might make this Baylor post player a highly sough-after prospect, but he won't reach his potential in the NBA until his second, third or fourth year in the league.
9. Steven Adams, Pittsburgh C
Definitely Not NBA-Ready
One of the many freshman post players who could change the complexion of the Big East, Steve Adams' size and soft shooting touch are readily apparent.
But I wouldn't take too much stock in videos such as this one, because it's evident that the Pittsburgh recruit relies on being taller than anyone else.
The main concern I have about the New Zealand native is whether he can go to work on the block, using a mix of back-to-the-basket and face-up moves to challenge other seven-footers.
Despite these doubts, it's encouraging to see a player who's willing and eager to help out in every facet of the game: scoring, rebounding, defending, and even passing from the high post.
10. Archie Goodwin, Kentucky SG
Brian Spurlock-US PRESSWIRE
Not Quite NBA-Ready
If Kentucky freshman Archie Goodwin is a one-and-done collegiate player, he'll likely land in the lottery of the 2013 NBA Draft.
There's no mistaking that he was put on this planet to attack off the dribble and finish with force.
The 6'5" McDonald's All-American can break his defender down in a variety of ways, changing direction on a dime and elevating to finish with dunks or easy lay-ins.
Once he leaves the SEC and makes the jump to the pros, he's not going to be able to cross over every player that defends him. When that happens, he'll need a reliable jump shot and an improved court sense.
Right now, increasing his range and improving his half-court IQ are paramount.
11. Kentavious Caldwell-Pope, Georgia SG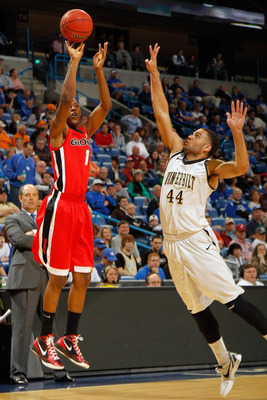 Chris Graythen/Getty Images
*NBA-Ready
Kentucky isn't the only SEC school will NBA-caliber talent in 2012-13.
The Georgia Bulldogs boast one of the best shooters in the south in Kentavious Caldwell-Pope. He barely made 30 percent of his three-pointers, but that's partially because he was counted on to shoot a high volume as a freshman (he took more than 200 threes in 2011-12).
Certain outings, like his 4-for-5 showing against USC or his 6-for-12 night against Mississippi State, display the top-tier shooting ability he has.
His leaping ability is also a trait NBA folks will notice, and although he's not a mid or close-range shot-creator, his athleticism does help him on the fast break and when he does actually try to create his own looks.
12. Otto Porter, Georgetown F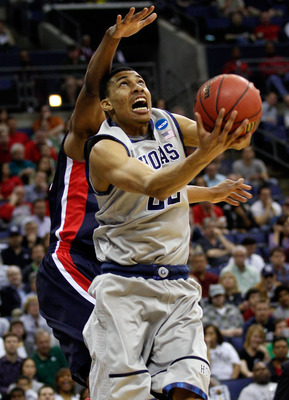 Rob Carr/Getty Images
Definitely Not NBA-Ready
Georgetown Hoyas forward Otto Porter is somewhat of a taller, poor-man's version of Michael Kidd-Gilchrist. The 6'8" sophomore can defend, rebound, pass and attack, depending on what the team needs.
Any NBA owner would love to have a multi-purpose spark-plug like Porter on their team, but the million(s)-dollar question is would they be willing to draft him in the lottery or top-10?
Porter's mediocre offensive polish and underwhelming array of skills suggest that he won't be a potent scorer at the next level. He needs to work on his ball-handling and range to even score eight or more points per game as a pro.
He's a terrific defender whose energy and athleticism will make him a solid role player in the NBA. That's why more than one late-lottery team will be tempted to take him off the board on draft night.
13. Dario Saric, Croatia SF
Not Quite NBA-Ready
Players who are tall shot-makers are always welcomed into the NBA with open arms and open wallets, but there is often a limit to their overall potential (think Andrea Bargnani, Danilo Galinari).
Croatia's Dario Saric has the potential to be that type of prospect.
Despite his height and developing handle, the 6'10" forward seems to prefer playing on the perimeter when he can, as he's increasingly comfortable there.
Saric knows how to find open spots on the court. It's clear from film that he's good at getting open and getting others open. One of his best assets is his ability to run the floor and find open catch-and-shoot looks to knock down.
He's been a high-level prospect for years, so if he can iron out his shooting stroke a little and occasionally be a threat in the paint, he could be another great Euro-gunner.
14. Alex Len, Maryland C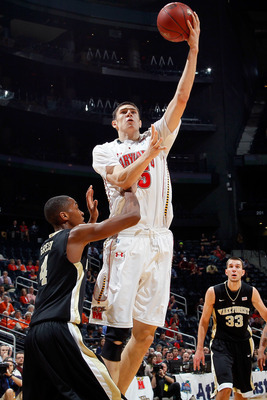 Kevin C. Cox/Getty Images
Not Quite NBA-Ready
Maryland center Alex Len is a matchup problem because of his height and length, but he's not a strong interior player offensively—yet.
At 7'1" pivot who's extremely mobile, Len only scored six points per game in 2011-12, but that won't deter NBA general managers. His rapid improvement and excellent upside make him an attractive option.
The Terrapins' shot-blocking sophomore must continue to work on his feel for the game inside 10 feet. His turnover percentage of 22.2 from 2011-12 needs to get cut down significantly, and he needs to develop a diversified post-up game.
The hustle is there, and once the skills match the effort, Len will be a beast.
15. LeBryan Nash, Oklahoma State F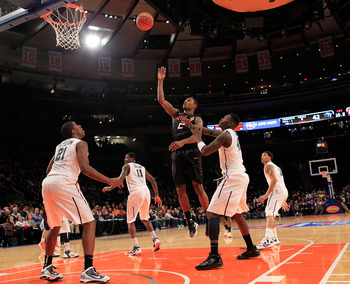 Chris Trotman/Getty Images
Definitely Not NBA-Ready
Physically, Oklahoma State forward LeBryan Nash is ready for anything the NBA throws at him in 2013-14.
The problem is that he's miles away from being ready to tackle the challenges of working within an NBA offense and understanding how to manufacture a quality possession for himself or his teammates.
He's currently ranked as the third-worst passer in the Draft Express top 100, and his shooting efficiency isn't much better.
So why is he a borderline lottery pick? A chiseled, 6'7" frame with kangaroo springs and a knack for finishing strong do the trick.
16. C.J. Leslie, NC State F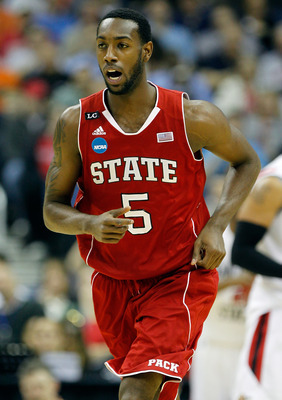 Rob Carr/Getty Images
Not Quite NBA-Ready
C.J. Leslie will soon be joining his high school teammate John Wall in the NBA if he has another standout season at North Carolina State.
Leslie entered his collegiate career in Raleigh as a high-flyer who was highly-unpredictable.
Since then, he has become much more efficient, and the improvement is evident in the difference in production and shooting percentages from his freshman to sophomore campaigns.
Two things he still has to work on in order to better prepare himself for the next level: putting on some weight (at 6'9", he's still just a few pounds over 200), and expanding his post game.
He's still a limited back-to-the-basket type of player, as he's more effective when he's rim-running and elevating.
17. C.J. McCollum, Lehigh G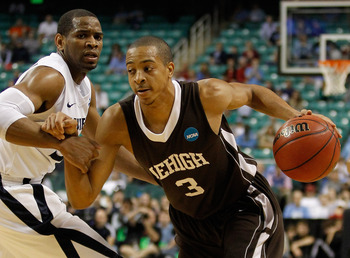 Streeter Lecka/Getty Images
*NBA-Ready
Here's a different kind of C.J.
One of the best all-around guards in the entire country is Patriot League all-time leading scorer C.J. McCollum.
He possesses all the skills NBA executives look for in an NBA-ready prospect. He has advanced ball-handling and shot-creating skills, he's a capable passer, an alert defender, and a great shooter.
McCollum can score from pretty much every spot on the floor, and is adept at shooting off the dribble as well as from the catch.
Unlike some mid-major players who are questioned due to their lack of competition, McCollum's outstanding performances against St. John's, Michigan State, and most notably, against Duke (30 points) is proven against major-conference talent.
18. Mason Plumlee, Duke PF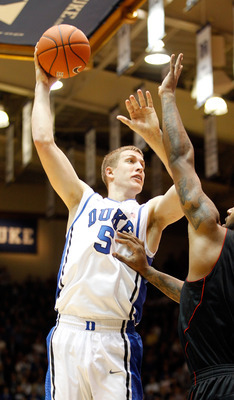 Streeter Lecka/Getty Images
Not Quite NBA-Ready
Instead of entering the same draft as his brother Miles, Duke senior Mason Plumlee opted to spend one more season rattling the rims of Cameron Indoor Stadium.
Plumlee hasn't been a consistently productive player throughout his time as a Blue Devil, so he could dramatically boost his draft stock if he can be a nightly double-double player in the ACC in 2012-13.
When he's in the zone, he's rebounding the rock on every possession and finding a way to dunk on almost anyone. When he's not, he's a non-factor who gets outshined by inferior bigs.
Plumlee would be higher in the draft if he had a reliable mid-range jumper and was more of a force defensively. But his jump-shooting, free-throw shooting, and overall aggressiveness on both ends is well-below average.
As a result, he's seen as a not-so-versatile player with upside, and a mid-first round selection at best.
19. Adonis Thomas, Memphis SF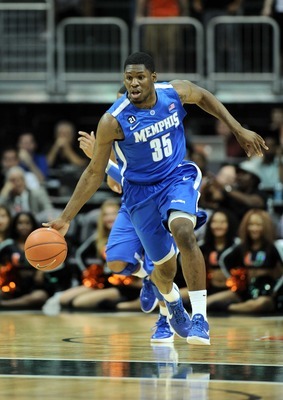 Steve Mitchell-US PRESSWIRE
Definitely Not NBA-Ready
With former teammate Will Barton now in the NBA, Memphis wing Adonis Thomas will have more opportunities to actually play like a wing rather than a power forward.
Throughout high school and into his NCAA career with the Tigers, it's been clear that Thomas' forte has been energy, rebounding and excelling around the basket. He prides himself on doing the dirty work of defense and rebounding.
Doing the dirty work at 6'6" or 6'7" will only go so far in the NBA, even if he does have a phenomenal wingspan. As a small forward, he'll be expected to create on the wing, connect on outside jumpers and be a constant threat to the opposing defense.
As of right now, he has yet to actualize his offensive capabilities.
20. Jeff Withey, Kansas C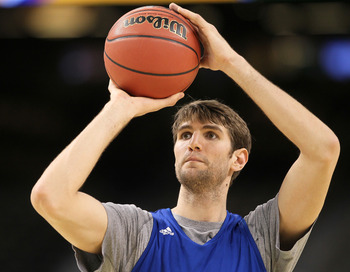 Jeff Gross/Getty Images
*NBA-Ready
For the most part, Kansas Jayhawks senior Jeff Withey was the third wheel on the Thomas Robinson-Tyshawn Taylor train in 2011-12.
But even in as a role-player and a defensive center on the NCAA runners-up, Withey turned some heads around the country. He not only blocked shots at a colossal clip (3.6 per game), but he put pressure on opposing defenses, consistently drew fouls and converted 80 percent of his free throws.
His shot-swatting instincts and technical skills will be his main contract-earning attribute, but his ability to get position and make timely close-ups is a bonus.
Withey's post skills aren't dynamic, and his athleticism is below-average, but he will be ready to fill an important role as a backup on an NBA squad in the fall of 2013.
21. B.J. Young, Arkansas PG
US PRESSWIRE
Not Quite NBA-Ready
One of the most exciting guards in the 2013 group is Arkansas Razorbacks speedster B.J. Young.
He's a playmaking combo guard who excelled as a key reserve in 2011-12, showing the ability to shoot efficiently as a freshman in the SEC.
Young shot better than 50 percent from the field and 40 percent from long distance, something that bodes well for his draft stock if he can post similar numbers in 2012-13.
Despite his quickness and prowess on both ends of the floor, there are a couple of key questions surrounding the young talent: How will he do in an increased role, a starting role? Will he be an effective combo guard in the NBA, or just a short shooting guard?
22. Patric Young, Florida PF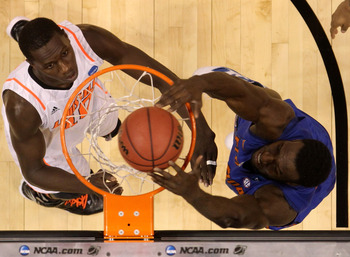 Christian Petersen/Getty Images
Not Quite NBA-Ready
Offensively, Florida Gators junior Patric Young's skills are almost exclusively comprised of (A) catch, drop-step and dunk plays, or (B) catch the ball on the run and dunk plays.
Outside of that, his game doesn't involve anything that requires more than one or two dribbles.
As bleak as that sounds, we must remember that he's still only 20 years old, and that he's an absolute beast in the paint when he gets the ball where he wants it. Also, Young's not a lost cause; there are signs of development.
In addition to his dunking exploits, Young has a knack for using his strength and vertical aptitude to grab rebounds or keep plays alive, similar to Tyson Chandler. When a shot goes up, he wants it as much or more than anyone on the court, which is all Billy Donovan can ask.
23. Myck Kabongo, Texas PG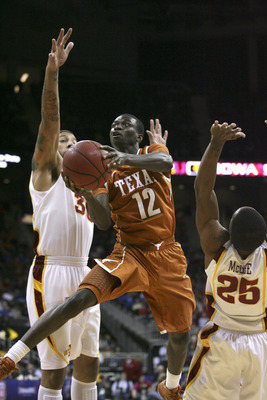 Ed Zurga/Getty Images
Definitely Not NBA-Ready
Texas Longhorns floor general Myck Kabongo is one of the most exciting point guards in the 2013 draft.
His unpredictability is his strength and his weakness.
Kabongo keeps defenders guessing with his arsenal of moves, and he's a master at changing direction and changing pace.
Unfortunately, his unpredictable style of play led to three turnovers per game and 39 percent field-goal shooting as a freshman in Austin.
He needs to clean up his shooting and clean up his facilitating if he wants to be a candidate for a starting point guard job in the NBA in 2013-14. Until then, Longhorns fans will enjoy watching his sophomore campaign.
24. Alex Abrines, Spain SG
Not Quite NBA-Ready
He hasn't even reached his European potential yet, but the NBA is already in the not-too-distant future of Spanish sharpshooter Alex Abrines.
Rarely do we see a shooting form as fluid, quick and precise as Abrines'. The 19-year-old has the ideal height for a shooting guard, standing at 6'5", and his catch-and-shoot skills are lethal. He can also shoot off the dribble, although it doesn't seem to be his preference.
Abrines' slight build and average ball-handling skills don't help him in the driving department, as he could end up being a one-dimensional player in the NBA.
But that one dimension is something special.
25. Lorenzo Brown, NC State PG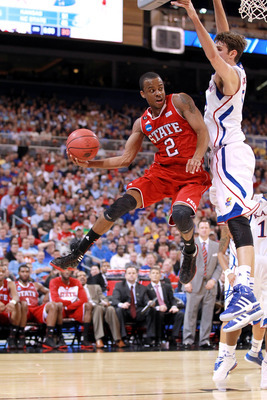 Andy Lyons/Getty Images
Not Quite NBA-Ready
The second Wolfpack member to be featured in this mock draft, Lorenzo Brown will be the engine that propels N.C. State's run in the ACC in 2012-13.
He has the capability to make sensational plays for himself, but he's equally as entertaining when he's creating for his comrades.
As a sophomore, Brown dished 6.3 assists per game while scoring 12.2 points, all while maintaining satisfactory shooting percentages for a point guard (45 FG percentage, 35 three-point percentage).
While he is indeed a creative guard, he lacks the advanced decision-making necessary to survive in the NBA, and his 3.2 turnovers per game are evidence of that. Another year in Raleigh will be extremely beneficial for him before he tests the draft waters in June.
26. Doug McDermott, Creighton F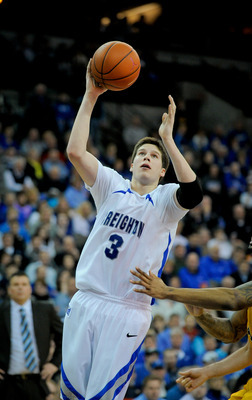 Eric Francis/Getty Images
*NBA-Ready
Creighton forward Doug McDermott is unquestionably the best mid-major forward in the NCAA.
He's more of a stretch-four in the college game, but he has the perimeter skills to transition into a No. 3 once he turns pro.
McDermott terrorized Missouri Valley Conference opponents all winter long in 2011-12, using his magnificent shooting touch and elite footwork to break down opponents and fill the hoop at will.
He's not big enough or athletic enough to thrive in the paint in the NBA, but that's okay. He's fortunate enough to have plenty of shooting skills and adequate dribbling skills to be productive on the wing.
With another year of collegiate domination under his belt, McDermott will be ready to contribute right away as an NBA rookie in 2013-14.
27. DeShaun Thomas, Ohio State F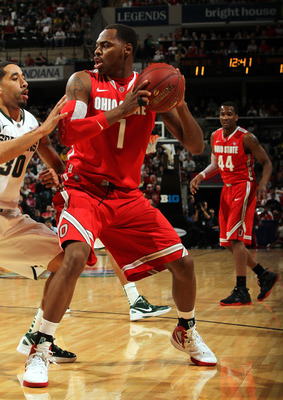 Jonathan Daniel/Getty Images
Not Quite NBA-Ready
Jared Sullinger's departure from Ohio State will lead to DeShaun Thomas' emergence as one of the top scorers in the Big Ten.
The left-handed Buckeye has an inside-outside dual threat that makes it difficult for small forwards or power forwards to defend.
Looking ahead to the NBA, he won't have as much of an advantage against the power forwards. In fact, due to his size he'll ultimately have to become a small forward in order to survive.
That's not the only downside to Thomas' game; he lacks the quickness to get past quick swingmen or guard quick swingmen.
Despite these deficiencies, he'll land in the first round because he can get buckets and fill a bench-scorer role on a pro squad.
28. Mike Moser, UNLV F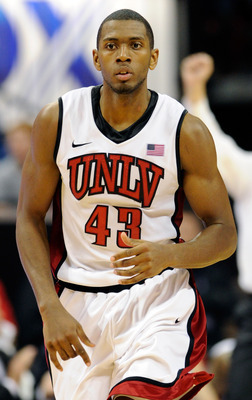 Ethan Miller/Getty Images
Not Quite NBA-Ready
If UNLV combo forward Mike Moser improves in 2012-13 like he did in 2011-12, he's going to hear his name called in the first round of the draft.
With long arms and combination of rebounding and shooting skills, he could end up fitting into the league similar to Kawhi Leonard of the San Antonio Spurs.
Moser notched an average of 14 points and 10.5 rebounds for the Runnin' Rebels last season, as he helped the program continue its return to relevance.
Even though he could potentially end up being a 'tweener forward, it's not affecting him at all in the NCAA. He's got cat-like hands with 1.9 steals per game, and he uses his reach and rapid reaction to get a block per night. My biggest fear is that it won't transfer to the pro game, and he won't be able to guard wings or post players.
29. Gorgui Dieng, Louisville PF/C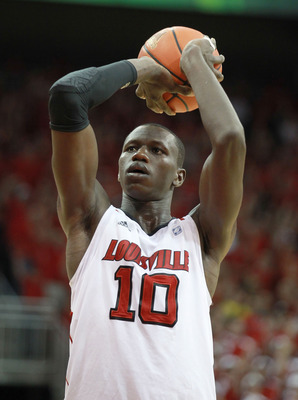 Andy Lyons/Getty Images
Definitely Not NBA-Ready
After being a sporadically-utilized bench player as a freshman, Louisville center Gorgui Dieng enjoyed a breakout sophomore year that saw him get nine points, nine rebounds and more than three blocks per game.
What he lacks in strength or offensive polish, he makes up for with hustle, speed and shot-altering defense.
His emergence in 2011-12 was a critical factor in Louisville's march to the Big East title and Final Four. For example, his six blocks helped the Cardinals edge out Seton Hall in the conference tournament, and then his seven blocks helped the squad destroy Michigan State.
Jump-shooting and deliberate post moves are still glaring weaknesses in Dieng's portfolio, but his reach, mobility and knack for winning will earn him a chance to get drafted in the first round.
30. Isaiah Canaan, Murray State G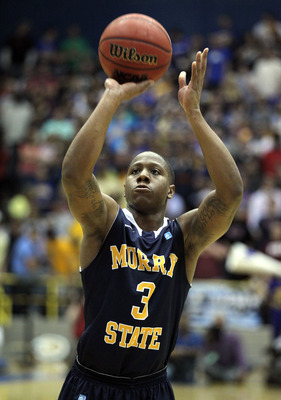 Andy Lyons/Getty Images
*NBA-Ready
In an age when upside is so highly-valued, the team with the 30th pick will buck the trend and go with someone whose upside has already been realized.
Murray State Racers guard Isaiah Canaan might be just 6'1", but I see him excelling as a pro in the same vein as Nate Robinson or Isaiah Thomas.
His best asset is his facility of freeing himself for long-range shots no matter the circumstance, and making them no matter the circumstances. His ability to pull up from deep reminds me of Jimmer Fredette, and his ability to stop on a dime or accelerate instantly reminds me of Nate Robinson.
Canaan gradually worked his way up to 3.6 assists his junior year, which leads me to believe he won't be a pure point guard or a starting point guard in the NBA. But he can serve the league right away as a combo guard scorer off the bench.
For more NBA and NCAA hoops discussion, follow me on Twitter: @Danielobleacher
Keep Reading