Grading the Philadelphia Eagles' Positional Units at the First Quarter Mark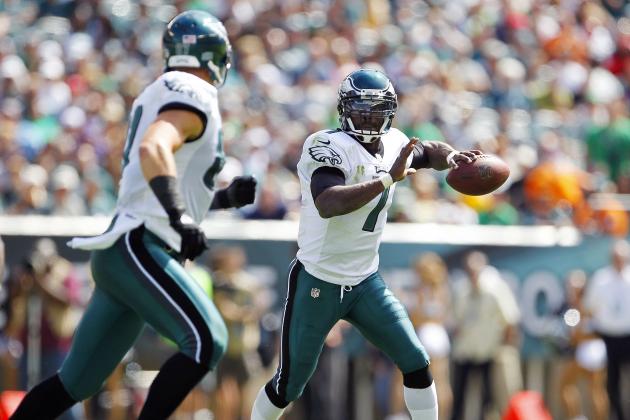 Rich Schultz/Getty Images

It's easy to look at the Philadelphia Eagles' games this year and say the team is just a play or two away from being 0-4. That may be the case, but in the National Football League, a win is a win, and the Eagles are 3-1 and sitting at sole possession of first place in the NFC East.
Andy Reid spent much of the offseason upgrading some of the key problematic units that plagued the team for so much of 2011, and it's paying off. The linebackers are much improved, the defensive line is a better all-around unit, and the offense is once again firing on all cylinders.
There have also been some problems that can't continue—turnovers have been a constant and the injuries to the offensive line keep piling up. With that in mind, here's a look at which positional units on the Eagles are doing well and which aren't.
Begin Slideshow

»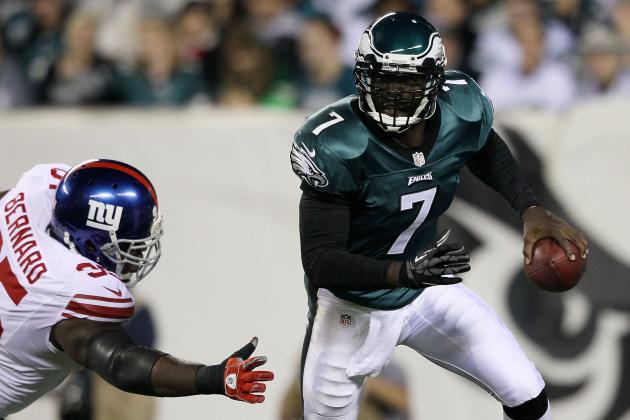 Alex Trautwig/Getty Images

Michael Vick's numbers haven't been as pretty as many would have preferred, but he's gotten the Eagles to a 3-1 record thus far. Quarterbacks are ultimately judged on wins and losses, and Vick has come up big near the end in all three games that have been close.
He's led a pair of last-second game-winning touchdown drives to defeat the Cleveland Browns and Baltimore Ravens in consecutive weeks to begin the 2012 season, and then he marched the Eagles nearly 80 yards last week to set up a late field goal.
Vick could definitely improve his decision-making this year, as he's already thrown six interceptions and fumbled five times, numbers that may have had him riding the bench if he hadn't played so well in the fourth quarter. Vick's 56.8 completion percentage is three points under his total from 2011 and six points under the number he put up in 2010, and his passer rating is a career-worst thus far.
But he is making plays with his legs, having rushed 27 times for 130 yards, and he played a remarkably efficient game against the defending Super Bowl champion New York Giants last week. He hasn't been as consistent as I would have liked but he does have a huge hand in all three wins, hence the passing grade.
Grade: C+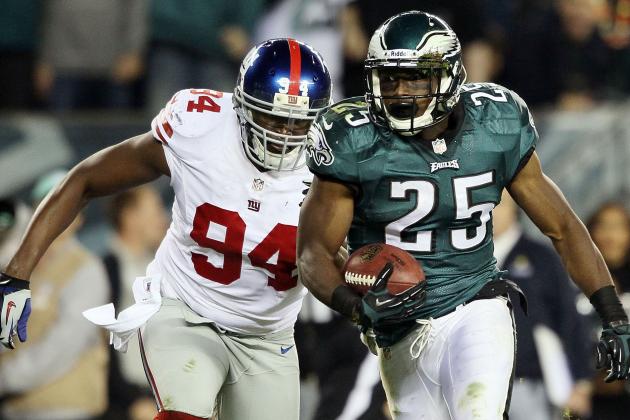 Alex Trautwig/Getty Images

Andy Reid is notorious for not giving the ball to his running backs enough, but LeSean McCoy is fifth in the NFL in rushes (81), and he's on pace for an easy career-high of around 330.
McCoy is averaging 4.7 yards per rush, and he came on strong last week in the fourth quarter of the win over the Giants. McCoy has scored just one touchdown, which is an uncharacteristically low total for him, and he's also fumbled three times after fumbling just once all of last year. But he's a workhorse capable of carrying a full load and moving the chains on a consistent basis.
The Eagles' backup running backs—Bryce Brown, primarily—have provided little to no change of pace, and the Eagles rank tied for 28th in the NFL in rushing yards from their backups. Give fullback Stanley Havili credit though for the excellent blocking he's displayed this year, as he's helped McCoy find some open holes.
Grade: B+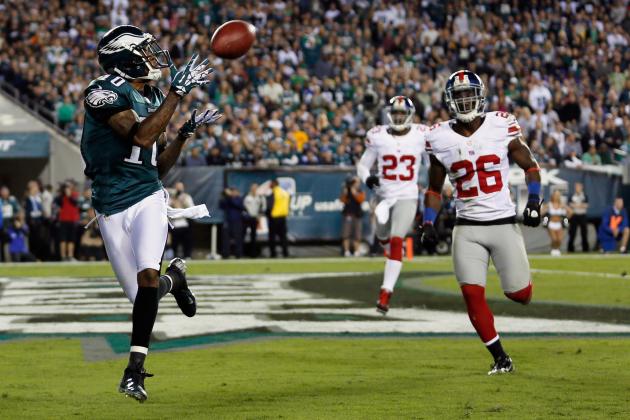 Rob Carr/Getty Images

The Philadelphia Eagles expected big things out of their wide receivers this season: They extended DeSean Jackson to a five-year, $51 million deal this offseason and Jeremy Maclin is now fully healthy after his 2011 preseason injury that plagued him.
Jackson has looked sharp so far, as he's totaled 20 receptions for 333 yards and a touchdown, and he's 11th in the NFL in receiving yards. Jackson has always struggled with consistency, and when he's not making big plays, the Eagles really haven't gotten too much from him.
This year though, he's been very consistent, and despite having just one play over 40 yards, he is still averaging over 80 yards per game.
Maclin has struggled to stay healthy but he has also quietly been a disappointment. Maclin has just nine receptions for 126 yards, although he does have two scores. Last week, Maclin managed just a single reception against the New York Giants. The Eagles will need more production from Maclin if they want to keep winning football games.
Jason Avant is a steady and reliable third receiver who isn't flashy, but he's averaging three catches and 30 yards per game this season, solid numbers for a guy in his role. And Damaris Johnson has done well for a guy who was a long shot to make the practice squad and has been elevated up to the fourth receiver spot ahead of Riley Cooper.
Grade: B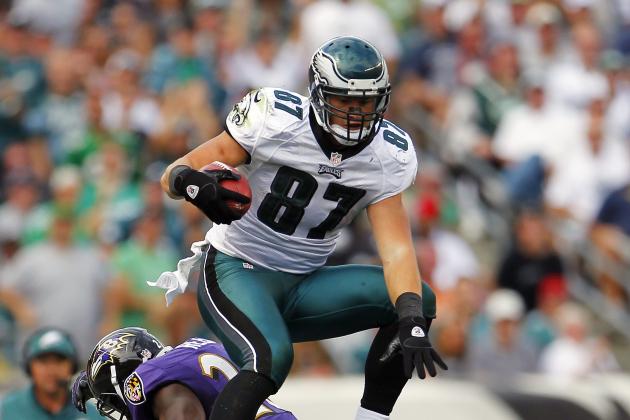 Rich Schultz/Getty Images

I've long felt Brent Celek was one of the most underrated tight ends in the game, and he's off to a terrific start in 2012.
Celek has 18 receptions for 315 yards, which puts him 15th in the NFL in receiving yards and first among all tight ends, higher than notable players such as Rob Gronkowski, Jimmy Graham and Vernon Davis. His stats are largely inflated by an eight-catch, 157-yard performance against the Baltimore Ravens, but other than that, he's still averaged over 50 yards per game. He just needs to find the end zone now.
Clay Harbor isn't asked to do much other than stay back and block because of the Philadelphia Eagles' subpar offensive line, but he's a solid receiving option when the Eagles utilize him that way.
Grade: A-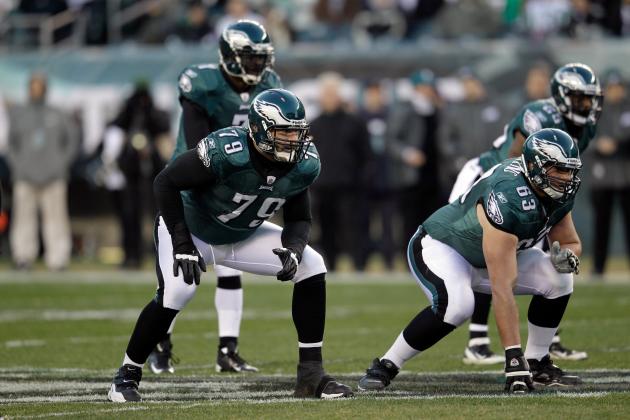 Rob Carr/Getty Images

The Philadelphia Eagles have given up more sacks than all but eight NFL teams, and they rate sixth-worst in the league in pass-blocking, per Pro Football Focus. The team has fared much better blocking for LeSean McCoy in the running game, where they rank as the seventh-best unit in the game.
Simply put, the team has never recovered from the loss of All-Pro left tackle Jason Peters, who tore his Achilles tendon during the offseason and has been replaced by the ineffective duo of King Dunlap and Demetress Bell. When starting center Jason Kelce suffered a season-ending injury, it forced backup Dallas Reynolds into action and added to the Eagles' injury woes.
Evan Mathis has been very solid as the left guard where he's blossomed as a run-blocker and hasn't given up a sack in pass protection (although he does lead the NFL with four penalties). Danny Watkins has shown improvement at right guard, although he still exhibits the growing pains one would expect from a player that has made just 16 NFL starts.
Todd Herremans at right tackle has been the biggest disappointment. After playing at a high level at left guard for years, Herremans elevated his play to that of a Pro Bowl-caliber performer as Michael Vick's blind-side protector in 2011, and that earned him a lucrative five-year contract extension in the offseason.
Herremans has been extremely inconsistent, and at times he's looked downright lost out on the football field. No offensive tackle in the NFL has given up more than five quarterback hits, with the exception of Herremans, who has allowed Vick to be hit a whopping eight times.
Grade: C-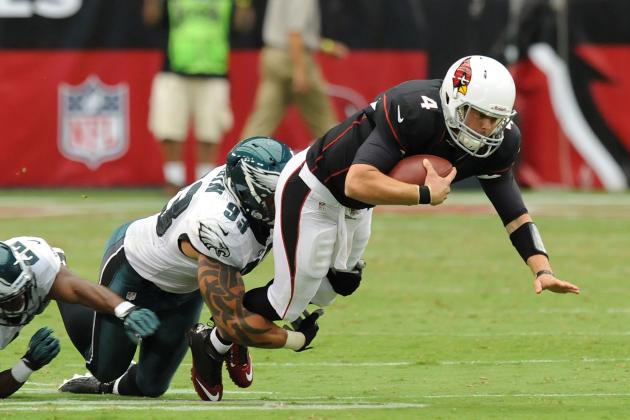 Norm Hall/Getty Images

In terms of pure sacks, the Philadelphia Eagles rank tied for just 21st in the NFL with seven. But in terms of pressure and the lack of time they've given the opposing quarterback to throw, the Eagles are among the best in the game for 2012.
Pro Football Focus ranks the team as the second-best pass-rushing unit in the game this year, behind the Seattle Seahawks. And the most impressive aspect of the Eagles line is their depth.
Trent Cole and Jason Babin are the obvious stars off the edge as pass-rushers, but the interior linemen of Cullen Jenkins, Derek Landri, and the new rookie sensation, Fletcher Cox, are fearsome. The backup ends, Brandon Graham, Darryl Tapp and Phillip Hunt are talented enough to be rotated in at any time without the Eagles missing a beat.
Grade: A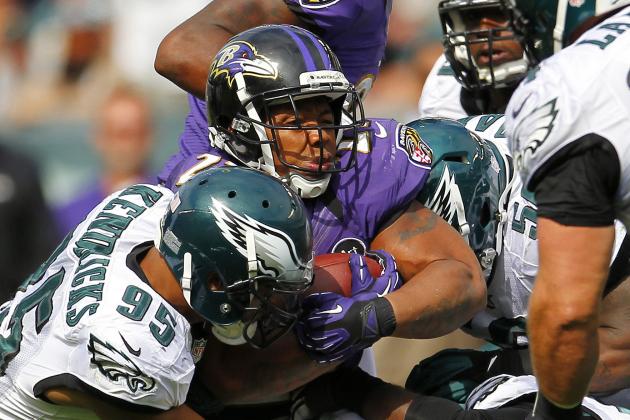 Rich Schultz/Getty Images

There are two main differences between the 2011 Philadelphia Eagles that finished 8-8 and the 2012 team that is off to a 3-1 start.
First is the ability of this year's group to finish off games in the fourth quarter. And next is the outstanding play of the linebackers, notably DeMeco Ryans and Mychal Kendricks.
Ryans has been as good as advertised, and the Eagles have to be feeling good about the fact that they traded for him. He has a sack and an interception, and he's played an instrumental role in the running game.
Kendricks is fast enough to get sideline-to-sideline with ease, and he's also excelling in covering tight ends, to whom he hasn't allowed a touchdown pass yet.
After these two, the Eagles haven't gotten much production from Akeem Jordan, Jamar Chaney or the recently released Brian Rolle, but the team has played enough nickel sets that it doesn't matter so much.
Grade: A-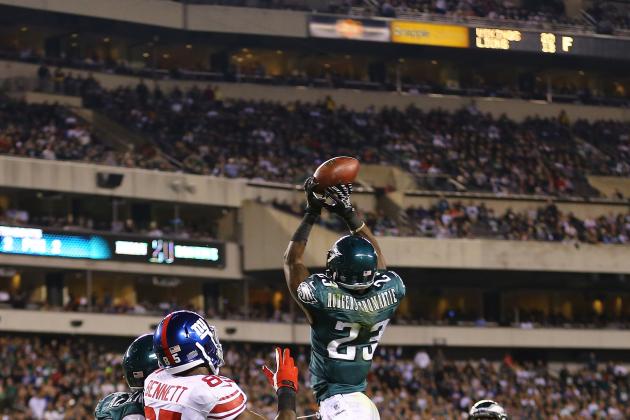 Al Bello/Getty Images

The Philadelphia Eagles have a tremendously talented group of cornerbacks in Nnamdi Asomugha, Dominique Rodgers-Cromartie and the rookie slot man, Brandon Boykin. As a result, they're third in the NFL in defensive passer rating and fifth in defensive real passing yards per attempt, per Cold Hard Football Facts.
The Eagles were fortunate to get Brandon Weeden in their opening-day matchup, and if you take away his performance, the defense's stats aren't nearly as impressive.
The passer rating jumps all the way up to 85.76, which actually puts the Eagles 21st in the league. Now, many teams could take away a game and see a significant change in their ratings, but the Eagles' third overall ranking is borderline deceiving because of how mediocre the team has been since then.
The team will see a big test the next three weeks, as they take on Ben Roethlisberger, Matt Ryan and Matthew Stafford in back-to-back-to-back contests.
Safeties Nate Allen and Kurt Coleman are solid players that have made their fair share of plays, and they're both among the team leaders in tackles. And nickel cornerback Brandon Boykin has been thrust into immediate action, which is a testament to the maturity he's displayed on the football field even as a rookie.
Grade: B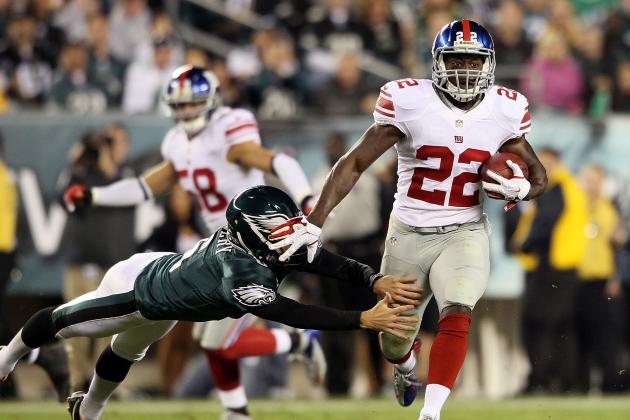 Alex Trautwig/Getty Images

Something alarming has happened to the Philadelphia Eagles' kick and punt coverage teams, and it almost cost them the New York Giants game.
The Eagles rank 29th in kick return defense and 23rd in punt return defense, as well as 31st in kick return offense and tied for dead last in punt return production.
Alex Henery hasn't been particularly good or bad in limited kicks, and the punting units (a combination of Chas Henry and Mat McBriar) rank 10th-best in the game in punting average. And give credit to long snapper Jon Dorenbos, who is never talked about but is as deadly accurate as anyone in the business.
Grade: D