Ranking LeBron James and Dwyane Wade Among 10 Greatest NBA Duos of All Time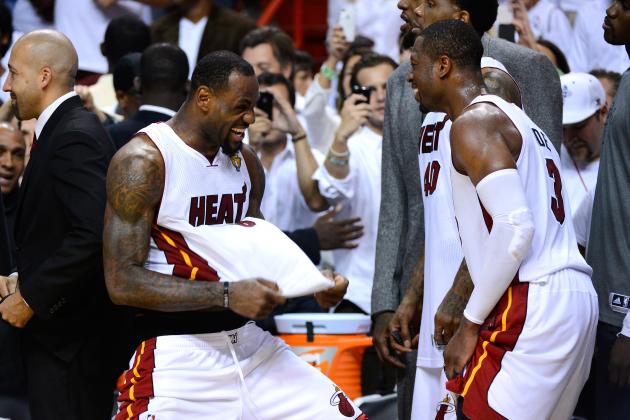 Ronald Martinez/Getty Images

At this point, LeBron James and Dwyane Wade have only spent two seasons together as Miami Heat teammates; however, in such a short time, they have already established themselves as one of the greatest duos in NBA history.
The two have appeared in two NBA Finals together, winning this past season's title, and they have played absolutely outstandingly along the way. While Wade impressively finished in the top five in player efficiency rating in both seasons, LeBron produced even greater: In 2011-12, he posted a 30.74 rating, the highest mark for a player other than himself since Michael Jordan (31.63) in 1990-91.
As time goes on and they continue to compete for titles, LeBron and Wade will do nothing but continue to ascend this list. Let's take a look at their current standing by ranking the 10 greatest NBA tandems to date.
Begin Slideshow

»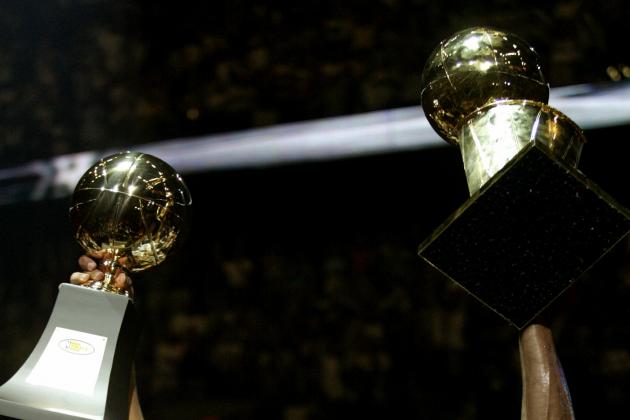 Jed Jacobsohn/Getty Images

The creation of this duo was only made possible by an injury that caused David Robinson to miss the majority of the 1996-97 season. The San Antonio Spurs played horribly in Robinson's absence (20-62 record) and landed the No. 1 pick, which they used to select Tim Duncan.
Thanks to Duncan and Robinson, who both averaged more than 20 points and 10 rebounds per game, the Spurs won 35 more games in 1997-98 than they did the previous year, which was then the greatest win-loss turnaround in NBA history.
The following season, Duncan and Robinson would both lead the Spurs to an NBA title, finishing the postseason with a record of 15-2.
The duo would later claim another title in 2002-03, but the lion's share of the credit for that title goes to Duncan (averaged more than 20 points, 11 rebounds and 2.0 blocks per game for the sixth straight season), as Robinson was on his last legs (averaged 8.5 PPG). He would retire after the year.
During their time together, Robinson was selected to the All-NBA Second Team once, while Duncan won two MVPs, two Finals MVPs and was selected to the All-NBA First Team every season.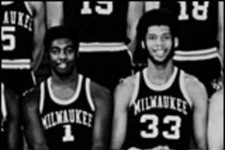 Photo via throughtheclydescope.com
When the Cincinnati Royals traded Oscar Robertson to the Milwaukee Bucks in 1970, they gave a young Kareem Abdul-Jabbar (known then as Lew Alcindor) the type of running mate he needed.
In their first season together (1970-71), Kareem led the league in points (31.7 per game) and averaged 16 rebounds per game, while "The Big O," in his 12th season, added 19.4 points, 5.7 rebounds and 8.2 assists per. The Bucks would make the postseason and win 12 of their 14 games and the franchise's only NBA title.
The duo would only play three more seasons together before Robinson retired, but during their time together, Kareem further cemented his place as the league's best scorer (he averaged 34.7 PPG in the duo's second year) while an aging Robertson still contributed across the board.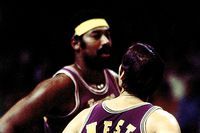 Photo via hoops-nation.com
In the offseason after winning the MVP award in 1967-68, Wilt Chamberlain was traded to the Los Angeles Lakers, where he would spend the final years of his career paired with the excellent Jerry West.
In their five years together, the Lakers reached the NBA Finals four times, winning one of them in 1972, West's first championship.
While Wilt was declining in skill during his tenure with the Lakers, he still averaged at least 18 rebounds in every season and topped 20 points per game three times with the team.
West, while also nearing the end of his career, led the league in scoring (31.2 PPG) in the duo's first year together and would continue to average around 24 points and nine assists in the following four years.
When together, West earned four All-NBA First Team selections and a Finals MVP (in a losing effort in 1969), while Wilt won the 1972 Finals MVP.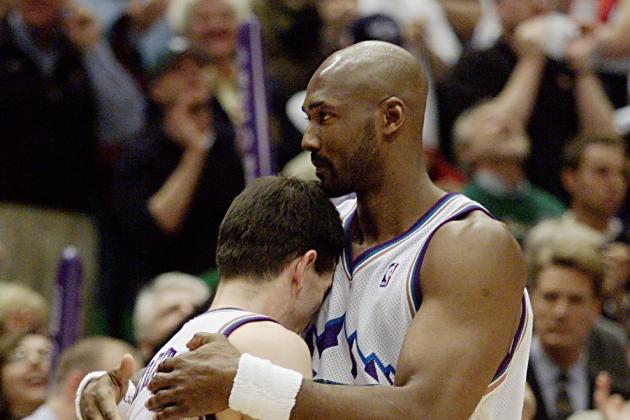 Brian Bahr/Getty Images

Despite never winning a championship together (or apart), John Stockton and Karl Malone still deserve a high rank on this list for all else that they accomplished during their 18-season run as members of the Utah Jazz.
After becoming a full-time starter in the 1987-88 season, Stockton averaged more than 10 points per game every season, while also averaging more than 10 assists in 10 of those seasons (his peak being 14.5 per game in 1989-90). Stockton was also a top-notch defender, even topping the coveted three steals per game mark in three seasons.
Malone, on the other hand, was an offensive force, a double-double machine. In 17 of his 18 seasons with Stockton he averaged north of 20 points per game, and in nine of those he also finished with more than 10 rebounds per.
Stockton and Malone pick-and-rolled their way to a postseason appearance in every single one of their seasons together, reaching the NBA Finals twice (both times losing to Michael Jordan and Scottie Pippen's Chicago Bulls).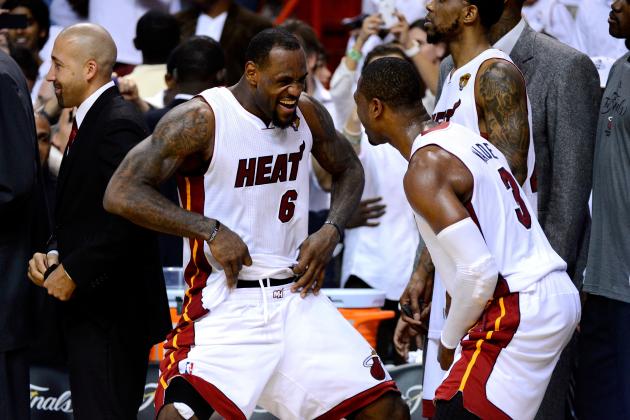 Ronald Martinez/Getty Images

LeBron James and Dwyane Wade have been nothing short of spectacular as teammates.
In his first two years as a member of the Miami Heat, LeBron has put to bed any question that he's the best player in the league right now, averaging at least 26 points per game on 51 percent shooting, 7.5 rebounds, 6.0 assists and 1.5 steals in both regular seasons.
While playing the role of Robin, Wade has been excellent himself, scoring 25.1 points on 50.0 percent shooting (career-best percentage) in 2010-11 and 22.1 points on 49.7 percent shooting (second-best percentage) in 2011-12.
Additionally, Wade has further proven that he's among the best defensive guards in the league, averaging 1.2 blocks and 1.6 steals per game since teaming up with James.
Wade and James have also had tremendous postseason success together, leading the Heat to two NBA Finals appearances and winning a title this past season.
With James entering his prime and Wade still an elite player, it's very possible they could crack this list's top five sooner than later.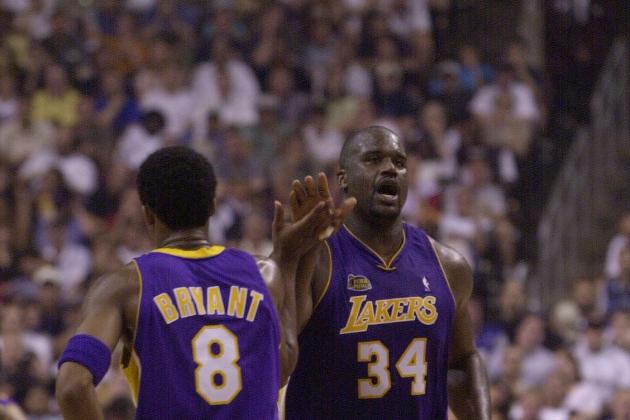 Ezra Shaw/Getty Images

While an irreparably bad personal relationship ended the tandem early and prevented them from winning more hardware, Shaquille O'Neal and Kobe Bryant absolutely dominated the NBA during their time together.
The two led the Lakers to four NBA Finals appearances, winning three of them in consecutive fashion.
And when I say the two led the Lakers, I mean they really led them. In the 2000-01 season, the duo accounted for nearly half of the team's points in the regular season, with Shaq averaging 28.7 points per game and Kobe finishing just behind, with 28.5.
Throughout their eight-year run as teammates, they were selected to nine All-NBA First Teams combined, and Shaq was named MVP in 2000.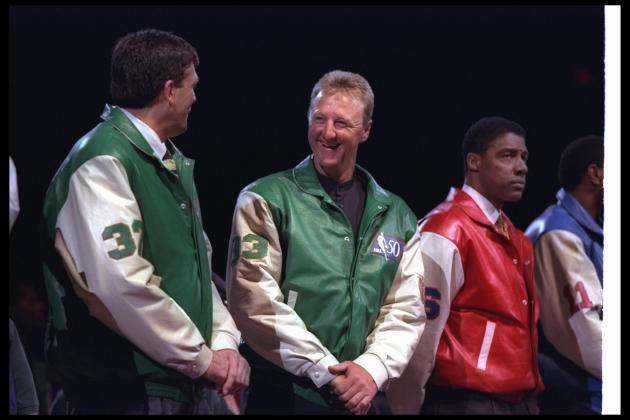 Brian Bahr/Getty Images

After becoming teammates in the 1980-81 season, Kevin McHale and Larry Bird would spend the next 12 years putting on an offensive clinic.
Every season in which Bird was his teammate, McHale shot north of 50 percent from the field. And in the 1986-87 and 1987-88 seasons, in which he averaged 26.1 and 22.6 points per game, respectively, he finished with an astounding 60.4 field-goal percentage.
And Larry Legend was quite efficient offensively as well. He averaged above 20 points in nine consecutive seasons, while shooting above 50 percent from the field four times and above 40 percent from three-point land four times during that same stretch.
Bird also was a tremendous free-throw shooter, as he led the league four times (his peak coming in the 1989-90 season, when he shot 93.0 percent).
Not only did the twosome help the Celtics grab three titles during the 1980s—second to only the Lakers during the decade—but also they combined for nine All-NBA First Team selections and three MVPs (all of which were won by Bird).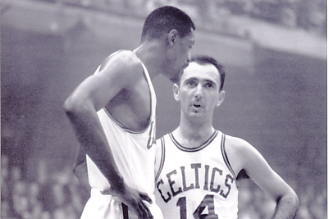 Photo via bestsportsphotos.com
Although their Boston Celtics teams had plenty of talent outside of them, Bob Cousy and Bill Russell certainly deserve a lot of credit for creating the NBA's first and greatest dynasty.
In their first season playing together (1956-57), the two would lead the Celtics to their first NBA title, and they would capture five more during their seven-year run as teammates.
Cousy was an excellent distributor, leading the league in assists in their first four years together, while Russell proved to be a top-notch rebounder (per-game league leader in his first three years) and one of the league's best defenders.
During their time together, the two combined for five MVPs and eight All-NBA First Team selections. Cousy remains the Celtics' all-time assist leader, while Russell, with his 11 championships, is the greatest champion in NBA history.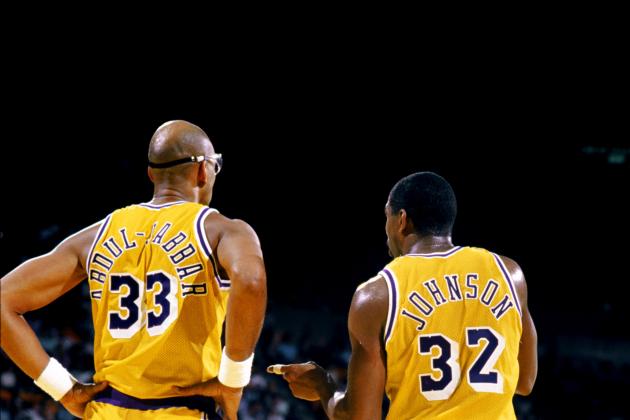 Mike Powell/Getty Images

While Kareem Abdul-Jabbar dominated the NBA during the 1970s, averaging at least 25 points and 10 rebounds season after season, he always came up short of winning a title with the Lakers.
But thanks to the team drafting Magic Johnson first overall in the 1979 draft, Kareem's fortune would turn.
Pairing Magic, who would soon become the league's best point guard and is considered by many to be the greatest of all time at the position, with Kareem, who was an offensive savant and would finish his career with the most points scored all-time, produced fantastic results.
The two made the Lakers the league's signature team of the 1980s, winning five titles in the decade. During that stretch, the two also combined to win four MVPs, four Finals MVPs and 12 All-NBA First Team selections.
With them having that inordinate amount of success together, it's fair to say only one duo tops them...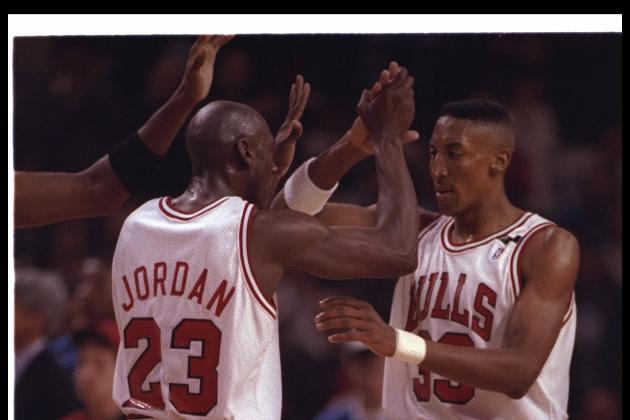 Jonathan Daniel/Getty Images

Michael Jordan and Scottie Pippen claim the top spot, and it should hardly be a surprise.
The twosome played 10 years together, and they led the Chicago Bulls to six championships (by means of two three-peats) and were flat-out dominant.
Jordan, who is considered by almost all to be the greatest player of all time, won five MVP awards, was Defensive Player of the Year once and was selected to the All-NBA First Team and All-NBA Defensive First Team nine times each.
While not as decorated as MJ, Pippen was still one of the league's best, being named to one of the three All-NBA teams seven times and earning selection to the All-NBA Defensive First Team eight times.
The two also never lost an NBA Finals series and were the two main cogs in (statistically) the greatest NBA team of all time, the 1995-96 Bulls, who finished the regular season with a 72-10 record.
It's pretty tough to top that.