New York Yankees vs. Baltimore Orioles Game 1: Live Score, ALDS Analysis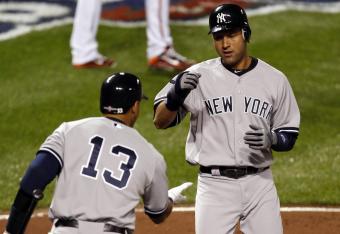 The New York Yankees abused All-Star closer Jim Johnson for five runs in the ninth inning and seized a 1-0 ALDS advantage with a 7-2 win against the Baltimore Orioles.
Russell Martin hit his second career postseason home run to lead-off the final frame.
First pitch at Camden Yards was delayed for two hours and 41 minutes by steady rain. The stadium was hosting its first playoff contest since 1997.
CC Sabathia (8.2 IP, 2 ER, 7 SO) threw 120 pitches and nearly tossed a complete game. It was already Monday morning when David Robertson came in to record the final out.
FINAL: NYY 7, BAL 2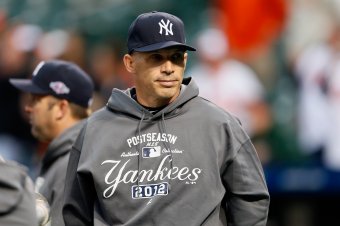 Rob Carr/Getty Images
If Mother Nature cooperates, Game 2 from Camden Yards will begin at 8:07 p.m. ET. The probable starting pitchers are Andy Pettitte and Wei-Yin Chen.
Thanks for spending some of your night on Bleacher Report! Stick around throughout October for more MLB postseason coverage.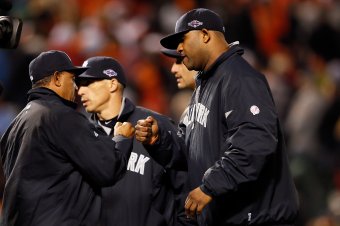 Rob Carr/Getty Images
Yankees manager Joe Girardi was able to preserve his bullpen thanks to CC Sabathia's lengthy outing.
On the other hand, Baltimore relievers Jim Johnson, Brian Matusz and Darren O'Day have each been used twice in three days with a must-win game upcoming.
Though most viewers will hold Jim Johnson responsible for wilting in the ninth inning, blame should also be placed on the Orioles lineup. It squandered numerous opportunities with men in scoring position.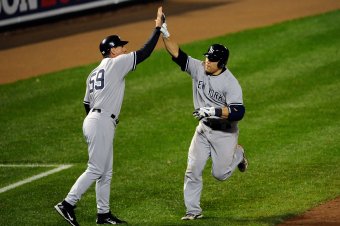 Patrick McDermott/Getty Images
Russell Martin's clutch blast shouldn't have come as a shock.
He maintained a .539 slugging percentage in September/October regular-season games. Also, he hit game-winning home runs for the Yankees on June 10 and Sept. 21.
Patrick McDermott/Getty Images
Final: NYY 7, BAL 2
Yankees reliever David Robertson tempts Ryan Flaherty to swing through a high fastball. It's over.
CC Sabathia departs (8.2 IP, 8 H, 2 ER, 1 BB, 7 SO)
The Yankees ace was amazing.
He stayed perfectly composed whenever runners reached base and rarely allowed solid contact.
Grade: A
Lew Ford and the O's have one strike to play with.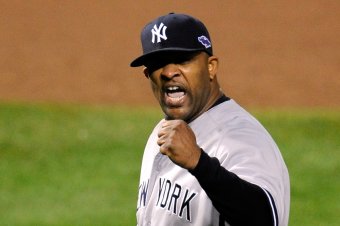 Patrick McDermott/Getty Images
He listened to me! Sabathia needs two more outs for a complete game.
MID 9th: NYY 7, BAL 2
Camden Yards is quickly emptying following a five-run inning.
I want Girardi to let CC Sabathia finish what he started, but we'll find out momentarily.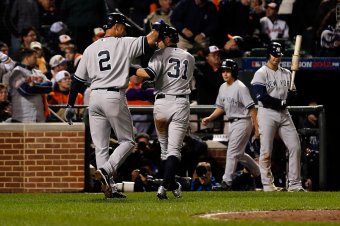 Rob Carr/Getty Images
TOP 9th: NYY 6, BAL 2
The Yankees have pulled away thanks to red-hot Robinson Cano. The cleanup hitter hadn't contributed in four previous at-bats, but he took Johnson to left field for two huge insurance runs.
To put things in perspective, the All-Star closer allowed only one run in the months of August and September (23.0 IP).
TOP 9th: NYY 4, BAL 2
Three singles have brought in another run off of Johnson. None were hit particularly well.
Yankees skipper Joe Girardi inserted Eduardo Nunez as a pinch-runner, and he scored on a dribbler down the first-base line.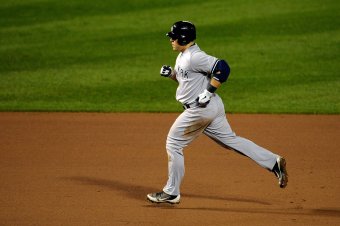 Patrick McDermott/Getty Images
TOP 9th: NYY 3, BAL 2
Russell Martin teed off against All-Star closer Jim Johnson, whose control is shaky in his first postseason appearance.
END 8th: NYY 2, BAL 2
CC Sabathia has made his best pitches from the stretch. In this instance, he overcame a lead-off double.
Dating back to the regular season, this is his fourth straight outing of eight-plus innings.
CC Sabathia over the century mark after schooling Adam Jones, who's 0-for-4 despite entering tonight with a history of success against him.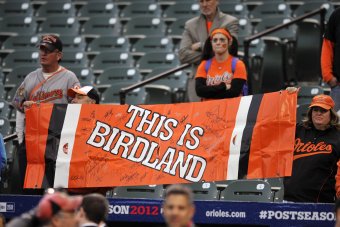 Joy R. Absalon-US PRESSWIRE
Yep, largest crowd of the year

— Roch Kubatko (@masnRoch) October 8, 2012
MID 8th: NYY 2, BAL 2
Dramatic inning-ending strikeouts of Alex Rodriguez and Curtis Granderson by O'Day and Matusz have encouraged the crowd. Great atmosphere.
Brian Matusz enters as the fourth Orioles pitcher. Amazing numbers as a reliever in 2012 (1.35 ERA, 0.60 WHIP, 19 SO in 13.1 IP).
END 7th: NYY 2, BAL 2
Neither team has scored in the past 90 minutes.
Sabathia spots his fastball beautifully. Simply put, great pitching beats great hitting.
Strange that half of Baltimore's hits have come from their pair of left-handed batters (Davis and McLouth). So much for being at a platoon disadvantage...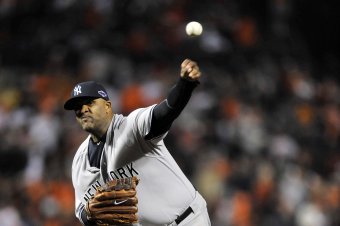 Joy R. Absalon-US PRESSWIRE
Baltimore's batters worked the Texas Rangers staff for 152 pitches on Friday night.
We're in the seventh and Sabathia has only thrown 83.
MID 7th: NYY 2, BAL 2
O'Day's funky delivery stifles Alex Rodriguez, who whiffs chasing a high fastball. The Yankees continue to waste opportunities with runners in scoring position.
That was a sensational pick and tag by Matt Wieters. So good. #Orioles

— Steve Berthiaume (@SBerthiaumeESPN) October 8, 2012
Potential game-saving play
Matt Wieters received a throw in the dirt and tagged out Mark Teixeira as he attempted to score on a grounder. Game stays tied at 2-2.
Jeter's sacrifice moves the runners up, gets Ripken yapping about "outstanding bat control and confidence" because he did it with two strikes.
This article is
What is the duplicate article?
Why is this article offensive?
Where is this article plagiarized from?
Why is this article poorly edited?