Grading the Washington Redskins' Positional Units at the 1st-Quarter Mark
Dilip Vishwanat/Getty Images

The Washington Redskins are 2-2 at the first quarter mark of the season, and Robert Griffin III has been a big part of their successes. Though he has been the catalyst for their offense, his presence has affected everyone in the locker room.
The Redskins aren't an incredibly talented team on paper, but they've shown flashes of a playoff team more often than not.
After four games, each unit of the Redskins has enjoyed some level of success, or failure in the case of the secondary. It isn't all RGIII, and that is apparent in review of the performances of each of the units for the Redskins.
Here are the first-quarter grades for the Washington Redskins.
Begin Slideshow

»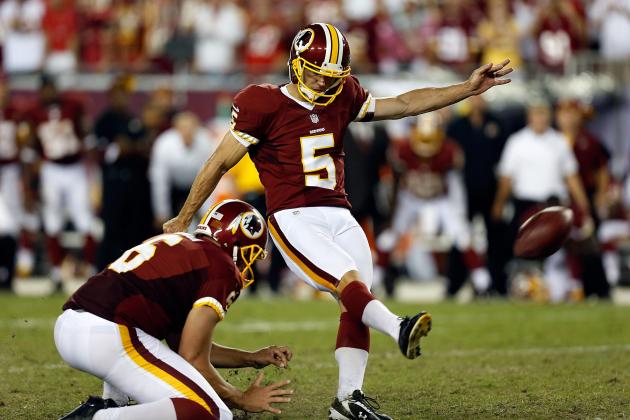 J. Meric/Getty Images

After a shaky start featuring two blocked punts, the Redskins' punt coverage has been solid in allowing just 7.4 yards per punt return with no touchdowns. Kick coverage is above-average, allowing 22.5 yards per return with no touchdowns.
On the flip side, the Redskins are unremarkable in kick returns and punt returns and rank last in the NFL in field-goal percentage.
Billy Cundiff has hit just six of his 10 attempts this season, missing on both of his attempts from beyond 50 yards. He is, however, among the best in kickoffs for touchbacks, which limits what opposing returners can do.
Brandon Banks has done very little this season, evidenced by his long punt return of 20 yards and two fumbles in the season opener.
First-Quarter Grade: C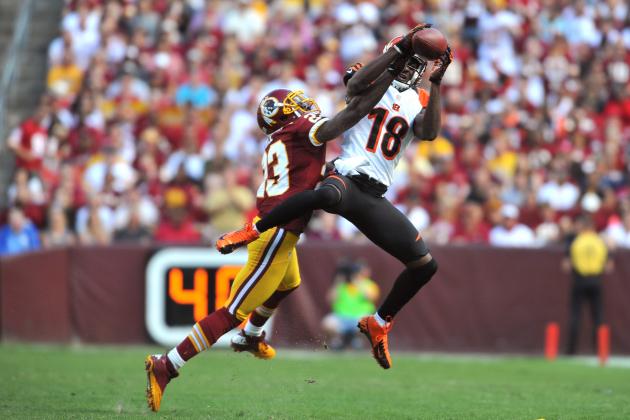 Larry French/Getty Images

The Redskins are ranked 31st in passing defense, have allowed an NFL-worst 11 passing touchdowns and have allowed five receivers to eclipse 100 yards in their first four games.
On the bright side, the Redskins are among the top 10 in interceptions and are 13th-best in opposing quarterback completion percentage.
The numbers, however, do not do justice to how bad this secondary is. DeAngelo Hall has been beaten week in and week out, Josh Wilson looked terrible against Tampa Bay and the safeties are often out of place, leaving the Redskins exposed to the big play.
Their struggles are not entirely their fault, as the front seven has failed to apply pressure on a consistent basis, but that does not excuse the inability to cover receivers.
First-Quarter Grade: D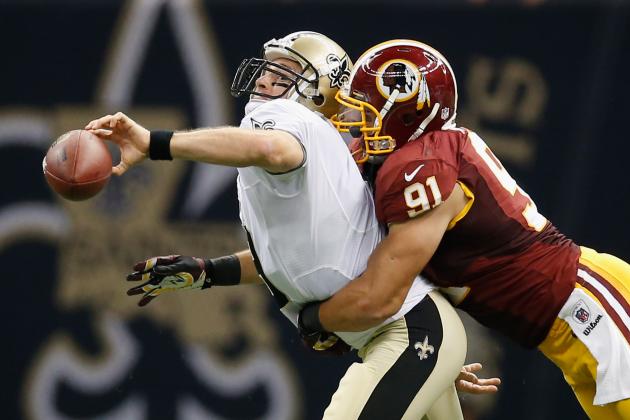 Chris Graythen/Getty Images

The loss of Brian Orakpo to a season-ending pectoral muscle tear means the Redskins can't create the type of pressure Jim Haslett's defense is based on. Rob Jackson is a serviceable backup, but he does not command the respect opponents scheme for with Orakpo.
London Fletcher is not having a great statistical year, though he is still one of the smartest linebackers in the game.
The bright spot for the Redskins defense is second-year linebacker Ryan Kerrigan, who leads the team with 3.5 sacks, and has made key stops as well as kept his hands active on pass attempts to bat balls down at the line of scrimmage.
Without the ability to apply pressure, the Redskins' linebacking corps can't be the game-changing unit it was supposed to be this season. Their role in the success in stopping the run, however, is enough to redeem their otherwise unimpressive performance thus far.
First-Quarter Grade: C+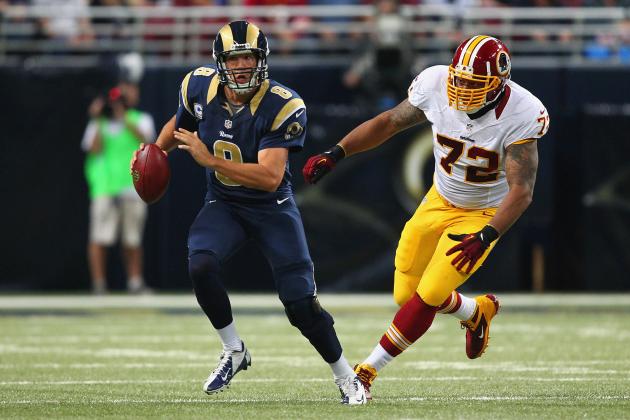 Dilip Vishwanat/Getty Images

In a 3-4 defense, the defensive line is largely anonymous, and often for good reason. If they don't get their names called, they're doing their job. Barry Cofield, Stephen Bowen and Jarvis Jenkins have occupied blockers, collapsed holes and forced running backs and quarterbacks out of their intended routines.
The defensive line has been the highlight of this defense and deserves a lot of credit for stopping the run.
Washington is 11th against the run, allowing 89 rushing yards per game, but yielding just two rushing touchdowns through the first four games.
They have allowed two runs of 20 yards or more, but in the grand scheme of things, it is their ability to force teams to be one-dimensional that has kept this defense from collapsing entirely.
First-Quarter Grade: B+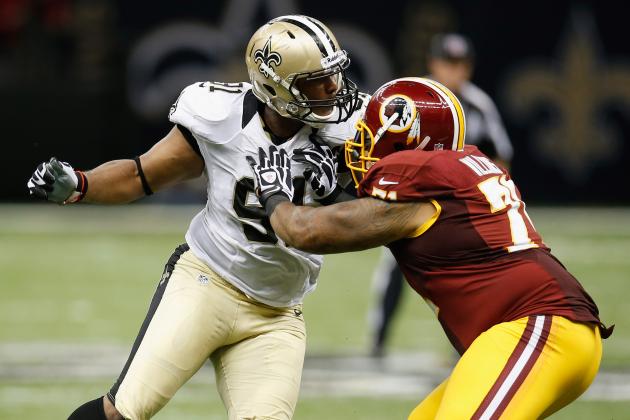 Chris Graythen/Getty Images

Robert Griffin III has been sacked just nine times this season, which is a small miracle in and of itself. The Redskins offensive line has helped Alfred Morris and Co. become the second-best rushing offense in the NFL, producing 171.2 yards per game.
Pass blocking has been solid, but has left Griffin open to some unnecessary hits week in and week out.
With Griffin utilizing his speed and ability to complete passes outside of the pocket, the deficiencies along the offensive line have been masked. Good game-planning by the Shanahans as long as the strategy holds the rest of the season.
First-Quarter Grade: B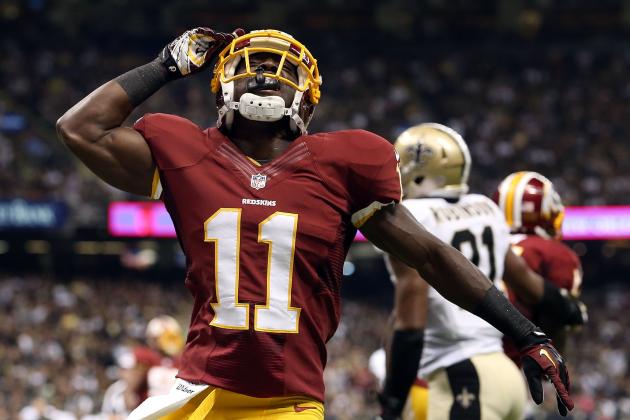 Ronald Martinez/Getty Images

When Pierre Garcon eclipsed the 100-yard mark in the first quarter of the Redskins' season opener, it looked like the offense finally had a true No. 1 receiver. Since then, he has battled a foot injury before returning for an uneventful game against the Buccaneers.
Fred Davis leads the team in receiving, but hasn't been the type of threat that produced his career year last season.
As a whole, the Redskins tight ends and receivers have been solid, but fairly inconsistent. Perhaps it is a credit to the unit that no single receiver is dominating the stat sheet, but it would be comforting if one receiver would show up week in and week out.
Aldrick Robinson has been a nice surprise this season, and Leonard Hankerson has proven that he can be a big contributor when healthy.
First-Quarter Grade: B-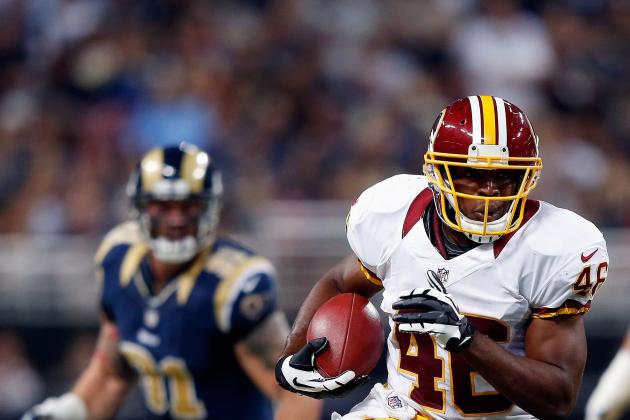 Jamie Squire/Getty Images

Alfred Morris is fifth in the NFL in rushing and is tied for the lead in rushing touchdowns with four. For a rookie sixth-round draft pick, that is a remarkable feat.
If not for RGIII stealing headlines, Morris may get a few looks for Offensive Rookie of the Year if he keeps this performance up.
It isn't surprising for a Mike Shanahan running back to produce week in and week out, but it is surprising that the fourth back on the depth chart in preseason is leading the team in rushing and appears to have a firm grasp on the starting job.
Evan Royster has been solid in what little action he has seen this season, and it remains to be seen what Ryan Grant adds to the mix.
First-Quarter Grade: A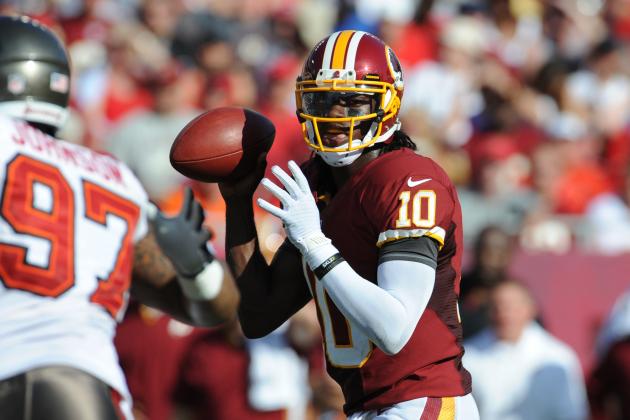 Al Messerschmidt/Getty Images

The Redskins offense is ranked second in the NFL in total yards and fourth in the NFL in points per game. Robert Griffin III is the catalyst to this offensive outburst, producing on the ground and through the air in a way that no team has been able to stop through the first four weeks.
He is fourth in the NFL in passer rating (103.2), third in the NFL in completion percentage (69.4) and third in the NFL in yards per attempt (8.93).
For a rookie, those numbers are spectacular, regardless of the offensive system. He has rushed for 234 yards, averaged 5.7 yards per carry and scored four rushing touchdowns.
He has eight total touchdowns and has revitalized an anemic Redskins offense with his playmaking ability and uncharacteristically veteran presence.
First-Quarter Grade: A+