Denver Broncos: Top Performers of September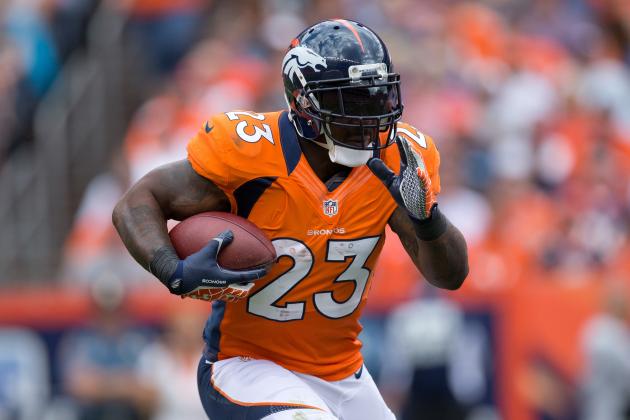 Justin Edmonds/Getty Images

September was a roller coaster ride of a month for the Broncos.
Facing a very tough schedule, it's not surprising that Denver struggled at times against their opponents. The combined record of the teams Denver faced in September? Ten and five, and two of the teams they faced, the Atlanta Falcons and the Houston Texans, are undefeated.
Denver stands at 2-2 as October begins, and while being .500 isn't anything to write in the record books, they are in a good place in their division and coming off their most definitive win of the Peyton Manning-era against the Oakland Raiders.
Things won't be easy for Denver over the next two weeks. They face the New England Patriots and the San Diego Chargers, and both of those games will be played on the road. Denver is in a great position to claim the AFC West, but to do so, these players will have to continue to play great football like they did in September.
Begin Slideshow

»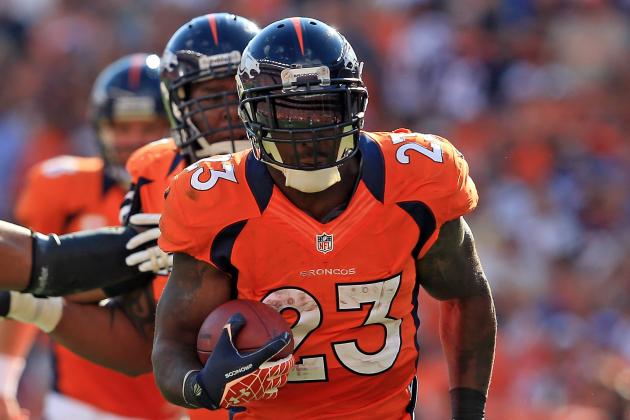 Doug Pensinger/Getty Images

Willis McGahee is proving to everyone that age and injuries are no match for him. Despite being 30 years old, which is about 50 in running back years, McGahee is putting up the best numbers of his career.
McGahee's signing to Denver didn't excite too many fans, since he was coming off some lackluster and injury-ridden years in Baltimore. He surprised many by putting up 1,199 yards last season and is on track for 1,300 yards and 12 touchdowns this year.
Anyone who says that Denver is struggling to run the ball is horribly misled. McGahee may not be flashy, but he's been fantastic and truly vital to the Broncos success thus far this season.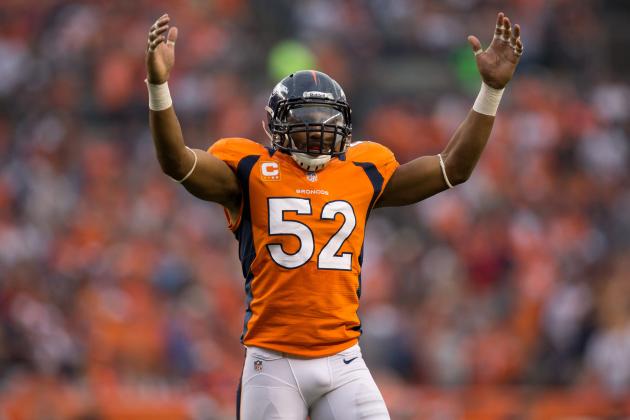 Justin Edmonds/Getty Images

Wesley Woodyard has gone from a fill-in backup to one of the best tacklers on the Denver Broncos team.
In addition to racking up 26 tackles already this year, Woodyard has been spotted all over the field. He had a flashy interception against the Houston Texans and has already sacked opposing quarterbacks 1.5 times.
When D.J. Williams returns from his suspension after Week 6, it will be interesting to see how the Broncos use Woodyard, Williams and Von Miller, as they will be blessed with three phenomenal outside linebackers.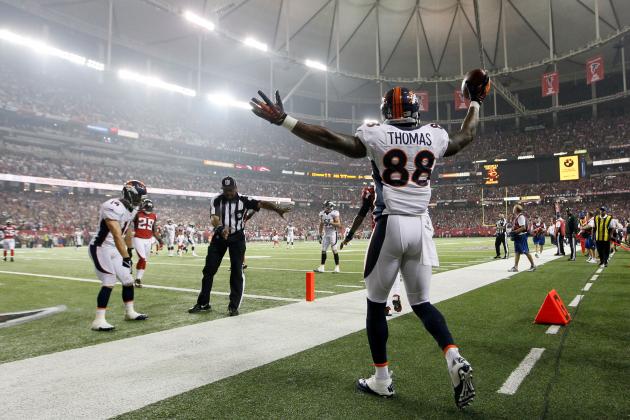 Kevin C. Cox/Getty Images

Eric Decker and DeMaryius Thomas are a little bit of a package deal in this league.
They were both drafted in the 2010 NFL Draft, they are the best wide receiver tandem on Denver since Rod Smith and Ed McCaffrey, and they have put up almost identical statistics through the first four games of the 2012 season.
Decker has 24 receptions, 322 yards and one touchdown while Thomas has 21 receptions, 325 yards and two touchdowns.
Both receivers are on track for more than 1,000 receiving yards in 2012 and they have unquestionably made Peyton Manning's transition to Denver easier.
Also, for all of those who ask which one to start in fantasy, you really can't go wrong either way; Peyton likes to share the ball.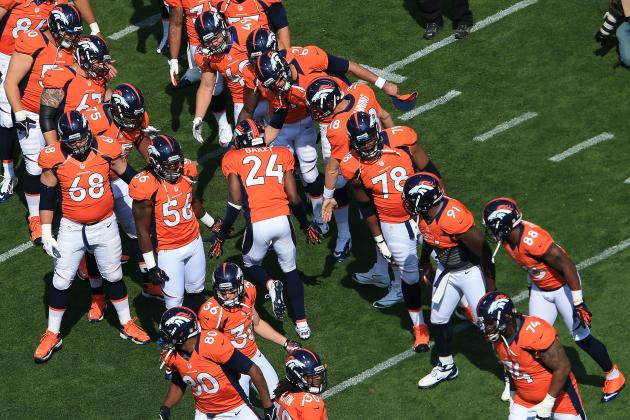 Doug Pensinger/Getty Images

Champ Bailey may not have any interceptions in 2012, but that's only because opposing quarterbacks are too scared to throw the ball his way.
Bailey, at 34-years-young, has shut down receivers who are much younger and bigger than him, and he certainly looks like he hasn't lost a step.
Bailey, who has received some help from his safeties, Rahim Moore and Mike Adams, has shut down Mike Wallace, Julio Jones and Andre Johnson, three of the league's elite wideouts.
I gave him some business in one of my previous breakdown articles for giving up a crucial 3rd-and-5 pass to Johnson in Denver's game against the Houston Texans, yet that was Johnson's only reception at the hands of Bailey during that game. Johnson's long touchdown pass was due to blown coverage by Tracy Porter, not Bailey.
Bailey is still one of the league's most feared cornerbacks, and he's a huge asset to have on the defense.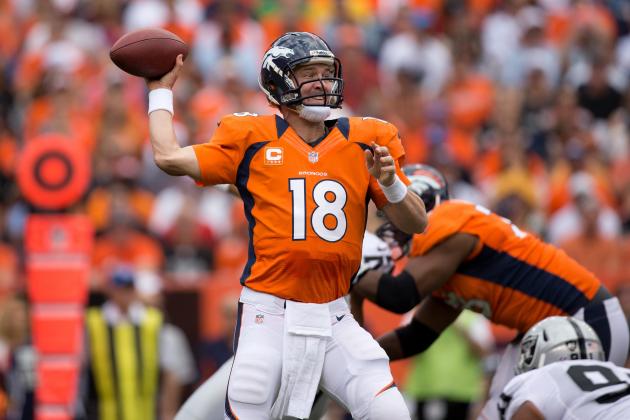 Justin Edmonds/Getty Images

How can Peyton Manning not be on this list?
He did have a debacle of a game against Atlanta, but there is no denying that after only one month with the team, Denver is new squad with Peyton Manning at the helm.
Peyton turned an offense that was relying on the running game and short passes last season into a highly-efficient passing attack.
He's dispersed the ball among all his receivers and tight ends and has used his running back, Willis McGahee, wisely. Defenses need to cover everyone on the field with great rigor, since Peyton will no doubt find any open target.
Any talk of Peyton's arm being weak is silly, and people need not listen to sensationalist coverage of the team. Peyton has 1,162 passing yards, eight touchdowns, three picks and a 96.9 passer rating through the first four games of his Denver career.
All of his picks came in the first quarter of the game against Atlanta, so they are arguably an anomaly.
I'd say his arm is just fine.