Grading the Tampa Bay Buccaneers' Positional Units at the First Quarter Mark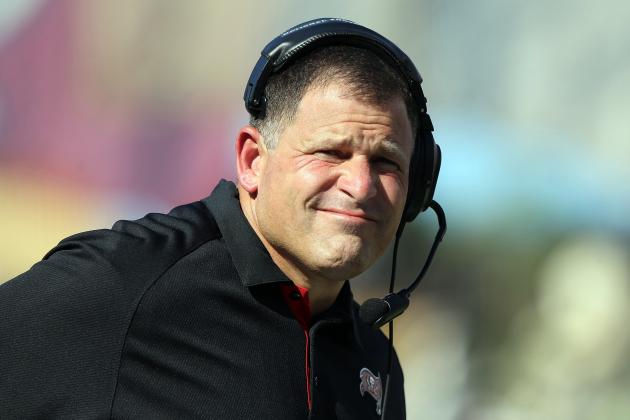 Kim Klement-US PRESSWIRE

The Tampa Bay Buccaneers can't be too pleased with their 1-3 record, but the team can feel at least somewhat satisfied with how they have kept games close. In fact, the club hasn't lost by more than a touchdown all season.
Since we've hit the quarter mark, it's time to look at how the players have performed and how they have contributed to the team's success (or lack thereof).
We'll break this down by grading each positional unit on the following slides.
So just click "next," and start reading!
Begin Slideshow

»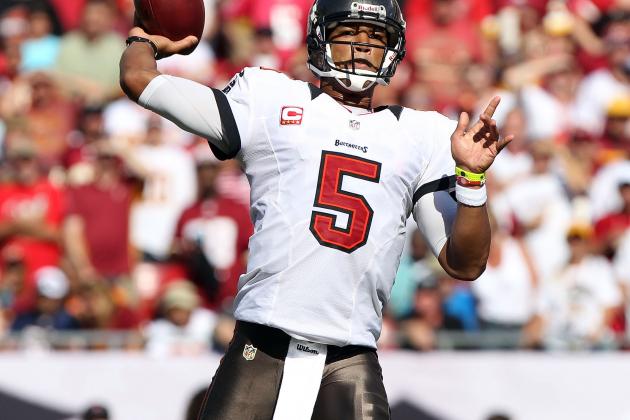 Kim Klement-US PRESSWIRE

Grade: B
Since Josh Freeman has been the only one of the Bucs quarterbacks to get any playing time, this slide is really just grading him.
Freeman started the season off by throwing for a whopping 138 yards against Carolina and followed it up with 243 yards the next week. In his second game, he managed 8.68 yards per attempt, but threw two interceptions, one ugly one and one off a desperation pass.
In Week 3, Free had a dismal game, completing just 35.7 percent of his passes. He rebounded the next week with 299 yards and a 61.5 completion percentage.
Those are just the raw stats, and though they provide a basic overview, they do not tell the whole story.
They do not mention how when he throws deep, Freeman completes 57.1 percent of his passes, good for fourth best in the league.
They also do not mention how the Bucs are not passing deep all too much. Sure, they pass deep 11.8 percent of the time, but they also are tied for the fourth fewest pass attempts in the NFL, which makes that 11.8 percen look a whole lot smaller.
Freeman cannot be blamed for how the coaching staff is under-utilizing his strong arm, but he can definitely improve his short passing game. On passes thrown for 1-10 yards in the air, he has a horrendous 41.8 passer rating.
He's doing the best he can in the given situation, yet there is still room for improvement.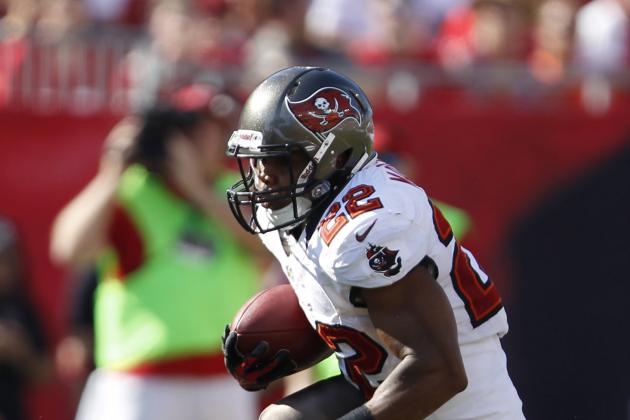 Matt Stamey-US PRESSWIRE

Grade: B-
Grading running backs is always difficult, as the success of a RB depends so much on good blocking from the offensive line.
So it's hard to put too much blame on the Bucs running backs for the embarrassing 3.6 yards per carry they've accumulated over four games.
The blocking hasn't been bad enough to completely absolve Doug Martin of his 3.5 YPC. The rookie came into the league with the expectation of bringing a spark to the Tampa Bay offense, but we've only seen flashes of what he can do.
LeGarrette Blount has been a nonfactor, having less than 44 rushing yards.
The third down back, DJ Ware, averages 2.5 yards per reception. He has not been the reliable option in the passing game which any offense needs.
As with Freeman, the running backs are trying to make the best out of a bad situation. Yet until we see them pick up decent gains on a consistent basis, it'll be hard to elevate the grade beyond a "B-."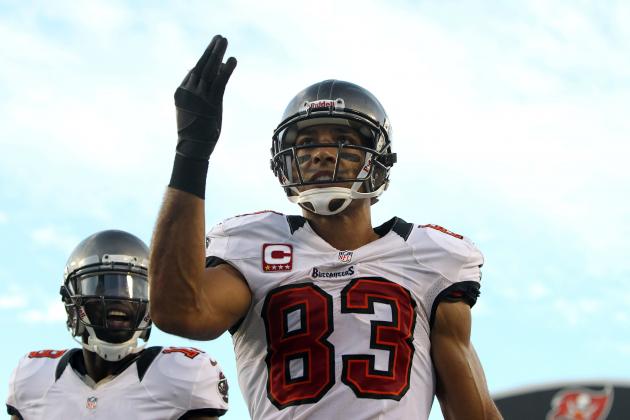 Kim Klement-US PRESSWIRE

Grade: B+
Vincent Jackson has provided such a boost to this receiving corps, that it's hard to imagine the team having any success without him.
He caught 16 passes for 304 yards, a 19-yard average. Seven of his catches have been for over 20 yards.
In addition to catching balls, he also draws the focus away from other targets, especially Mike Williams, who has 11 catches and 219 yards. That equals a better YPC average (19.9) than Jackson himself has.
One of the more under-the-radar players on this team is Dallas Clark, the veteran tight end. Freeman has a 64.3 completion percentage throwing him, and with just nine catches, Clark still leads the team in yard-after-catch, with 34.
The Bucs are still trying to find a No.3 wide receiver. Both Arrelious Benn and Tiquan Underwood have shown potential, but neither has surpassed four catches. This hole brings the unit grade down to a "B+."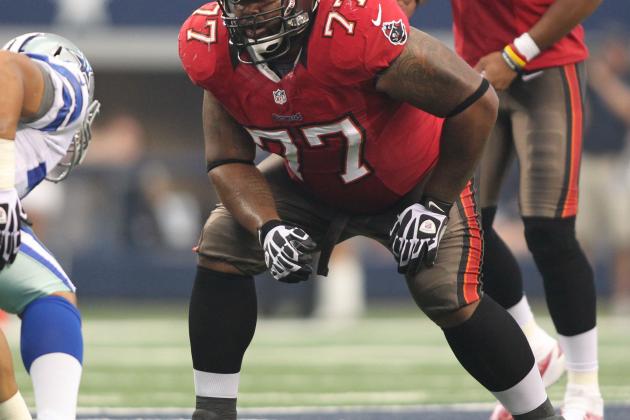 Tim Heitman-US PRESSWIRE

Grade: C
Two facts to summarize how the Bucs offensive line has performed:
1. Only six teams have a lower yards per carry than Tampa.
2. Only five teams have taken fewer sacks than the Bucs.
So basically, the O-line is pretty good at pass protection (attempting the fifth fewest passes in the league may help, though), and not nearly as skilled in run blocking.
The unit was hurt when Pro Bowl guard Davin Joseph suffered a season-ending injury, yet the Bucs added another Pro Bowler in the offseason (Carl Nicks), and he has failed to pick up the slack. Right tackle Jeremy Trueblood had to be benched in favor of the unproven Demar Dotson, and Joseph's replacement, Ted Larsen, has not made made his predecessor's absence any easier.
The fact of the matter is that we can't give the O-line any higher than a "C" until they start positively contributing to the offense.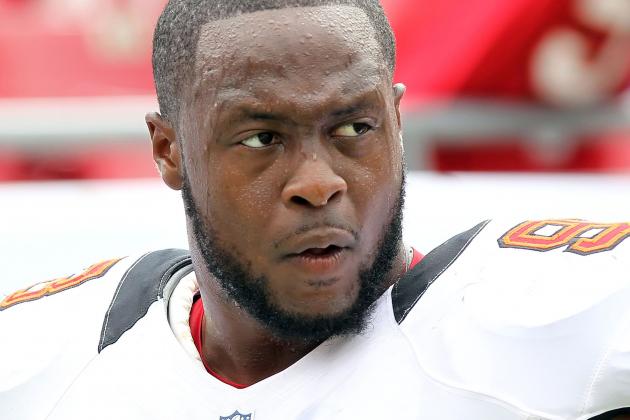 Kim Klement-US PRESSWIRE

Grade: B+
Even without rookie sensation Adrian Clayborn, the Bucs defensive line has been holding its own against the competition.
Gerald McCoy is the centerpiece. He alone has recorded three sacks and 10 solo tackles, but as great as the stats look, neither truly reflects how consistently he has dominated opposing O-lines, commanding double-teams with ease.
Michael Bennett is his partner in crime. The defensive end has four sacks, which again do not begin to tell of how great he has been at generating pressure on the quarterbacks.
Daniel Te'O-Nesheim and Roy Miller fill the other two spots. Roy Miller, especially, has been impressive in the way that he has plugged up rush lanes.
Opponent's 3.2 YPC against the Bucs is a testament to how well the D-line has performed.
The only thing that one can ask the unit to improve upon is its measly seven sacks (the Bucs have eight as a team, but one of them belongs to Ronde Barber). Pressure can force quarterbacks to do crazy things, but it would be better if the Bucs could close the deal and bring him down to the ground more often.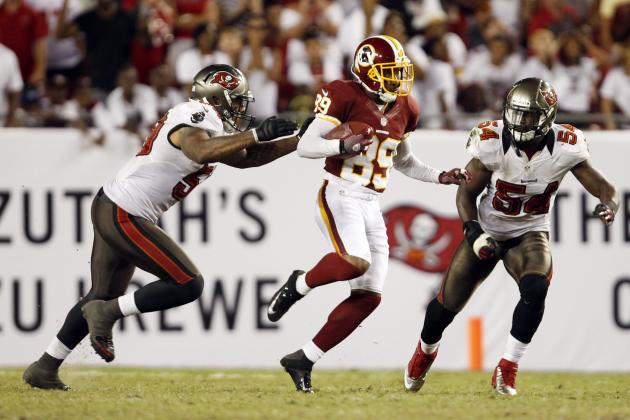 Matt Stamey-US PRESSWIRE

Grade: B+
Both of Tampa's top two tacklers are linebackers. That says a lot about the importance of the unit to the defense's success.
Middle linebacker Mason Foster holds the lead with 32 solo tackles, and rookie Lavonte David is right behind him with 28. Foster also has an astounding eight tackles for a loss, and again, David follows him closely with six.
Quincy Black is the sole starting linebacker not to have made much of a splash this season. He has a fairly low 13 total tackles.
Once Black puts up better numbers, this grade will be bumped up to an "A."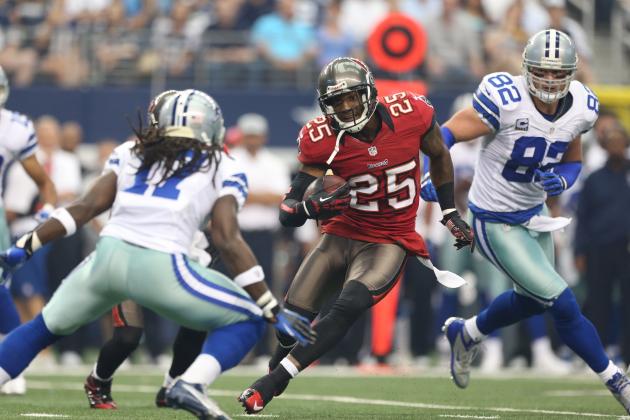 Matthew Emmons-US PRESSWIRE

Grade: C+
Individually, it seems as those the defensive backs have done quite well. Safeties Ronde Barber and Mark Barron have defended five passes each, and Barron has 27 total tackles.
Aqib Talib is tied for fifth in the league with seven defended passes and fellow cornerback Eric has three defended passes and a pick six.
But somebody has to the fall for the NFL-worst 1,381 passing yards allowed, so the unit grade is a "C+."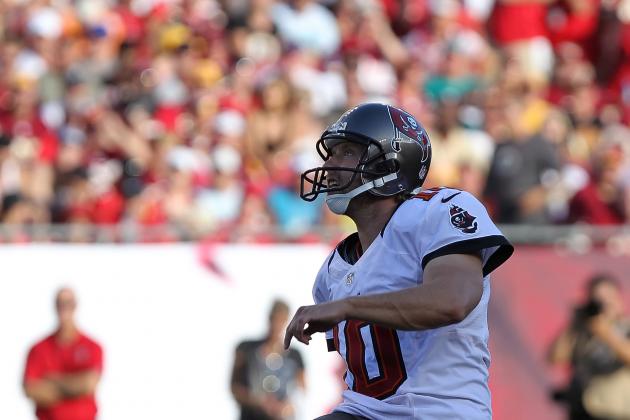 Kim Klement-US PRESSWIRE

Grade: A
Kicker Connor Barth holds the NFL's longest active streak for consecutive field goals without a miss, with a grand old 25. That is also a franchise record.
Punter Michael Koenen leads the league with 11 punts downed inside the 20-yard line.
How could the grade be anything less than an "A?"