Fantasy Football 2012: 7 Start-or-Sit Breakdowns for Week 5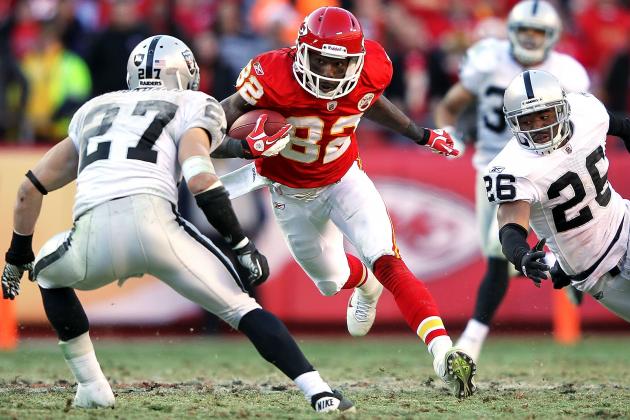 Jamie Squire/Getty Images
Dating back to last year, Chiefs wideout Dwayne Bowe (25 catches, 342 yards, 3 TD in 2012) has racked up double-digit targets in 10 of his last 16 games.
The following countdown details seven start-or-sit scenarios for Week 5, factoring in competitions at running back, wide receiver and tight end.

There's also one flex-consideration dilemma between players at different positions.

For the most part, the receiving conundrums were broken down with standard-scoring leagues in mind.

But as routinely stated on The Fantasy Blog, it's hard to make rational decisions about wideouts and tight ends without factoring in receiving targets.

Enjoy the show!
Begin Slideshow

»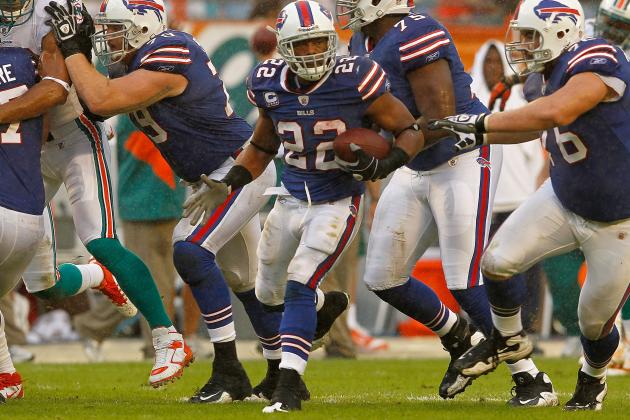 Mike Ehrmann/Getty Images

Brown Stats: 191 Total Yards (155 Rushing), 1 TD

Jackson Stats: 94 Total Yards (44 Rushing)


Breakdown

On paper, this one seems like a mismatch.

Before a substantial injury last year, Fred Jackson was the AFC's leading rusher and essentially good for 138 total yards per outing (10-game average). And when healthy, he's routinely slotted ahead of a premium talent like C.J. Spiller—the top-ranked fantasy rusher after Week 2.

But given his spate of injuries (leg/knee) in recent months and the time-share scenario with Spiller (460 total yards, four TD in 2012), there's no guarantee that Jackson will flourish in Week 5.

Especially against the NFL's No. 1 defense (San Francisco) while playing on the road.

On the flip side, Donald Brown (91 total yards in Week 3) had a week off to freshen up and mentally prepare for the Packers at home. The cat-quick Brown also has the capacity to take every run (or catch) to the house for a touchdown.

Verdict: All signs point to starting Brown against Green Bay, but I'll stick with the reputation pick of Jackson. As a long-standing rule, I tend to play my stars...and let the fantasy gods sort out the rest.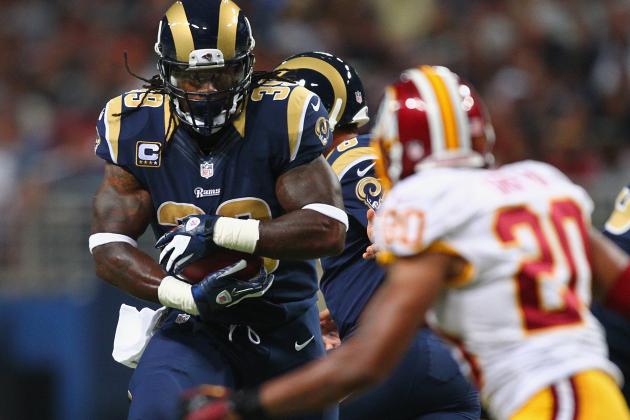 Dilip Vishwanat/Getty Images

Jackson Stats: 243 Total Yards (195 Rushing)

Jones Stats: 16 Catches, 191 Yards, 3 TD


Breakdown

There's no credible defense for Steven Jackson's pedestrian numbers through four games, but I will say this:

Against the Seahawks last week, Jackson had a two-yard touchdown run that was nullified by a ticky-tack penalty. It didn't count on the fantasy tote board, but it was enough to indicate that Jackson (groin injury) may be ready to bulldoze through the Cardinals defense (Thursday night).

James Jones enters Week 5 action with a slew of positives in his favor. For starters, he's tallied at least five targets in all four games, and he's coming off a five-catch, 56-yard, two-TD outing against the Saints.

Throw in the fact that Greg Jennings will be sidelined with a groin injury, and it's fun to dream about another Jones reckoning against Indy.

Verdict: Ideally, I'd like to start both Jackson and Jones this weekend. But if given the choice, in standard-scoring leagues, I will always side with the prominent tailback playing at home. Jackson's the man.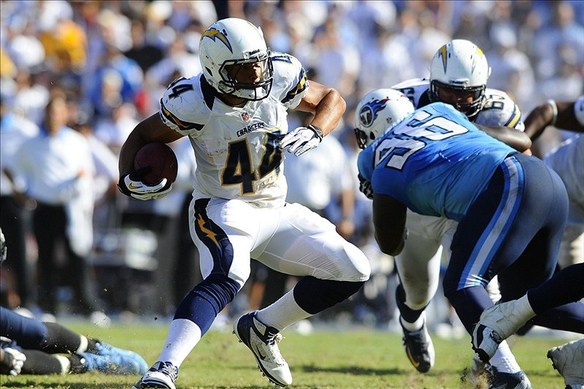 Photo Credit: US PRESSWIRE
Hunter Stats: 143 Total Yards (120 Rushing), 1 TD
Battle Stats: 205 Total Yards (163 Rushing), 4 TD


Breakdown

The Bills defense is allowing 137 rushing yards per game this season—a juicy stat that plays right into the hands of the physical 49ers.

If Frank Gore doesn't bust out for 140 total yards and one touchdown against Buffalo, Kendall Hunter may be the primary reason for it.

In a 70-30 platoon situation, Hunter shall remain a reasonable bet for 60 total yards and a score against pedestrian defenses.

Hunter praise aside, he wouldn't get the starting nod over Jackie Battle, especially with the Chargers cryptically placing him ahead of Ryan Mathews on the official depth chart.

Could that be a simple midweek ploy to motivate Mathews? Sure. But Battle still has a great shot of fulfilling the 2011 role of Mike Tolbert, in terms of serving as San Diego's go-to asset in short-yardage and goal-line situations.

Verdict: Battle...by a tidy margin.
Rob Carr/Getty Images

Pitta Stats: 18 Catches, 188 Yards, 2 TD

Chandler Stats: 12 Catches, 175 Yards, 4 TD


Breakdown

Let's keep this one short and sweet.

If you value targets, catches and receiving yards over touchdowns with tight ends, you'll likely choose Dennis Pitta (13 catches, 24 targets for Weeks 1/2) over Scott Chandler in standard-scoring leagues.

And for those who lean on guys with excellent red-zone prowess, Chandler (two touchdowns in Week 4) gets the nod.

Verdict: For this exercise, I prefer targets and receiving yards with tight ends. For good measure, I also favor Pitta's matchup against the Chiefs, compared to Chandler taking on the Niners.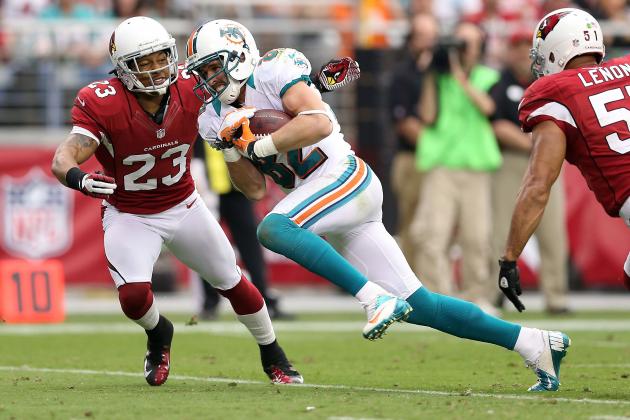 Christian Petersen/Getty Images

Garcon Stats: 5 Catches, 129 Yards, 1 TD

Hartline Stats: 25 Catches, 455 Yards, 1 TD


Breakdown

Even if Pierre Garcon (foot) was operating at full power this week, he'd still have no chance of usurping the red-hot Brian Hartline.

Hartline, who ravaged a top-flight Arizona defense for 12 catches, 19 targets, 253 yards and one touchdown last week, is not a candidate for 200 yards in consecutive outings.

That type of absurd production is only reserved for Calvin Johnson, who's on a bye.

But Hartline certainly has the goods—and targets-driven charm-—to be a top-10 PPR receiver by season's end.

And that mojo should carry over to Sunday against the Bengals.
Verdict: Hartline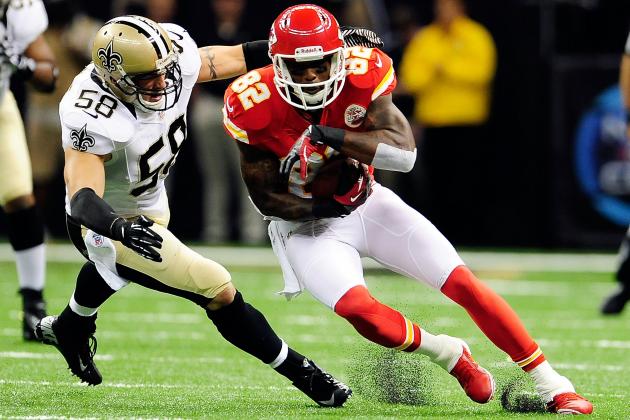 Stacy Revere/Getty Images

Bowe Stats: 25 Catches, 342 Yards, 3 TD

Lloyd Stats: 25 Catches, 287 Yards, 1 TD


Breakdown

In a perfect world, I would start both Dwayne Bowe and Brandon Lloyd against the Ravens and Broncos, respectively.

Both wideouts are riding a wave of mojo in fantasy circles (including targets), and they're rock-solid bets for stellar numbers in Week 5.

Going a step further, Lloyd already has two games of double-digit targets, and all four games with the Patriots have resulted in 50-plus receiving yards.

As for Bowe, he and Calvin Johnson are the only two NFL receivers to collect 12 or more targets for Weeks 2-4.

Verdict: Bowe...by a nose.
Doug Pensinger/Getty Images

Decker Stats: 24 Catches, 322 Yards, 1 TD

Brown Stats: 18 Catches, 240 Yards, 1 TD


Breakdown

From a seasonal perspective, it makes more sense to covet Antonio Brown over Eric Decker since the Steelers have already had their bye.

But for this weekend only, the rationale may be a little different.

On the plus side, Brown has racked up seven-plus receptions and double-digit targets in his last two games. And all three outings have resulted in 74 or more receiving yards.

On the downside, Brown draws a Week 5 matchup with the Eagles, the NFL's No. 7 defense in passing yards allowed (only 207 per game). It also calls for a full afternoon of press coverage from either Nnamdi Asomugha or Dominique Rodgers-Cromartie.

Comparatively speaking, Decker's matchup with the Patriots seems more tolerable. For the season, he's averaging nine targets per game. And for Weeks 3 and 4, he combined for 15 catches, 20 targets, 215 yards and one TD.

Verdict: By the slimmest of margins, I have Decker one slot higher in standard-scoring and PPR leagues.