Predicting Top 5 Candidates for Each Major NBA Award
Ronald Martinez/Getty Images
In the NBA, there's plenty more than just a championship to compete for.
Players will downplay it and coaches will deny it, but there's much more to the Association than just title contention.
And we're not only talking about the pursuit of respectability or relevancy, but rather, the highly coveted reality of tangible distinction.
It's one thing for a player to know he's good at what he does or be told that he's exceptional at how he does it, but it's a whole other thing entirely to be officially recognized for it, and awarded accordingly.
Which is why the league's yearly awards are so important. Whether players and coaches admit it, such honors are more than merely agents of flattery—they're validation.
And more often than not, that can mean just as much as a championship ring.
5. Coach of the Year: Mark Jackson, Golden State Warriors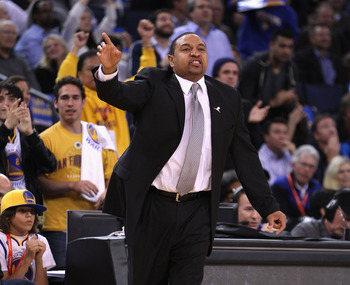 Ezra Shaw/Getty Images
The Golden State Warriors may be a headache for their fans, but they're an incessant migraine for head coach Mark Jackson.
On paper, Golden State has the talent necessary to contend for a playoff spot. In reality, however, this team will only go as far as its depth and Andrew Bogut and Stephen Curry's health allow.
Which is why Mark Jackson will deserve any and all credit he receives if the Warriors can clinch a postseason berth or just drastically improve upon their 23-43 finish last season.
Because while Golden State is now a relatively deep team, Jackson is tasked with navigating an essential minefield. Both Bogut and Curry could go down at a moment's notice, the small forward spot is a source of constant uncertainty, and there are a wealth of rookies in Harrison Barnes, Festus Ezeli and Draymond Green to nurture.
Simply put, if Jackson can figure out a way to lead his team to success in the face of perpetual adversity, he deserves all the recognition he could possibly receive.
4. Coach of the Year: Rick Carlisle, Dallas Mavericks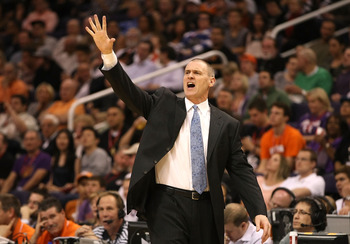 Christian Petersen/Getty Images
Since the Dallas Mavericks won the 2011 NBA title, it hasn't been easy being Rick Carlisle.
For two consecutive offseasons, Dallas' roster has been decimated courtesy of free agency, including this summer.
Luckily for the Mavs, they were able to piece together a respectable supporting cast to play alongside Dirk Nowitzki. Now, however, it's up to Carlisle to ensure new faces like O.J. Mayo and Chris Kaman are integrated into the team's system seamlessly.
But if the Knicks are living proof of anything, it's that a revolving roster can be dangerous. Which is why if Carlisle is able to lead his troops deep into the playoffs, or clinch a top-four seed in the West, he'll be given serious consideration for this award.
And rightfully so.
3. Coach of the Year: Gregg Popovich, San Antonio Spurs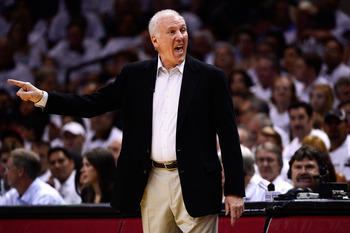 Ronald Martinez/Getty Images
Yes, the reigning Coach of the Year has a chance to do it again.
We scoffed at the notion of the San Antonio Spurs contending for a title last season, but look how that turned out. Sure, San Antonio fell in underwhelming fashion to the Oklahoma City Thunder, but it defied its critics by defying Father Time.
Now, the Spurs are another year older, facing a bevy of age-related skepticism, especially after making minimal changes to the roster.
Enter Gregg Popovich.
Imagine if Coach Pop is able to rally his players toward yet another championship run, toward a third straight first-place finish in the West. Wouldn't that warrant another Coach of the Year award?
I'd say so, or at the very least, some serious consideration.
2. Coach of the Year: Tom Thibodeau, Chicago Bulls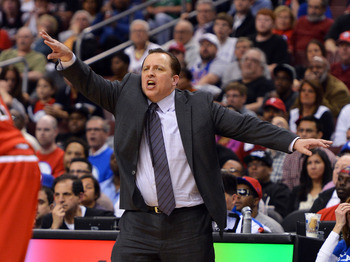 Drew Hallowell/Getty Images
Plenty of people have already written off the Derrick Rose-less Chicago Bulls, and I've come close to being one of them, but I'm not quite there yet.
Why? Because when healthy, even without Rose, Chicago is still a talented team, and there's this guy by the name of Tom Thibodeau who runs the sideline operations.
Though Rose's eventual return could prove to be a saving grace, Thibs is going to have his work cut out for him. This isn't just a sporadic absence on Rose's behalf—he's going to miss months, at the very least.
Subsequently, Thibodeau is left to not only motivate his players, but balance the playing time as to ensure his remaining bodies don't wind up next to Rose.
And if Thibodeau can lead the Bulls into the playoffs or beyond despite such circumstances, he deserves to have his name thrown into this conversation.
A million times over.
1. Coach of the Year: Rick Adelman, Minnesota Timberwolves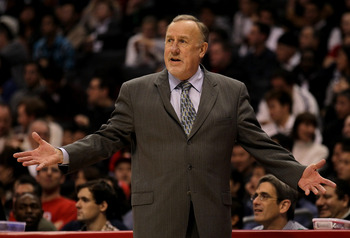 Stephen Dunn/Getty Images
For the first time in nearly a decade, there's talk of the Minnesota Timberwolves contending for a playoff spot.
No, the world isn't ending, Minnesota has just improved its roster.
But while many are already planning their postseason parties, clinching a berth is anything but guaranteed.
Ricky Rubio is still on the mend, and it is unclear how well he'll fare when he returns. Then there's the additions of Andrei Kirilenko and Brandon Roy to consider. Both make the team better, but only if they can play at a high level. And after more than a year away from the NBA, no one can say for sure if they still can.
So, yes, the Timberwolves are in a much better state than they were, but measurable improvement won't come easy.
Which is why legitimate playoff contention in Minnesota ends with Rick Adelman as the NBA's top candidate for Coach of the Year in 2012-13.
5. Rookie of the Year: Jonas Valanciunas, Toronto Raptors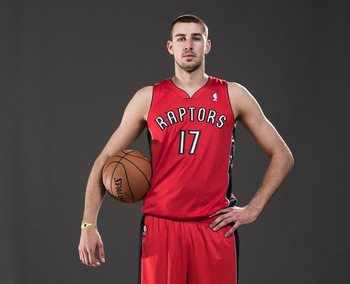 Nick Laham/Getty Images
He does exist.
Though it was only a year, Jonas Valanciunas' journey to the Toronto Raptors seemed to take forever.
Now, he gives Toronto a true post presence, someone who won't live and die by his jump shot like Andrea Bargnani. He has a great touch around the basket, is a fierce rebounder and deft shot-changer, and his mid-range game isn't too shabby either.
While consistency and building an NBA-type frame are still concerns, Valanciunas has the tools and instincts to succeed in this league.
And considering he'll be the driving force behind any noise the Raptors make this season, it's far from a stretch to imagine him emerging as a Rookie of the Year candidate.
4. Rookie of the Year: Michael-Kidd Gilchrist, Charlotte Bobcats
Nick Laham/Getty Images
There's not enough to be said about how fundamentally sound an athlete Michael Kidd-Gilchrist is.
Sure, his jump shot is broken, but it is not beyond repair. He more than makes up for it through his crafty sets in transition and perpetual rim attack.
He's also likely to emerge as one of the NBA's premier perimeter defenders right out of the gate—like Iman Shumpert, just on a more calculated level.
Unfortunately for Kidd-Gilchrist, though, his stock here will be hurt by the Charlotte Bobcats' undoubtedly poor performance. Yet, at the same time, his versatile and ever-evolving skill set will provide the franchise with hope for the future.
Whilst providing him with plenty of consideration for the 2013 NBA Rookie of the Year Award.
3. Rookie of the Year: Damian Lillard, Portland Trail Blazers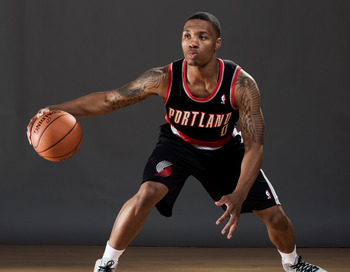 Nick Laham/Getty Images
Any remaining doubt regarding how multifaceted of a player Damian Lillard really is was put to bed when he exploded onto the summer league scene, winning co-MVP honors.
Now, as the regular season nears, he'll be tasked with running the Portland Trail Blazers offense, essentially becoming the end-all for the Blazers' offensive improvement.
But while Lillard will be burdened by plenty of issues and expectations, there's no reason to believe he'll cope with either reality improperly. After all, he already silenced the "he's too selfish to run the point" critics by averaging a cool 5.3 assists per game in the summer league.
What's left for him to do? Tie a playoff-caliber team's offense together.
And if he can do that, there's no doubt he'll challenge a certain somebody—who shall remain nameless right now—for 2013 Rookie of the Year honors.
2. Rookie of the Year: Bradley Beal, Washington Wizards
Nick Laham/Getty Images
No John Wall? No problem.
Hopefully.
Bradley Beal isn't your prototypical NBA shooting guard, but that's exactly what makes him so special and likely to take the league by storm.
What he lacks in athleticism, he makes up for in adaptation; he excels within any system he's placed in. Half court, open court—it doesn't matter. He's also one of the most versatile scorers who has made the jump to the NBA recently.
Factor in his understated playmaking abilities, resourceful defense of the passing lanes—he averaged 1.4 steals per game while at Florida—and his obnoxiously devoted work ethic, and you have a superstar in the making.
In fact, you may also have a Rookie of the Year in the making as well.
1. Rookie of the Year: Anthony Davis, New Orleans Hornets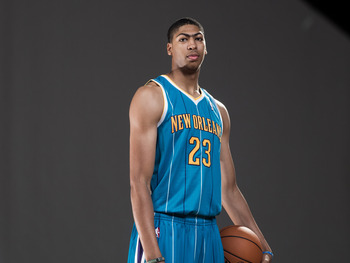 Nick Laham/Getty Images
At least try to act surprised, won't you?
Though Anthony Davis has yet to play his first NBA game, enough justice cannot be done when conveying how talented of an athlete he is.
The former Kentucky Wildcat is the most versatile player to come out of the draft since LeBron James. Despite standing at 6'10", he has an impressive jump shot and refined ball-handling skills
Davis is also a ferocious rebounder and prolific shot-blocker; he averaged 10.4 rebounds and a whopping 4.7 blocks per game at Kentucky last season.
But that's barely half of it. Because even where he doesn't necessarily excel—low-post sets, for example—he's already proved to have the tools necessary to reverse such a reality (ridiculous mobility, anyone?).
And that's not only mind-blowing, but extremely telling. Because, more likely than not, the one-eyebrowed man is a lock to claim Rookie of the Year honors in 2013.
5. Most Improved Player: Evan Turner, Philadelphia 76ers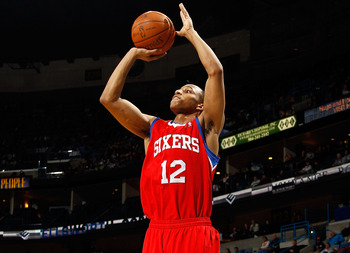 Chris Graythen/Getty Images
So long, Andre Iguodala. Hello, Evan Turner.
After two years in the league, Turner's strengths are abundantly clear. He's a great ball-handler and mid-range shooter and can rebound extremely well for a shooting guard. He also has plenty of potential on the defensive end.
Once again, though, after two years in the league, it was clear something was holding Tuner back. But now, that something plays in Denver.
In Iguodala's absence, expect Turner to assume more of the playmaking duties, showcasing more of his passing skills and ability to get to the rim. Establishing a more constant role on offense should also translate into stronger defensive sets well.
The end result? A stat line that speaks volumes louder than the 9.4 points, 2.8 assists and 5.8 rebounds he posted last season.
4. Most Improved Player: JaVale McGee, Denver Nuggets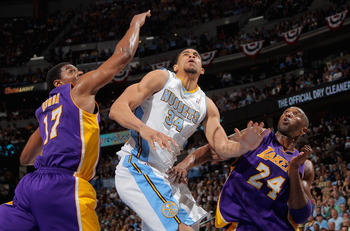 Doug Pensinger/Getty Images
Under the watchful eye of George Karl and offensive direction of Andre Miller, JaVale McGee is officially a threat to establish himself as one of the league's best centers.
Translation? Watch out.
For nearly four years, McGee was devoid of a direction in Washington. He was misused, misunderstood and downright "miscoached." But not anymore.
Karl is one of the game's best mentors, and he's going to do what hasn't been done for McGee before—set expectations for him. Because the time for getting by on 11.3 points, 7.8 rebounds and an above-average PER of 19.90 is long gone.
This season, McGee will learn the art of responsible defense. He'll find out how to catch passes that aren't just above the rim. And he may even hit more than half of his free-throw attempts.
Yes, in 2012-13, we'll say goodbye to the old, wildly inconsistent McGee and usher in a new era of calculated athleticism.
An era that could culminate in a Most Improved Player Award.
3. Most Improved Player: Paul George, Indiana Pacers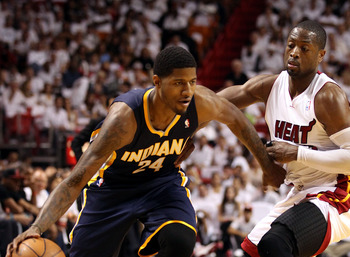 Marc Serota/Getty Images
Last season was just a taste of the player Paul George is set to become; he's about to get much better.
George is an extremely polished player for a 23-year-old. He's a willing defender and aggressive rebounder, and he's the epitome of athleticism on the offensive end.
Unlike some of his high-flying peers, George is no stranger to producing from the perimeter. He shot 38.5 percent from deep last season, nearly 10 percent better than he did the year before.
Now that his outside shooting has been corrected and honed, the only thing separating George from bona fide stardom is a lack of self-sufficiency.
The 6'8" swingman must develop a cleaner handle on the ball and become more comfortable putting it on the floor. If he can become a threat in isolation, he'll be offensively unstoppable, and well on his way to earning the Most Improved Player Award.
2. Most Improved Player: John Wall, Washington Wizards
Chris Trotman/Getty Images
I understand that John Wall is currently watching from the sidelines, but that changes almost nothing. He's going to be a star by the end of the 2012-13 campaign.
In so many ways, Wall is severely underrated. People tend to focus on his deficient jump shot when they need to be paying attention to everything else he does.
Yes, Wall shot just over 30 percent from 10 to 23 feet away last season, and yes he shot just 7.1 percent from beyond the arc on his way to avoiding three-pointers all together, but he's still a star-calibert talent.
Because what Wall lacks in his jump shot, he more than makes up for in explosion. He shot 61.9 percent at the rim last season, which accounted for more than a quarter of his offense.
And how about his court vision, which remains vastly understated? He's dished out 8.2 assists per game in his first two seasons, playing alongside supporting casts that weren't exactly laden with weapons.
So, while Wall needs to improve his jump shot, we need to accept him for what he is about to become—a superstar.
1. Most Improved Player: DeMarcus Cousins, Sacramento Kings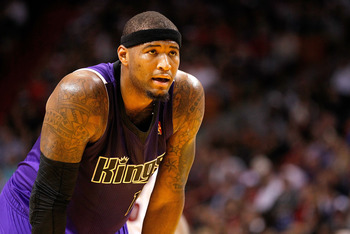 Mike Ehrmann/Getty Images
There are plenty of people who still question DeMarcus Cousins' status as a superstar, and to them I ask: why?
Though the center can be extremely volatile at times, he's worth every headache he's ever caused. Last season, he saw his averages spike to 18.1 points, 11 rebounds and 1.2 blocks per game. He also posted a PER of 21.72, good for 21st best in the league and fifth best among centers.
Not bad for a 22-year-old sophomore, eh?
Now, believe it or not, Cousins is another year wiser, another year more mature. That's going to play a huge role in his development as he officially takes the reins of a struggling Sacramento Kings franchise.
And the Kings have to feel good about that, because Cousins has the potential to be a 20-and-15 guy as soon as this season.
Which is cause enough for him to be considered not only a viable, but probable, recipient of the 2013 Most Improved Player Award.
5. Defensive Player of the Year: Tyson Chandler, New York Knicks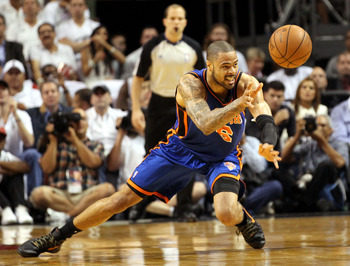 Marc Serota/Getty Images
Though Tyson Chandler will remain a part of the Defensive Player of the Year conversation, he's going to find it difficult to repeat.
Last season, Chandler grabbed nearly 10 rebounds and blocked 1.4 shots per night. As impressive as such stats are, that's not why he won.
Chandler won because he changed the defensive culture of an entire team. With Chandler, the New York Knicks went from a three-way tie for the NBA's second-worst defense in 2010-11 to the NBA's 11th best last season.
That's incredible, and the primary result of Chandler's vocational direction on that end of the ball.
And while the big man's role hasn't changed, he'll find it difficult to follow up his 2011-12 campaign, most likely having to settle for merely being a candidate and not the recipient of the award.
4. Defensive Player of the Year: DeMarcus Cousins, Sacramento Kings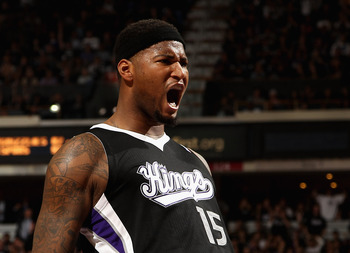 Ezra Shaw/Getty Images
Here's a familiar face.
DeMarcus Cousins is going to be making all kinds of waves this season.
The 6'11" behemoth has already established himself as a beast on the defensive end, but this is the year he'll finally begin to be recognized for it.
Last season, he averaged 11 rebounds, 1.5 steals and 1.2 blocks per game. And what makes him so special is he's not your typical big. He'll grab his fair share of rebounds and block plenty of shots, but he also has quick hands and isn't afraid to attack the passing lane.
Simply put, he's defensively versatile, which is a rarity in centers.
So rare, in fact, that Cousins' masterful performance in so many facets on the floor will earn him a spot among not only the league's top defenders, but a coveted candidacy for the Defensive Player of the Year Award.
3. Defensive Player of the Year: LeBron James, Miami Heat
Ronald Martinez/Getty Images
The last swingman to win an NBA Defensive Player of the Year Award was Ron Artest in 2004.
Just let that sink in.
In almost a decade, no player who wasn't a center or power forward has taken home the award.
Enter LeBron James.
Truth be told, the Defensive Player of the Year Award was probably created to recognize the defensive talents that predominantly exist in low-post players.
But James isn't you're average perimeter defender. Yes, he can still defend anyone at the top of the key, but he's also developed into a strong post defender, leaving him free to guard any and all positions on the basketball court.
I mean, his 1.9 steals and nearly one block per game are no joke.
And so, if there was ever anyone who could break the current, yet not-so-startling trend that has developed, it's James.
2. Defensive Player of the Year: Serge Ibaka, Oklahoma City Thunder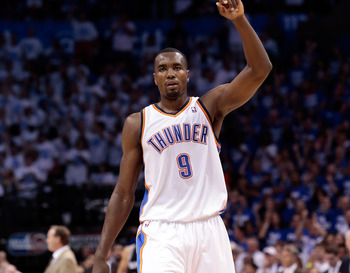 Brett Deering/Getty Images
Serge Ibaka is widely considered a one-dimensional defender, which is simply not the case.
Though Ibaka has earned his claim to defensive fame through his shot-blocking prowess—3.7 swats per game last season—his only vice is his over-exuberance. And by that, we are referring to his penchant for foul trouble.
But is it really a penchant at this point? Just two years ago, Ibaka committed 5.3 fouls per 36 minutes. Fast-forward to last season, and that number dropped to 3.6. Not great, but far from terrible.
The fact is, Ibaka is a monstrous shot-blocker who can also play solid off- and on-ball defense when he has his footwork down. And yes, while he must continue to work on his footwork, have we forgotten he's 23? This is a kid who's still developing, so there's no telling how far he'll rise.
One thing is for sure, and that's the notion that earning a Defensive Player of the Year honor is far from out of the question.
1. Defensive Player of the Year: Dwight Howard, Los Angeles Lakers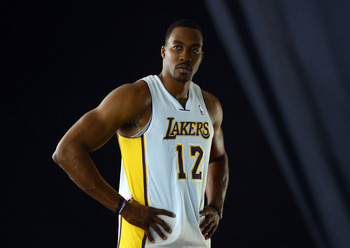 Harry How/Getty Images
Prior to Tyson Chandler taking home Defensive Player of the Year honors in 2012, Dwight Howard had won the last three. And in all likelihood, had his back not prevented him from playing a small portion of the season, he may have won his fourth.
But don't fret, because the streak is likely to start once again.
Howard, though an injury risk now, is the most mobile center in the league. His timing on the boards is impeccable, as is his shot-blocking; he averaged 14.5 and 2.1, respectively, before being shut down last season.
Now, on a new team and in possession of a fresh start, expect the center, back issues and all, to reclaim his throne.
He's simply that dominant in every facet of defense that it's impossible to feel more comfortable when making a prediction of this magnitude.
5. Sixth Man of the Year: Antawn Jamison, Los Angeles Lakers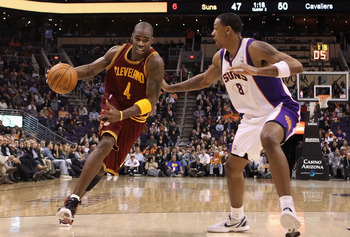 Christian Petersen/Getty Images
Antawn Jamison is going to do wonders for the Los Angeles Lakers bench.
Though the forward shot just 40 percent from the field last year, it's not every day a team has the opportunity to sign a 17-points-per-game scorer to a veteran's minimum contract to come off the bench.
So, of course Purple and Gold jumped on it.
After all, Jamison is instant offense, and he always has been. He stretches opposing defenses paper thin with his unlimited range and is also one of the more aggressive rebounders in the league.
So, while we're quick to point to Steve Nash, Dwight Howard and Kobe Bryant as the fuel to Los Angeles' fire, let it be known that Jamison's addition completely transformed the second unit into something not only respectable, but formidable.
And it won't take long for him to actualize such a notion, as he will undoubtedly be a part of the Sixth Man of the Year conversation by season's end.
4. Sixth Man of the Year: Manu Ginobili, San Antonio Spurs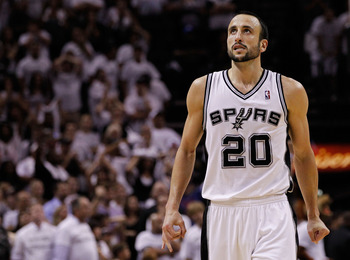 Tom Pennington/Getty Images
Manu Ginobili may be 35, but he still packs a significant scoring punch.
Injuries derailed what set out to be a promising start to last season, and Ginobili visibly struggled to regain his composure upon return.
Yet in the scheme of this season, that means nothing. He still shot over 41 percent from behind the arc and posted a PER of 24.18 last year. And that's not bad. At all.
If Ginobili can regain some of his old offensive swagger during the season, we're likely to see his point totals and even field-goal percentages increase.
Along with his Sixth Man of the Year stock.
3. Sixth Man of the Year: Ray Allen, Miami Heat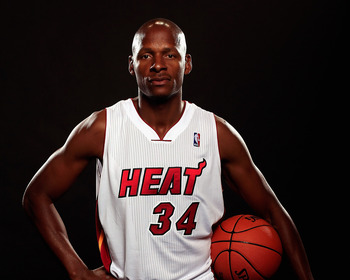 Chris Trotman/Getty Images
The Miami Heat are a team to be feared, even more so this season. And Ray Allen is going to be a big part of that.
While it's clear Allen won't be averaging 20 points per game anymore, he brings with him the most efficient long-range jump shot the NBA has ever seen. That's something the Heat are going to look to utilize on a daily basis.
After all, how many players have converted on an average of 40 percent of their three-point attempts over the last 16 years?
Not many. But Allen has. He knows what it takes to win a championship, and even at 37, he still has one of the smoothest shooting strokes in the league.
If you think for one second he isn't going to eat defenses up, even after coming off the bench, then you're sorely mistaken.
2. Sixth Man of the Year: Jason Terry, Boston Celtics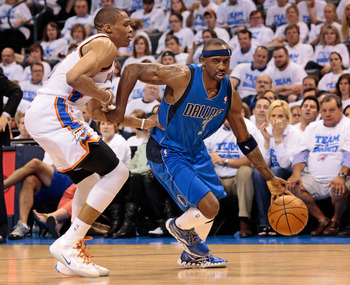 Brett Deering/Getty Images
Jason Terry is no stranger to the sixth-man role, having manned it in Dallas for the past five seasons.
Last year, he averaged 15.1 points and 3.6 assists per game, while also shooting a whopping 37.8 percent from behind the rainbow. Subsequently, even at 35, it's clear it doesn't get much better than him.
While Terry is known primarily as a scorer, he's also more than capable of handling the point guard duties when needed.
And this is all great news for a Boston Celtics team that needed to strengthen its bench in general, and desperately needed a competent backup for Rajon Rondo while Avery Bradley is on the mend.
It's also great news for Terry, because the more prominent of a role he assumes, the more likely he is to put up gaudy point totals as he continues to age.
Not to mention, the more likely he is to take home his second Sixth Man of the Year Award.
1. Sixth Man of the Year: James Harden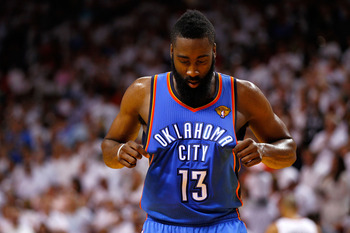 Mike Ehrmann/Getty Images
James Harden remains the NBA's most talented sixth man until proven otherwise.
The essential combo guard is great at distinguishing between when to pass and when to attack, and he's one of the more underrated perimeter defenders in the league as well.
Despite spending the entire season in a reserve role, Harden posted an average of 16.8 points and 4.1 rebounds on 49.1 percent shooting from the field.
And while he was never one to suffocate his opponent with athleticism, he truly is one of the most intelligent bench guards to ever play the game.
Simply put, without Harden, the Oklahoma City Thunder are a team that is anything but better off. He's become a glue guy for the squad, and right now, he's easily the most recognizable sixth man there is.
Which bodes extremely well in his quest for a repeat.
5. MVP: Kevin Love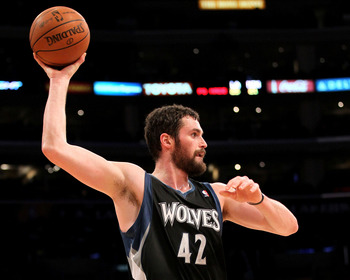 Stephen Dunn/Getty Images
From the NBA's most improved player to a top-five MVP candidate, Kevin Love has really begun to leave his mark on the league over the past few years.
Last season, Love averaged 26 points and 13.3 rebounds on his way to generating some MVP talk.
Now, it's a year later, and Love's skill set and potential impact mean even more to the Minnesota Timberwolves.
Not only will Minnesota rely on Love to pick right back up where he left off with Ricky Rubio, but the team also needs him to help acclimate Andrei Kirilenko and Brandon Roy to their roles within the team's system. The Timberwolves obtained both to improve their postseason chances, and until Rubio returns to direct the offense, they will look to Love for guidance.
As a high-scoring, rebound-hoarding stretch forward, there is plenty of direction Love can provide.
After all, he (with an assist from Rubio) essentially returned the Timberwolves to relevance. Now, Rubio or not, he's guaranteed to continue his string of superior performances, with the ultimate goal of leading Minnesota to its first playoff berth since 2004.
4. MVP: Steve Nash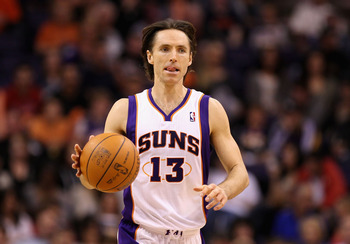 Christian Petersen/Getty Images
This may be difficult for some to wrap their heads around, but Steve Nash is still an MVP candidate.
Yes, I'm fully aware he's a member of the Los Angeles Lakers' star-studded quartet and that everything is now supposed to come easy for the guys in purple and gold, but that's simply not the case.
Nash is not only vital to Los Angeles' potential because he can put up a stat line that reads something like 12.5 points and 10.7 assists per game, but also because he's the one tasked with tying the entire offense together.
As prolific as the Lakers are on offense, it all means nothing if Kobe Bryant, Pau Gasol, Dwight Howard and Nash all aren't on the same page.
How are they going to get on the same page? Through Nash's direction.
He is the one that will keep a vigilant eye on his team's floor spacing. He is the one that will fuel the Lakers' championship charge by building the team's chemistry from the ground up.
The last time I checked, such a responsibility was pretty important.
3. MVP: Kevin Durant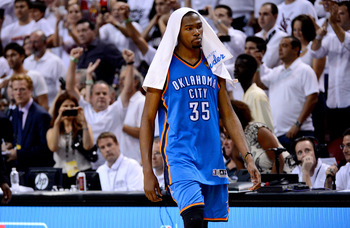 Ronald Martinez/Getty Images
Kevin Durant is the most important piece to a prolific Oklahoma City Thunder puzzle.
Without him, the lane is not as readily open for Russell Westbrook to attack, and without him, the Thunder don't have the strongest scorer in the game to lean on.
So, while plenty of people would argue that the emergence of Westbrook, and even James Harden, has diminished Durant's value to this team, that's simply not the case.
Last season, he averaged 28 points and eight rebounds per game on nearly 50 percent shooting from the field, which is almost unheard of for a small forward that jacks up as many outside shots as he does.
He took great strides toward improving his defensive sets and became even more of a vocal leader.
Even with Harden and Westbrook in tow, Oklahoma City needs Durant. Without him, there is no Western Conference title, no NBA Finals appearance.
Case closed.
2. MVP: Chris Paul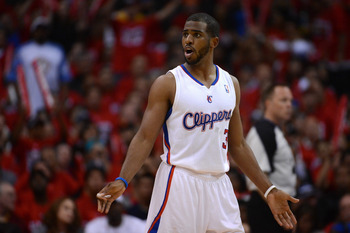 Harry How/Getty Images
Only a handful of players mean as much to their teams as Chris Paul does to the Los Angeles Clippers.
In a single season, Paul transformed Los Angeles from a bottom feeder into a championship contender, which is no easy feat, even playing alongside Blake Griffin.
The floor general averaged 19.8 points, 9.1 assists and 2.4 steals per game on his way to posting a 27.09 PER, second only to LeBron James of the Miami Heat.
Impressed yet? Well, you should be.
Without Paul, the Clippers would be lost. He's the team's most talented playmaker and knows how to utilize the offensive talents of each of his teammates.
Simply put, there's nothing he is incapable of; and as long as he is running the show in Los Angeles, the Clippers have an opportunity to contend for a title.
And someone with that type of impact is pretty valuable to his team's immediate future, wouldn't you say?
1. MVP: LeBron James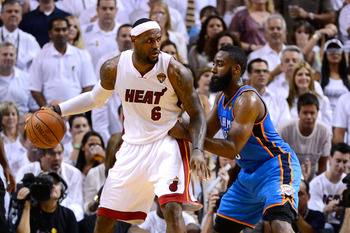 Ronald Martinez/Getty Images
No surprise here.
Even after winning his third MVP award in 2012, LeBron James remains the favorite to take it home again this year.
As talented as the Miami Heat are, they wouldn't be fresh off an NBA title if it wasn't for James. He averaged 27.1 points, 7.9 rebounds, 6.2 assists and 1.9 steals per game last season, a team best in every category. He also shot above 53.1 percent from the field, which is absolutely insane for a small forward to do.
And yet, as scary as James was last season, he instills even more fear in his opponents now.
Why?
Because he's just getting started. And to know that James' historic 2011-12 campaign is only just the beginning is to know that he's the league's most valuable player until proven otherwise.
If anyone is even talented enough to prove otherwise, that is.
Keep Reading