NFL Picks Week 5: Predictions for Every Game
Kirby Lee-US PRESSWIRE

Week 5 is here and it's ready to provide NFL fans with even more unpredictability and downright craziness, something we've grown accustom to the past two weeks.
Peyton Manning squares off against Tom Brady in the newest and aesthetically different installment of their classic quarterback rivalry.
Andrew Luck takes on Aaron Rodgers in Indianapolis, and the New York Jets face the only unbeaten team in the AFC on Monday Night Football.
Yes, it should be another wild week in the NFL.
Now, on to the picks.
Begin Slideshow

»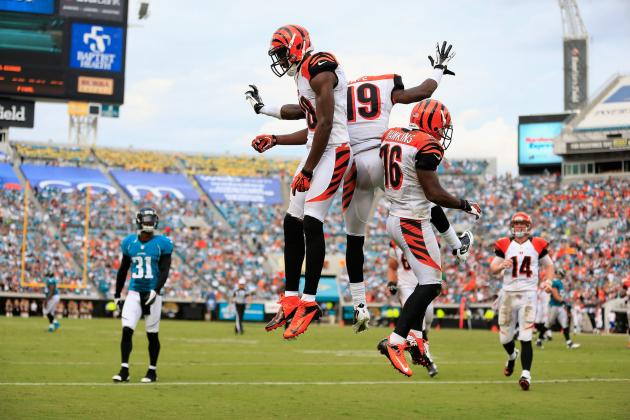 Chris Trotman/Getty Images

The Dolphins have been competitive in every game since their season-opening wake-up call against the Houston Texans.
Ryan Tannehill lit up the Arizona Cardinals for 431 yards last week, and the defense played well enough to win. Miami was a field goal away from beating the New York Jets in Week 3 and trounced the Oakland Raiders in Week 2.
It's safe to say the Dolphins are one of the better 1-3 teams in the league.
To me, the most overlooked team in the AFC right now is the Cincinnati Bengals.
They had their chance to make a major statement Week 1 against the Ravens in Baltimore, but the national TV audience remembers the way Joe Flacco and Co. destroyed Marvin Lewis' club.
Since then, they've been thoroughly exciting and have sneaked out to a 3-1 record.
Their defense leads the NFL with 16 sacks, and, quietly, Andy Dalton's 103 QB rating is the fifth highest in the league—better than guys like Tom Brady, Peyton Manning, Joe Flacco and Aaron Rodgers.
Miami's defense will initially surprise the high-powered Bengals offense, but Mike Zimmer's defense will confuse Ryan Tannehill in the second half, and a few big plays by A.J. Green will ultimately decide the game.
Bengals 27, Dolphins 20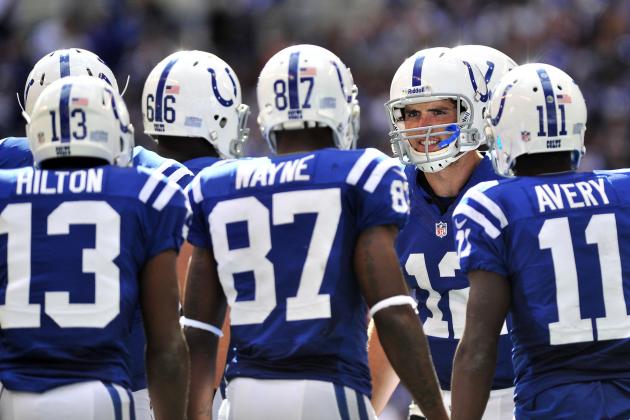 Thomas J. Russo-US PRESSWIRE

Andrew Luck and his 1-2 Indianapolis Colts are coming off a bye week to face the rebounding and dynamic Green Bay Packers.
Historically, the extra week off gives a squad an added advantage, and the Colts will play the Packers tougher than everyone expects in Indianapolis.
Luck was remarkably, yet not surprisingly, confident in his first three starts, and the Indy defense wasn't as porous as some believed it would be.
Aaron Rodgers was magnificent in a Week 4 win over a bad New Orleans Saints defense, in a game that may have put him back on track.
Luck and Rodgers will duel and put on a comparable show through three quarters, but there is simply too much talent on Green Bay's roster, especially on offense, for the Packers not to win this game.
Packers 35, Colts 24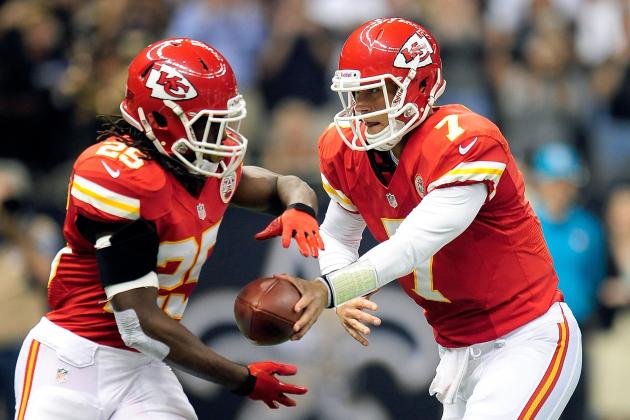 Stacy Revere/Getty Images

The Kansas City Chiefs, in all but one game, have been a shockingly susceptible club, even with all their injured 2011 stars in the lineup.
Jamaal Charles has been absolutely electric since a three-yard disaster against the Buffalo Bills in Week 2, but the defense has been significantly disappointing and quarterback Matt Cassel has been far from impressive.
Very far from impressive.
The Ravens, on the other hand, well, have been the Ravens. They clearly miss Terrell Suggs coming off the edge, but overall, the defense and a new uptempo offense have been as good advertised.
Playing inside Arrowhead is always a daunting task. Charles will help Kansas City control the tempo early.
In the second half, however, Ray Rice and the play-action pass will yield a host of big plays for the sometimes-overlooked Baltimore offense.
Ravens 31, Chiefs 20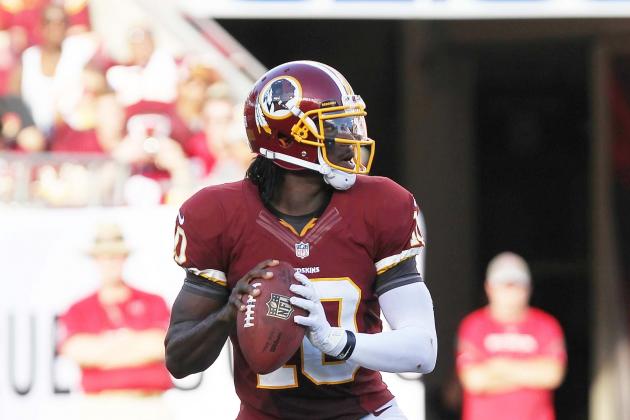 Kim Klement-US PRESSWIRE

This will be a shootout. Shoot. Out.
With the league's MVP and Offensive Rookie of the Year front-runners under center for each respective team, you know this Atlanta Falcons and Washington Redskins battle is going to be billed as a high-scoring affair.
Frankly, it should be.
Robert Griffin III has been tremendous in his first four starts, and his team could easily be 4-0.
However, the Redskins defense has been abysmal to start the year, allowing an average of 325-plus yards through the air.
For the Falcons, it's been relatively smooth sailing, besides the thrilling win last week over the Carolina Panthers.
Matt Ryan is the easiest MVP choice right now. His talented corps of pass-catchers makes Atlanta's passing offense ridiculously difficult to stop.
With Pierre Garcon back for the Redskins, RG3 leads his team to the biggest win of his young career in another captivating and wildly entertaining contest.
Redskins 34, Falcons 31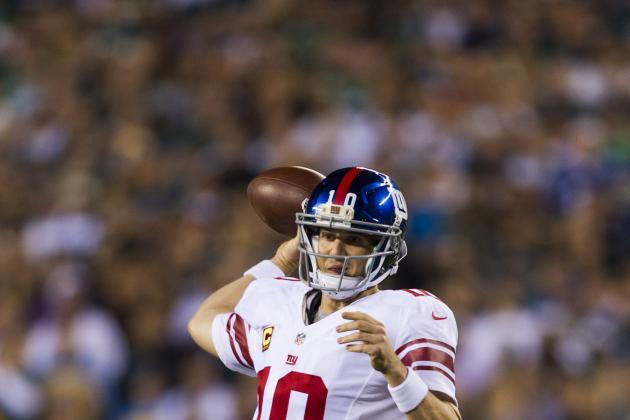 Howard Smith-US PRESSWIRE

The New York Giants will be without wideout Hakeem Nicks for this one, according to beat writer Jenny Vrentas.
After failing to practice on Thursday, it doesn't look good for Ramses Barden, either (h/t Ralph Vacchiano).
If Barden doesn't go, expect Victor Cruz and Domenik Hixon to garner the overwhelming majority of the targets from Eli Manning.
I do like the Browns in this one more than the masses do.
Brandon Weeden and Trent Richardson have only had one solid game (Week 2 against the Bengals), but at 0-4, it's desperation time for Cleveland.
The Giants usually play in one or two stinkers every regular season. This could be one of them, at home, in a game everyone expects them to win big.
If Joe Haden was available for the Browns, I'd pick the upset; but without him, the G-Men get the edge.
Giants 30 Browns 24
Howard Smith-US PRESSWIRE

The battle of the Keystone state takes place in Pittsburgh this time around. Despite facing a team with a 3-1 record, the 1-2 Steelers are a three-point favorite at home.
With the Eagles, it's never a cinch predicting games.
Michael Vick can be so incredible and then so careless with the football. On the same drive.
Philadelphia's defense is for real, however. Only the Houston Texans have allowed fewer yards per drive in 2012 than the Eagles.
For the Steelers, according to the Beaver County Times, Rashard Mendenhall could see "significant playing time" against Philadelphia.
They'll need a big game from their former starting running back (who's coming off major knee surgery), because the tandem of Isaac Redman and Jonathan Dwyer have combined to average a paltry 2.53 yards per carry this season.
Ed Bouchette of the Pittsburgh Post-Gazette tweeted the following about two other Steelers who are expected to play on Sunday:
Tomlin: Thinks both James Harrison & Troy Polamalu will play Sunday

— Ed Bouchette (@EdBouchette) October 2, 2012
On the road, in a crazy game filled with big plays and turnovers, Andy Reid's Eagles do enough on offense—run and run some more—to sneak back to Philly with a win.
Eagles 27, Steelers 24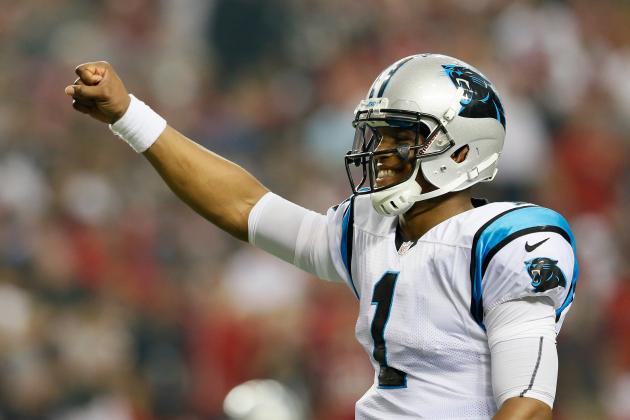 Kevin C. Cox/Getty Images

Cam Newton needs this game.
After visibly showing his distress in all the Panthers' defeats this season, Newton gets a chance to momentarily silence the critics against a good defense at home.
Seattle's defensive front will attack him on nearly every down, but he's a true playmaker who'll make things happen outside the pocket.
Carolina's defense needs to play an inept offense like Seattle to build confidence, especially after facing Matt Ryan and Co. last week.
In a tightly contested battle, Newton emerges victorious over Russell Wilson.
Panthers 24, Seahawks 23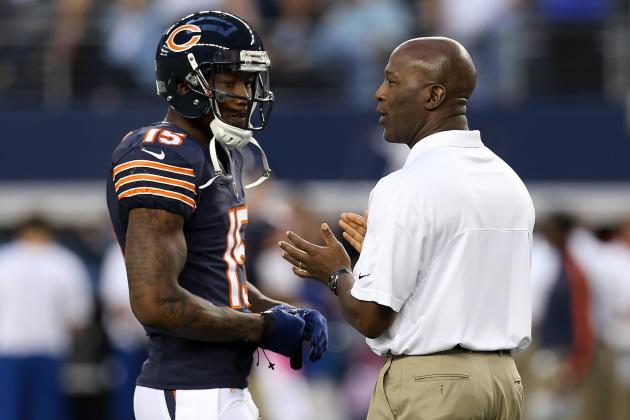 Ronald Martinez/Getty Images

Jay Cutler and the Bears look to be hitting their stride as an offense, and the defense has been lights-out the last two weeks, too.
Blaine Gabbert has shown some improvement in his second year as Jacksonville's starter, but his team is the lowest-scoring club in the league through four games.
Winning on the road in the NFL is rarely easy, but this game will be one of the least taxing games on the schedule for Chicago this season.
Too much Brandon Marshall and stingy, playmaking defense.
Bears 27, Jaguars 14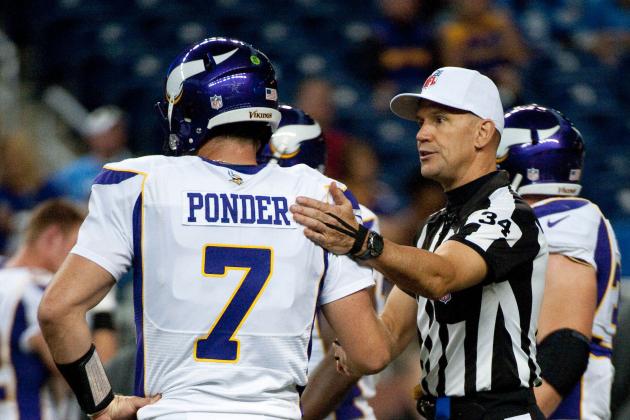 Tim Fuller-US PRESSWIRE

Are you on the Minnesota Vikings bandwagon?
I've approached it, but haven't made the leap just yet.
Unfortunately, a home game against arguably the worst team in the league won't make me hop on, but a loss would really hurt Christian Ponder's crew.
However, this is a game the upstart Vikings win handily.
Tennessee has allowed the third-most yards per drive in the NFL, and Minnesota's offense is predicated on efficiency.
Adrian Peterson will have a huge day, and with 37-year-old quarterback Matt Hasselbeck under center for the Titans, Tennessee won't be nearly as explosive offensively.
Vikings 31, Titans 17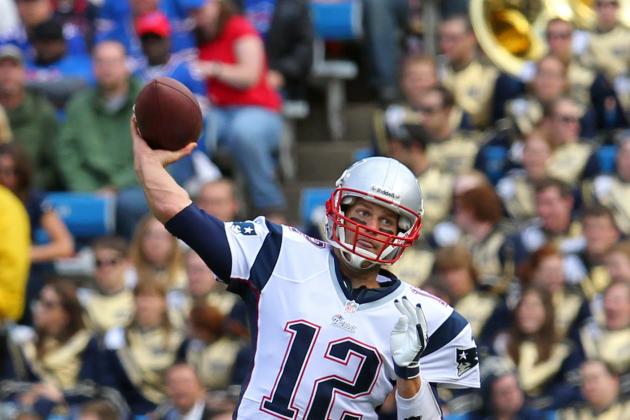 Timothy T. Ludwig-US PRESSWIRE

The matchup of the week in the NFL.
While I'll save you from the historical breakdown of the Tom Brady vs. Peyton Manning series, it's clear we're in for a quarterbacking treat with this one.
The Patriots secondary clamped down on the Buffalo Bills in the second half last week, but the inaccuracy and general inconsistency of Ryan Fitzpatrick left points on the board for Chan Gailey's club.
Manning won't do that.
The two legends will battle back and forth, like they normally do, but New England, at home, won't squander this prime opportunity to make a statement to the rest of the AFC.
Neither defense is especially formidable, but they'll both make plays in the secondary.
I expect Brady to carry his team on his back in the fourth quarter in what should be another epic game between these two greats.
Patriots 31, Broncos 27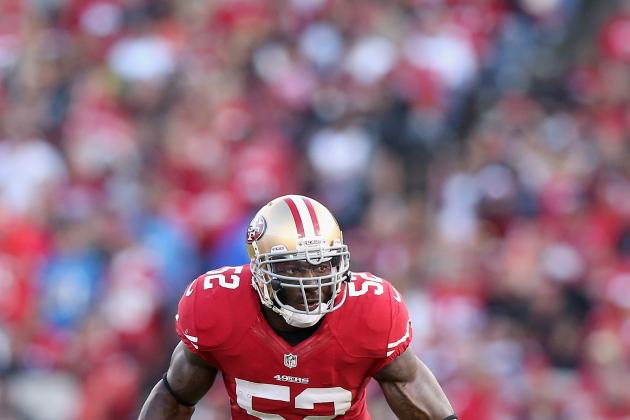 Ezra Shaw/Getty Images

The blowout of the week, right?
While that's distinctly possible after watching the Bills get thrashed at home in the fourth quarter by the New England Patriots and the 49ers steamroll the New York Jets on the road in Week 4, don't let those performances cloud your decision-making.
Buffalo knows its back is up against the wall in many ways. It knows that the 49ers are extremely physical up front on both sides of the football.
They'll look to control the clock with their patented running back duo of Fred Jackson and C.J. Spiller.
In an effort to stop San Fran's dynamic and powerful running game, Dave Wannstedt won't have his defense in nearly as many nickel packages.
After demonstrating fine resiliency for the first three quarters, Alex Smith makes the better decisions and throws in the fourth quarter, leading to victory.
49ers 31, Bills 24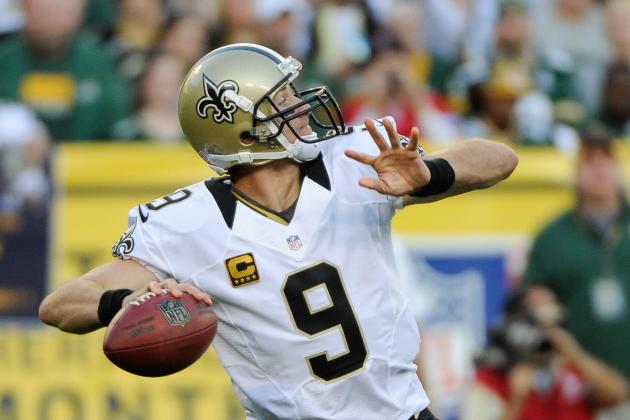 Benny Sieu-US PRESSWIRE

Another compelling quarterback clash that should provide the Sunday Night Football audience with lots of points and an abundance of huge plays.
The Saints are 0-4, but when you look at the statistics, it's not that surprising.
No team allows more yards per drive, and they're allowing 4.9 yards per carry.
Robert Griffin III, Cam Newton, Matt Cassel and Aaron Rodgers have averaged a 107 QB rating against New Orleans, compared to an unusually low 86.1 rating from superstar Drew Brees.
The Chargers have been relatively effective in three games and were destroyed by the Atlanta Falcons at home in Week 3.
Philip Rivers and Brees will put on a show for Al Michaels and Cris Collinsworth, but I simply cannot envision Brees losing for a third time at home to start the year.
Saints 41, Chargers 35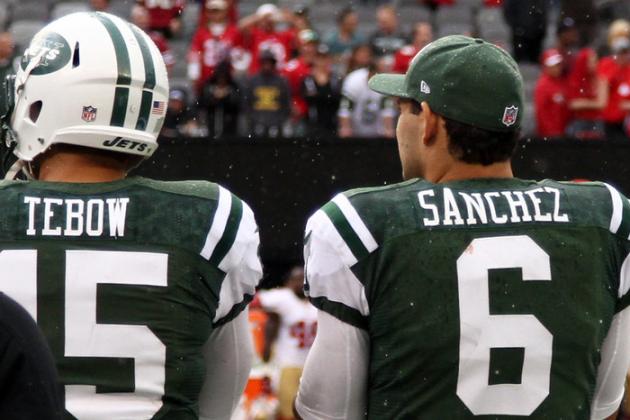 Debby Wong-US PRESSWIRE

This one could get ugly.
The Jets really don't have any playmakers on the offensive side of the ball, and their defense is clearly not playing up to typical Rex Ryan standards.
While I believe Ryan will get his team up for this clash with the mighty Houston Texans, Gary Kubiak's club has way too much talent on both sides of the football for Gang Green to pull what would be a miraculous upset.
Arian Foster will wear down New York's rush defense, and Matt Schaub will easily out-duel Mark Sanchez.
Could this be the impetus to Tebow-mania in the Big Apple?
Texans 30, Jets 13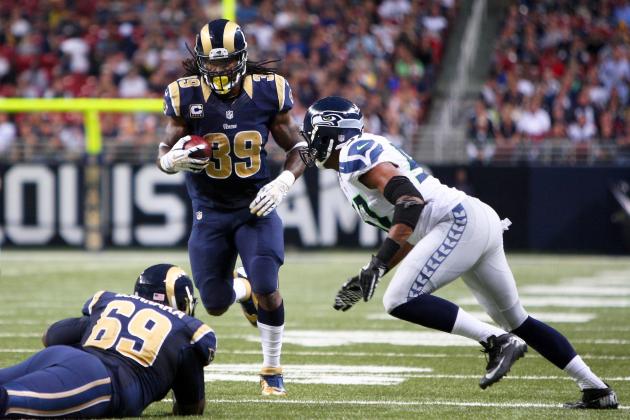 Scott Kane-US PRESSWIRE

The 4-0 Arizona Cardinals take on the 2-2 St. Louis Rams in tonight's Thursday night matchup, one that is exceptionally more intriguing now than many believed it would be a month ago.
Both teams have secondaries ranked in the top six in terms of average QB rating allowed through four games, and boast sound pass-rushing defensive lines.
Both Steven Jackson and Darnell Dockett should play in this one. There aren't any other major injuries on either side.
Defense should dominate this NFC West clash, and though the Cardinals come in as the favorites, I really like the Rams at home.
Cortland Finnegan and Janoris Jenkins are emerging as one of the best cornerback tandems in the NFC. They have done an amazing job stopping the pass while only receiving little help with only six sacks from the defensive front seven.
They'll limit Larry Fitzgerald and Co., and Sam Bradford will utilize a quick passing game with Danny Amendola and his running backs to lead his club to their first record over .500 since 2006.
Rams 20, Cardinals 17
Final: Rams 17 Cardinals 3