Boston Red Sox: Some Outside Choices Make a Good Case for Manager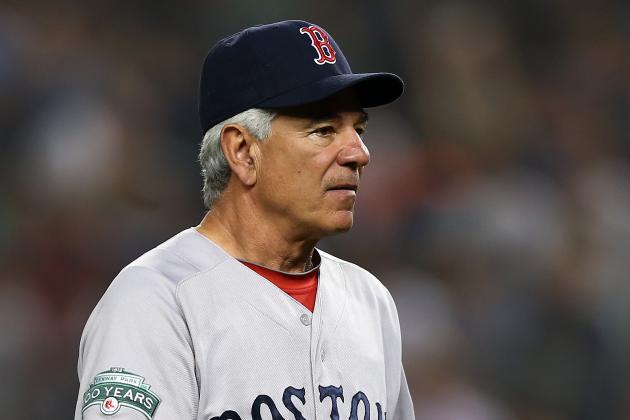 Elsa/Getty Images
Bobby Valentine did not appear surprised that he was let go.
The Bobby Valentine era ended quickly last night. After being crushed (and swept) by the rival New York Yankees, the Boston Red Sox' front office did not hesitate to inform their manager that he would not be back in 2013.
It was a move that everybody saw coming. Valentine's tenure was a disaster. The manager was riddled with some awful luck with injuries, never once getting to field the team he expected he would have when he was hired. Yet Valentine deserves his share of the blame as well: The supposedly media-savvy manager who supposedly ran a tight ship was neither of those things.
A truly media-savvy manager would have been better equipped to deal with Boston's thirst for constant updates on their ballclub. This is, after all, a city that places a higher emotional investment in baseball than most.
A real disciplinarian would not have allowed so many anonymous sources to leak so much negative information throughout the regular season. Valentine never seemed in control in Boston.
So the real question concerns Valentine's replacement. Many names have been mentioned, though Toronto Blue Jays manager John Ferrell seems to be the leader in the clubhouse. Here's a look at a few outlier candidates that may turn out to be fantastic fits with Boston.
Begin Slideshow

»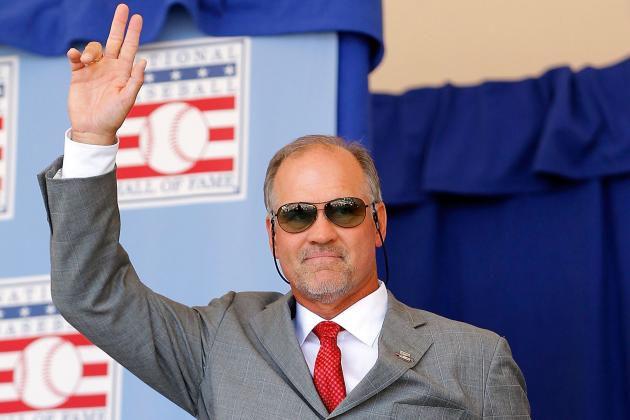 Jim McIsaac/Getty Images
Ryne Sandberg during his Hall of Fame induction.
The Hall of Fame second baseman would have been an interesting pick for the Red Sox. If nothing else, it would be fair to guess that Sandberg could have pushed Dustin Pedroia to the next level. It would also be easier for Jacoby Ellsbury to take advice from someone who could hit for power and steal bases in his playing days, as those people are rarities.
The bad news is that Ryno is off the market for all intents and purposes, having gotten the "call-up" to Philadelphia this morning after two years managing their AAA club, the Lehigh Valley Iron Pigs. Turning away from Philadelphia now would be a move best described as "Belichickian"; a move not dissimilar to the football coach's tenure with the New York Jets.
There also might be a case of "insiders know something nobody else knows" about Ryne Sandberg, as the manager was not even interviewed for the opening in Boston last year, nor was he considered in the Chicago Cubs' search despite his lasting popularity around Wrigleyville. Perhaps he has been Philadelphia's manager-in-waiting for longer than just a morning.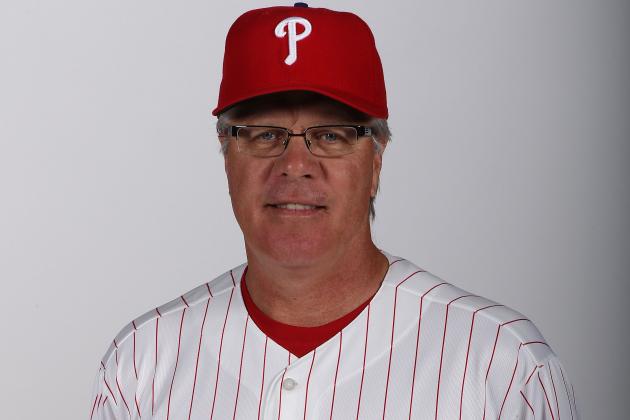 Nick Laham/Getty Images
Pete Mackanin is one of the holdover candidates from last season.
Mackanin was one of the first candidates interviewed for the Red Sox job the last time around. There are some things working in his favor. Most notably, Mackanin has dealt with big name and big money players in Philadelphia such as Ryan Howard over the years. He's also familiar with the pitfalls of managing in a big market with a powerful local sports media and vocal fans. Dealing with some of the fan complaints about Charlie Manuel over the past few years (believe it or not, Phillies fans are torn on Manuel) can only help someone who could end up managing in the pressure cooker of Fenway Park.
Mackanin has been an interim manager twice—replacing Lloyd McClendon in Pittsburgh in 2005 and Jerry Narron in Cincinnati two years later—but has never managed a Major League club under more permanent circumstances.
A word of caution with Mackanin: Although he was interviewed for the Red Sox job, he was not in the top tier of candidates at the end of the process. This could mean that the front office is simply not sold on Mackanin as a manager. With a rough season in Philadelphia not tipping the scales, he seems a long shot.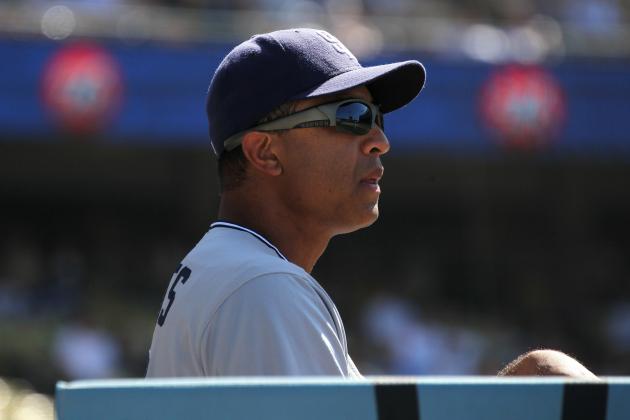 Stephen Dunn/Getty Images
Dave Roberts might not have managerial experience, but Boston loves him.
While Roberts has zero managerial experience, he would in many ways be a very safe choice for the Boston Red Sox.
For starters, Roberts has built up a tremendous amount of goodwill in Boston. His steal kick started the 2004 ALCS comeback. Since then, he's worked with NESN as an analyst before pursuing coaching work with the Padres. Roberts rarely fails to mention how well he has been treated by Red Sox fans, or how grateful he is for the constant support.
Combine that with the success Mike Matheny has seen as manager of the St. Louis Cardinals despite having no experience. While St. Louis is not Boston, it is also not the middle of nowhere. Cardinals fans pay close attention to their team, and there were high expectations coming off of a championship run. Add in other young managers like Joe Girardi (who saw almost instant success in Florida and has since gone on to a successful tenure in the Bronx), and it's not out of the realm of possibility that Roberts becomes The Guy.
All of this adds up to Roberts being the candidate who would be given the longest leash by media members as well as fans. Valentine may have been on ESPN for a short period, but Roberts worked with the reporters that cover the Red Sox on a day-to-day basis, and whose opinions have proven capable of shifting how fans feel about a person. Roberts is unlikely to be so easily angered by local media because of his laid-back personality and his appreciation of the good side of Red Sox fans.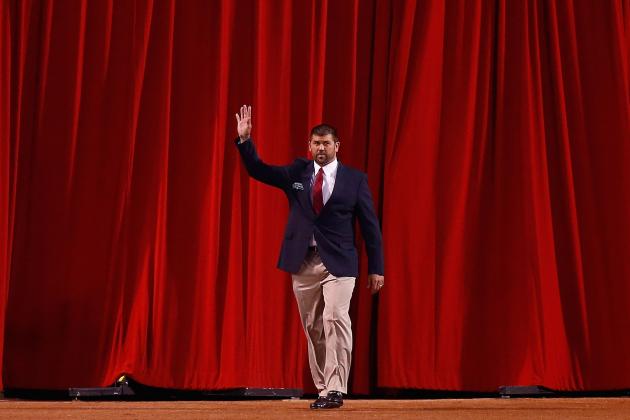 Jared Wickerham/Getty Images
Is Jason Varitek waiting behind the Red Sox' curtain?
Although he has less coaching experience than Roberts, Varitek's captaincy could be viewed as a similar leadership role. (The problem with that being that Varitek was the captain of the Red Sox in September of 2011.)
Jason Varitek has seen the entire spectrum of Red Sox baseball. He has seen managers that fans have disliked, he has seen media fallout, and he has seen a successful manager. This does not necessarily mean that 'Tek would be equipped to handle the media pressure in Boston, but it certainly means he is unlikely to be surprised by any turn of events or change in fan feelings.
If Varitek is still interested in continuing to work with the Red Sox after all that he's seen happen to Jimy Williams, Grady Little, Terry Francona and Bobby Valentine, that shows a level of devotion to the franchise that is at least worthy of consideration.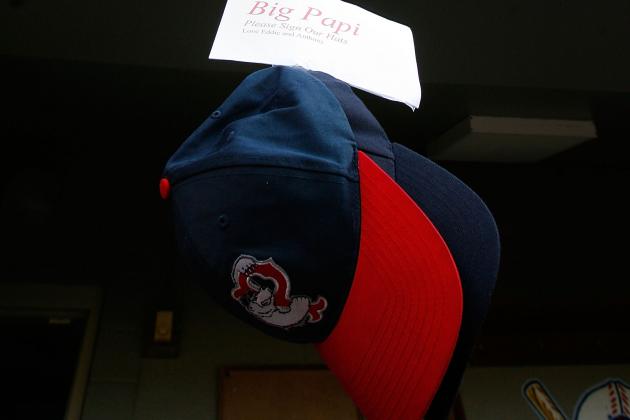 Jim Rogash/Getty Images
With so many players going between Boston and Pawtucket, how about the manager?
Bleyler has no Major League experience on any level. As a player, he never reached "the show," and as a coach he has been entirely a minor league guy. Yet Pawtucket managed to win the Governors' Cup in 2012 after winning its division the year before.
Bleyler is at .515 for a managerial winning percentage. Winning more than half of the games he's managed might not seem eye-popping, but consider the Herculean task of the minor league manager. The Pawtucket Red Sox were constantly swapping players in and out from Boston due to the big club's rash of injuries and their poor performance throughout the season.
Perhaps after twelve seasons as a successful minor league manager, Bleyler deserves a promotion. If not the manager's job (that would certainly be a tough introduction), he might deserve a shot as a bench coach.
Elsa/Getty Images
The Dodgers like Bill Mueller, but maybe Mueller could return to Boston.
If Dave Roberts is going to be mentioned in Boston coaching discussions forever because of a stolen base, how about the guy who knocked him in? Mueller is well-regarded in the Dodgers' organization. Mueller has no managerial experience, but he has certainly seen a wide range of what can happen to a manager.
Knowing exactly what Boston does for a winning team is a powerful incentive. Knowing how bad things get when a team like that loses is every bit as powerful. Mueller saw fan fallout in LA last year during the McCourt fiasco, so he should be familiar with the lows of baseball as well as the highs.
If Mueller wants to have a long career in coaching and/or front office work, he might be in a better situation now. The Dodgers may have missed the playoffs this season, but the commitment of money from their ownership and less-than-subtle talk of their goals could foster optimism in Chavez Ravine.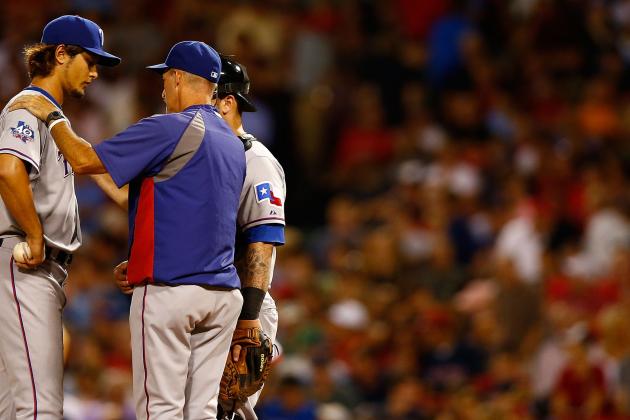 Jared Wickerham/Getty Images
With the Rangers' recent success, Mike Maddux has become one of the league's finest pitching coaches.
Why is Maddux a long shot? Because, just one year ago, he was hesitant to pick up his family and move them from Arlington to Boston. Had that been multiple years, perhaps his children would have been more well-equipped for a move, but it's hard to see how one year could change everything with Maddux.
Make no mistake: What Texas has done with their entire roster is remarkable. Anybody tied to that Rangers team would be a good managerial candidate in light of the run they've had (and may continue to have). If Joe Maddon and Mike Scioscia are the brain trust managers of the league, Ron Washington's crew in Texas is not far off.
It is just worth wondering, though, if much could have changed for Mike Maddux in 12 months. It may seem like longer here in Boston, but it's only been one year.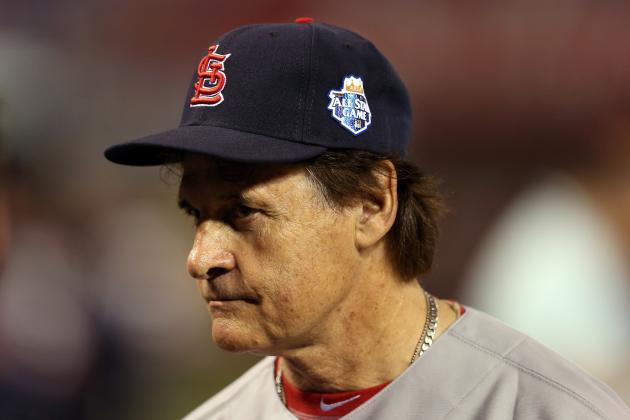 Jonathan Daniel/Getty Images
Tony LaRussa's only managing work last year was in the All Star Game
The longest of long shots among the three veteran managers that will appear on this list. LaRussa seems happy in retirement, pursuing a life outside of baseball. That is not the only thing making him a long shot.
Tony LaRussa would be a controversial pick in Boston. While the former White Sox, Athletics and Cardinals manager has been successful, he has had difficulties with the press in the past.
Some fans would be optimistic. LaRussa, in many ways, manages a bit like Bill Belichick coaches. He's secretive, slightly combative and controversial. While this could work both for and against him, some immediate success would actually shield him from the kind of media scrutiny that Bobby Valentine simply could not avoid.
Other fans would be very pessimistic. Casual fans, for example, would hate every moment of LaRussa's tenure. This is, to refresh everybody's memory, the pioneer of the one-out reliever and the situational moves that have extended the length of baseball games so much. If Red Sox-Yankees games take a long time now, just imagine how long they would be if LaRussa were involved.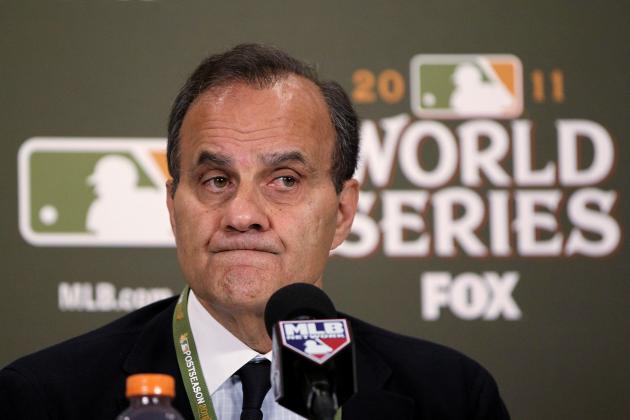 Jamie Squire/Getty Images
Talk about outlier candidates: Could the Red Sox call Joe Torre?
Torre is not fully retired, as he works for Major League Baseball in an official capacity and manages the United States' World Baseball Classic squad. Torre has also publicly expressed that he is happy where he is.
That is not to say that the Red Sox should take him at his word. A successful manager who knows high-pressure markets as well as anybody in baseball, Torre would be a good move for the Red Sox if a highly unlikely one. It should go without saying that such a move would enrage supporters of Boston's traditional rival.
Torre, in his time in New York, went out of his way to speak kindly of Boston as a city and of Fenway Park as a ballpark. So, while Torre is most easily identifiable as a former Yankee manager, the door certainly would not be shut.
The biggest hurdle in signing Torre—or any manager who doesn't desperately need the work—is that Joe Torre would likely not stand for anonymous sources leaking negative information. To even get their foot in the door, Ben Cherington and Company would need to convince Torre that those days are long over. If they do not, Torre really has no reason to take a job that could backfire so badly.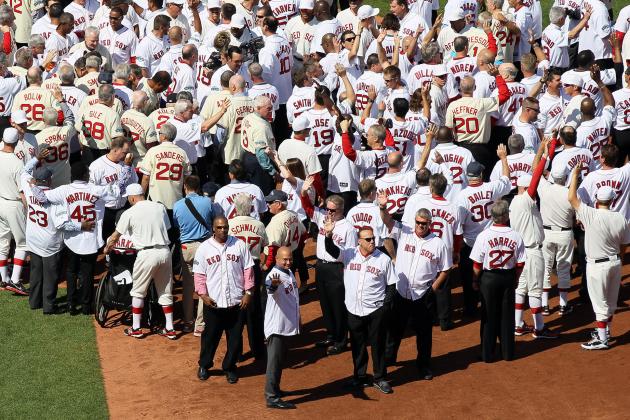 Elsa/Getty Images
Francona received the loudest ovation during Fenway Park's 100th Anniversary Celebration.
If this were an election, Francona's polling would suggest a landslide. Bostonians were not happy to see the manager go, and would certainly hire him back if they could.
Of course, unless the entire situation takes a full turn, they can't.
The fallout from Francona's resignation last season left a bad taste in the manager's mouth, and rightly so. Turning to the same people responsible for letting that information out and working with them again would require the kind of patience nobody has.
There would need to be apologies. Many apologies. Even then, the road to success is not entirely clear. What if the Sox start out poorly again? Would echoes of 2011 start? Would they ever stop?
The problems in hiring Francona would likely be similar when dealing with DeMarlo Hale or Brad Mills, two bench coaches "Tito" trusted quite a bit. One imagines that it would be hard for either of those guys to come willingly to Boston unless they know things have changed since the day Francona was let go.