USC vs. Utah: Live Scores, Analysis and Results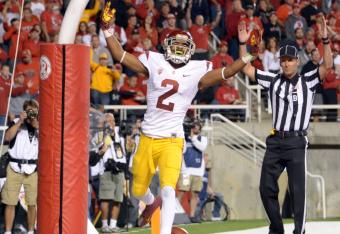 USC - 38, Utah - 28, FINAL

USC got off to a rough start, getting down 14-0 before they roared back to life to win the game decisively. Make no mistake, that last Utah TD was a garbage TD in the final minutes of the game - the kind USC tends to give up.
Matt Barkley was inspired in the fourth quarter - connecting with Marqise Lee on an 83 yard touchdown pass. Morgan Breslin applied pressure to Utah QB Jon Hays, and Nickell Robey got the interception for a TD.
Curtis McNeal and Silas Redd both left the game with injuries.
And that's a wrap, folks. It's been great fun. I'll see you next Saturday for USC @ Washington. Kffin versus Sarkisian.
That Husky game, it is always a trap.
USC 38
Utah 28
FINAL
USC has given up 100 yards in penalties tonight.
And USC gives up a BS TD late in the game as they tend to do. I have to say, I hate that.
This could be a 52-7 game if those first two USC mistakes that became Utah TDs didn't happen.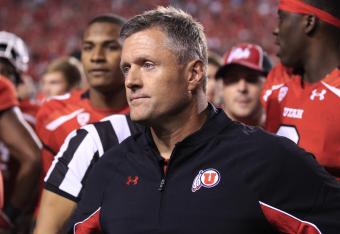 Utah Coach Kyle Whittingham looks shell-shocked. And yes, I wish I had a screen grab of his face too.
I am greedy. I want USC to score again before the game is over. THIS 4th quarter team looks like the USC we all expected them to look like.
USC's defense has quietly stepped up and done a great job tonight.
And Lane Kiffin is a different coach in the 4th quarter. 38-21 USC and he is still calling aggressive long passes to Lee and Woods. Love it.
Silas Redd's recent inaction leads me to believe he's hurt.
— Pedro Moura (@PedroMoura) October 5, 2012
With Curtis Redd also out hurt, this is not a good sign. Not at all.
Khaled Holmes is holding monster Ute Star Lotulelei and keeping him from applying pressure to Barkley. Welcome back Holmes, the Trojan nation has missed you.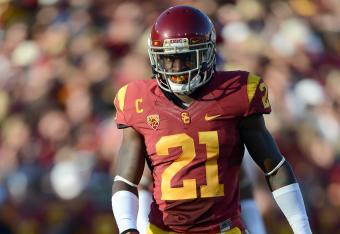 Utah stormed out of the gate in this game with a quick 14 points. They've scored 7 since then. And the USC defense has woken up.
Interception!!! Morgan Breslin applies the pressure, Nickell Robey intercepts and runs it in to turn this game into a ROUT!
USC 38
Utah 21
Truth:
Barkley: 21 of 26 for 298 yards with 3 TDs, no INTs. Some might have forgotten how good he is. He's reminding them.
— ESPN_Pac12blog (@ESPN_Pac12blog) October 5, 2012
There's no questioning Matt Barkley's arm strength. He hucked that TD pass to Marqise Lee from his own 8 to the Utah 33

— CollegeFootballNews (@ColFootballNews) October 5, 2012
There really isn't anything quite as fun to watch as that crazy long pass to a wide open receiver for a touchdown.
THAT looked like the Matt Barkley who entered the season the Heisman front runner.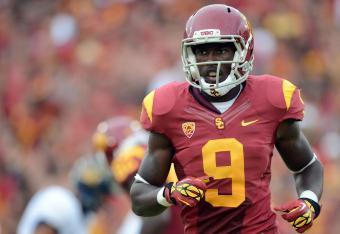 But I'll also take an 83 yard Barkley pass to Lee for a touchdown too!!!!!!!
Defense seems to have woken up. Held Utes to no score, thankfully.
Now if the offense can hold onto the ball for a long time with a nice long drive and score, that would be good.
Clock management in the 4th will be crucial. And keeping the Utes from scoring, obviously.
Andre Heidari, who never misses, has now missed two field goals.
Start of the 4th quarter. I'd love to see USC score .And ALMOST, wow. Xavier Grimble misses the ball.
Meanwhile, USC has 11 penalties and RB Curtis McNeal will not be returning to the game after suffering an injury in the first quarter.
HA HA The announcer just said "You guuuuuys, Matt Barkley is on FIRE." It just sounded funny to me.
TE Randall Telfer down on the field being attended to.
We all knew USC's depth would be a problem but MAN, I never thought it would or could be THIS big of a problem.
I know, I know, I was living in denial. Or fantasyland. Whatever.
Marqise LEE with the first down. Lee is having a good night, considering the offense isn't looking the best. We're nearly to the end of the third quarter with NO SCORE at all this quarter.*
*So far. I hope.
Welcome back DJ Morgan! He's newly back from injury. Nice little run there.
Is it just me or is the pace of this game slow?
And why is Silas Redd being worked on?
TJ McDonald! Haven't heard his name a lot this season, bizarrely. This was supposed to be the season of 7 & 7.
Come on USC D! Wake up! What the flip is going on with this team?
3rd-and-14 but USC's offense really looks like it is clicking. Yet, Utah manages to hold the Trojans to a field goal attempt. Heidari's 40 yard attempt is no good.
This article is
What is the duplicate article?
Why is this article offensive?
Where is this article plagiarized from?
Why is this article poorly edited?