UFC 153: Silva vs. Bonnar Media Conference Call Live Blog and Updates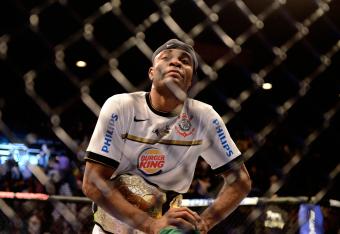 Mark J. Rebilas-US PRESSWIRE
UFC 153 is right around the corner and the UFC will be hosting a conference call this afternoon for the press to speak with the main event fighters.
Anderson Silva will be moving up in weight to fight Stephan Bonnar, while Antonio Rodrigo Nogueira faces off with Dave Herman.
The call will have Silva, Bonnar, Nogueira, and Herman speaking about their upcoming bouts on October 13.
Join Bleacher Report this afternoon for a live blog of the call at 4:00 PM ET/1:00 PM PT.
Stephan Bonnar: It really came as a surprise. I campaigned for a big fight and I never got them. In my head I was over the whole fighting thing. I talked to Dana and it looked like I wasn't getting any of the things I asked for. If I wasn't getting the big fights, I have no problem not doing this. I've never been one to fight for the title, I'll always steal the show. I told him how I really felt and he told me that I should probably hang it up. I just did this for fun and not for any belts.
Big Nog: Right now I don't want to fight for the title because Junior Dos Santos is my friend. If it as another fighter then sure. But he's like my brother.
Stephan Bonnar: I've been in some big fights but the one with Forrest was on a smaller stage. It got a lot of attention. But the chance to fight the best fighter in the world in a place like Brazil? It feels like I'm in a movie.
Stephan Bonnar: I was very close to Carlson Gracie. I feel like Brazil is apart of me and who I am as a fighter.
Anderson Silva: It will be nice fighting someone who has one of the longest careers in the UFC.
Anderson Silva: Dana said that Bonnar was the biggest challenge of Anderson's career and I took this fight because I want to give back to all the Brazilian fans. I do feel like he is a good challenge.
Anderson Silva: Win or lose I want to put on a great performance for fans. No matter how long it takes to win this fight, you should be prepared for as many rounds as it takes.
Stephan Bonnar: I don't believe I ever said that making weight was ever a trouble for me. I said that coming out of retirement and being in shape will be tough for me. I am in good enough shape to fight three rounds.
Anderson Silva: I'm always trying to improve myself and I want to show my kids the proper ethics.
Anderson Silva: If my team told me that I wasn't in condition to take the fight, I wouldn't have. I felt like I was in good enough shape to step up and save the show.
Seriously, the reception on this call is awful. It sounds like someone is underwater. Didn't know Aquaman was fighting.
Anderson Silva: I'm always looking to create new things to improve myself. Throwing the ball against the wall is to really work on my headmovement.
Anderson Silva: Everything I have gone through and all the fights have made me one of the best finishers and built me up to where I am at.
This is almost totally unlistenable.
Anderson Silva: The main thing for me is to be as creative and technical as I can and to do what I do best.
Stephan Bonnar: I'm juggling the training and baby stuff pretty well. It's the media stuff that he has me about to go postal. I'm doing an ungodly amount of media.
Dave Herman: I'm really excited about fighting Big Nog. He's fought pretty much everyone. I'm excited to see how I match up against him.
Alrighty! We're on our way!
Still getting those additional participants, guys. Just be cool and wait and I'll have some pretty awesome updates.
Checking in! The media call should begin shortly. They're waiting for additional participants. Expect updates to begin within the next 5-10 minutes.
This article is
What is the duplicate article?
Why is this article offensive?
Where is this article plagiarized from?
Why is this article poorly edited?