My Philadelphia Eagles Off Season Predictions (March 8 Edition)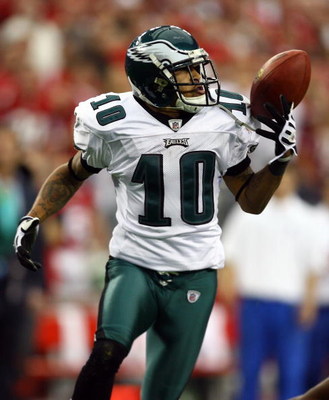 I know, I know........How can someone who just wrote about patience quickly make predictions??
The answer is simple: I LOVE THE EAGLES AND WANT A GREEN BROAD ST PARADE!!
How can the Eagles end the tease of the new millennium and accomplish this goal?? Their approach how they handle free agency and the draft should stay the same. What needs to change is the players they bring in.
Example A: I hated to see Brian Dawkins leave, but I was more upset with the fact that at the time of his departure there was no back up plan in place. The front office's seemed to be caught off guard by his signing with the Broncos.
Bringing in a competent Sean Jones in a low risk/high reward deal was a relief, but it's bad business to allow the situation to happen in the first place.
Example B: Trading out of the first round is one thing. Trading out of the first round two years in a row(2007 and 2008) is another. The bigger issue to me is that the top picks in both years were for players who aren't in the team's primary plans to contribute on a starting level.
Kevin Kolb is only going to start if Donovan McNabb stinks it up so bad he forces a new beginning.
Trevor Laws has two young defensive tackles in Mike Patterson and Broderick Bunkley ahead of him so he's a perennial backup unless he goes elsewhere.
Drafting for depth should be saved for Day 2 picks.
Another philosophy regarding players is the ignorant "We can win with the players we have" approach. There are players aquirable that can make a difference and as long there are holes to fill, cap space should not be a topic.
The bottom line is the Eagles haven't achieved the ultimate goal yet.
Also, the holes they "plug in" with players have ended up being the most exposed differences between wins and losses. In 2007 it was special teams, in 2008 it was fullbacks/tight ends in short yardage situations.
That being said, I predict the Eagles will make some serious moves with more free agents, in trades and the draft.
Free Agency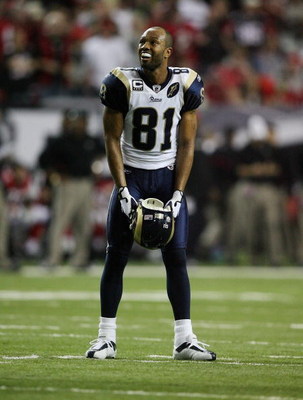 There are four positions the Eagles could fill in free agency.
1. Left Tackle
With the division rivals aggressively addressing their defensive lines, Andy Reid's emphasis in the O-line has never been more vital. Unfortunately, this is the worst time to be unsure at the lines most important position.
My prediction: Once William "Tra" Thomas realizes nobody's going to commit more than a year to a 34/35 yr old with a history of back issues, he'll be back where he was for 11 years.
2. Wide Receiver
Contrary to what some of the Eagles staff say, they need another wide receiver. Not necessary the prototypical "No. 1" guy, but a veteran, sure handed route runner who can take the pressure off Westbrook, Curtis and Jackson.
It's a shame T.J. Houshmandzadeh and his agent ticked off the front office.
My prediction: Torry Holt gets released by the Rams and quickly signed by the Birds. He's a year older than Housh, but still has 3-4 productive years left.
Unlike other big name receivers, Holt doesn't seek a bunch of headline attention, he's successfully played with other weapons(Issaac Bruce and Marshall Faulk) and he has the experience of being part of a Super Bowl winning group.
3. Cornerback
The Eagles have a pretty good group of defensive backs, but they still need to add some size to contend with Plaxico Burress(depending on court status), Roy Williams and possibly Malcolm Kelly.
My prediction: The Eagles sign either Bryant McFadden of the Steelers or Leigh Bodden of the Lions. Both have the size and both are currently 27. The Eagles must act quickly because both are currently considered by other teams now.
4. Fullback
Dan Klecko was an experiment. Kyle Eckel is a stop gap solution at best.
The Eagles need a true fullback that not just block but be a threat to catch out of the backfield if needed.
My prediction: While a FB may be drafted, Leonard Weaver is a veteran of the West Coast offense. Even if for just one year, he needs to be picked up in Philly.
Honorable mention: Defensive tackle. A 4th DT is needed to shore up their rotation. Preferably a run stuffer that's around 320-330lbs that would clog the middle of the line.
Tank Johnson anyone??
He's not a 3-4 tackle which is why he had no success in Dallas. He has character concerns, but I think he may have learned his lesson.
Trades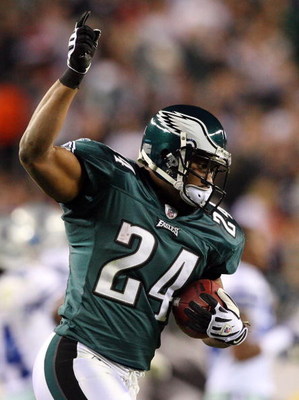 Let's face it. Losing popular players if part of the NFL business. It doesn't hurt as much if you can get some value in return.
The Eagles have already made two trades this off season, but they're far from done.
I don't know where or for what, but there are 5 players I feel may not be here past draft weekend.
1. Sheldon Brown-CB
I've received plenty of flack for this and I'm prepared to receive plenty more. Sheldon is a very good shutdown corner and has laid quite a few hits on victims that have turned into some quite profitable posters.
But, he's been a victim on a few occasions to and as I said in the previous slide, the Eagles need to get bigger at the corner position.
Add his age(30) and his reported unhappiness with his current contract, you have a tradable commodity.
2. Darren Howard-DE/DT
Another guy I've been criticized for mentioning about trading(Mind you, this was before Dawkins left. I hope people realize nobody's safe in this league).
Yes, Howard had 10 sacks. Yes, he can play on the edge or inside on the D-line.
However, he's 33 years old and before last year he was a complete disappointment. He was previously mentioned in "Do they cut Kearse or Howard?" and then "Do they cut McDougle or Howard?".
I personally don't think he'll duplicate last season. Add in the fact that Chris Clemons should be ready to show why the Eagles pursued him last year and Howard becomes VERY tradable.
3. Reggie Brown-WR
A healthy scratch at the end of the regular season and in the playoffs, Brown was supposed to finally be the #1 fans craved for.
Obviously, it never happend. If the Eagles can get something for Greg Lewis, they should get something for the 2005 2nd round pick from Georgia.
4. Winston Justice-OT
Another healthy scratch. This 2006 2nd rounder from USC was supposed to be the heir to William Thomas' domain at left tackle.
We saw what happened in 2007. That said, he was scouted to be a better run blocker than pass protector(the Eagles should read more into these things) so somebody will take him.
Linemen are ALWAYS needed.
5. Omar Gaither-LB
Once the heir to Jeremiah Trotter's throne. Then he was moved to outside linebacker. He ended last year backing up Akeem Jordan and primarily playing special teams for some reason...
I believe Gaither deserves a chance to start again and if it's not going to be with the Eagles, then they need to get something out of him.
Honorable mention: Lorenzo Booker(although he may just end up being released) and Jaqua Parker/Thomas(tendency to wear down towards the end of the season).
Draft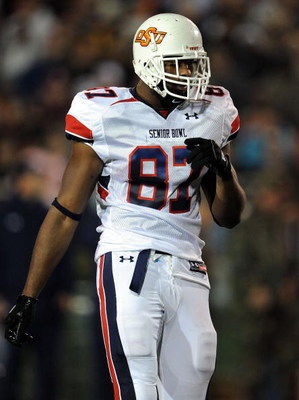 When you look at the upcoming draft class, one could say that it is tailor made for the Eagles current needs.
Need an offensive tackle? Trade up and get one.
Need a running back? Pick a style. Any style. A good one should be available in each round if they want two(hint, hint...)
Need a tight end? Do you want the all around stud in the first or do you a future receiving threat later.
The needs are there and definitely should be available whenever the birds pick. The question is when and how will they make these picks.
Besides the trade bait I mentioned earlier, the Eagles currently have a total of 12 picks(includes 2 first rounders and 4 fifth rounders).
This doesn't include any possible compensatory picks(I predict they'll receive 1 six round pick) which are untradeable.
There is no way the Eagles or any other team will draft 13 or more players. It's just not going to happen.
My prediction: The Eagles will end up drafting probably 10-11 players. Most trades are made during draft weekend.
If they sign the free agents I predicted and use the 5 players I feel are trade bait, they will move up and down as they please in the draft.
Those 11 picks could end up being: The 2 first round picks; 2 second round; 2 third round; 1 fourth round; 1 fifth round; 2 sixth round; 1 seventh round.
Not sure where they'll make the selections but these are my predicted players:
1a: Brandon Pettigrew/TE(Oklahoma St)-The one tight end that can block and catch.
If DeSean can produce big his first year, this guy definitely could too. The Eagles shouldn't pass on him if he falls in their lap.
1b: Knowshon Moreno/RB(Georgia)-I originally thought LeSean McCoy from Pitt but after the Combine Moreno has a chance to fall here.
Either guy would be the heir to Brian Westbrook's spot as well as a competent backup to him while he's still here.
2a: Duke Robinson/OG(Oklahoma)-I didn't pick a tackle, but do you really think Andy Reid's not going to address the O-line?? Robinson would immediately address the interior of the offensive line if Herremans eventually moves to tackle.
If Robinson's not available, they'll probably take Herman Johnson from LSU. He's bigger than Robinson but not as athletic.
2b: Rashad Jennings/RB(Liberty)-Unlike Tony Hunt, Jennings looks like a big back that actually uses his size to his advantage.
Not only would he help address the Eagles short yardage woes, he's a threat to burst for big gains as well. He was originally a 3rd round prospect but his Pro Day showing boosted him to a 2nd round possibility.
3a: Eric Wood/C(Louisville)- Jamaal Jackson has been inconsistent and needs to be challenged. Wood is a guy that has the ability to come in and start immediately.
Antoine Caldwell from Alabama is another center to consider as well. Alex Mack will be long gone, sorry.
3b: Nic Harris/SS or OLB(Oklahoma)- I would love for the Eagles to get Sean Smith from Utah but he'll be gone in the first round. Harris is a hybrid guy that could fit in Jim Johnson's scheme as well.
He definitely would shore up the depth at the safety positions. He didn't have a great 40 at the Combine, but who did?
4: Ramses Barden/WR(Cal Poly-SLO)-Barden's a sleeper pick in my opinion. At 6'6" 225lbs, he would be an instant red zone threat.
5: Louie Sakoda/K(Utah)-Not only does Akers need to be challenged after watching him the past 2 years, Sakoda also can double as a punting making a very versatile special teams option.
6a: Mike Teel/QB(Rutgers)- In the future, either McNabb will succeed and make Kolb tradeable or McNabb will struggle and the Kolb era will begin. Either way it wouldn't help to bring in another young QB to groom.
6b: Anthony Heygood/OLB(Purdue)-While the offense needs to be addressed, one need lost in the mix is a linebacker that can cover TE/RBs as well as play the run.
7: Tony Fiametta/FB(Syracuse)-We all know the Eagles need a "non experimental" fullback to help in short yardage situations.
Post Draft Signings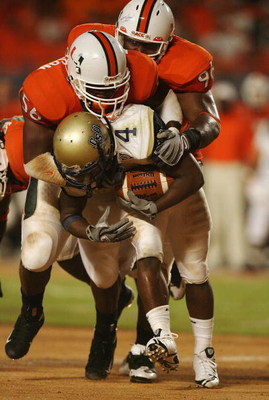 A lot of people don't pay attention to these transactions. The biggest concern is who teams get in Day 1 of the draft.
Just as much as a top pick could end up being a bust, a Hall of Famer could slip through draft weekend unpicked.
This is also a period where washed up veterans could rejuvenate their careers with a team whose need couldn't be addressed in the draft.
This is an underated period of the off season, but history shows that the Eagles have made a lot of starters(Quinten Mikell and Jamaal Jackson) out of undrafted rookies as well as gave others chances to get respectable contracts elsewhere(Hollis Thomas; Roderick Hood).
So yes, I have predictions even for players signed after the draft.
My prediction:
Rookie Free Agents(7 allowed)
1. Antonio Dixon/DT(Miami)-Was a 3rd round prospect before a 2007 injury. A huge run stuffer who could add quality depth at defensive tackle.
2.Nate Ness/FS(Arizona)-Was a Day 1 draft prospect, but wasn't as productive as a senior like his previous years
3. Mike Rivera/MLB(Kansas)-Joe Mays looked excellent during preseason last year, but he will still have trouble getting on the field due to his height.
4. Michael Bennett/DE(Texas A&M)-The Eagles have enough pass rushers on the edges. They need another decent sized left end besides Victor Abiamiri to help stop the run.
5. Brock Bolen/FB(Louisville)-Another option to compete for a much needed position.
6. Chase Holbrook/QB(New Mexico St)-A great training camp option who could find his way onto the practice squad.
7. Steve Rehring/OG(Ohio St)-Big Red can never have too many linemen.
FLY EAGLES FLY!!!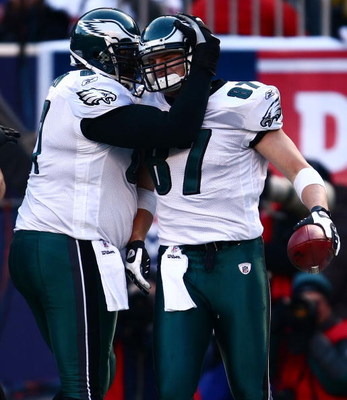 If the Eagles proceed with a plan like this or even just similar to this, all of their needs could be addressed.
If needed and/or if available, I could see them bringing in veterans like RB Deuce McAllister and/or WR Marvin Harrison for insurance purposes.
This is a formula that, with good health and luck, could send the Eagles on a victorious trip to Miami next February.....
Keep Reading