Week 5 Picks: Predicting Every NFL Game Against the Spread
Dilip Vishwanat/Getty Images

A quarter of the season is in the books and things are becoming more interesting each week as we enter Week 5. The Ravens, Texans and Patriots have established themselves atop the AFC, while the Falcons and Cardinals are the only two teams in the NFC with flawless records.
Still, there are teams lying in the bushes in the NFC that may give Atlanta and Arizona a run for their money.
Arizona puts their undefeated record on the line tonight against St. Louis in a game that is much more intriguing than initially thought five weeks ago. The Cardinals have stolen San Francisco's blueprint from last year by winning with defense and a few big plays here and there.
It hasn't been pretty, but plenty of teams would take an ugly 4-0 record right about now.
The rest of the slate for Week 5 appears to be pretty ho-hum. A Pennsylvania battle between the Eagles and Steelers set to take place in Pittsburgh might be the game of the week. Philadelphia is 3-1 with all three wins coming by a combined four points. The Steelers, meanwhile, haven't been heard from since their loss to Oakland two weeks ago due to last week's bye.
Another thing to watch this week will be Drew Brees' attempt to break Johnny Unitas' long-standing record for most consecutive games with a touchdown pass. Brees enters the bright lights of Sunday Night Football looking to extend his streak to 48 games when the Saints take on the Chargers.
There's also an interesting duel on tap between reigning MVP Aaron Rodgers and quarterback wunderkind Andrew Luck.
Another piece of noteworthy news is I managed to escape Week 4 above .500. Thanks to a couple sneaky covers, I went 8-7 last week. That brings the season record to a shameful 29-31-2. Hopefully, Week 5 gets me back in the black. As usual, the point spreads come courtesy of Danny Sheridan's odds section in USA Today.
Begin Slideshow

»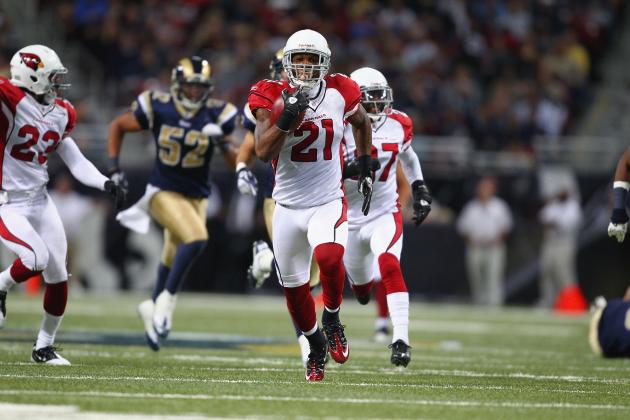 Dilip Vishwanat/Getty Images

The Pick: St. Louis
It's not that I don't believe in these 4-0 Cardinals. They've pulled off some impressive wins and their defense looks legit.
It's that I don't believe they are an elite enough team to go on the road four days after an overtime win against Miami and beat a feisty Rams teams.
Even with QB Kevin Kolb showing signs of life as an actual NFL quarterback, this Cardinals offense still looks stagnant. RB Ryan Williams hasn't taken advantage of incumbent starter Beanie Wells being on the shelf. The offensive line is still a mess. Wide receivers Larry Fitzgerald and Andre Roberts have played well as of late, but they'll be up against a tough Rams secondary.
Granted, the Rams will be taking the field on four days rest as well, but a sluggish game seems to favor St. Louis. They can manufacture a good pass rush with their front four. CB Cortland Finnegan has been putting the clamps on receivers all season. Also, the Rams can pound the ball with RB Steven Jackson and control the clock.
I think this one will be a low-scoring defensive struggle. Normally, that would favor Arizona since they have the better defense. However, they looked sloppy against a Miami team whose strengths are similar to St. Louis'. Both teams will be working on a short week, but only one of those teams didn't have to play in overtime.
Give me the Rams for the upset.
Score: Rams 16, Cardinals 13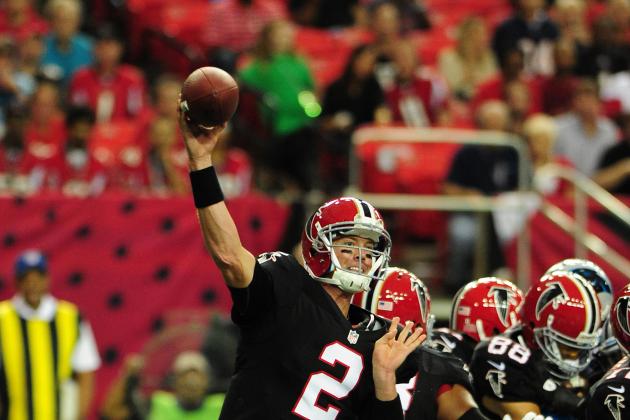 Scott Cunningham/Getty Images

The Pick: Atlanta
The biggest difference in the Redskins' offense with the addition of QB Robert Griffin III is RG3's desire to go downfield in the passing game. With deep threat Pierre Garcon finally back last week, you saw Washington stretch the field more last week against Tampa Bay.
That could make Sunday's game against Atlanta an entertaining shootout between talented aerial attacks. The Falcons showed off their vaunted passing game last week with some long scores from current MVP front-runner, Matt Ryan. Ryan hit Roddy White and Michael Turner for some impressive scores last week against Carolina.
With no Brian Orakpo to make Ryan's life miserable, the Redskins are going to have a hard time slowing down "Matty Ice." Ryan's in the zone right now and he looks like he can make these throws in his sleep. If the Redskins can't find a way to disrupt Ryan's flow, he's going to pick them apart.
The Falcons have also done a good job defensively stifling the pass. They picked off Peyton Manning three times in the first quarter a few weeks ago and held Cam Newton to 215 yards passing last week. If Atlanta was able to contain a dual threat like Newton, I expect the same thing to happen to a similar (yet smaller) QB in Robert Griffin III.
Atlanta will hinder the Redskins' passing attack, but Griffin will still find ways to make plays here and there. The pressure is on rookie RB Alfred Morris to pound away at the soft middle of the Falcons' defense and keep things balanced.
In the end, I don't see Washington getting enough pressure on Ryan to slow him down.
I expect a bounce-back game from Julio Jones, who has taken a backseat to Roddy White the past two weeks thanks to a hand injury. I think this one will have its share of excitement, but the Falcons are just too good right now.
Score: Falcons 34, Redskins 20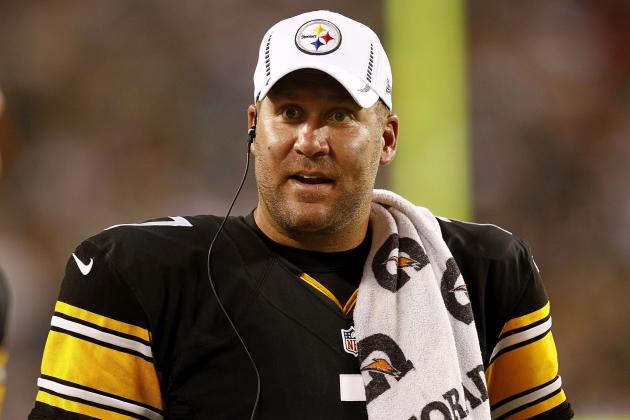 Jeff Zelevansky/Getty Images

The Pick: Pittsburgh
A couple of fun stats to keep in mind. The Steelers are 4-1 in games after a bye week under Mike Tomlin. Ben Roethlisberger is 15-1 at home against the NFC for his career.
Now, both of those records can change if the Eagles maintain their streak of churning out close victories. After all, these are the same Eagles that beat a Ravens team that is much better than the Steelers.
Still, Pittsburgh will get a boost by the return of three key players.
RB Rashard Mendenhall is expected to make his 2012 debut coming off knee surgery for a torn ACL. Former Defensive Players of the Year, S Troy Polamalu and LB James Harrison, are also both expected to return this week. The return of the latter two should spell trouble for an Eagles offense that has struggled to protect QB Michael Vick.
There's also a sense of desperation for these Steelers. Sitting at 1-3 with the Ravens and Bengals looking down at them, Pittsburgh can't afford to fall into a deeper hole. The Steelers have had two weeks to prepare for this game and you get the feeling Philadelphia's luck is bound to run out.
Given their string of close wins and the fact that they're getting the points, there's a case to be made to take Philly here. However, I think the return to full health brings the Steelers back to normalcy and they are going to put a beating on Vick. We saw how bringing blitzers from different angles in the 3-4 defense can hinder Vick in the Arizona game. I expect more of the same this week.
I think we'll see more of the sloppy Vick that has caused a stir for most of the season. I think Pittsburgh forces him into some bad interceptions. With Harrison back, don't be surprised if he tries to take Vick out early with his infamous brand of on-the-field violence. I also think we see a decent run or two from Mendenhall.
The Steelers are hungrier and healthier. They need this one more than Philly does. I'm going with them.
Score: Steelers 24, Eagles 16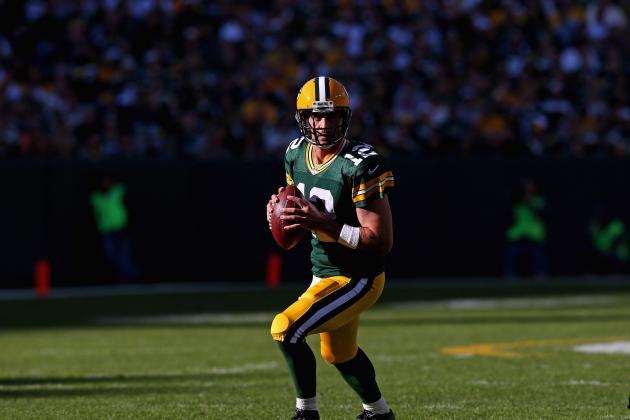 Jonathan Daniel/Getty Images

The Pick: Green Bay
The 2012 Packers remind me of the 2010 group that won it all. Like in 2010, Green Bay took its time working out the kinks and started off slow. They lost some games they should've won and won some games they should've lost. This just might be a team that plays its best when it flies under the radar as opposed to being the heavy favorites.
With that said, this game should be a walk in the park for the 2-2* Packers. Even with Indianapolis coming off a bye, it will be tough for the Colts to stop Green Bay's offense on a fast track inside the dome.
As good as rookie QB Andrew Luck has been so far, the lack of protection he's been given has been his undoing. That's a bad sign with Packers LB Clay Matthews on a tear.
Given Green Bay's occasional tendency to give up the big play, I don't see this being a complete blowout. Green Bay has had its protection issues as well and they'll be without Greg Jennings (groin). They'll need RB Cedric Benson to keep things balanced and keep QB Aaron Rodgers out of harm's way.
The Colts may not have much on defense, but they still have Dwight Freeney and Robert Mathis to rush the passer.
I think Rodgers puts on another solid performance, getting the ball out of his hands early to avoid unnecessary sacks. I see Green Bay's defense giving up some big plays, but in the end, taking advantage of Luck's inexperience. The Packers have covered the spread once this season and that was in a sloppy game against Chicago.
I think they'll win by at least 10 this week, but I wouldn't be surprised if things get close as Green Bay continues to work out the kinks.
Score: Packers 30, Colts 20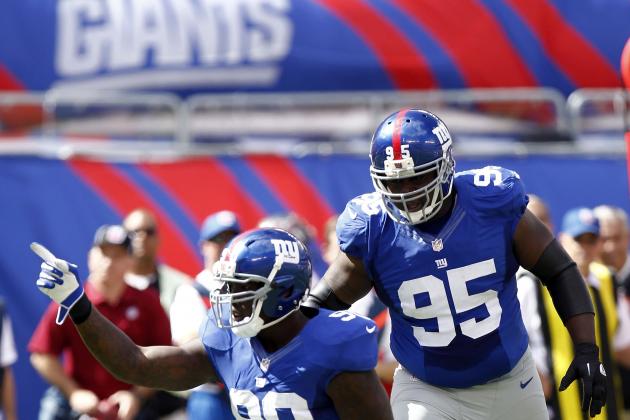 Jeff Zelevansky/Getty Images

The Pick: New York
I'll admit I don't feel good about this one. The Giants are one of the rare teams that don't seem to have much of an advantage at home. It's evident in how they play, especially when you think back to the season opener against Dallas. In a game where momentum should have been riding high, the Giants looked flat in front of a home crowd.
Now, does that mean I think they'll lose to a fledgling Browns team? No. This Giants pass rush is going to harass QB Brandon Weeden, who has made his share of rookie mistakes this season.
Still, Cleveland hasn't really been blown out despite their lack of talent and resulting 0-4 record. They've found a way to make teams play down to them.
The Browns can pull off the upset if they pound the ball with rookie RB Trent Richardson. Richardson hasn't been utilized like the team had hoped because the Browns have had to go to the passing game early and often to play catch-up. The Giants are 21st in the league against the run, giving up an average of 118 yards per game.
If the Browns want to keep Eli Manning and company off the field, they'll control the clock with the running game and not ask Weeden to do too much against this Giants pass rush. It's more likely Richardson has a good game, but Weeden doesn't make enough plays to keep New York's defense honest.
The Giants can't afford to lose two straight, especially one being a home loss to putrid Cleveland. I think Big Blue mixes it up on offense, using RB Andre Brown more than they did last week.
I see Manning having a good game, but still finding a way to throw a pick or two. Inevitably, the Giants are just too much for Cleveland, so I think they win this one. I just don't think it will be as handily as many expect.
Score: Giants 27, Browns 16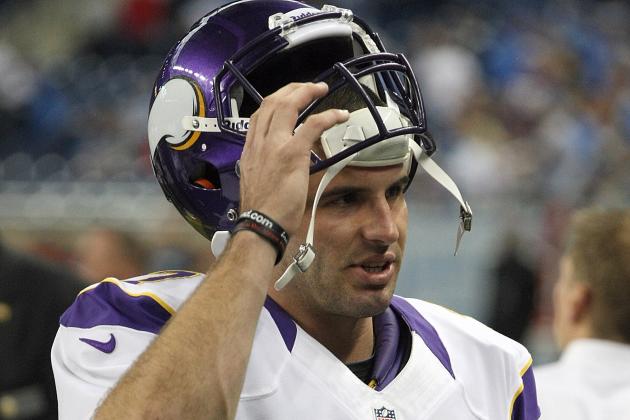 Leon Halip/Getty Images

The Pick: Minnesota
With a quarterback entering his second season and a star RB coming off a blown-out knee, it was easy to expect the Minnesota Vikings to sputter this season. After all, this is a rebuilding team that didn't appear to have the steadiness on both sides of the ball as they did when Brett Favre was in town.
That logic is apparently flawed. Christian Ponder has looked superb through four weeks, making plays with his feet and arm. RB Adrian Peterson has made a miraculous recovery from knee surgery and is starting to show signs of the old A.P. The Vikings are even getting help from their defense, which I thought would take a step back.
The Vikings are where I thought the Titans would be. I thought it would be Chris Johnson, not Peterson, who makes the big comeback in 2012. I thought it would be Jake Locker, not Ponder, who would take the next step. I thought Tennessee's defense, not Minnesota's, would be formidable.
Instead, CJ2K looked like a cadaver up until his big game last week. Locker has managed to injure his shoulder not once but twice, and the Titans defense has looked average.
The result is the Titans are 1-3, while Minnesota is 3-1. Given what we've seen from both teams, it's hard not to like Minnesota here.
Despite showing signs of life last week with his encouraging 141 yard performance last week, I'm holding off on believing in Chris Johnson. The offensive line may have played better. He may have responded better to playing with QB Matt Hasselbeck, who starts again this week. I just need to be further convinced.
I think Ponder continues his hot streak and spreads the ball around against Tennessee. Peterson will keep the Titans defense on their toes and I think we see big games from Percy Harvin and TE Kyle Rudolph. If Johnson can put together another good game, this could be entertaining. However, I'll believe Johnson's back when I see more than one game.
Score: Vikings 31, Titans 17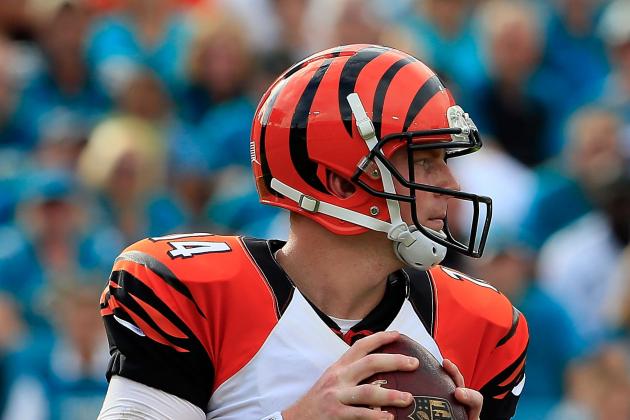 Sam Greenwood/Getty Images

The Pick: Cincinnati
This is a surprisingly good matchup between two rising stars at quarterback.
After a typical slow start, Dolphins rookie QB Ryan Tannehill found his groove last week against a good Arizona defense. Tannehill put up 431 yards passing last week, 253 of which went to Brian Hartline. The result was Miami giving Arizona everything it could handle before losing in overtime.
Bengals QB Andy Dalton, meanwhile, has picked up where he left off last season. He and A.J. Green have become a great young tandem and the other pieces around these two are starting to develop. Jermaine Gresham, Andrew Hawkins and even Mohamed Sanu have showed signs of potential this season.
The Bengals defense has also had its bright spots. Michael Johnson has four sacks and Geno Atkins has five. Leon Hall has four interceptions, while former Cowboy Terrence Newman has two. The balance on both sides of the ball has the Bengals looking like a sneaky team the rest of this season.
This game will be tougher than initially expected for the Bengals though. Miami is very good defensively, particularly against the run. The Dolphins have the fifth-best run defense in the NFL and the team is finally getting a real pass rush from LB Cameron Wake this season. If Tannehill can keep his momentum going, this could be an upset.
The Dolphins have a solid offensive line, which will keep Johnson and Atkins at bay. The Dolphins will put up a fight, but I think Dalton and Green are going to be too difficult to contain. With the running game not expected to be much of a factor for Cincy, I think Dalton wins this one with his arm.
It will be close, but I like the Bengals here by a touchdown.
Score: Bengals 21, Dolphins 14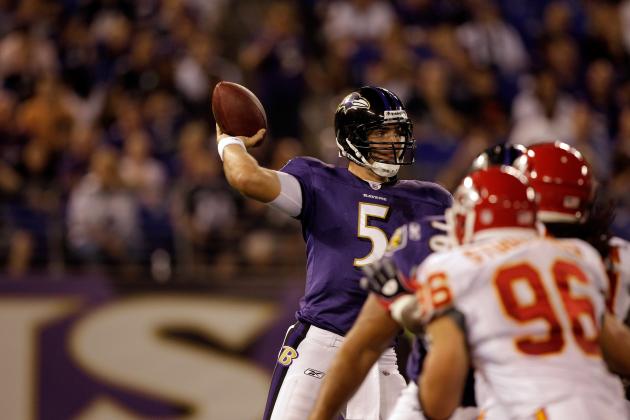 Rob Carr/Getty Images

The Pick: Baltimore
If Brady Quinn wasn't signed to put pressure on Matt Cassel and take over if Cassel fails, then why is he on the Chiefs roster? What have we seen from Matt Cassel so far that suggests he still deserves the starting job? Are we certain Quinn couldn't come in and do, at the very least, a comparable job to what Cassel has done?
The Chiefs have the potential to be a solid team if they can find a steady hand at QB. Maybe that guy is Brady Quinn and maybe it isn't. It's definitely not Matt Cassel.
Cassel has five touchdowns and seven interceptions this season, while completing 58 percent of his passes. Most of his scores have come in garbage time with the game out of hand.
Why not give Quinn a shot against a Ravens defense that has allowed a 300 yards or more through the air for the past three weeks? How much more of a shot does Cassel give Kansas City than Quinn?
The Ravens had 10 days to prepare for this game after last being seen edging out Cleveland on Thursday Night Football a week ago. Joe Flacco has been more hit than miss this season, but the true test for Jersey Joe will come in the postseason. The Ravens need to shore up their pass defense and what better way than against an inept Chiefs team?
If Chiefs coach Romeo Crennel is smart, the Matt Cassel-era in K.C. ends here. A QB as turnover-prone as Cassel is in for a long night with one of the greatest safeties of all time in Ed Reed lurking around the defensive backfield.
Regardless of who plays QB for Kansas City, I think the Ravens rout here. Baltimore has too much talent on both sides of the ball and they'll be well-rested. I think RB Ray Rice has a big game on the ground and through the air. I also think we see more of the evolution of Jersey Joe.
Score: Ravens 34, Chiefs 10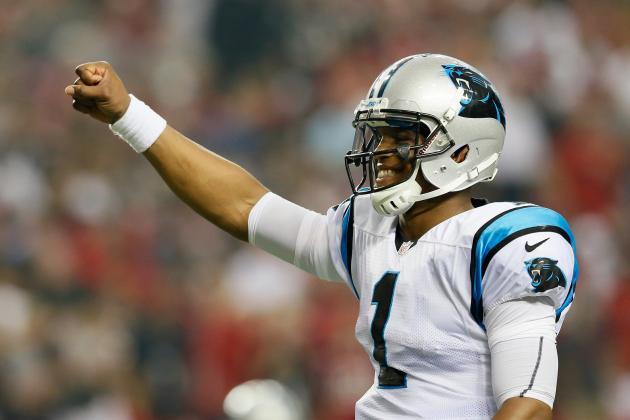 Kevin C. Cox/Getty Images

The Pick: Carolina
I'm worried about Cam Newton.
I worry about what a close loss to Atlanta last week after a blowout loss to New York two weeks ago does to the psyche of a young QB who is the epitome of confidence and swagger. We knew Newton was going to take a step back from last year and the Panthers' struggles aren't completely on him.
You just have to wonder what all of this losing does to the mindset of a guy who was an undefeated champion when he left college. The Panthers don't have much outside of Steve Smith in the passing game to bail Newton out. This week they get a Seahawks defense that stifled Aaron Rodgers and the Packers a couple weeks back.
I have the same concerns about Seahawks rookie Russell Wilson. Wilson put on a great show in preseason and won the starting job over Matt Flynn, but he's looked below average so far this season. With so many rookie QB's putting up big performances this year, when do we get to see Wilson break out?
It could come this week against a bad Panthers defense. Carolina is 22nd against the pass and 25th against the run, so a big game from Wilson and Marshawn Lynch isn't out of the question.
Still, I think if any QB is going to play well, it's going to be Cam Newton. As good as Seattle's defense is, Newton's a force to be reckoned with. This is the kind of game that Newton needs to step up and take charge. I think he'll do just that.
Unless Wilson can expose this Panther defense, Newton will be on the field a lot and he'll wear down the Seahawks. I expect a big game from Newton, and Wilson to have a better game than he's had—but I think Carolina edges Seattle out.
Score: Panthers 28, Seahawks 24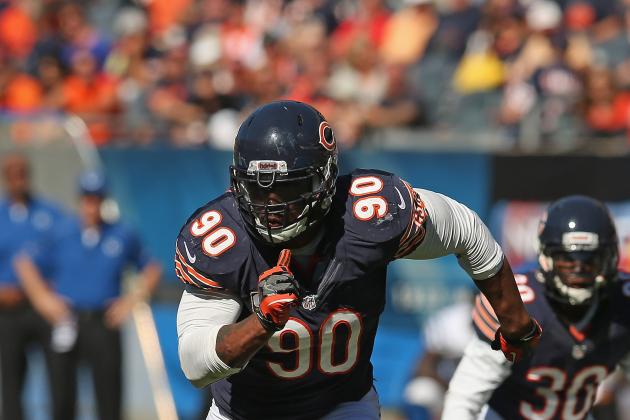 Jonathan Daniel/Getty Images

The Pick: Chicago
This was the easiest pick of the week. The Bears lead the league in interceptions. They are third in sacks and have the fifth-best scoring defense in the NFL. After shutting down Tony Romo and the Cowboys on Monday night, they get a Jaguars team that struggles to move the ball on offense.
As great as the Bears defense will be against a bad Jacksonville offense, all eyes will be on QB Jay Cutler. Cutler drew some heat this week after yelling and shoving beleaguered offensive tackle J'Marcus Webb. Cutler also was seen walking away from offensive coordinator Mike Tice while Tice was trying to discuss the gameplan with his starting QB.
It's immaturity like this that has marred Cutler's career and will be interesting to watch once the games get tougher. Cutler shouldn't have a problem this week. Jaguars QB Blaine Gabbert struggles enough against average defenses, so he should be in for a long day against the Bears. Maurice Jones-Drew saw only 13 carries and will have to move the chains with all the defensive focus on him.
I see Cutler having another solid game to take all the negative press off him following his latest debacle. The Bears can probably afford to keep RB Matt Forte limited in this one. Forte re-injured his ankle against Dallas, but the Bears shouldn't need to rely too heavily on this one here.
I think the Bears shut Jacksonville out here. The Bears are too good on defense and the Jaguars offense is awful. This one will get out of hand fast.
Score: Bears 24, Jaguars 0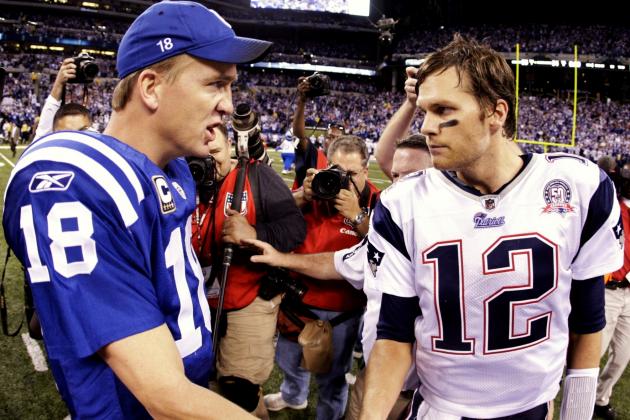 Jamie Squire/Getty Images

The Pick: New England
You knew once Peyton Manning made his comeback that the NFL would rush to jam his rivalry with Tom Brady down our throats. The biggest surprise here is that the one millionth (give or take a few) edition of Brady vs. Manning didn't make it to any of the national television spots.
After questions about his arm surfaced against Houston, Manning unleashed the whooping stick on Oakland last week and stuffed it in the critics' faces. I still remain unconvinced. There's no denying Manning has a lost some zip on his fastball. It may not be time to stick a fork in him, but we're kidding ourselves if we believe that time isn't coming soon.
As for Brady, he throttled the Bills last week after a sloppy first half saw the Patriots down two scores. The Patriots put up 52 points on Buffalo and could have just as easily hit 60. New England took advantage of constant mistakes from Bills QB Ryan Fitzpatrick. You'd like to think Manning won't make those same mistakes.
However, Manning has had his bad days already this season. Atlanta picked him off three times in the first quarter a few weeks ago, and Houston exposed some of Peyton's flaws as well. Patriots coach Bill Belichick always seems to have a good plan for Manning, and—with Manning still a little rusty—I think Peyton struggles this week.
If the Broncos can pressure Brady, I believe they have a shot. However, the Patriots offense showed great balance last week against Buffalo. I also think there is motivation from former Broncos coach/current Patriots OC Josh McDaniels to stick it to his old team as well as pressure on Brady to show up his rival.
I'm going to need more than a good game here and there before I hop on the Manning bandwagon. Brady has been the more consistent QB, so I'm riding with him in this one.
Score: Patriots 31, Broncos 21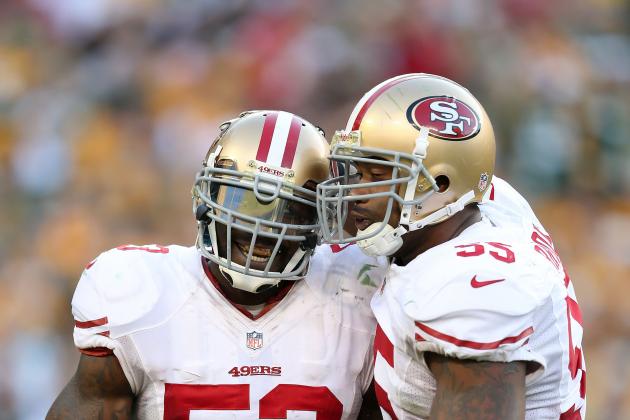 Andy Lyons/Getty Images

The Pick: San Francisco
Last week, I said the Niners would flirt with a shutout and San Francisco made me look wise by blanking the Jets. This week, I expect more of the same.
Expecting back-to-back shutouts is a bit far-fetched, but I'd be surprised if the Bills can manage to get into double digits against the Niners.
For starters, Ryan Fitzpatrick tends to get too careless with the ball. That really hurt them last week against New England, and it will again this week against this tough Niners defense. The Niners are infamous for taking the opponents' run game away and the ground game is Buffalo's bread and butter.
RBs Fred Jackson and C.J. Spiller are going to have a rough go of it here, so the pressure is on Fitzpatrick to not make many mistakes. With very few weapons in the passing game, I just don't see that happening. I think Fitzpatrick forces the issue and the Niners pounce all over him.
On offense, Niners QB Alex Smith has been unspectacular but steady. He's spread the ball around nicely, but is starting to develop chemistry with WR Michael Crabtree. San Francisco also has RB Frank Gore to lean on as well. The key will be keeping Smith protected against a solid Buffalo defensive line.
I think San Francisco hammers Fitzpatrick and shuts down the run. Spiller might be able to find the end zone on a screen or short pass that allows him to use his speed in open space but that's the best chance Buffalo has at scoring. Fitzpatrick has been going to huge Scott Chandler a lot lately, and I expect Chandler to put up some decent numbers.
In the end, San Francisco is too good on both sides of the ball and Buffalo makes too many mistakes.
Score: Niners 27, Bills 7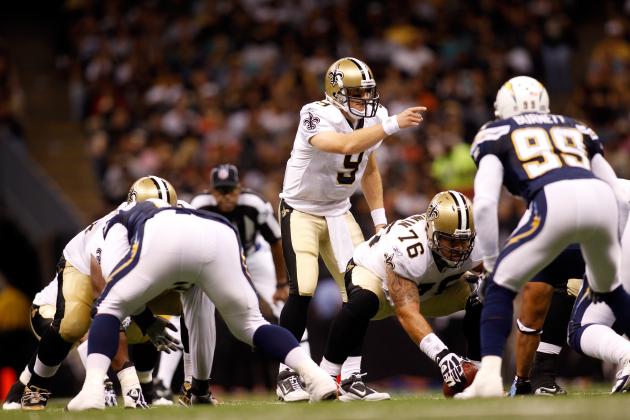 Chris Graythen/Getty Images

The Pick: New Orleans
A couple of intriguing storylines here. Obviously, the biggest one is Saints QB Drew Brees looking to put his name on another NFL record when he attempts to throw a touchdown pass for the 48th consecutive game. That would break Johnny Unitas' record of 47 straight games, set in 1960.
The other story, which has kind of gone away as time passes, is Brees going up against the team that gave up on him. It was the Chargers that drafted QB Philip Rivers in 2004 with the idea of Rivers taking over for the then-slumping Brees. A couple years later, Rivers is the starter and Brees ends up in New Orleans. The rest is history.
The Saints have gotten the better of that exchange, winning a Super Bowl while Brees has put up ridiculous numbers. The Chargers have made a few playoff appearances with Rivers under center, but have never even made the Super Bowl despite some very good Chargers teams in past years.
This year, the shoe appears to be on the other foot. San Diego is 3-1 and poised to make a playoff run, while the Saints are 0-4 in what has been a year filled with controversy. Thanks to the bounty scandal, the Saints are a ship without a captain, and that has shown in their play the last month.
This week, however, they get off the snide. With so much momentum to avoid an 0-5 start and for Brees to pass "Johnny U" at home, the Saints will finally put an end to their losing streak. They've been close in recent weeks, but miscues had them losing to Kansas City and Green Bay.
The Saints defense is horrible, so expect big games from Rivers and Ryan Matthews. Still, I like Brees in a shootout with almost anyone. I think the Superdome will be rocking and Brees will feed off that energy. I'll take New Orleans in a fun one to watch.
Score: Saints 35, Chargers 28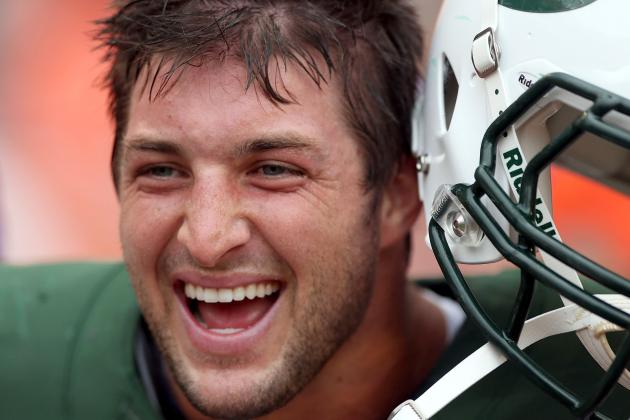 Marc Serota/Getty Images

The Pick: Houston
For the New York Jets, everything that can go wrong has gone wrong. They've lost their best defender in Darrelle Revis and best offensive weapon in Santonio Holmes in back-to-back weeks. Mark Sanchez is struggling like any QB would playing with no weapons and under the pressure of Tebowmania coming to the Big Apple.
In an turn of events we all saw coming, the only thing that's left to possibly turn around Gang Green's fortunes is the half man/half phenomenon known as Tim Tebow. Sanchez will start Monday night against Houston, but it's only a matter of time before Tebow puts his praying hands on the starting job.
In the preseason, I thought New York would struggle and Rex Ryan would be the first coach to get canned. I'm sticking with that prediction.
Whether Tebow can turn things around or not is pointless this week. Houston is the best team in the AFC, and they are going to prove it on Monday Night Football. With the Jets suddenly unable to stop the run, expect Arian Foster and Ben Tate to tee off. That will open things up for Matt Schaub to air it out.
The smoke and mirrors have evaporated for the Jets. They can't run the ball. They can't stop the run. They can't pass and, with Revis out, they can't stop the pass either. This is a team that went from Super Bowl aspirations to staring dead at USC QB Matt Barkley in next year's draft. Things have gotten ugly in a hurry for Rex Ryan's Jets.
Unless Tebow can work his magic, it's only going to get uglier going forward. Texans roll here against a toothless Jets team.
Score: Texans 38, Jets 6