10 Fighters Who Will Be UFC Title Contenders in 2013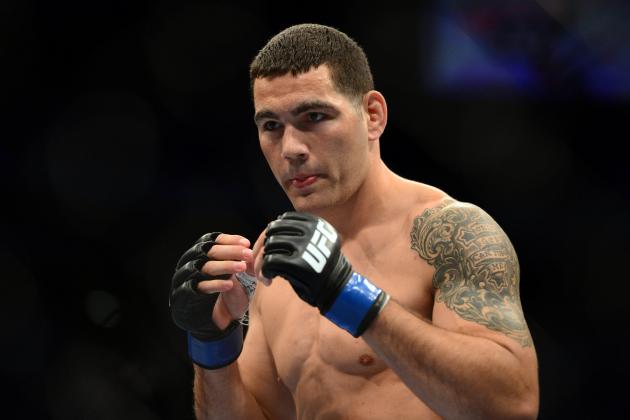 Kyle Terada-US PRESSWIRE

Though the UFC still has eight events left in 2012, only three of them will feature a title fight. UFC 154 has Carlos Condit vs. Georges St-Pierre, the main attraction of UFC on FOX 5 is Ben Henderson vs. Nate Diaz, while UFC 155 will be headlined by Junior Dos Santos vs. Cain Velasquez.
With five of eight divisional title scenes in hibernation for the remainder of the year, it's just about time we begin looking ahead—all the way to 2013—to see what lies on the horizon.
Here, we will do just that, examining which fighters are most ready to fight their way into title contention during the next calendar year.
Beyond the 10 mixed martial artists that will most prominently feature into the 2013 UFC title picture, lists of secondary and tertiary title threats have been included by division.
Begin Slideshow

»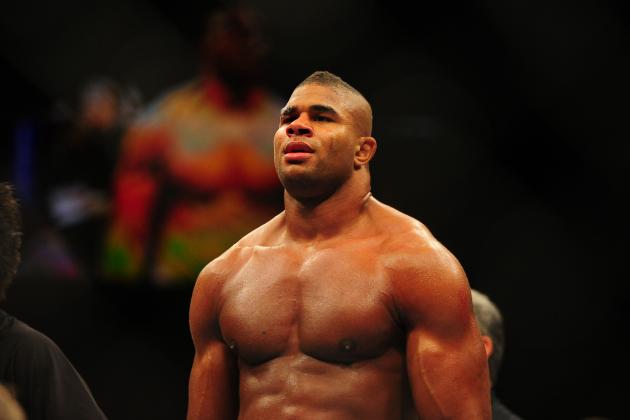 Mark J. Rebilas-US PRESSWIRE

It didn't work all that well in 2012, but you can be sure that "The Reem" will flirt with contendership once again in 2013.
Between his current win streak an the absence of a definitive title contender beyond Cain Velasquez, Overeem will have the opportunity to fight for UFC gold next year, even if he has to win his way into a title match.
There are a number of heavyweights currently on the cusp of breaking through, but Overeem's name recognition and reputation as a striking terror will do him many favors when it's time for the UFC to locate the next heavyweight contender.
Some will scoff at a suspended fighter returning to such a welcome, yet others have been clamoring for it since the infamous failed drug test. Regardless of your position it's probably going to happen, so get used to the idea of an Overeem vs. Dos Santos (or Velasquez) match headlining a show sometime next year.
That's not to say Overeem poses the biggest threat to the UFC champ, only that he embodies the most likely challenge to him.
Other 2013 Heavyweight Contenders:
Daniel Cormier - Can the Strikeforce heavyweight champ still be a contender? With all the speculation of a move to the UFC, you bet he can. It's possible Cormier fights for a UFC title next year.
Stefan Struve - "The Skyscraper's" biggest weakness has long been his inability to handle power punchers in close range. His recent win over Stipe Miocic, however, gives hope that he has figured it out. If that's the case, 2013 could be the Dutchman's year.
Travis Browne - Browne himself feels that a win at UFC on FX 5 puts him in the title mix. Another victory or two next year may earn him an end of the year shot.
Fabricio Werdum - Since returning to the UFC, Werdum has not so quietly been making a title run. That run could hit the finish line next year if his striking continues to develop.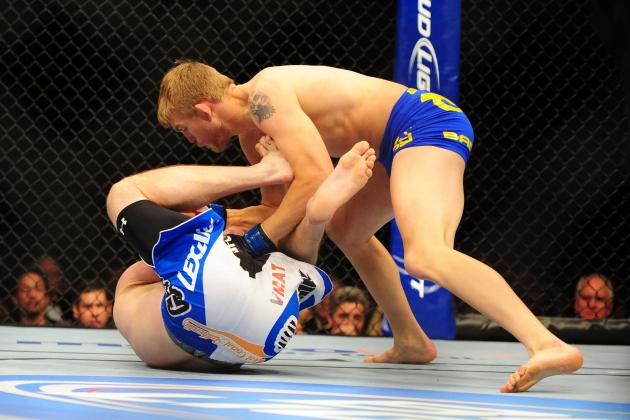 Mark J. Rebilas-US PRESSWIRE

There are a lot of wildcards at play in the current UFC light heavyweight landscape, but if Gustafsson takes care of business against Mauricio Rua at UFC on FOX 5, he may get the first crack at Jon Jones in 2013.
Of course, Lyoto Machida is still in the mix. As is Dan Henderson, who logically gets the right of way once he's healed up. Even Chael Sonnen factors in. Others too, like Rua and Rashad Evans remain ever-present.
So why Gustafsson and not any the others?
Well, Jones has already laid waste to the better part of the 205 pound division and it makes sense for the UFC to get him some new blood. That leaves Henderson, Sonnen and Gustafsson for the immediate future (though Machida could still get a rematch).
I recently opined that Gustafsson is a more deserving title candidate than Sonnen, and since he's in better health than Henderson, a title shot in late winter/early spring of 2013 is his to lose.
This whole scene could get messy, but for Gustafsson it's simple—beat Rua in December and get a title shot next year. Even if he doesn't get the first title shot, he will get a title shot.
Other 2013 Light Heavyweight Contenders:
Mauricio Rua - On the other hand, if Rua beats Gustafsson, he can't be that far from a title shot of his own.
Lyoto Machida - This seems like a no-brainer. However, if Gustafsson does leapfrog Machida, then Henderson gets his chance, Machida may not get what's coming to him until 2014.
Chael Sonnen - No one is better at earning title shots from outside the Octagon than Sonnen. That'll help, but he'll need to look good against Forrest Griffin if he wants a chance to dethrone Jones next year.
Dan Henderson - He may get a title shot when healthy, though he may need to pick up another win first. Regardless, it's very possible "Hendo" fights for the belt in '13.
Rashad Evans - Would the UFC want to promote another Evans-Jones bout as early as next year? Will Evans be at 205 for 2013?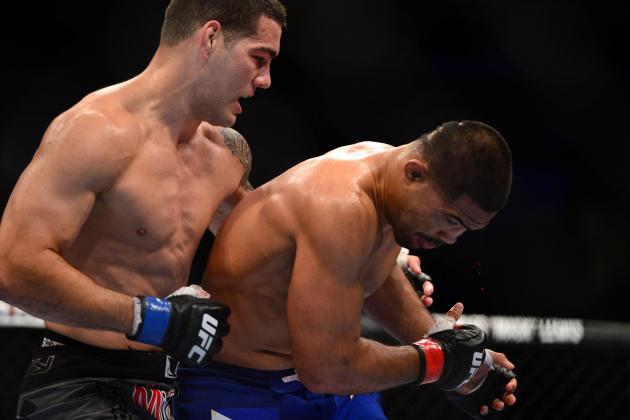 Kyle Terada-US PRESSWIRE

2012 has been a pivotal year for Weidman, who has used wins over Demian Maia and Mark Munoz to propel himself from prospect to contender. 2013 will be the culmination of that transition, as Weidman will likely land the title shot he is after.
That is, of course, assuming the rising star can defeat Tim Boetsch at UFC 155, this December 29.
The end of year match between Weidman and Boetsch is perceived by most to be a title eliminator, if not straightaway, then via a Michael Bisping fight. Regardless of the particular path Weidman or Boetsch set off on after their winter showdown, the winner's road leads in the general direction of the UFC middleweight title.
That I have Weidman on this list and not Boetsch reveals who I think will win their fight.
Beyond scoring a late year 'W' in 2012, count on Weidman to continue his impressive run throughout the next calendar year.
Expect him to compete for a UFC title next year, and don't be too shocked if he ends up making good on the opportunity—even if the man he faces for the honor happens to be the most accomplished mixed martial artist of all time.
Other 2013 Middleweight Contenders:
Michael Bisping - He may actually be the front-runner right now. The biggest problem is that he may have to fight Weidman before he gets his chance. If that happens, he'll need to once again start from scratch.
Tim Boetsch - Would a win over Weidman get him his shot? Personally, I don't think we'll ever find that out.
Alan Belcher - A darkhorse that is pulling in more limelight with every performance, if Belcher keeps winning he could fight for the UFC middleweight strap by the end of next year.
Vitor Belfort - Where does he fit into the division after a failed run at the light heavyweight title?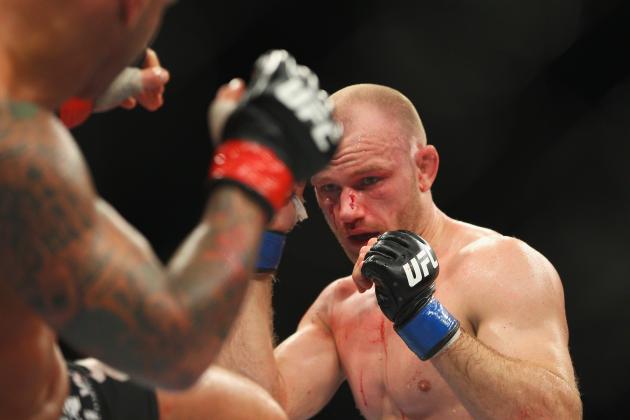 Mark Kolbe/Getty Images

Hendricks and Kampmann will face off at UFC 154 in a title eliminator. The victor will be granted the privilege of fighting for the welterweight title in 2013.
Both guys have been on very impressive runs lately and it's almost a shame the aspirations of one will have to be put on hold.
However, it is far from inconceivable that both fight for the title in 2013. The loser of the UFC 154 match wouldn't be all that far removed from a title shot and a win or two by next summer could have them back on track and ready for a year end bout.
There is a handful of hungry challengers waiting in the wings though, so the only sure way to solidify a 2013 title fight is to secure a victory this November.
Other 2013 Welterweight Contenders:
Erick Silva - If he beats Jon Fitch at UFC 153, how far from a crack at the UFC welterweight strap can he really be? Certainly not so far that 2013 is too soon.
Jon Fitch - Underestimate him at your own peril. Fitch remains a top welterweight fighter, and is one who could earn a late 2013 title shot.
Rory MacDonald - He apparently won't fight Georges St-Pierre, but it isn't a given GSP will be champ for any or all of 2013. If that's the case, look for MacDonald to fly up the welterweight ladder next year.
Joe Camporeale-US PRESSWIRE

A case could be made for Anthony Pettis here, but a loss to Clay Guida and a split decision win over Jeremy Stephens sends up warning signals that "Showtime" might struggle to solidify a title shot in a wrestler-heavy division.
Maynard, on the other hand, has shown there is no lightweight challenger he can't overcome (only a former lightweight champion), and if he continues to win, how can the promotion deny him another title shot?
An impressive win over Joe Lauzon at UFC 155 would do wonders for reasserting Maynard in the division's No. 1 contender slot, and would make him a shoo-in to compete for the belt in 2013.
If you're still residing in Pettis's camp, perhaps we could agree the fairest way to go about deciding the next contender is to schedule a spring showdown between he and Maynard and let each of them make a case.
If and when such a match is made, my money will be on Maynard.
Other 2013 Lightweight Contenders:
Anthony Pettis - His name is more novel to the lightweight title scene than Maynard's, but he needs another win or two before he gets his shot.
Gilbert Melendez - He's clearly the top Strikeforce lightweight. The sooner he comes to the UFC where the competition is more on his level, the better. Here's hoping for 2013.
Donald Cerrone - He's long struggled to to make it to the top tier, but Cerrone's recent win over Melvin Guillard suggests there's still hope. He's always been an active fighter, and a few wins between now and fall, 2013, could see the "Cowboy" fighting for gold next December.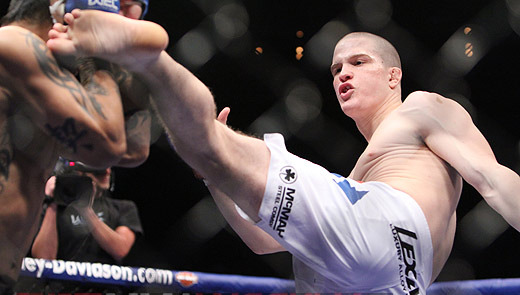 Photo by mmaweekly.com
Though just 24, 2012 was supposed to be Koch's year. Unfortunately, an injury interceded and forced him out of a title fight with Jose Aldo.
But don't sleep on the youngster in 2013—he may or may not receive an automatic title shot, but the chances are good he'll compete for UFC gold one way or another before December 31.
Appropriately nicknamed "New Breed," Koch is as athletic, explosive and well-rounded as they come, effectively embodying the new era of mixed martial artist. These attributes will make him a serious title player at featherweight for years to come, and he isn't likely to wait before making a great big splash, even if he has to wait in the wings for Frankie Edgar to have a go at it.
Of course, taking out a champ like Aldo is no menial task, so projecting a title win for Koch might be premature. But rest assured, he'll, at the very least, put up a more competitive effort than a lot of people think.
Other 2013 Featherweight Contenders:
Frankie Edgar - Recently a lightweight champion, Edgar was ushered into a featherweight title shot upon his arrival in the division. Alas, fate intervened and opponent Jose Aldo withdrew from the contest because of injury. It will eventually happen though, probably in 2013.
Chan Sung Jung - He's been on the shelf for awhile, but the "Korean Zombie" remains very much in the UFC featherweight title picture. It's hard to believe Sung Jung won't get a shot before the end of 2013.
Cub Swanson - He had an absolutely electric 2012. If he keeps the pace, he'll parlay that into a 2013 title shot.
Ricardo Lamas - Since defeating Swanson in 2011, Lamas upset Hatsu Hioki, positioning himself within striking distance of a title shot. Perhaps he'll finish the run next year.
Chad Mendes - Though only one win removed from a failed title shot, Mendes remains at the top of the UFC featherweight class, and could re-engage a champ in 2013. More likely though, 2014 will be his year.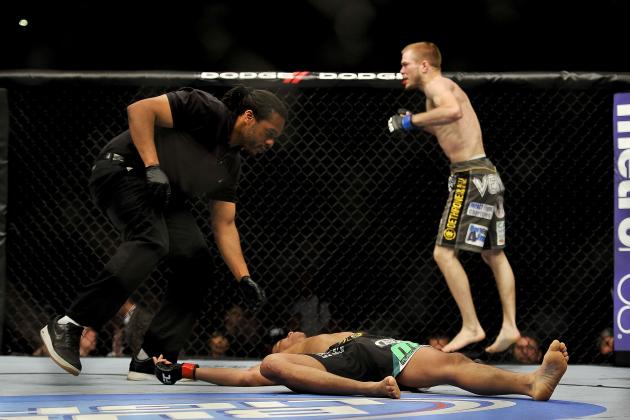 Paul Abell-US PRESSWIRE

Though just 21 years of age, McDonald has entered himself as an elite member of the UFC's bantamweight roster.
While Renan Barao and Dominick Cruz currently share the distinction of division champion, McDonald is an imposing presence that will likely involve himself in the title picture sooner rather than later.
Unfortunately, the list of possible 135 pound contenders for next year have inherently weaker claims to contention than other weight classes because the division has two champions—a fight between the two is a given, and that may take up some time.
Still, McDonald's chances of earning a 2013 shot are high, and he has to be considered a clear front-runner right now.
He'll probably have to win another bout before he gets his chance at a championship match, but given what he has shown inside the Octagon to this point, there is no reason to believe he is incapable of continuing his winning ways en route to a title fight in 2013.
Other 2013 Bantamweight Contenders:
Brad Pickett - A veteran who really hit his stride in 2012, if Pickett keeps performing like he has of late, there is little logic in ruling out a 2013 title fight.
Eddie Wineland - Another fighter on a tear, Wineland has really stepped up his game this year. A late 2013 title bout is well within the realm of possibility.
Mike Easton - This one may be a stretch, but if he starts taking on contenders next year, he may score a title fight in December, 2013.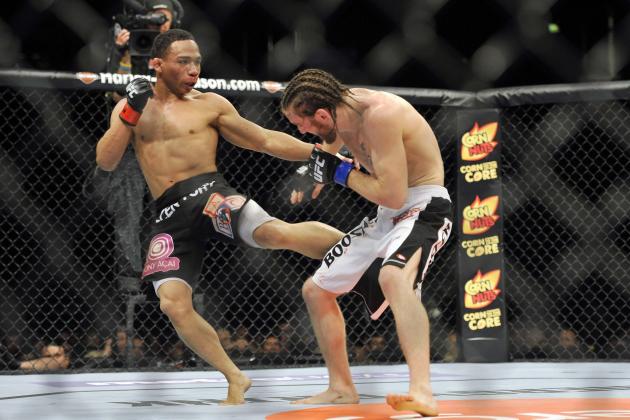 Joe Camporeale-US PRESSWIRE

UFC on FX 5 will feature a de facto No.1 contender bout between Ultimate Fighter alum John Dodson and new UFC arrival Jussier Da Silva.
After winning The Ultimate Fighter in December 2011, Dodson cruised to a decision victory over Tim Elliott this May.
Dodson's opponent, Da Silva, will debut in the UFC riding a five fight win streak, as well as a streak of four consecutive submissions.
The UFC's flyweight division is still very much in its infantile stages, but there is little doubt that both of these competitors are near the top of it. The winner of the bout will be the first contender to challenge new champion Demetrious Johnson, in a fight that will take place next year.
Even the loser of Dodson vs. Da Silva will have time to recover and reassert them self into the title scene before 2013 closes, though such a road will indeed be perilous, with Joseph Benavidez and Ian McCall barring the way.
Other 2013 Flyweight Contenders:
Joseph Benavidez - Though his 2012 title bid fell short, Benavidez is far too good to be kept down for long. Expect him to fight for gold once more in 2013.
Ian McCall - That "Uncle Creepy" landed a draw with Johnson tells you how talented he is. Like Benavidez, he's coming off a loss, but he is also just too talented to not at least flirt with a title shot next year.
John Moraga - After spanking Ulysses Gomez in his UFC debut, Moraga is suddenly a notable flyweight fighter. He could parlay this small accolade into a much more prestigious one before 2014.