UFC on FX 5: Travis Browne and the 10 Best Prospects in the Heavyweight Division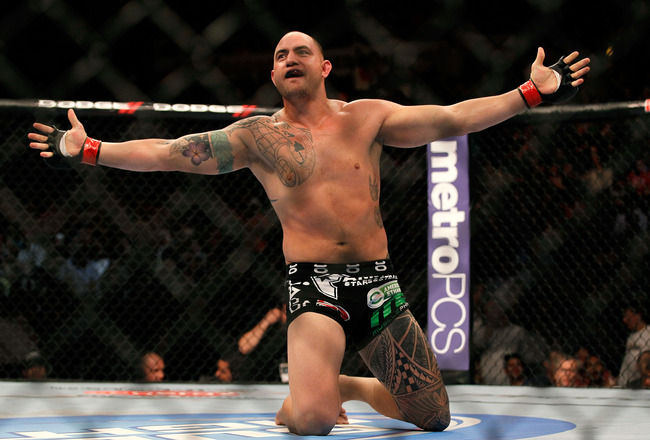 Kevin C. Cox/Getty Images
Ever since mixed martial arts introduced weight classes, the heavyweight division has always been the thinnest on talent.
With a top limit of 265 pounds, it's rare to find men of that size, and even rarer to find athletes. This is why, outside the elite in the Top 10 of the UFC, it's slim pickings when it comes to deciding on the fighters to watch out for in the division.
Nevertheless, a few standout names have caught the attention of MMA fans everywhere, not least Travis Browne. The 30-year-old is set to face Antonio Silva at UFC on FX 5 on Friday.
The hype-train behind Browne is at full steam, but could easily be derailed tomorrow, which is why he is a prospect and not a sure thing.
Here is a list of the 10 heavyweights in a similar situation.
10. Thiago Santos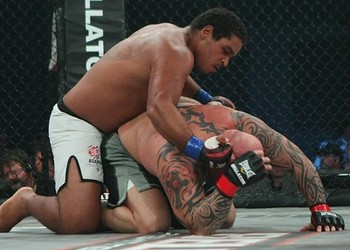 Source: MMABay
The 6'3" Brazilian is currently signed with Bellator, where he's gone three fights undefeated.
Last year, Santos reached the promotion's heavyweight tournament final.
But for a kick to Eric Prindle's groin, he was one step away from fighting for the title.
A BJJ black belt, he's knocked out the likes of Geronimo Dos Santos and submitted a string of worthy opponents.
9. Kenny Garner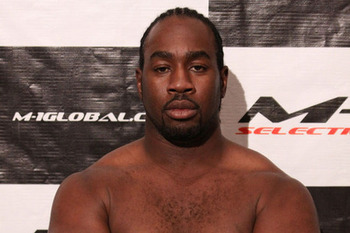 Source: Mix Fight
Kenny "Deuce" Garner fights for M-1, where he's scored seven wins and only one loss.
Garner is a devastating striker, who can claim to have knocked out former Strikeforce and current UFC fighter Shawn Jordan.
He is now riding a six-fight winning streak and hasn't lost since 2010.
8. Guram Gugenishvili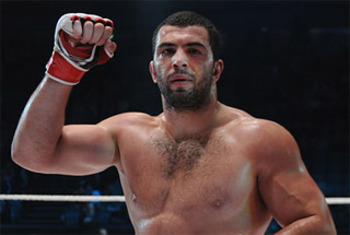 Source: www.bud-zone.com
Pundits have been eyeing Guram Gugenishvili for more than a year now and for good reason.
Another M-1 fighter, he has only one loss—due to an unfortunate doctor stoppage caused by a cut—in 12 fights. This makes him an imposing figure in the division.
Wrestling is this 6'5" Georgian's greatest strength, which he uses to work impenetrable submissions against some of the biggest men in the world.
That includes seven rear-naked choke wins in his career, all in the first round.
What's more remarkable is that this man is still only 26, giving him plenty of time to round out his skills with striking.
7. Matt Mitrione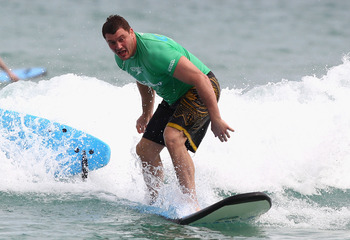 Ryan Pierse/Getty Images
It may be unseemly to put UFC heavyweight Matt Mitrione in this list. After all, he was castigated this week by boss Dana White for refusing to take a fight against Daniel Cormier.
It doesn't help that he hasn't fought in almost a year following his decision loss to Cheick Kongo, either. With that being said, that was an unfortunate loss following a rare lacklustre performance in six UFC appearances.
Up until then, after scraping through The Ultimate Fighter, he seemed like the most impressive prospect in the heavyweight division with victories over Christian Morecraft, Tim Hague, Joey Beltran and Kimbo Slice.
Let's not give up on Mitrione yet.
His decision not to take on Strikeforce heavyweight grand prix winner Daniel Cormier, a man many consider among the top five in the division, is a sound one on reflection.
He would likely have been mauled by Cormier in a fight that could have been career suicide.
After the Kongo loss, Mitrione has been working diligently on his skills. His refusal to be thrown to the lions shouldn't be taken as a sign of weakness. He still has all the potential in the world.
6. Ben Rothwell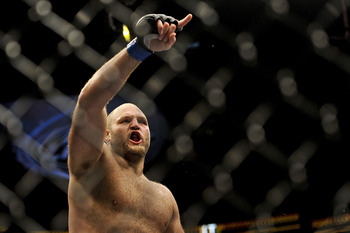 Paul Abell-US PRESSWIRE
At 30 years old, Ben Rothwell is practically a veteran of MMA, but only has four UFC fights in his career. Those include two losses and two wins.
Those losses were to Cain Velasquez and Mark Hunt in a close decision, neither of which he should be ashamed of.
His last win was a first-round knockout of Brendan Schaub, for which he earned "Knockout of the Night" bonuses and proved there's plenty of fight left in him yet.
5. Mike Russow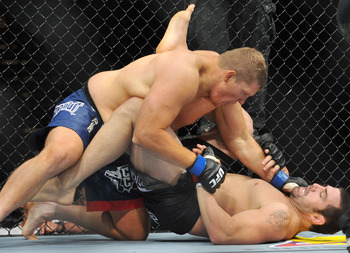 Jon Kopaloff/Getty Images
At 35, many would consider Mike Russow too long in the tooth to be considered a "prospect." However, he's still young in his UFC career.
Since 2009, he'd notched four straight wins before losing to Top-10 heavyweight Fabricio Werdum in June.
For now, that's just a minor setback in an almost unblemished career, and Russow remains a dangerous prospect in the division.
4. Phil De Fries
Gary A. Vasquez-US PRESSWIRE
Englishman Phil De Fries, at only 26, is proving himself one of the most dangerous talents out there.
He's racked up nine wins with a string of submissions to his name. However, his game is still a little one-sided.
Almost as soon as he gets in the cage, he looks to take the fight to the ground.
With that being said, once there, he's stopped eight out of 10 opponents.
He'll be facing another prospect, Matt Mitrione, at UFC 155 in December.
3. Stipe Miocic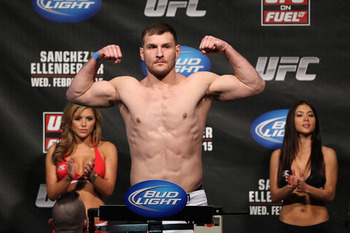 Until last Saturday, Croatian-American mixed martial artist Stipe Miocic had a perfect MMA record with nine wins and no losses.
Those wins included seven KOs and TKOs, proving him to be one of the deadliest strikers in MMA. In fact, that striking ability almost got the better of Stefan Struve when he faced the Dutchman at UFC on Fuel 5.
For the entire first round, Miocic got on the inside of the giant Struve and beat him with devastating body shots until the match was turned around and he was TKOd in the second round.
Nevertheless, that shouldn't take away from the valiant effort Miocic showed that night, nor from the fact he's still a devastatingly dangerous up-and-coming heavyweight.
2. Travis Browne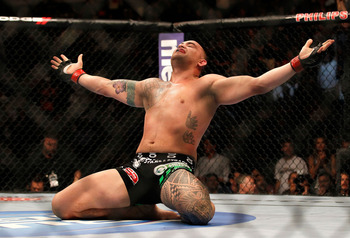 Kevin C. Cox/Getty Images
Finally, we come to Travis Browne.
With all the hype behind him, he's still only second in this list, but that in itself may be overstating his case.
The man is undefeated in 13 fights. However, his performances have been inconsistent throughout.
He was forced to a lacklustre draw by Cheick Kongo and barely managed a decision win over Rob Broughton.
Still, he's fighting for the premier MMA promotion in the world and has some key victories, which secures him such a high status.
His match against Antonio Silva will be telling, however, and how he performs on Friday will give us an insight into what to expect from him in the future.
1. Stefan Struve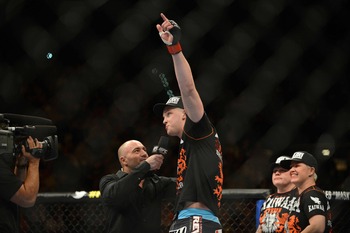 Ron Chenoy-US PRESSWIRE
After a masterful performance last Saturday in Nottingham at UFC on Fuel 5, Dutch mixed martial artist Stefan Struve is the biggest prospect in the entire division.
Only 24, he's been fighting in the UFC since he was 22, and has only grown in stature throughout his chequered career.
His losses to the likes of Junior Dos Santos, Roy Nelson and Travis Browne are well behind him now as he looks to become one of the most rounded heavyweights in the UFC.
At 250 pounds, Struve says that he's still growing and is slowly adding even more muscle to his almost 7'0" frame, which should terrify anyone in the division.
Keep Reading