WWE SmackDown: 5 Things to Watch for During This Week's Show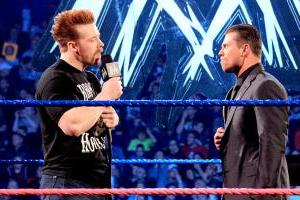 Photo courtesy of WWE.com
Now that the World Heavyweight Championship match between Sheamus and Big Show is set for Hell in a Cell, things figure to pick up on SmackDown in the coming weeks. The WWE still has plenty of time to build toward the pay-per-view, but expect the storylines to heat up in a big way moving forward.
The world title will obviously be at the forefront of SmackDown this week as it always is, but the Intercontinental Championship will share the spotlight as well. The Miz announced on Main Event that he and The Great White would be doing battle on the blue brand this week.
In addition to that, there will be plenty of other things to keep an eye on as well, including the tag-team tournament to determine the No. 1 contenders for the titles. Three of the four first-round matches have already been contested, meaning the final one will be featured on SmackDown in all likelihood.
Randy Orton, Dolph Ziggler, Antonio Cesaro, Alberto Del Rio, Ryback and Wade Barrett all figure to play a role of some kind this week on SmackDown too, so there will be no shortage of top-flight talent to keep an eye on.
Here are the top five things that you should look out for while watching this week's edition of SmackDown.
Begin Slideshow

»
Although it hasn't been officially announced by WWE, Intercontinental Champion The Miz spilled the beans on commentary on Main Event as he said that he would be taking on World Heavyweight Champion Sheamus on SmackDown. The encounter likely stems from the altercation they had last week on Miz TV.
Sheamus hijacked Miz's segment, then Dolph Ziggler came to the ring and that resulted in an all-out melee between the three of them. While the Sheamus vs. Big Show feud is sufficient for now as it doesn't involve Alberto Del Rio, Sheamus vs. Miz is a feud that I would truly like to see based on the chemistry they had last week.
Sheamus will first have to vanquish Big Show at Hell in a Cell for that to happen, but if he and Miz perform well this week, then the WWE brass may very well consider it. Miz is a guy who is deserving of a main-event spot, but he hasn't had one in well over a year. He has the mic skills to carry Sheamus in that regard and his wrestling ability is constantly improving as well, so he would be the perfect opponent for The Great White.
I'm not expecting anything groundbreaking between them on SmackDown as Sheamus has bigger fish to fry at the moment, but I sincerely hope that the plan is to plant the seeds for a feud a bit further down the line.
Following Randy Orton's loss to Big Show in a World Heavyweight Championship No. 1 contender's match on last week's edition of SmackDown, Alberto Del Rio viciously attacked The Viper for several minutes. Del Rio had jumped Orton backstage prior to the match in an effort to take his spot, but Orton was able to recover and compete in the match, albeit in a losing effort.
Whether Del Rio's attack was a way to set up a feud between them, write Orton off television for an extended period of time so he can film 12 Rounds: Reloaded or both remains to be seen. Orton is being advertised to face Big Show on next week's episode of Main Event, however, so I have to believe that there's a chance we'll see him on SmackDown.
If he does appear, then he'll obviously be taking aim at Del Rio. I'm not the biggest fan of either Orton or Del Rio as I find both of them to be somewhat dull and repetitive, but a feud between them makes sense. They're guys with main-event experience who are on the outside looking in when it comes to the World Heavyweight Championship scene, so they need something to hold them over.
A match between them at Hell in a Cell seems pretty much inevitable at this point, but it's just a question of whether the road toward that starts this week or at some other time.
It was announced by SmackDown general manager Booker T on the show last week that an eight-team tournament would be held to determine the No. 1 contenders for Kane and Daniel Bryan's Tag Team Championships. The tourney is already underway, and there is little doubt that we'll see at least one match on SmackDown this week.
Three of the four first-round matches have concluded with Rhodes Scholars, Zack Ryder and Santino Marella and Sin Cara and Rey Mysterio advancing already. The final first-round encounter will pit The Prime Time Players against the former Tag Team Champions, Kofi Kingston and R-Truth. These teams have quite a bit of history, so it should be an interesting match.
Conventional wisdom would seem to state that Darren Young and Titus O'Neil are going to win the match, but you never know for certain. The Prime Time Players have had a few run-ins with Sin Cara and Mysterio over the past couple weeks, and since that is the team they'd be slated to meet in the semifinals, I'd be fairly surprised if Kofi and Truth were to come out on top.
Regardless of what happens, though, I'm ecstatic that WWE finally has enough teams to have a proper tournament and I'll continue to follow the tag team division intently over the coming weeks and months.
Prior to suffering an elbow injury that shelved him for several months, Wade Barrett seemed well on his way to a massive push. He had scored wins over the likes of Daniel Bryan, Sheamus and Randy Orton, and he had future world champion written all over him. The injury derailed his push, but I was hopeful that he would essentially pick right up where he left off upon returning.
For whatever reason, that hasn't really been the case, however. Barrett is undefeated since coming back, but all of his matches have been against low-card guys that he should beat. The WWE squandered what could have been an impactful return as well, with Barrett showing up on a run-of-the-mill edition of SmackDown rather than doing something like attacking Sheamus on a pay-per-view.
Sheamus would be the perfect opponent for Barrett, and while I realize that Barrett has only been back in the fold for about a month, I have to believe that fans would rather see him face Sheamus than Alberto Del Rio or Big Show. The biggest issue with SmackDown over the past couple months has been a lack of fresh angles, and that isn't due to a lack of opportunities.
I'm still waiting for Barrett to do something of note, so hopefully that happens this week on SmackDown. It will be tough for him to make a major impact unless he does something with either Sheamus or Orton, but the WWE really needs to accelerate things when it comes to Barrett.
Since defeating Santino Marella for the United States Championship at SummerSlam, Antonio Cesaro has essentially been lost in the shuffle. Over the past couple weeks, however, Cesaro has been very much on the ascent. Not only did he dump Aksana, but he successfully defended his title on SmackDown and then proceeded to score an incredibly impressive win over Brodus Clay on RAW.
Clay hasn't been beaten cleanly many times since adopting the Funkasaurus gimmick, so what Cesaro did to him on Monday was quite surprising. Not only did the Swiss star win the match decisively, but he managed to get the near-400-lb. mammoth up in the Gotch-Style Neutralizer. Based on that, there are clearly big plans for Cesaro moving forward.
There is a lot to like about Cesaro as he has a unique look and a fierce, aggressive in-ring style, but the tweaks must continue in order to get the fans to connect with him. The next thing I would do after his ditching of Aksana would be to get rid of the five-language gimmick. He has shown in the past that he is talented in the mic, but saying one word five different ways isn't going to cut it.
Have Cesaro continue to dominate his opponents, but give him a true anti-American gimmick. Those types of characters almost always get over as heels, and since he is the United States Champion, it would obviously work. The WWE would be wise to take steps in that direction this week.
Follow @MikeChiari on Twitter and listen to him on Ring Rust Radio.