Melky Cabrera: 10 MLB Teams That He Could Sign with During the Offseason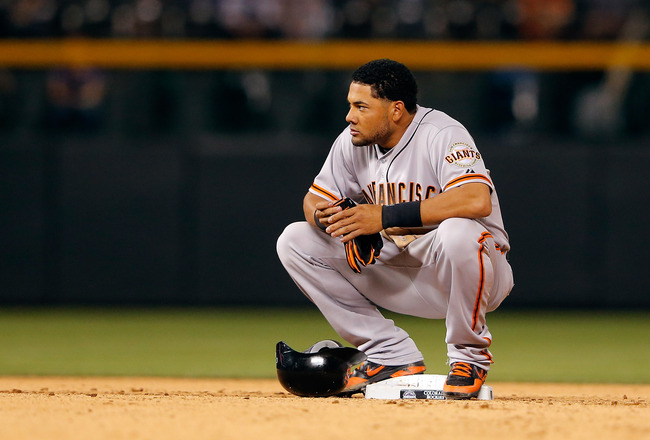 Things went downhill fast for poor Melky Cabrera.
Doug Pensinger/Getty Images
The 2012 season sure went south with a vengeance for Melky Cabrera, didn't it?
Following an incredibly auspicious start to this year's campaign, MLB suspended Cabrera for 50 games due to violation of the Joint Drug Program between owners and the players' association. He had tested positive for testosterone.
The suspension occurred when Cabrera led the National League in hits and was batting .346 with the Giants. He was beloved in San Francisco by both teammates and fans.
He would have commanded a substantial multiyear contract as one of the top outfield free agents this offseason as well.
Now he must accept a considerably smaller deal—quite likely a one-year rental agreement in order to prove himself as a competent hitter without the aid of performance-enhancing drugs.
We must remember that perception is everything, and right now he is seen as a cheater with the audacity to try and cover it up (however pathetic that attempt was).
Even so, Cabrera is simply too talented with the bat and in the outfield for teams not to give him a shot.
Let's take a look at the 10 MLB teams that could sign Cabrera this offseason.
Arizona Diamondbacks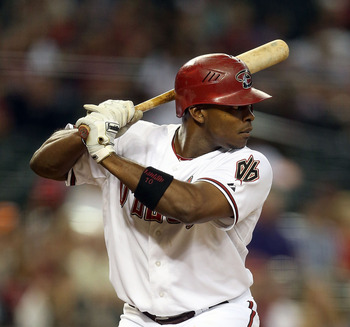 Arizona would have to trade Upton for Cabrera to sign.
Christian Petersen/Getty Images
This destination is entirely contingent on trading a current Diamondback starter.
Justin Upton, the star but underachieving right fielder, has been involved in trade talks the entire season. He experienced a decline in all major statistical categories (except runs, triples and walks) from 2011 to 2012.
Owner Ken Kendrick recently said Upton would likely remain on the team next year (h/t John Gambadoro via Rotoworld). Cabrera, though, would be a much cheaper, yet still fully capable replacement.
Arizona understands all too well what he brings to the table. He belted two home runs, six RBI and batted .462 in 39 at-bats against the Snakes. That was Cabrera's highest average against any opponent this season.
If GM Kevin Towers trades Upton and his $9.75 million salary, look for the Melk Man to be on the Diamondbacks' radar.
Baltimore Orioles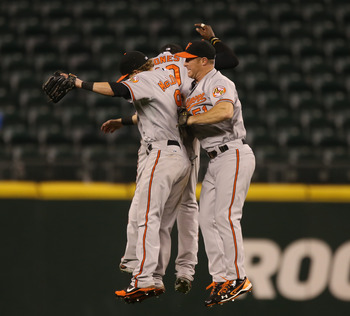 Cabrera would help make a much better outfield trio.
Otto Greule Jr/Getty Images
The Orioles are in need of a left fielder.
They currently have career vagabond Nate McLouth slotted in at the position. He's having a nice season as a short-term replacement but isn't the answer for the long haul.
Also, shortstop J.J. Hardy is a free agent in 2013. If Baltimore decides against bringing him back, Cabrera would be a perfect fit in the No. 2 hole in the batting order.
An outfield of Cabrera, Adam Jones and Nick Markakis would be a formidable one indeed.
Fourth outfielder Chris Davis is much better suited as the DH; Cabrera would provide the superior defense.
Boston Red Sox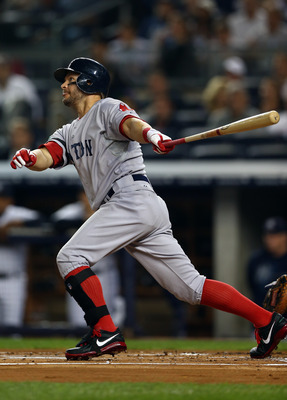 If Ross leaves, Cabrera could be the man for the job.
Elsa/Getty Images
In one sense, the Red Sox would like to steer clear of any off-field distractions after this season's debacle.
Then again, it's Boston—how could it possibly avoid all vestiges of scandal?
Cabrera could rebound in big-market Boston in a number of ways. First of all, he could be signed at a more fiscally responsible rate than what free agent Cody Ross will surely demand after his career year (via Rotoworld).
He could also fulfill the vacant hole in right field, would provide an upgrade in left over 36-year-old Scott Podsednik and would offer backup services to the injury-prone Jacoby Ellsbury in center.
The Red Sox had a ton of money—and talent—come off the books after the monumental trade with the Dodgers.
Cabrera could be just the man they're looking for if they decide his on-field contributions will supersede any ancillary ones.
Los Angeles Dodgers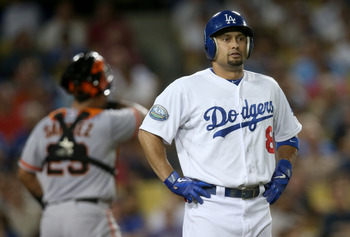 Imagine Cabrera replacing Victorino and getting payback against the Giants.
Stephen Dunn/Getty Images
Speaking of the Dodger Blue, there will likely be in opening in left field in L.A. come 2013.
The currently agent-less Shane Victorino had a highly disappointing run in Los Angeles after being traded from the Phillies. He compiled a batting line of .245/.316/.351 with just two home runs and 15 RBI in 53 games.
Coincidently enough, Sam and Seth Levinson—Victorino's former agents—still represent Cabrera (h/t Liz Mullen of SportsBusiness Journal). The agents at ACES could feasibly concentrate their efforts now on getting a new deal for Cabrera in L.A.
He would certainly fulfill the duties required of him in left field and the No. 2 spot in the lineup.
Just think: the Dodgers capitalizing on an opportunity to stick it to the rival Giants—especially with their former player.
Miami Marlins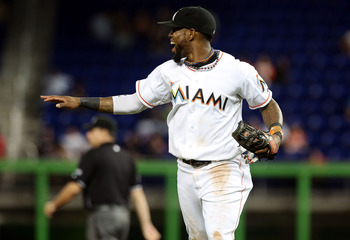 Jose Reyes and the Marlins would welcome Cabrera on their club.
Marc Serota/Getty Images
The Melk Man could easily find himself having to accept a deal from a non-contending club.
After a free-agent spending spree and colossal disaster of a 2012 season, the Marlins might veer away from any publicity-drawing transactions.
On the other hand, with such a dearth in outfield talent aside from Giancarlo Stanton, they might not have any other choice.
Bryan Petersen (LF) and Justin Ruggiano (CF) are the current players in the outfield in addition to the powerful Stanton. Austin Kearns, Scott Cousins and Gorkys Hernandez serve as the backups.
A collection of head-scratchers to be sure.
That's why Cabrera would be a suitable match with Stanton and the strong Latino presence in Miami. This would still be the case even if manager Ozzie Guillen is let go and Carlos Lee leaves in free agency.
Cabrera would serve as both a good cultural and baseball fit.
New York Mets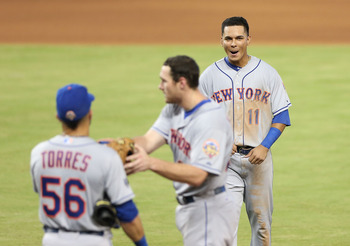 Torres could be the odd-man out, creating an opening for Cabrera.
Marc Serota/Getty Images
This team isn't the likeliest of possibilities, but it is still one nonetheless.
While not as depressing as the Marlins' season, the Mets' 2012 campaign ended with 88 losses and a fourth-place finish in the NL East. David Wright and R.A. Dickey produced fantastic numbers, but few other bright spots existed.
The outfield in particular had a notable lack of offensive producers. Lucas Duda, Andres Torres and Mike Baxter were starting outfielders from left to right. Former marquee-signing Jason Bay was relegated to a back-up role.
Duda provided some pop with 15 home runs, but no single outfielder is guaranteed a spot in 2013. That includes the aging Scott Hairston and his 20 big-flies.
ESPN's Adam Rubin reports that the Mets will likely non-tender Torres over the winter. That will leave a big opening in center that Cabrera could fill.
He would serve as a great high-average and on-base guy in front of Wright. It would also allow Ike Davis to bat lower in the order.
If the continually less successful New York club wants to compete with its Yankee counterpart, Cabrera might be a decent place to start. He can definitely be had at a bargain rate.
Philadelphia Phillies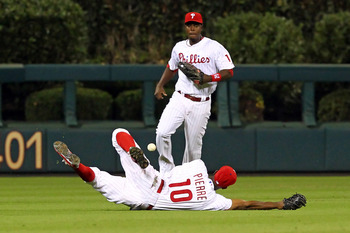 Is Pierre really the answer in left field?
Hunter Martin/Getty Images
2012 was a lost season for the Phillies any way you look at it.
They were without leading sluggers Chase Utley, Ryan Howard and Carlos Ruiz for huge chunks of the year. Add to that list former Cy Young winning-pitcher Roy Halladay and also the trades of outfielders Shane Victorino and Hunter Pence.
Even with a late-season push, Philly still finished third in the East—seven back in the wild card and a whopping 17 behind the first-place Nationals.
The current outfield stands as Domonic Brown (RF), John Mayberry Jr. (CF) and Juan Pierre (LF). Brown is the star prospect for the future, despite his well-documented underachieving. Mayberry Jr. falls in a similar category, but Pierre was a mere stopgap in left.
Cabrera would serve as far superior outfielder and offensive talent over the 12-year vet. He'd also provide some insurance in the middle of the lineup in case Utley or Howard experience another injury-plagued season.
The Phillies were absolutely devastated by injuries and trades this year. Management would do a great service to the fans by bringing in a player of Cabrera's caliber to bolster the team's chances in 2013.
Pittsburgh Pirates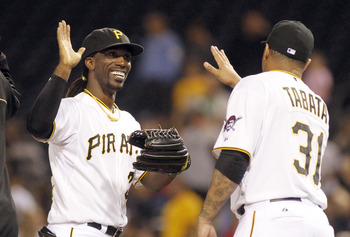 Cabrera could be a wonderful addition to McCutchen (left) and Tabata in the Pirates outfield.
Justin K. Aller/Getty Images
Pennsylvania's other MLB team experienced a rather disheartening collapse.
After contending in the division and wild card for much of the season, the Pirates fell to fourth place in the NL Central. It could secure neither a playoff berth nor its first winning season in two decades.
Franchise player Andrew McCutchen could not overcome the team's other deficiencies and will likely miss out on the NL MVP as well.
A player like Melky Cabrera could solidify Pittsburgh's batting order and provide some veteran leadership on this extremely youthful squad.
Before burning bridges with the Giants due to his PED usage, Cabrera was a great clubhouse presence, bonded well with all his teammates and delivered productive, exciting play for the city of San Francisco.
He was indeed a fan favorite and could be so in Pittsburgh.
Cabrera would fit well in the No. 3 slot and serve as a formidable one-two punch with McCutchen. It would allow Neil Walker to bat second and for Garrett Jones and Pedro Alvarez to better utilize their power—and lower averages—further down in the order.
With Cabrera in left field (or right) and some additions to the pitching staff, the Pirates could very well make a serious push next season.
Perhaps even a playoff run.
Tampa Bay Rays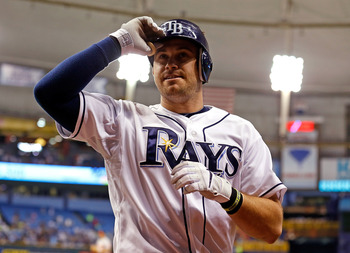 Longoria and Cabrera would serve up both batting average and thump in the Rays lineup.
J. Meric/Getty Images
The other prodigious Upton brother is expected to occupy center field for a club other than the Rays in 2013.
After seeing B.J. with noticeable tears in his eyes following his final at-bat Wednesday night, it would seem that a move elsewhere is the impending reality for the free agent.
Without Upton's 28 home runs, 79 runs and 78 RBI in the lineup, Tampa Bay will be even more desperate for offensive production next year. Even with Upton, the team batted a miserable .240 with a .317 OBP.
It ranked 11th in the AL in runs scored.
A full year of Evan Longoria's bat coupled with the addition of Cabrera would prove monumental for this Rays club.
Cabrera would provide a high batting average and on-base percentage in front of Longoria. He'd also effectively patrol center field after the many years of Upton's inspiring play.
In terms of the Rays' always-conservative financial plans, a one-year contract for the Melk Man would work under their nearly league-low salary cap.
Toronto Blue Jays
Davis's stolen bases are not as valuable as Cabrera's well-rounded skill set.
Mitchell Layton/Getty Images
Maybe what Melky Cabrera needs most is a faraway baseball city out of the limelight­—as in Toronto, Canada, perhaps?
Considering his devastating ban for most of this season, Cabrera could resurrect his career on the only non-America-based MLB team. The Toronto Blue Jays would be just that club.
Outside of the slugging right fielder Jose Bautista, the Blue Jays do possess talent in the outfield. It's just lacking in some critical areas.
Left fielder Rajai Davis is second in the AL with 46 stolen bases. He also batted just .257/.309/.378. Cabrera averaged .326/.365/.493 over the past two seasons.
In center field, Colby Rasmus offered great power with 23 home runs and 75 RBI, but recorded a meager .223 BA and .289 OBP while mostly batting second.
Cabrera is a batter that can do a little bit of everything. His propensity for hitting for average and getting on base would be a huge upgrade in the No. 2 slot ahead of Bautista and Edwin Encarnacion.
Those two sluggers would really appreciate his presence in the lineup.
Cabrera would appreciate their RBI prowess.
Follow me on Twitter @jlevitt16
Keep Reading