NFL Week 5 Predictions: Picking Every Game Against the Spread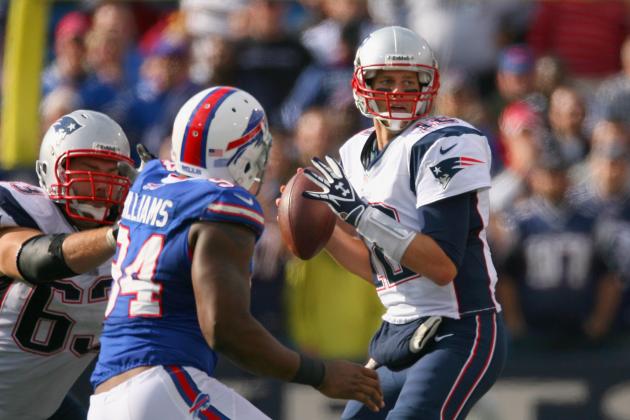 Rick Stewart/Getty Images

I've spent the last few weeks looking for angles to pick games with. I tried to go with the refs in Week 3, I tried to go with my gut in Week 4, and so far not much has worked.
The best quarterbacks, usually a safe bet, have been downright ordinary. Aaron Rodgers is 1-3 against the spread, Peyton Manning is 2-2, Eli Manning is 1-3 and Drew Brees is 1-3.
This week's angle? Take the defenses. If 2011 was the year of the quarterback, 2012 seems to be the year of the defense. Houston, San Francisco, Chicago and Arizona all look like legitimate contenders behind fantastic defenses, and their 13-3 record against the spread has made plenty of people quite a bit of money.
If this doesn't work I'm giving up on finding a pattern. It might just be one of those years where things don't make sense. Until then, we're going with defenses in Week 5.
Record for the season: 29-34
Begin Slideshow

»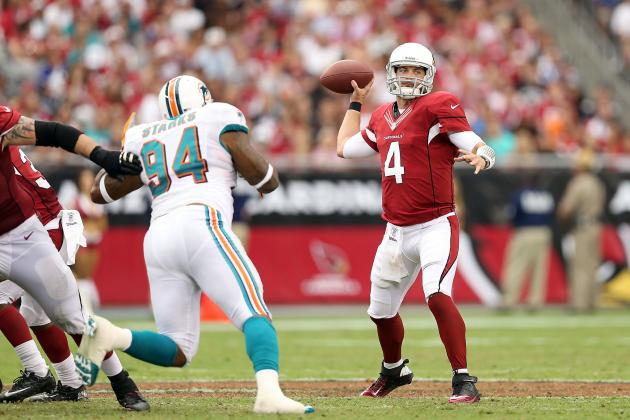 Christian Petersen/Getty Images

I'm locked in with these Thursday games. If not for a garbage-time touchdown by Cleveland last week I'd be 4-0 (including the Wednesday opener).
If defense is this week's theme then I can't go against Arizona. The Cardinals are quietly turning into this year's 49ers.
They don't just have a stud at every level. They have two studs at every level. Calais Campbell and Darnell Docket on the line, Sam Acho and Daryl Washington at linebacker and Patrick Peterson and Adrian Wilson in the secondary.
And I'm supposed to believe Sam Bradford and Brian "I don't believe in the forward pass" Schottenheimer will score on them? Nope, not happening.
The Pick: Cardinals (-1)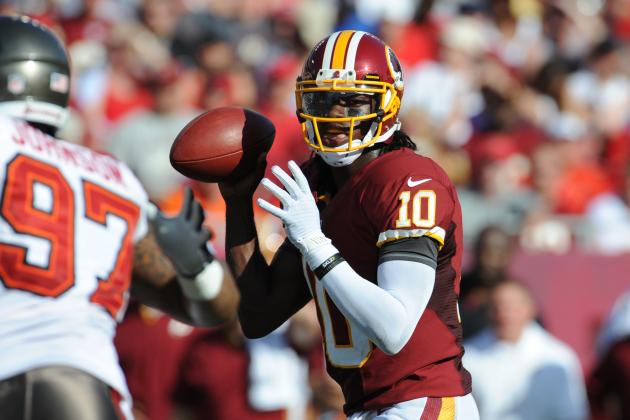 Al Messerschmidt/Getty Images

I'll be the one who says it, I don't think Atlanta is as good as everyone thinks they are.
Beating up on Kansas City isn't an accomplishment, they almost blew a 20-point lead at home to Denver, San Diego is the worst 3-1 team in the league and they almost lost to Carolina.
Pick a game on that resumé that I'm supposed to find impressive. The other shoe is going to drop at some point, and I'm going to be around when it does.
I think RG3 is going to give that mediocre defense fits. I think even without Brian Orakpo the Redskins can generate pressure on a mediocre offensive line. And I think betting against RG3 is one of the stupider things you can do during the 2012 season.
The Pick: Redskins (+3)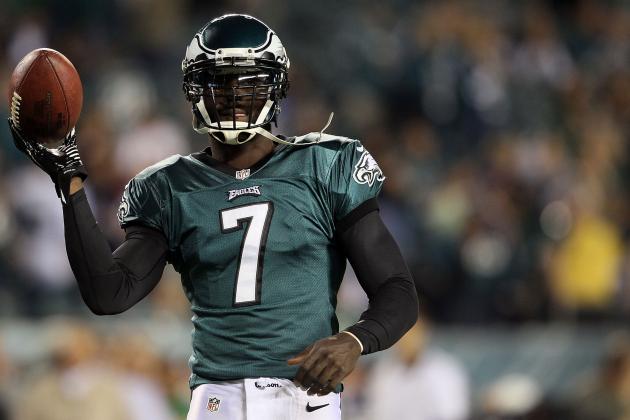 Alex Trautwig/Getty Images

Ugh. I couldn't be less enthused about this game. These are two of the more overrated teams in the league and both are surprisingly boring considering the talent on each roster. I'm just grabbing the points.
The Pick: Eagles (+3.5)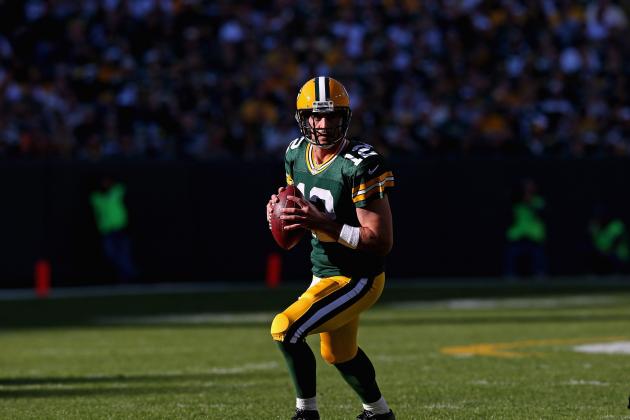 Jonathan Daniel/Getty Images

Every year there's one preseason contender who starts off slowly, gets partially written off, and then explodes early in October. New England did it a week early last week, so I refuse to count them. I think Green Bay is set to be that team.
On paper, how is this offense any different from last year's? They have to start scoring at an elite rate eventually. Aaron Rodgers is too good not to.
Meanwhile Andrew Luck hasn't had a terrible rookie game yet. Even against Chicago he was better than his stats indicate.
I think those two factors will collide. This one feels like a blowout. 42-10 Packers.
The Pick: Packers (-7)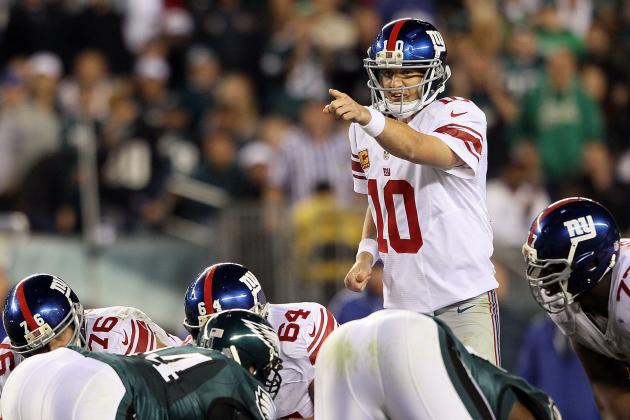 Alex Trautwig/Getty Images

Brandon Weeden against Jason Pierre-Paul. Brandon Weeden against Osi Umenyiora. Brandon Weeden against Justin Tuck.
Brandon Weeden against Jason Pierre-Paul. Brandon Weeden against Osi Umenyiora. Brandon Weeden against Justin Tuck.
Brandon Weeden against Jason Pierre-Paul. Brandon Weeden against Osi Umenyiora. Brandon Weeden against Justin Tuck.
Brandon Weeden against Jason Pierre-Paul. Brandon Weeden against Osi Umenyiora. Brandon Weeden against Justin Tuck.
Brandon Weeden against Jason Pierre-Paul. Brandon Weeden against Osi Umenyiora. Brandon Weeden against Justin Tuck.
The Pick: Giants (-9)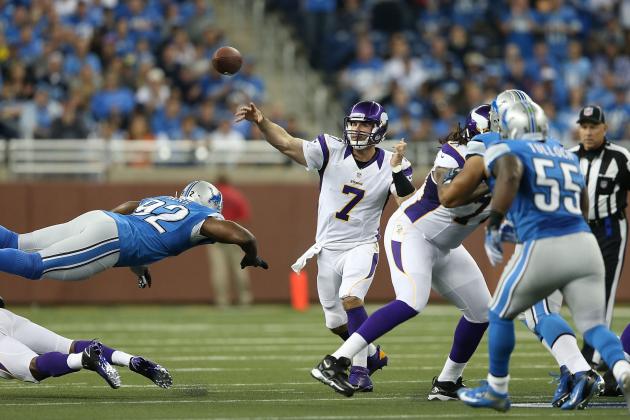 Leon Halip/Getty Images

The Vikings make me angry. They completely outplayed the 49ers, making me think they might just be a contender, and then they pull off one of those random wins where the offense barely moves the ball against Detroit. I can't decide whether they're good or if they're going to be one of those teams that just randomly wins 10 games.
I'm leaning towards the latter, but something tells me I'm going to go back and forth between the two all year.
If Minnesota is actually good they'll blow the Titans out. If not they'll win this game with a weird score like 16-11. I'm taking the Vikings here, maybe I'm just a sucker for betting against bad teams.
The Pick: Vikings (-5.5)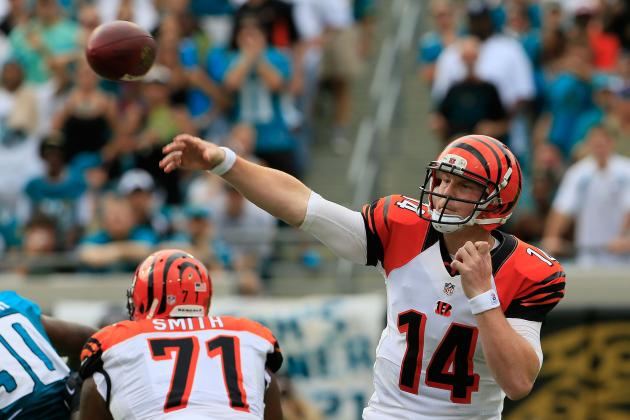 Sam Greenwood/Getty Images

Why aren't the Bengals getting any credit? They're averaging 28 points per game, only three less than Super Bowl favorite Atlanta, and AJ Green is turning into a transformer-caliber wide receiver (I'm thinking Bumbelbee, Optimus Prime is too obvious).
If Pittsburgh is really as bad as they've looked so far and the Jets are out of it without Darrelle Revis and Santonio Holmes, the Bengals look like the AFC's top wild-card team.
Meanwhile Miami is actually a lot better than I've given them credit for. Ryan Tannehill did better against Arizona than Michael Vick and Tom Brady. If I wasn't so high on Cincy I'd love to get points with this team. Next week that's what I'll do, but for now I like the Bengals.
The Pick: Bengals (-3.5)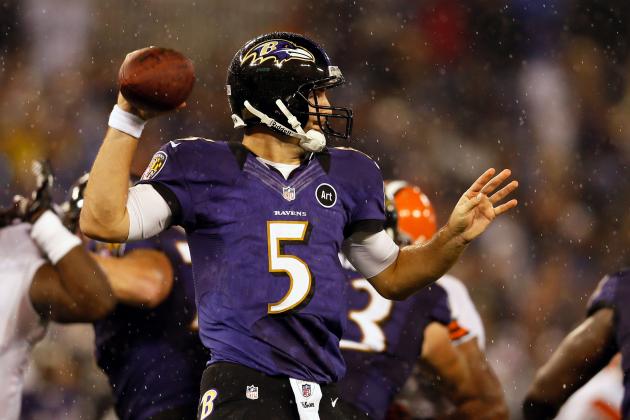 Rob Carr/Getty Images

I'd like to formally thank the Saints for making Vegas believe that the Chiefs are decent, because outside of that game they've been arguably the worst team in the league. No way am I taking Romeo Crennel against a good team.
The Pick: Ravens (-6)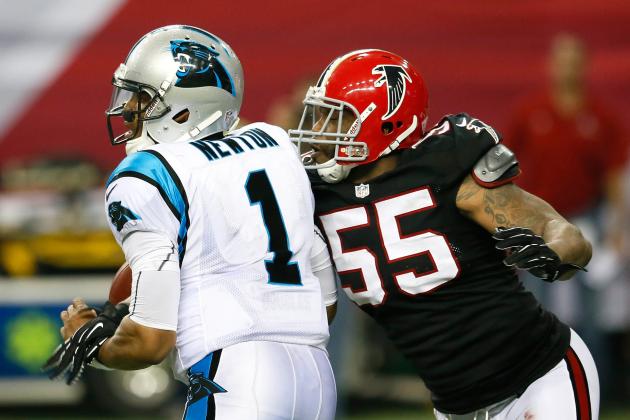 Kevin C. Cox/Getty Images

Russell Wilson on the road? Yea, that sounds promising.
The Pick: Panthers (-3)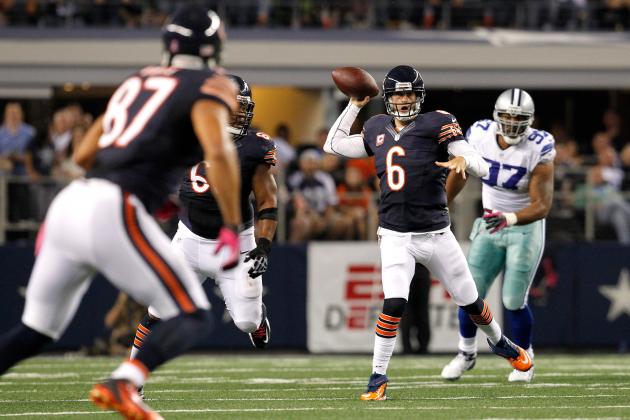 Tom Pennington/Getty Images

The Bears are always going to be a value team in Vegas. They lose points in the line because of the possibility that Jay Cutler will throw four interceptions.
Well you know what? If that happens twice a year then you'll get 14 other opportunities to cash in. Cutler isn't due for another four-pick game until November at the earliest.
How do we know the Bears aren't a top five team? They've pounded on three teams that are at least not horrible, and losing a night game in Green Bay is completely excusable.
Meanwhile the Jaguars are and always will be the Jaguars. Blaine Gabbert is still their quarterback. Why should I have any faith in him after what the Bears just did to Tony Romo?
The Pick: Bears (-6)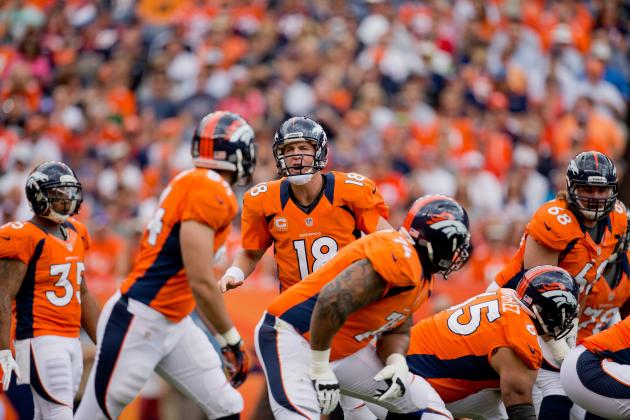 Justin Edmonds/Getty Images

Kudos to the NFL for making this a 4 p.m. game instead of a night game. It's not like everyone in the country wants to watch Brady vs. Manning or anything, no they definitely want to see these two teams play approximately 21 night games over the course of the year but face each other during the day. Great call Roger, great call.
Bashing the NFL's upper management is too easy, so now let's focus on the game.
Did you know that since 2002 Peyton Manning and Tom Brady have played each other in the regular season seven times, and only once has a team won by more than a touchdown (Indy in 2005, 40-21)?
These games are ALWAYS close. The two quarterbacks involved are too good for blowouts to happen. Now I have a chance to get more than a touchdown with Manning? Sorry Tom, I have to take that.
The Pick: Broncos (+7.5)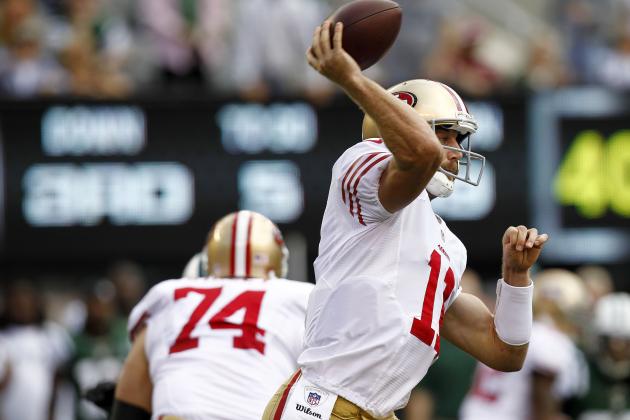 Jeff Zelevansky/Getty Images

I think we've figured out the Bills. They're going to blow out bad teams and get blown out by good teams. Yes, I consider the Week 1 Jets a good team, they always pound the Bills and Darrelle Revis hadn't gotten hurt yet.
Meanwhile the 49ers are among the more reliable spread teams in all of football. They're 16-5-1 against the spread since hiring Jim Harbaugh.
Their style is conducive to blow out out a team like the Bills. The Bills are going to turn the ball over several times, and once the 49ers get the lead they'll be able to milk the clock with Frank Gore and Kendall Hunter. Ryan Fitzpatrick playing against the 49ers defense is a gambler's dream.
The Pick: 49ers (-10)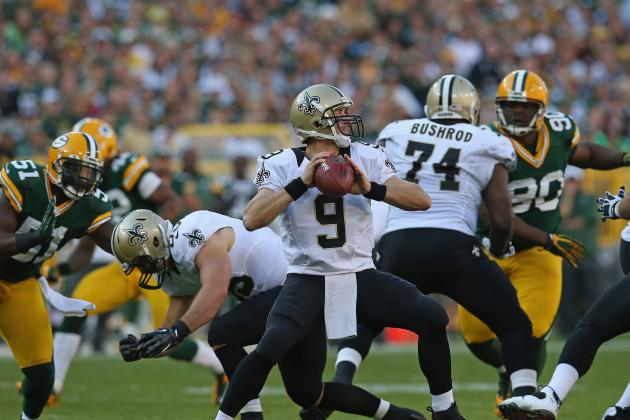 Jonathan Daniel/Getty Images

Logic says that no 0-4 team should ever give 3.5 points to a 3-1 team.
Logic says that a team that has lost to two bad teams (Chiefs and Panthers) shouldn't be able to beat a potentially good team.
Logic says that betting on a team with an interim interim coach is a bad idea.
But you know what? Logic doesn't apply to the Saints. Weird things happen in New Orleans, Norv Turner is involved, and Drew Brees can't start 0-5, right?
The Pick: Saints (-3.5)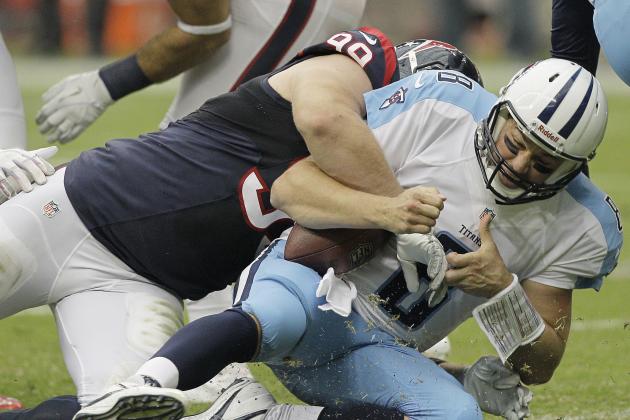 Bob Levey/Getty Images

There is no spread Vegas could give in which I'd confidently bet on the Jets. Seriously. I wouldn't take 30 points. This is going to be a disaster. Mark Sanchez is going to throw four interceptions. Shonn Greene might run for negative yards. JJ Watt might gain more yards than the entire Jets team. This is the easiest bet of the year.
The Pick: Texans (-9)