UFC on FX 5: Weigh-in Results for Travis Browne vs. Antonio Silva Fight Card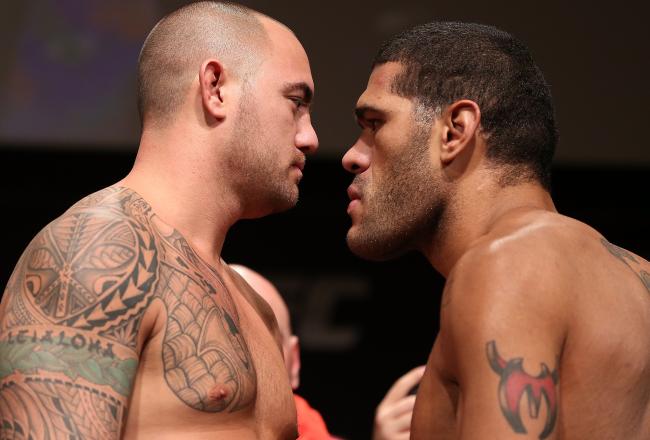 Josh Hedges/Zuffa LLC UFC via Getty Images

The last time the UFC held an event in Minneapolis, Minnesota, Georges St-Pierre successfully defended his UFC welterweight title against Jon Fitch, while Brock Lesnar scored his first UFC win with a unanimous decision over Heath Herring.
On Friday, October 5 the promotion will return to the scene of that August 2008 fight card when it presents UFC on FX 5 from the Target Center.

Full UFC on FX 5 weigh-in results:

Travis Browne (246) vs. Antonio Silva (266)
Jake Ellenberger (170) vs. Jay Hieron (170)
John Dodson (126) vs. Jussier Formiga (126)
Josh Neer (171) vs. Justin Edwards (170)
Yves Edwards (156) vs. Jeremy Stephens (156)
Danny Castillo (156) vs. Michael Johnson (156)
Dennis Hallman (n/a) vs. Thiago Tavares (n/a)
Shane Roller (156) vs. Jacob Volkmann (155)
Diego Nunes (146) vs. Bart Palaszewski (147)*
Phil Harris (125) vs. Darren Uyenoyama (125)
Marcus LeVesseur (156) vs. Carlo Prater (156)
Mike Pierce (171) vs. Aaron Simpson (171)
*Palaszewski has one hour to lose one pound
Fuel TV's Ariel Helwani reports that Dennis Hallman was seven pounds over weight. Hallman then struck a deal with Thiago Tavares who said he would accept the fight if Hallman could get within three pounds of the 155 pound limit. Hallman could not make that cut and the fight has been called off.
Fuel is reporting that Thiago Tavares vs Dennis Hallman fight is off, Hallman missed weight for the second straight fight...stay tuned for this one.
Time for the big fellas as we head to the heavyweight main event. First to the scale is Antonio "Bigfoot" Silva and he comes in at 266. His opponent, Travis Browne checks in with a Vikings shirt and weighs in at 246.
Silva edges in a little to close for comfort during the staredown and Dana White steps in between the fighters, who do not break eye contact for quite a long time.
On to the welterweight co-main event. Jay Hieron gets a decent reception for his first UFC fight since 2005. Hieron comes in at 170. Jake Ellenberger comes in at 170 as well.
Flyweight title eliminator up next. Firs to the scale Jussier da Silva and he asks for the towel right away, not the best first impression for your UFC debut, but he makes the weight, coming in at 126. John Dodson does a bit of a striptease to get down to his Batman underoos and he weighs in at 126 and seems to have plenty of energy to spare.
On to the FX card. Justin Edwards hits the scale first and comes in at 170. Josh Neer comes in at 171.
Another lightweight bout is next, Yves Edwards vs. Jeremy Stephens. Edwards comes in at 156, Stephens comes in at 156 as well and oh yeah, he has a rat tail...
Michael Johnson versus Danny Castillo is next. Castillo comes in with the breakaway tux and weighs in at 156. Nothing fancy from Johnson, however he has a nice Jaco track suit on, oh wait, he adds some Viking horns, which the crowd approves of and he weighs in at 156.
Next up are lightweights Shane Roller and Jacob Volkmann. Roller comes in at 156, while Volkmann comes in wearing his Volkmann for President shirt and weighs in at 155.
Back up to the featherweight division for the next fight. Diego Nunes tips the scale at 146. His opponent, Bart Palaszewski comes in at 147.
Next up are the flyweights. First to the scale is Phil Harris, who comes in at 125, his opponent, Darren Uyenoyama comes in at the same weight.
Down to the lightweights for the next bout, which like the previous fight, will be streamed on the UFC's facebook page. Carlo Prater comes in at 156, while his opponent Marcus LeVesseur checks in at 156 as well.
Time for the UFC on FX 5 weigh-ins. First fight is in the welterweight division and the first fighter to hit the scales is Mike Pierce. Pierce checks in at 171, while Simpson comes in at a lean 171.
This article is
What is the duplicate article?
Why is this article offensive?
Where is this article plagiarized from?
Why is this article poorly edited?