Michael Jordan and the All-Time, All-Chicago Basketball Team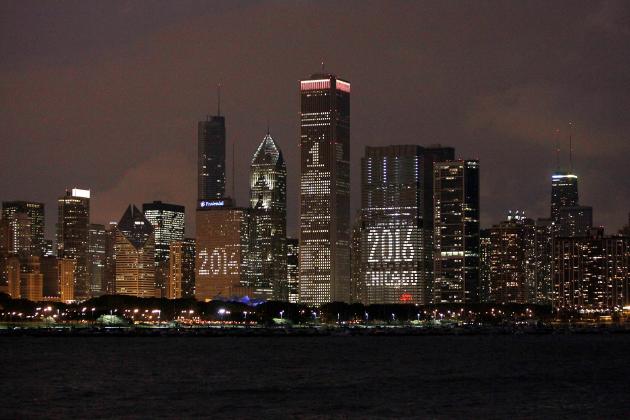 Scott Olson/Getty Images
Who makes the windy city cut?
Before building the all-time NBA team with Chicago roots, some ground rules need to be set. To qualify, a player must have been raised in the area through at least high school, attended a Chicago area college, or be viewed as a lifetime Bull.
Sorry Kevin Garnett, one year at Farragut isn't going to cut it.
The team will consist of two players from each position to add a bit of balance to the guard-heavy crop that has come from the city.
Begin Slideshow

»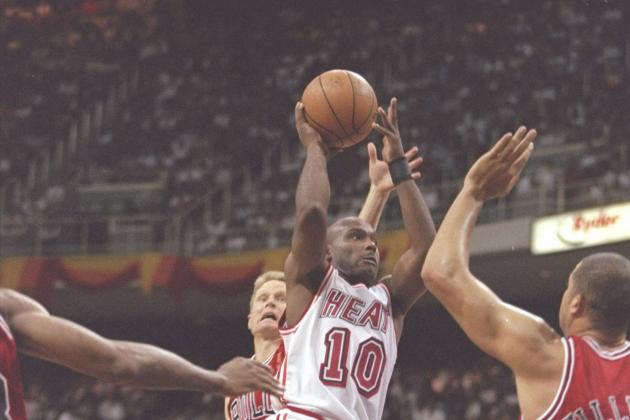 Andy Lyons/Getty Images
Hardaway was an explosive point guard, but just misses the list
Antoine Walker had deep roots in Chicago and until blowing through his wad of cash was very active in doing charity work in the city. When asked why he shoots so many threes, the three-time all-star once quipped "because there are no fours."
His hilarious "Shimmy" meme threads may not land him on the team, but they certainly have enriched our lives.
Still, Walker was a good player with deep Chicago roots.
Jerry Sloan is one of only four players to have his number retired by the Chicago Bulls, which says quite a bit about what he meant to the franchise. He was a hard-nosed, defensive-minded guard and brought that same attitude to the coaching ranks, where he's become one of the all-time greats.
Unfortunately for Sloan, the point guard crop is simply too deep for him to make the list.
Norm Van Lier had many of the same qualities as Sloan, his backcourt running mate. He was one of the best perimeter defenders of his era and a true Bull. He then went on to imprint himself on the memories of Bulls fans by doing color commentary for years, frequently dropping his trademark phrase "48 minutes of intensity."
Norm always played with intensity, but unfortunately, much like with Sloan, Chicago's deep with shooting guards.
Tim Hardaway was another elite Chicago point guard. The five-time all-star played for 13 seasons in the NBA at a high level, but repeated injuries kept him from ever compiling monster playoff statistics.
Tim is most well-known for his quickness and devastating crossover. When fully healthy and in his prime, Hardaway was an elite player.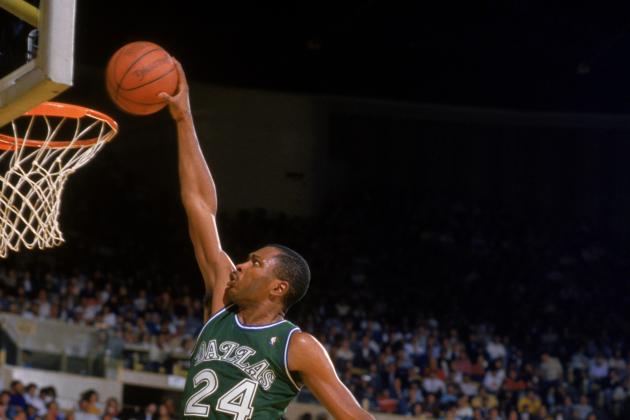 Stephen Dunn/Getty Images
Mark Aguirre goes in for the dunk
Bench Small Forward: Mark Aguirre
Aguirre started off his NBA career as the first pick in the draft and spent seven-and-a-half years as the alpha dog for the Dallas Mavericks, racking up a player efficiency rating of better than 20 five times.
When the Mavericks traded him to the Detroit Pistons, he proved he could also fit in as a role player on a stacked team and helped lead them to the consecutive NBA titles.
Aguirre was an athletic wing player with a nice jumper who would beat opponents with work ethic as well as talent. He proved capable of managing the primary scoring role as well as fitting into a smaller role without complaining.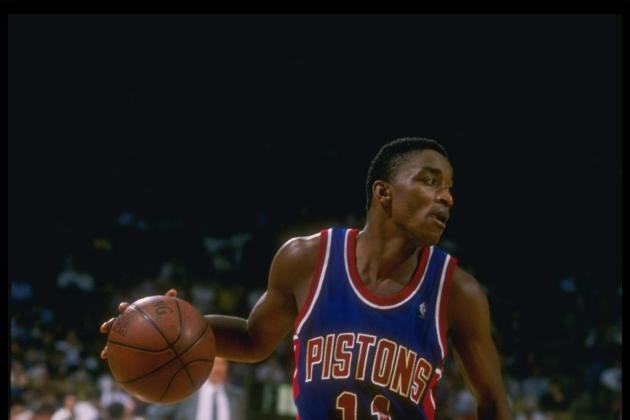 Jonathan Daniel/Getty Images
Isiah was public enemy #1
Bench Point Guard: Isiah Thomas
Thomas spent his career making Bulls fans miserable, making it difficult to view him as a Chicago prospect at all. However, we shouldn't be so hard on Isiah. His Pistons hardened Jordan and the Bulls, making them three-pete ready.
He also did plenty of work as an executive to help Chicago, trading the picks that became Tyrus Thomas and Joakim Noah for Eddy Curry, a deal that couldn't have gone much better for the Bulls.
Thomas played with a blue-collar Chicago passion. He played above his statistical output, driving the lane and creating opportunities for others. He was mentally tough and one of the true superstars of his era.
His nature as more pure distributor also fits in better with the bench, where the scoring talent isn't quite as deep as the starting lineup.
While Jordan and Thomas famously feuded during their playing days, the pair would have loved each other as teammates, They were similarly driven and focused on winning.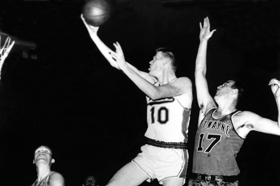 Kerr was an all-star center back in his day
Bench Center: Johnny Red Kerr

Kerr will always be most well-known for his 32 years as the Chicago Bulls color commentator. He endeared himself to the city in that role, and his voice will be forever etched in our memories as he called most of Chicago's brightest basketball moments.
There are few more beloved basketball icons in the city, and Kerr's one of three people to be etched in stone at the United Center.
Before that, the Chicago native was also a star at Illinois Urbana-Champaign and a three-time NBA All-Star. When looking at the pioneers of the NBA, it's only fair to measure them against their era. By those standards, Kerr was one of the best, averaging 15 points and 13 rebounds over a 12-year career.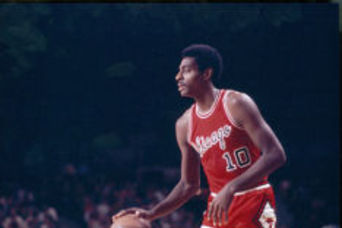 Bob Love's one of only four Bulls with a retired number
Bench Power Forward: Bob Love

Love nearly washed out of the NBA due to a stuttering problem that caused some of his early coaches to think him too stupid to understand the game. He was traded to Chicago after two unproductive seasons with the Cincinnati Royals and proceeded to thrive for the next eight years in perhaps the second-best era of Bulls basketball behind the Jordan Bulls.
Love went on to become one of only four players to have their number retired by the team. After his NBA career ended due to a back injury, Love had a financial setback and took a job as a busboy at Nordstrom's.
John Nordstrom was impressed by Love's work ethic and offered to pay for speech therapy sessions for Love, who overcame his stutter as an adult. He resurrected his life in a way few players who hit rock bottom ever can, and after a crafting a successful post-injury career for himself at Nordstrom's, eventually took a job with the Bulls as director of community relations.
Love can frequently be seen walking around the United Center before games, greeting fans and chatting them up. He speaks to children at schools regularly and is one of the league's best success stories for what he was able to accomplish off the court as much as on it.
While playing, Love was a dynamic inside/outside scorer who could put the ball in the hoop from all over the court. He had a nice post game, strong jumper, solid athleticism and could do a bit of everything.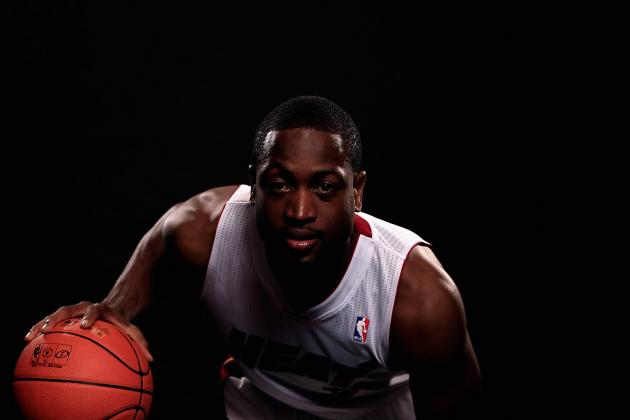 Chris Trotman/Getty Images
Wade doesn't feel that Chicago these days
Bench Shooting Guard: Dwyane Wade
As great as Wade's career has been, he's generally underrated by fans. He has a career player efficiency rating more than two points higher than Kobe Bryant and his two best years both top Kobe's. Despite that, there is likely only a handful of NBA experts who would even put Wade in the conversation with Bryant as an elite player.
Wade brings all of the abilities of your typical NBA superstar; scoring, shot creation, drawing double- teams, penetration, shooting, all while being clutch as heck. When LeBron James chokes, Dwyane Wade comes through. When Shaq was just a shadow of himself, Wade came through.
Many Chiagoans divorced themselves from Wade in 2010 when he famously threw the Bulls under the bus for not hiring former players prior to finding out the Bulls had hired more than five times as many former players as his Miami Heat team had.
Despite the present Chicago hatred for the Heat, Wade still ranks as probably the second-best player with Windy City roots.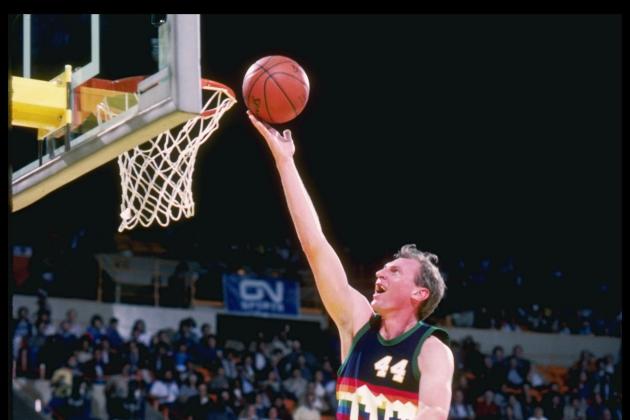 Rick Stewart/Getty Images
Don't be fooled by the fact that he's 6'9 and not dunking
No one will confuse Dan Issel with one of the NBA's all-time great athletes at the power forward position. But he scored at will for 15 years and retired as the fifth-leading scorer, ABA and NBA points combined, in league history and still ranks in the top 10.
Issel wasn't necessarily a smooth player, but he had an outstanding outside jumper, a nice drive and enough post moves to get the job done. His legendary work ethic and endurance earned him the nickname "The Horse,'' as he'd outwork opponents on the floor as well as in the gym.
For our All-Chicago team, he'll do a nice job stretching the floor and pulling the opposing big men outside the paint as well as filling up the box score.
Batavia may be stretching the boundaries of "Chicago roots," but if suburbanites can claim Chicago as their home, Chicago can claim Issel.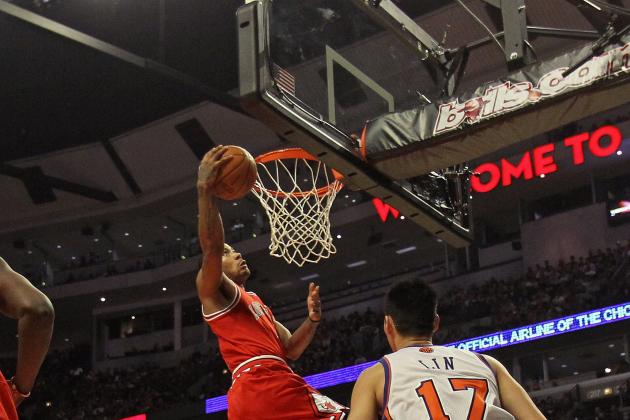 Jonathan Daniel/Getty Images
Derrick is 10x more Chicago than Isiah ever will be
Point Guard: Derrick Rose
It's easy to make the case for Hall of Famer Isiah Thomas as the starting point guard, but it's smarter to build the case for Rose. Throw away that Rose is 100 times more Chicago than Isiah could ever be and just focus on their careers to date.
Derrick already has two seasons with a player efficiency rating that eclipses Isiah's best. Rose has been clearly the best player on his team every year he's been in the league and he's won the NBA MVP award. Isiah has a couple of rings, but those are team achievements, not individual ones.
It'd be easy to say Rose's career has been too short to put him ahead of Thomas, but Thomas wasn't as dominant nor as capable of taking on the workload that Rose does every night. Throw in that Thomas's 12-year career featured only three seasons with a PER of more than 20, and it's hard to give him much in the way of marks for longevity.
For his part, Rose is perhaps the most "Chicago" that any star player will ever be, both growing up in the city and playing for the Bulls. His humble and hard-working attitude even aligns with the qualities that make Chicagoans proud.
On the court, he's a true NBA superstar, a top-five player, MVP winner and capable alpha dog. Thomas may have already entered the Hall of Fame, but Rose's best seasons have already surpassed anything Thomas could do statistically.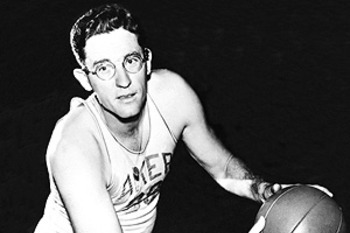 George Mikan was the league's first star
Center: George Mikan
What would Mikan do in the NBA today? Probably get posterized by every athletic perimeter player in the NBA. That said, the only way to judge players is to judge them against their era. In his era, MIkan was a force to be reckoned with.
He was the best player of his generation and the NBA's first true superstar. He was the face of professional basketball when it was a fledgling sport and went on to become commissioner of the ABA.
MIkan's dominance is responsible for significant rule changes in the NBA, including widening the lane and disallowing goaltending. He won seven titles, was on the NBA's top-50 list and has little competition for the starting center spot on the All-Chicago team.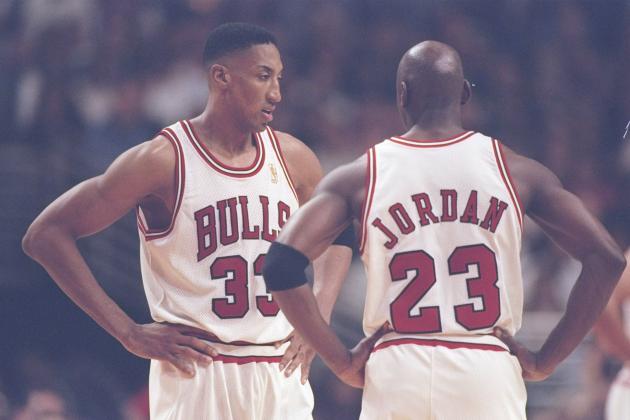 Jonathan Daniel/Getty Images
Who else but Scottie could start at SF?
Small forward: Scottie Pippen
Pippen played his career in Michael Jordan's shadow, sacrificing his game for the betterment of the team. Despite winning six titles, the only Bull besides Jordan to do so], Pippen frequently gets categorized among the most overrated players.
There are those who feel Jordan made Pippen, but he was a legitimate MVP candidate when leading the '94 Bulls to 55 wins after Jordan retired. Pippen averaged 22 points, 8.4 rebounds, 5.6 assists and 2.9 steals that season and led the team in every major statistic except rebounds and blocked shots (second in both).
Throughout his career, he played good cop to Jordan's bad cop, building up everyone on the team after Jordan would tear them down. Bill Wennington noted that Pippen was the greatest teammate he ever played with. And despite his well-publicized refusal to re-enter a playoff game with 1.8 second remaining, he was an outstanding leader.
Pippen is the greatest perimeter defender of all time and brought plenty of intangibles to go with his tangibles. Contrary to popular opinion, he's in the underrated category and would have had an excellent chance to win a title as the No. 1 player for a team if he had played out his prime in that role.
Mike Powell/Getty Images
Who else could but Jordan could anchor the all-Chicago roots team?
Shooting Guard: Michael Jordan
It's anticlimactic to name Jordan the starting shooting guard of the All-Chicago team. The undisputed greatest player of all time would head virtually any basketball list. His accolades are too numerous to list, but he ranks as one of the few superstars to improve their stats as the playoffs wore on rather than to lessen them.
He won five MVPs, a defensive MVP, six Finals MVPs, two gold medals and just about every honor that a basketball player can win.
Not only is he the greatest Chicago player and the greatest NBA player, but a case can be made that he's the greatest team-sport athlete ever. One of my favorite Jordan quotes comes from Bob Knight, who tried to convince the Blazers to draft Jordan despite needing a center: "Draft Jordan and play him at center."
Knight saw what was coming long before anyone else did.