MLB Playoffs 2012: Burning Questions for Each Team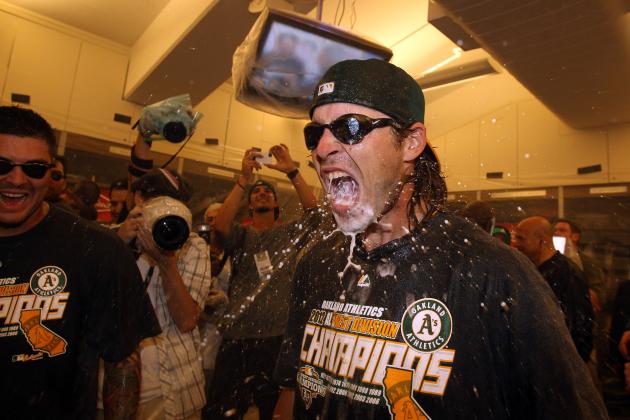 Ezra Shaw/Getty Images

Now that we finally know who is playing where, when and against which team, the 2012 Major League Baseball playoffs can be the focus of the discussion. There is no more mystery, though we can argue for hours about why your favorite team will or will not win the World Series.
This is one of the most interesting years because there are no great teams in baseball right now. All 10 teams in the playoffs have at least one flaw that that could end up being their undoing.
Plus, there is a small changing of the guard, at least for one year, in baseball. Gone are the stalwart teams like Tampa Bay, Boston and Philadelphia. In are the newbies that have waited a long time to get here like Washington, Baltimore and Oakland.
Variety is the spice of life, and this is one of the most unique collections of talent in a postseason in a long time. You have the old superstars like Derek Jeter, superstars still in their prime like Miguel Cabrera and future superstars like Bryce Harper.
As we prepare for the new postseason format, we are going to take a look at the biggest question mark facing all 10 playoff teams to get you set for the action starting on Friday with the two Wild Card Games.
Begin Slideshow

»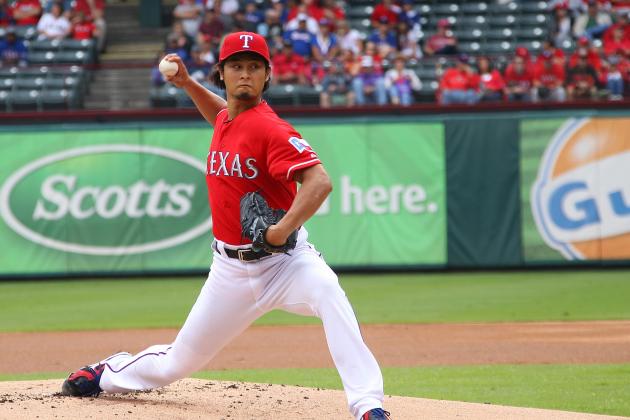 Rick Yeatts/Getty Images

While there might be some panic in Texas right now for the way the Rangers ended the regular season, it could end up being the best thing that happened to them.
Yes, they will have to play the one-game Wild Card Playoff, but they are doing it at home against Baltimore, a team the Rangers are better than. If they win the Wild Card Game, then they start the Division Series against New York with two home games.
The one big area of concern for the Rangers right now is in the starting rotation. Their pitching has been a mess for most of the second half, but specifically the rotation.
We all know that Yu Darvish will be starting the Wild Card Game on Friday. After him, there are a whole lot of question marks.
Darvish has been masterful since the start of September. Some of that can be attributed to facing weaker lineups due to expanded rosters, but he did have much better command of his pitches. In 36.2 innings, he allowed 20 hits and seven walks and had 39 strikeouts while holding the opposition to a .333 OPS.
The stuff is there for Darvish to be a No. 1 starter. The performance is starting to catch up to all the hype that surrounded him last offseason and just in the nick of time.
The most likely candidate to be the No. 2 starter for the Rangers is Matt Harrison. If you think wins are a telling sign of pitcher performance, he did have 18 of them in the regular season.
Harrison strikes me as a better regular-season pitcher than postseason performer. He lacks power stuff, relying on command and off-speed stuff. He doesn't miss bats—just 133 strikeouts in 213.1 innings—and the six home runs he allowed in September was the most of any month this season.
Ryan Dempster was the big acquisition at the trade deadline, but he just got lit up in Oakland and has found the adjustment to the American League to be quite difficult. In 69 innings since the start of August, he has allowed 39 earned runs and 10 home runs.
Derek Holland has the best stuff of anyone not named Darvish in the rotation, but his command and control is that of a back-of-the-rotation starter. He looks more like a long reliever at this stage, though it is important to remember that Jeff Suppan pitched the best three weeks of his life in October 2006 en route to winning the World Series MVP.
Unless someone from this group is able to step up and support Darvish in the rotation, the Rangers are not going to be able to make it a three-peat as American League Champions and have a shot to capture the World Series.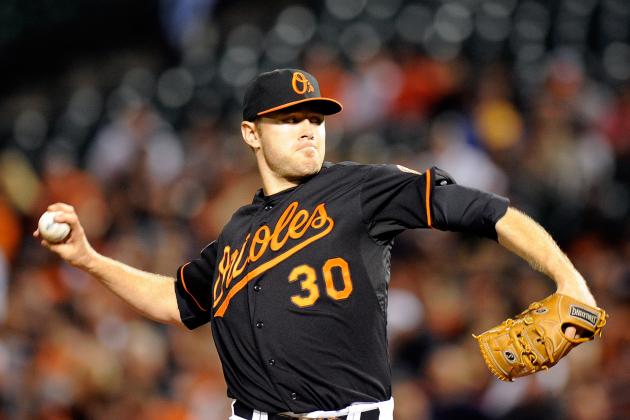 Greg Fiume/Getty Images

Now that the Baltimore Orioles are in the postseason for the first time in 15 years, the obvious question becomes: What now?
The Orioles might be the most flawed team in the postseason, which isn't to say they can't win the World Series.
But their starting pitching is the weakest of any remaining team in either league. It doesn't help that they have to play the Rangers, one of the best offensive teams in baseball, in Arlington on Friday.
The Orioles have not announced who will start that game, but we do know that it will either be Joe Saunders or Steve Johnson.
To me, the Orioles made a mistake starting Chris Tillman in the final game of the season against Tampa Bay. I understand the rationale behind it, because had they won that game and the Yankees lost to Boston, they would have had a shot to win the American League East.
However, Tillman has been the best pitcher on the roster since being recalled in July. He really elevated his status back to the level it was when he was one of the team's top pitching prospects three years ago.
Now the O's aren't going to be able to use him in their most important game of the year and will rely on Saunders—who had a 7.62 ERA in August—or Johnson, who has looked good but has only made four starts on this season.
Wei-Yin Chen is not the same pitcher he was in the first half. He is still serviceable but looks very tired. His ERA was 5.05 in September.
Offensively, they don't hit well or get on base, but they blast a lot of home runs. The bullpen, which has been the saving grace for this team, is going to bear a heavy burden if they want to make a deep run.
Bob Levey/Getty Images

Everything I have written about the Cardinals for the last two months is about how they are the most dangerous team in the National League.
Using the Pythagorean expectation, which is based around run differential, the Cardinals should have won 94 games. Due to a few issues along the way, they only wound up winning 88 games.
It took 161 games to seal the deal, but the Cardinals are back in the playoffs and ready to defend their championship. There are a lot of reasons to like this team, as well as a few things that could keep them from repeating.
As far as National League teams go, no one can match the Cardinals' offense. They are built like an American League team and go eight deep. They did struggle in the second half, as their run-scoring output went from 4.95 runs per game before the All-Star break to 4.51 after the break. It's not a huge difference but was noticeable when you watched them play.
The starting rotation is deep, though you have to wonder if they will have that one hammer at the top who can dominate. Adam Wainwright is the obvious candidate. He had an inconsistent season, which was to be expected coming off Tommy John surgery.
Kyle Lohse was the best and most consistent starter from Day 1. He is an extreme fly-ball pitcher, which is a risky proposition in the postseason.
Lance Lynn did have a nice rebound in September after a disastrous August. Jaime Garcia is a far better pitcher at home (2.82 ERA) than he is on the road (5.02), which could force the Cardinals to start him in Game 1 or 2 of the NLDS if they make it to that point.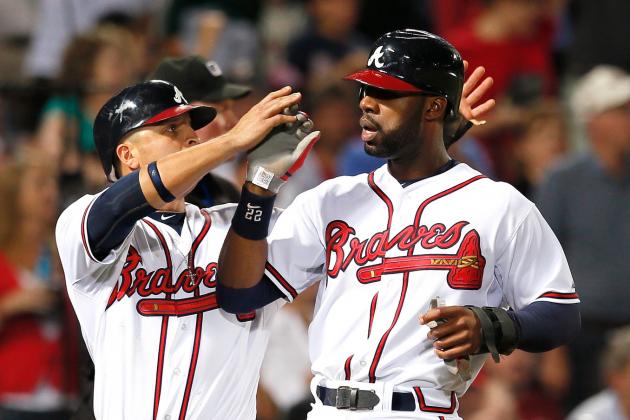 Kevin C. Cox/Getty Images

There are a lot of things that the Braves do well.
They have the best pitcher in the National League over the last three months (Kris Medlen) and the best relief pitcher in baseball (Craig Kimbrel). They have the narrative of Chipper Jones' retirement for people to get behind and a young stud who had a nice return to form in Jason Heyward.
Yet there is one thing this team does worse than any other team in the postseason: hit left-handed pitching.
The Braves posted a .244/.315/.374 line against southpaws this season. Their .689 OPS was easily the worst of any playoff team. (Oakland is next at .706.)
You look up and down their lineup, and all their best hitters failed to produce anything against lefties. Brian McCann hit .236/.265/.408. Jason Heyward hit .224/.280/.354. Freddie Freeman hit .237/.215/.399.
There are a few bright spots, like Jones (.298/.376/.444) and Michael Bourn (.273/.345/.383), but for the most part they are dreadful against lefties.
The Cardinals have a good left-handed starter in Jaime Garcia, but as mentioned previously, he struggles on the road. Marc Rzepczynski is a lefty specialist who will likely be called upon in a pinch.
If the Braves want to make a deep run in these playoffs, they are going to have to figure out their issues against southpaws. Nothing they have done in the regular season makes you think it is going to happen, yet in a small sample size, anything can happen.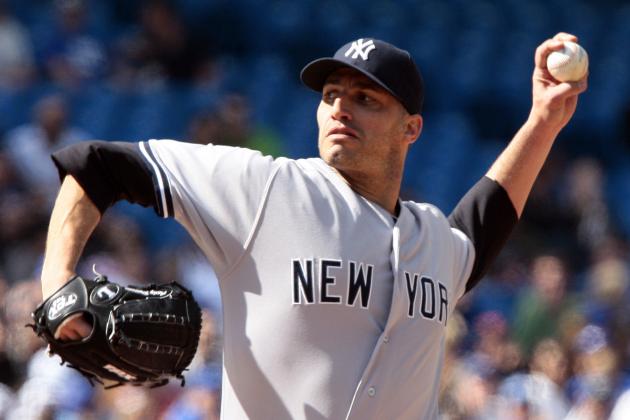 Abelimages/Getty Images

The Yankees finished with the best record in the American League and have the advantage of playing the winner of the Wild Card Game, though they will have to play the first two games of that series on the road.
We all know that CC Sabathia will be the horse on the mound in Game 1 of the Division Series. But who do you trust after him?
Hiroki Kuroda had the best numbers, with 219.2 innings pitched, a 3.32 ERA, 205 hits, 167 strikeouts and 51 walks. But he did start to fade a bit down the stretch, posting a 4.71 ERA with an .863 OPS against in September.
Phil Hughes has been so hot and cold this season that you can't predict what you are going to get from him. His month-to-month ERAs this season were 7.88, 4.66, 2.67, 3.09, 3.82, 5.19.
This leaves Andy Pettitte as the most important starter for the Yankees. He has the freshest arm, throwing only 75.1 innings due to a broken ankle he suffered in the middle of the season.
If you actually think experience matters, he has pitched in 42 postseason games, though his legend is inflated because it is New York. He only has a 3.83 ERA in 263 innings.
Since the Yankees brought Pettitte back specifically for the purpose of pitching in October, he has to deliver if they want to add banner No. 28.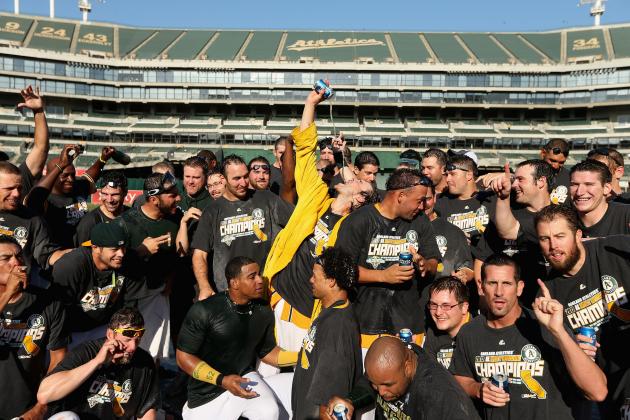 Ezra Shaw/Getty Images

If you listen to the television broadcasts of games, or pay attention to analysts on ESPN, MLB Network, etc., all of them usually talk about experience and how much it matters in the postseason.
On paper, that sounds like a nice theory. It's simple logic—if you have done something before, odds are good you will be better at it. The problem with it is, it doesn't hold much water in sports. The game is exactly the same, you are just playing better teams on a regular basis.
The Oakland A's are on the best three-month run of any team in the postseason, despite boasting a rotation filled with rookies and young position players, at least by Major League experience, who should have folded down the stretch.
Yet here they are, standing tall as American League West champions and getting ready to take on the Detroit Tigers.
Are they at a distinct disadvantage because they have never been in this spot before? Absolutely not. They have just as good a shot as anyone to win the World Series. It has nothing to do with their 56-26 record since June 30.
Momentum in baseball is a myth. It makes for a nice narrative, but it doesn't actually exist. The A's won because they have a lot of talent. It might be young, but talent far outweighs experience.
Plus, this team is built a lot better than those "Moneyball" teams (for the record, I want that term banned from baseball). This group actually has power and the ability to hit home runs.
Those A's teams from the early-2000s had a few players who could drive the ball, yet they were always dependent on pitching and situational hitting.
This team can bash with anyone in baseball. They hit 195 home runs, seventh-most in baseball, despite playing most of their games in one of the worst hitters' parks in the game.
If you are betting on the A's to win, do it because they are talented. Don't do it because you think they have "momentum."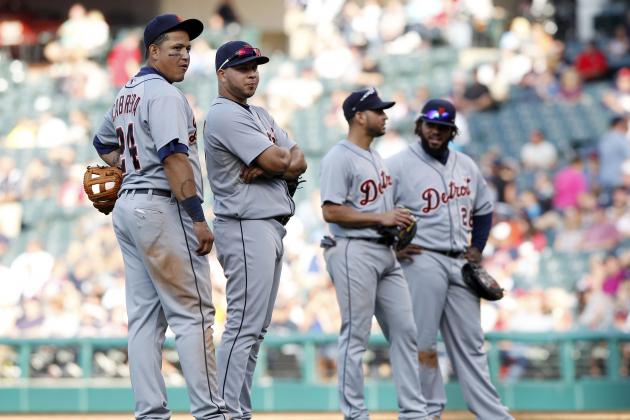 David Maxwell/Getty Images

A lot of talk surrounding the American League postseason involves the Detroit Tigers actually being the most dangerous team, and there is certainly some validity to that thinking.
Lost in the shuffle of the Miguel Cabrera Triple Crown chase is the talent that surrounds him. In the whole MVP debate, the argument for Cabrera seems to be that he put the Tigers on his back and carried everyone.
As I wrote on Twitter, did Justin Verlander, Austin Jackson and Prince Fielder vanish into thin air like The Observers on Fringe?
Not to mention Max Scherzer and Doug Fister who, if healthy, can give the Tigers arguably the best trio of starters in the postseason.
Scherzer was so excited that the Tigers won the AL Central that he twisted his ankle during the celebration. His shoulder was the source of concern for the last few weeks, but that appears to be behind him.
Fister hit a low point in June with a 5.51 ERA in 16.1 innings. He has gotten much better and stronger over the last three months, posting an ERA of 3.60 in July, 3.38 in August, and 2.77 in September and October.
One thing to watch for is Verlander. He is aces in the regular season but has struggled in the postseason. Last year, he had a 5.31 ERA in four playoff starts. He still had a lot of strikeouts—25 in 20.1 innings—but also had 10 walks, allowed 19 hits and didn't have the same command of his pitches.
The Tigers were a disappointing team in the regular season, because everyone expected them to win close to 100 games and steamroll the Central division with Cabrera and Fielder in the middle of the lineup.
We failed to take into account how important defense is, despite the fact that the Tigers boast one of the most strikeout-laden starting rotations in baseball.
Playing in a short series could be the perfect showcase for the Tigers. They have power in the middle of the lineup, starters who are capable of dominating on any given day and a bullpen that is good enough.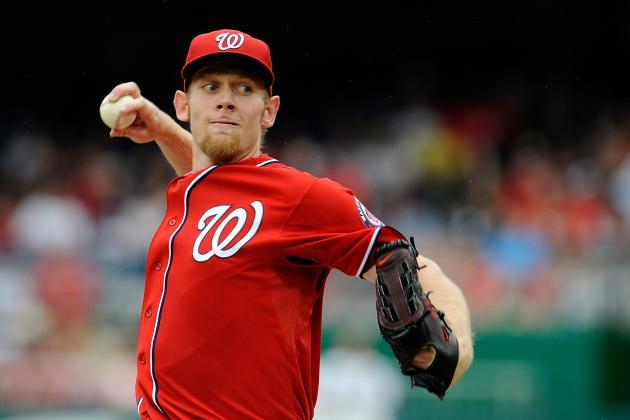 Patrick McDermott/Getty Images

If It feels like there is a huge abyss right at the top of the Nationals' rotation heading into October. it is the spot that Stephen Strasburg used to occupy before the team decided to shut him down in early-September.
Any hope of Strasburg making a surprise return in the postseason all but ended when Nationals manger Davey Johnson did a radio interview (via Byron Kerr) and said the young ace won't be on the playoff roster.
Strasburg won't be on postseason roster says Davey on @1067thefandc

— Byron Kerr (@masnKerr) October 3, 2012
There have been countless articles and hours of argument spent debating whether this was the right move, so we aren't going to get into that here.
Instead, we are going to talk about what his absence does for the team's postseason rotation. We can look at certain variables since Strasburg was shut down to try and figure out if there has been any effect, positive or negative, to the team.
Their record since Sept. 7, when Strasburg made his last start, is 13-11. That's a small sample size and probably doesn't mean much since they had everything wrapped up for a week.
The team's ERA in September was 3.93, the worst single month for the Nationals in 2012. Again, variables at play like small sample and letting certain pitchers start who won't come close to the mound in October have to be considered.
So let's look at the rotation Davey Johnson is likely going to run out there in the Nationals' first three games.
You have to figure Gio Gonzalez will start Game 1, followed by Jordan Zimmermann and Edwin Jackson.
Gonzalez had the best season of his career, striking out 207 hitters with a 2.89 ERA and only nine home runs allowed in 199.1 innings pitched.
Zimmermann has struggled since August, with ERAs of 4.39 and 4.41 in the last two months of the season. He has allowed 86 baserunners in his last 61.1 innings pitched.
Jackson is always an enigma. He has great stuff, but the command comes and goes.
Certainly, both Jackson and Zimmerman have the ability to put it all together for a month to help the Nationals win a World Series, but they would look a lot better if they had Strasburg as a fall-back plan.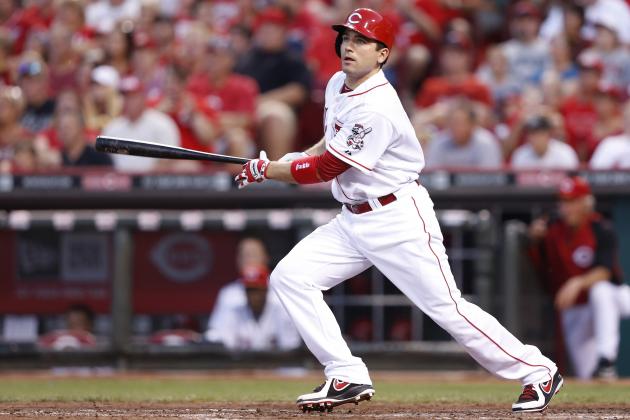 Joe Robbins/Getty Images

Most people think of the Reds as being an offensive team with enough pitching to get by. That wasn't exactly the case in 2012, as they finished ninth in the National League in runs scored with 669. For comparison, that was just two more runs than Cleveland scored.
The pitching, on the other hand, was as good as it has been in a long time. The Reds finished third in the National League with a 3.34 ERA.
One of the biggest problems with the offense has been the performance of Joey Votto since returning to the lineup following knee surgery in July.
Before Votto went down, he was on a path of destruction that no one was capable of stopping. He hit .348/.471/.617 with 14 home runs and 35 doubles in 287 at-bats before the All-Star break.
In the 50 at-bats Votto has had since returning to the lineup, he has hit .299/.483/.402 with nine doubles, no home runs and eight RBI. His control of the strike zone is still where it was before the surgery, but his legs and power have not yet returned.
Despite playing in one of the smallest ball parks in baseball, the Reds don't boast a lot of players who hit for power this season. Jay Bruce and Ryan Ludwick were the only players to crack the 20-home run mark.
Votto is unquestionably the most important offensive player for the Reds. He can change the way pitchers approach the players ahead of him and after him, but he has to prove that he can drive the ball like he used to.
It's really hard to get your power back right away after knee surgery, so we don't know which Votto will show up.
For the Reds to make a deep run, they need Votto hitting like the MVP he looked like the first three months of the season.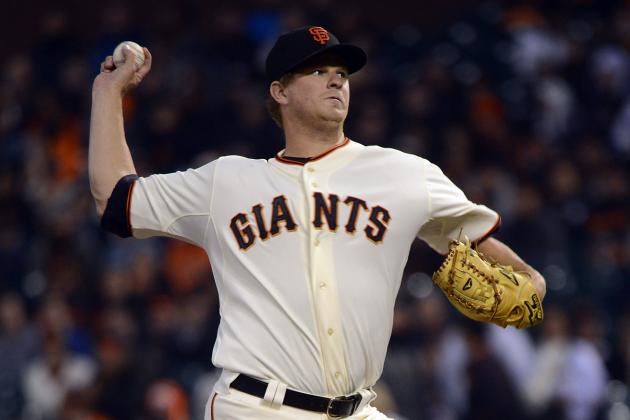 Thearon W. Henderson/Getty Images

There is usually never a question about the San Francisco Giants regarding their pitching staff. But this year feels very different. There is actually optimism with their offense, thanks in large part to the performance of Buster Posey.
The starting rotation, however, is starting to show some cracks in the armor. Matt Cain is spectacular, no one will deny that. Madison Bumgarner is very good, though I am concerned about his up-and-down performance this season.
Bumgarner had an ERA of 3.94 with six home runs allowed in 32 innings in July before rebounding with a 2.97 ERA and 38 strikeouts in 39.1 innings in August. But then he fell back to a 5.47 ERA and 44 baserunners allowed in 26.1 innings in the final month of the year.
Ryan Vogelsong has been a disaster the last two months. He was always a pitcher getting by with command and a high groundball rate, but opposing hitters had an .864 OPS against him August and an .814 OPS in September.
Tim Lincecum looks like a shell of his former self. He had a decent August with an ERA of 3.90, but still gave up 29 hits and 11 walks in 27.2 innings. He still has the deception to miss bats, shown by his 190 strikeouts in 186 innings, but there is not enough velocity or movement on the fastball to sustain performance for six or seven innings at a time.
Barry Zito is, well, Barry Zito. He has been incredibly lucky not to have the wheels fall off this season because all the numbers indicate he is the same pitcher this year as he was in 2011 when his ERA was 5.87. The only significant difference is his home run rate of 0.98, even though his groundball ratio (40.4 percent) is largely the same as it was last year (39.8).
As long as Bumgarner is able to get back on track, the Giants will have a shot because Cain is about as good as any starter left standing, and all you need are two dominant starters at the top of a rotation to keep you in a short series.