10 Most Pressing Concerns for NY Knicks Entering 2012-13 Season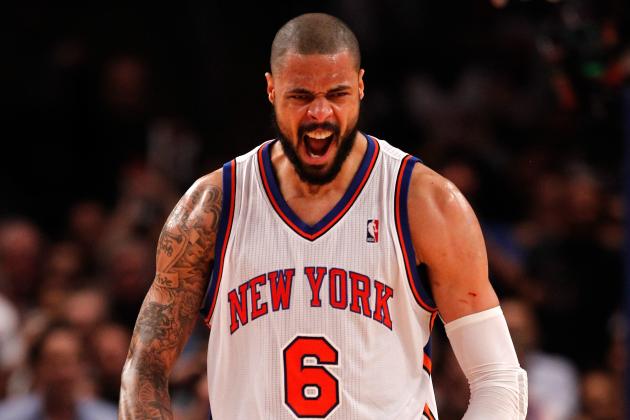 Jeff Zelevansky/Getty Images

The New York Knicks experienced one of the more tumultuous offseasons of an NBA team with plenty of roster turnover. But, now with the 2012-13 season fast approaching, the team is looking to the future not the past. The Knicks organization believes it has built a squad with the kind of proven, veteran talent that can be a factor in the Eastern Conference and a potential title contender.
But, in order to do that they need to overcome a number of issues.

For the past few seasons, the New York roster has always looked strong to start the season, but a myriad of issues have derailed them from living up to their potential. With a completely retooled supporting cast and their coach Mike Woodson entering his first full year with the team, this is as good a chance as any for the Knicks to avoid the media circus and simply take care of business.
As teams across the league start to take stock of their biggest issues, let's take a look at the 10 most pressing concerns for the New York Knicks heading into their 2012-13 campaign.
Begin Slideshow

»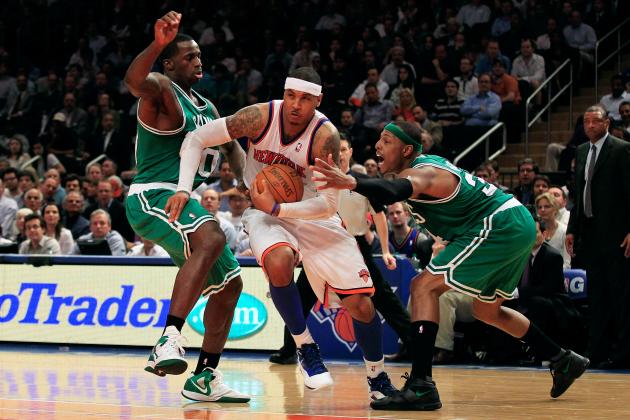 Chris Trotman/Getty Images

In the 2011-12 season, the Atlantic Division sent three teams to the postseason, with Boston, New York and Philadelphia earning the fourth, seventh and eighth seeds, respectively. The division undoubtedly had some talent but was held back by perennial bottom-feeders in New Jersey and Toronto.

Now, after an offseason that saw Boston reload with youth and athleticism, Philadelphia trade for a franchise center in Andrew Bynum, Brooklyn build a playoff squad around Deron Williams and even Toronto add some intriguing talent, this Atlantic Division is easily among the league's most stacked.

The Knicks play four games against each of these clubs and need to put up strong showings in each contest. Although obviously a 16-0 record is practically impossible, it would be terrible for them to put up a 7-9 or even a 6-10 line as they will be scrapping and clawing for playoff position all season long.

In addition, although New York may not be favored to run away with the division title, they have the talent to do so, if they play well every night. They have the size on the inside to contend with the 76ers, the star power to stay competitive with the Celtics and the defensive system to shutdown the Nets and Raptors.

Winning the division would guarantee the Knicks no lower than the Eastern Conference's fourth seed and likely save New York from having to battle the Miami Heat in the first round (which we will discuss later).

If Toronto's new pieces gel quickly, this Atlantic Division has the potential to send all five of its teams to the postseason, putting it in the conversation with the Northwest Division for the roughest division in the NBA. For the Knicks to be the contender that they hope to be, they must slog through these 16 games and emerge with a winning record on the other side.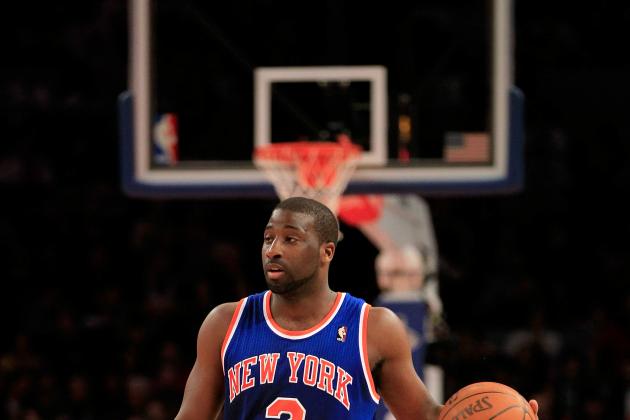 Chris Trotman/Getty Images

The NBA has become a point guard driven league, with plenty of teams boasting star players as the one capable of controlling and even dominating the game. Since letting Jeremy Lin walk in free agency, New York is left with the tandem of Raymond Felton and Jason Kidd at the point guard spot, with Pablo Prigioni behind them but expected only to play garbage minutes.

In the 2011-12 season, Kidd averaged just 6.2 points, 4.1 rebounds and 5.5 assists while shooting a disappointing 36.3 percent from the field. Felton's numbers were better, though not staggeringly so, as he averaged 11.4 points, 2.5 boards and 6.5 dimes on 40.7 percent shooting during a heavily criticized stint in Portland.

The Eastern Conference is loaded with upper-echelon point guards, from Rajon Rondo to Derrick Rose and Deron Williams, and almost every team in the conference has a quality starter at the point. New York does not need All-Star production from Kidd and Felton, but they need them to do an adequate job containing the other team's guards while making an impact offensively.

Consistency was an issue for both Felton and Kidd last season as they would disappear for long stretches of games and fail to have a significant impact, but that cannot be the case during their time in New York as this team looks to have a deep postseason run.

Kidd is still a phenomenal passer with great court vision who can also hit three-pointers and play aggressive defense, while Felton's speed in the open court and pick-and-roll prowess have earned him the starting job. With Felton finally in shape and Kidd appearing healthy, these two need to prove they still have plenty left in the tank coming off lackluster campaigns.

The Knicks do not need peak seasons from either of their point guards, but they must be impact players.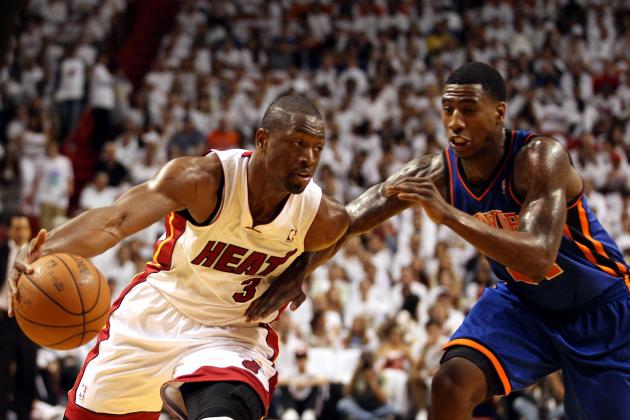 Marc Serota/Getty Images

A large part of what spurred New York's 18-6 run under Mike Woodson and helped them clinch a second consecutive playoff berth was that the team no longer focused solely on outscoring their opponent. Woodson, who initially signed on as a defensive coach under Mike D'Antoni, installed a system that was based on players putting in a consistent, aggressive effort on the defensive end of the court.

D'Antoni's "Seven Seconds or Less", run-and-gun attack focused minimally on guarding opponents, but Woodson's half-court attack allowed the team to focus more on stopping the other team. Led by Defensive Player of the Year Tyson Chandler, the Knicks swarmed and trapped, played physically on the perimeter and made proper help rotations to seal off penetration.

Although they struggled to stop the Miami Heat during the first round of the playoffs and lost Iman Shumpert for a few months to a torn ACL, New York added several players in the summer that can be difference-makers defensively.

Shooting guard Ronnie Brewer is a true multi-position defender thanks to his size and athleticism. He can cover both guards and forwards and has the ability to deny penetration, cover ground quickly and force turnovers thanks to his active hands. Jason Kidd is still among the league's top defense guards for many of the same reasons and will be asked to use his veteran savvy to cover younger, more agile players.

Marcus Camby and Kurt Thomas are both well past their prime but can make an impact as shot-blockers and rebounders, helping to shore up the middle for the brief stretches when Chandler is on the pine. Once Shumpert returns, he will likely be asked to guard the opposing teams best scorer and consistently make him work for his shots, as he did with regularity during the 2011-12 season.

Sure playing uptempo basketball can win games and it is certainly exhilarating to watch, but for a team with championship aspirations they need to stay true to the system that brought them success previously and provide a strong effort through all 82 games in 2012-13.

And yes, that goes for Carmelo Anthony and Amar'e Stoudemire, too.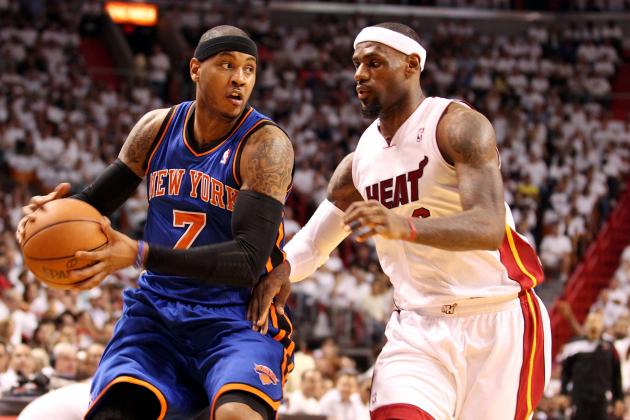 Marc Serota/Getty Images

Too often during the 2011-12 season, the New York offense was caught stagnant and simply watching the ball. Because Carmelo Anthony plays a lot of one-on-one basketball and Mike Woodson's offensive scheme involves plenty of isolation sets, it is easy for the other Knicks to drift out of the play and become non-factors.
This cannot be the case for 2012-13.

Though the Knicks do not have an elite point guard like a Rondo or a Chris Paul to keep everyone involved, they still have a number of talented passers and players that can slash and create open shots. Kidd and Felton both are gifted assist-men that can find teammates open and make plays while Shumpert, Brewer and even J.R. Smith are capable of finding open lanes in the paint.

In addition, because of the attention Stoudemire and Anthony will garner on a nightly basis, there will usually be a man open on the perimeter for a high-percentage look, so long as they receive the ball in a timely fashion. The Knicks have shooters in Smith, Steve Novak and even Kidd that can bury open looks and help to keep a defense honest.

When the Knicks went through their worst stretch of the season, it was because both the team and the ball were not moving crisply and consistently. It is very difficult for teams to stay aggressive defensively after three or four passes, but as New York learned, when you settle for one difficult shot it puts points at a serious premium.

New York won't be scoring in the hundreds regularly because they will be playing at a slower pace. They must make their offensive possessions count because there simply will not be as many of them. Even if the team dumps the ball to Anthony in the post, the other four players must be moving constantly to create space and potentially open up a good shot.
The easiest way for a team to beat itself in the NBA is to let the ball stick in one players' hands and make it so the defense is really only guarding one person. If all five Knicks are active at all times, they have the firepower to be a very difficult squad to defend.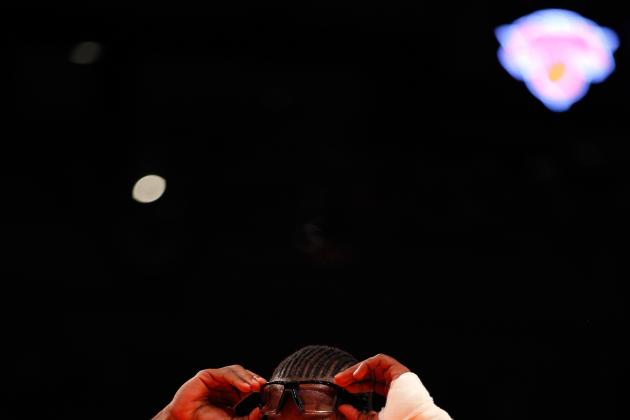 Jeff Zelevansky/Getty Images

Despite the middle of the pack improving during the offseason, the Eastern Conference is still top-heavy and the goal of the Knicks should be to avoid, in any way possible, a sixth, seventh or eighth seed. Although Chicago will be vulnerable with Derrick Rose missing significant time, the top three squads in the conference will still present extremely tough matchups for New York.

Miami should finally snag the top overall seed, and given their talent level, improved depth and ferocious defense there is just no way the Knicks can win four games against them. However, that should not be an issue as it would be very surprising to see New York end with just an eighth seed given their talent and coaching.

It is quite possible that the revamped Celtics grab the second seed, and while New York could potentially upset them if Anthony and Stoudemire both manage to have strong showings, Boston's depth, guard play and team defense would be a serious struggle for the Knicks to overcome. Again though, a seventh seed would represent a major failure for the team and is not where the team is projected to fall.

Ideally, a fourth or potentially third seed would be perfect as it would give the team home court advantage and the chance to play against a team like Brooklyn, Indiana or Philadelphia. While these three teams definitely have talent and would not be easy wins, they are clearly a step below the Heat and Celtics in terms of their level of play.

Obviously, the team should not play anyone who is injured, but giving gratuitous rest to someone like Stoudemire or Kidd during the season's duller months could potentially come back to haunt the team come April and May. The main priority for New York should be to make its mark as one of the top four teams in the East, but mainly to avoid the dreaded sixth-eighth seeds.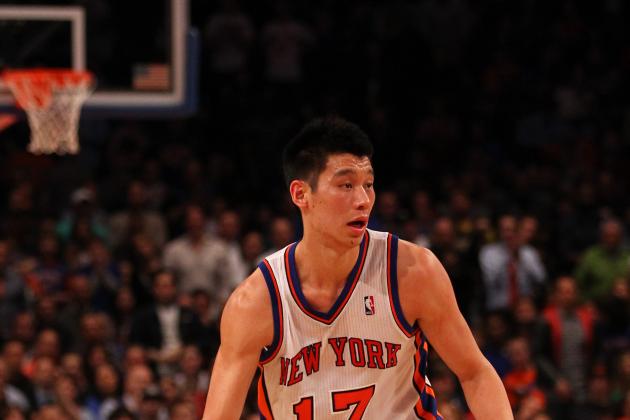 Al Bello/Getty Images

New York is a difficult place to do anything in a low-key manner and that includes playing professional basketball. The omnipotence of the media means that every little skirmish or unexpected development becomes front page news and that kind of sideshow is exactly what the Knicks should try to avoid for 2012-13.

This past season the team had to deal with the struggles of both Anthony and Stoudemire, Anthony's rift with D'Antoni and his subsequent firing as well as the emergence of Woodson, Lin and Novak all while seeing their roster constantly depleted by injuries. Throughout these trying times, the sports media world was constantly speculating on the morale and attitude of the players, turning every game into a major event.

For as much as NBA players are told not to take any media conversation to heart, it is difficult to completely focus when your team is being as endlessly dissected as the Knicks were in 2011-12. However, with Lin gone and the team clearly committing to Anthony as the franchise player, they have a chance to start fresh and focus on playing quality basketball and making some noise in the playoffs.

In their first season together, the Miami Heat were the team put through the media ringer, but they managed to run a tighter ship during their championship run and this made a significant difference both on and off the court. This is the mentality with which the New York front office and leadership should approach the season. They can't even allow there to be these stories in the first place.

A team vying for a championship needs to have a cohesive locker room, and in order to do that there cannot constantly be media interference and speculation. It must consistently be a united front. With all of the veterans on this roster, they have a great chance to cultivate a positive culture and to keep the media from drastically altering the trajectory of their season.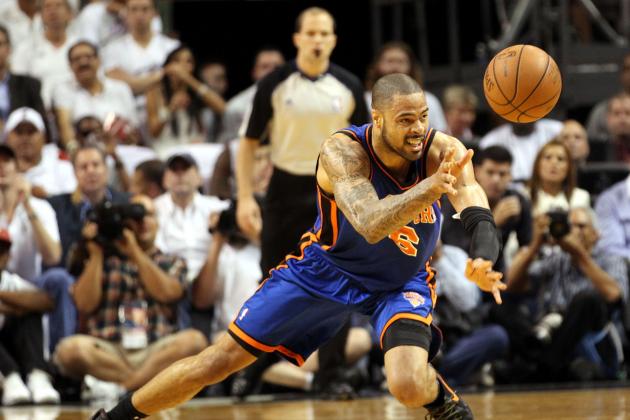 Marc Serota/Getty Images

By the 2012 playoffs, it was clear that many of New York's key players were breaking down due to the harsh, compacted lockout schedule and the heavy minutes they were forced to play. However, this Knicks squad is a much deeper one that walked off the court hanging their heads in South Beach, and they need to use this depth to their advantage.

Stoudemire and Chandler come to mind in particular, as both played long stretches of last season hurt and simply did not have much left in the tank for the postseason. Chandler's numbers dipped to just 6.2 points, nine rebounds, 0.8 assists and 1.4 blocks per game on 44 percent shooting. Stoudemire's line of 15.3 points, 6.5 boards and 0.8 dimes was a regression as well, though he did shoot 55.6 percent from the field over the four games in which he appeared.

With Camby, Thomas, Novak and now Rasheed Wallace, the Knicks have enough depth in the front court that they do not need to make either of their starting big men play superhuman minutes on a nightly basis. They even have the option to rest them for unimportant games in January.

Tyson Chandler has been healthy in recent years, but in the early stages of his career struggled with injuries, while Stoudemire's back and knee ailments have begun to take their tole on him and rob him of his athleticism and uncanny quickness.

The same principle should apply to injured players. Iman Shumpert's defensive ability is crucial to the team's success, but with Ronnie Brewer and J.R. Smith aboard they do not need to rush him back until he is absolutely ready to return to action. It is not worth winning a few games in January if a key piece is lost when the games matter most.

The team should borrow the principle of the San Antonio Spurs and fail to see the forest for the trees. Great teams understand that an NBA season is a marathon, not a sprint. If Mike Woodson is smart, he can find a way to keep his core players relatively fresh for the playoffs while also getting quality minutes from his bench.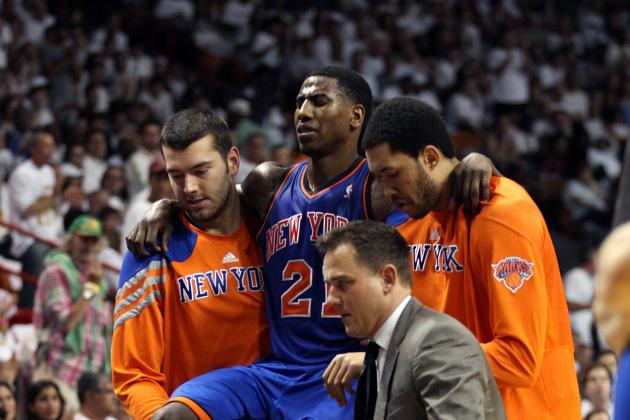 Marc Serota/Getty Images

This really needs little explanation. New York has a number of players, both old and young, either coming off of an injury or with an injury history. They need to make sure these guys are healthy for the brunt of the season. Obviously, few players actually manage to suit up for all 82 games, but the Knicks, in particular, have struggled to keep their main players on the court.

In 2011-12, the injury bug bit Anthony, Lin, Stoudemire, Shumpert and Baron Davis hard. Anthony was sidelined with a lingering groin injury while Lin's torn meniscus required surgery and forced him to miss the end of the season and the playoffs.

Stoudemire slogged through a laundry list of maladies, including a bulging disk and a nasty gash on his hand during the playoffs, while Davis started the season with an ailing back and ended it with one of the most gruesome knee injuries in recent memory. Add to that Shumpert's torn ACL and the fact that Chandler played through the season with banged up wrists and it becomes clear that this New York team was nowhere near full strength when they played Miami.

Stoudemire appears more healthy than he has been in years, but the team added three players in Kidd, Thomas and Camby who have had injury troubles in the past and who are expected to play major roles in the 2012-13 season. This is a talented squad without a doubt, but they are also one of the more fragile rosters assembled in the league and cannot afford to lose any impact players for prolonged stretches.

A player going down with an injury is an inevitability in this league, but the team should try as hard as possible to be cautious with their players and not push them to the breaking point.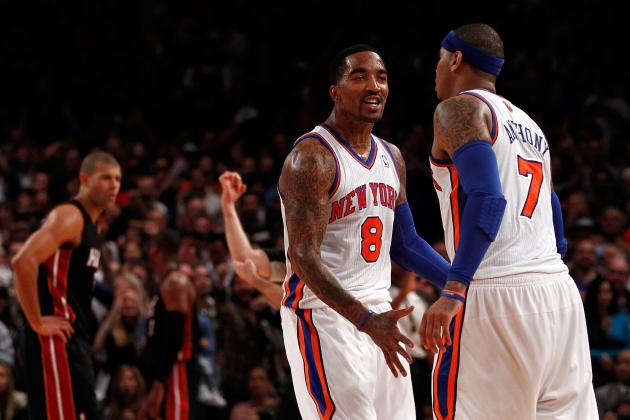 Jeff Zelevansky/Getty Images

With players like Anthony, Smith and Stoudemire on the roster, it will be crucial for New York to stress that their players play a cohesive, team-oriented brand of basketball. Though the veterans they added understand the team-first concept, having two starters and a sixth man who can sometimes become black holes is certainly a cause for concern.

Smith is a tremendous talent but too often is content to take low-percentage, unnecessarily difficult shots, instead of using his athleticism to make a play for a teammate or find his way to the rim. Smith routinely over-dribbles or hoists up poor shots, and as the leader of the team's second unit, they must instill in him a better sense of discipline and responsibility.

As the first option offensively, Anthony will undoubtedly take some questionable shots, but he cannot make as much a habit out of it as he has in the past. Anthony told ESPN that he wanted to look to score less, and make an impact in other ways, but there is a difference between saying something in the offseason and actually executing it during the game.

New York needs to stress to Anthony that they are a better team when he is rebounding, facilitating and playing defense in addition to scoring, and his teammates need to work to show this when they are on the court with him. Anthony is among the league's most talented players, but too often the aspects of his game beyond simply putting the ball in the basket are underutilized.

Stoudemire is better at moving the ball than Anthony, but he struggles to cut without the basketball or off the pick-and-roll. Because he will be doing much less ball handling than he has in the past, he needs to move more and work to get himself open instead of taking himself out of the play. Even though he is declining, Stoudemire is still one of the better scoring power forwards in the NBA and needs to create high-percentage shots for himself.

The team needs to preach a culture of accountability where individual success and team success are directly related. If they can do that, they have the potential to change the mentalities of their players and play truly team-first basketball.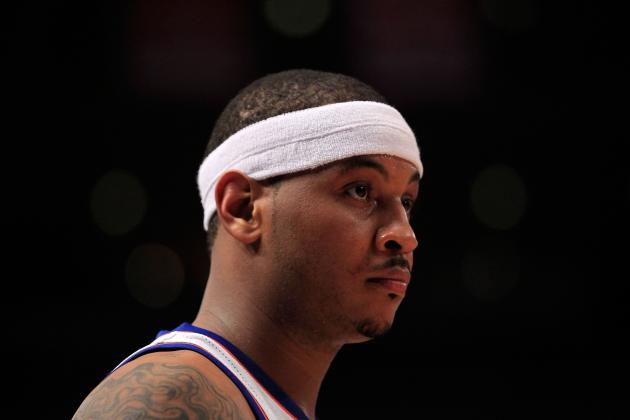 Chris Trotman/Getty Images

By letting Jeremy Lin walk and installing Mike Woodson as the team's head coach for the foreseeable future, the team has made it clear that Carmelo Anthony is the franchise player.
But, the question remains: Can he be the player that leads the team back to glory?
There is no doubt that he can score the ball in spades, but he also has a reputation for putting in a spotty effort in other aspects of the game and not always being a good teammate. With Stoudemire declining, it is even more imperative that Anthony step up the other facets of the game, as his 22.6 points, 6.3 boards and 3.6 assists per game on 43 percent shooting from the 2011-12 season simply will not do.

At his best, Anthony is an electrifying player that can use his strength and size to bully smaller wing players but also has the quickness and handle to attack the basket against clunkier forwards. He has good range on his jump shot and is a threat to heat up in an instant and score from anywhere on the floor.

However, he is also a capable rebounder because of his ability to carve out position and is a better passer than his numbers indicate. Given how much time he spends with the ball in his hands, the 3.6 dimes he averaged per game looks relatively unimpressive.

Anthony also has not won much since he entered the league. He has led Denver and New York to a slew of playoff berths, but has made it out of the first round just once when he took the Nuggets all the way to the conference finals.

Though this Knicks roster has talent outside of the superstar small forward, their roster, which is loaded with shooters, quality defenders and big men, is clearly built to play to Anthony's strengths by taking some of the pressure off of him on both ends of the court.

At this point, New York has committed to Anthony through 2014 and afterwards will have to face the prospects of rebuilding around somebody else. For now though, Anthony is their clear-cut best player. If they want any shot at winning a championship, he will have to play the best basketball of his career over these next two seasons.