10 MLB Prospects Deserving of a Promotion to a Higher Level to Start 2013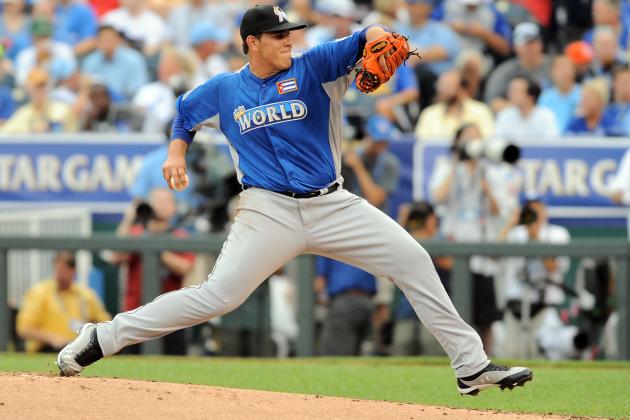 Denny Medley-US PRESSWIRE
RHP Jose Fernandez (MIA)
Since the conclusion of the 2012 minor league season over two weeks ago, I've spent a lot of time reviewing individual seasons as I prepare to release my end-of-the-season, top 50 prospects.
Part of this process involves determining whether specific players are in line for a promotion to a higher level to begin the 2013 season. For younger players especially, the possibility of playing at an advanced level relative to their age can heavily influence their overall ranking.
As a bit of a warm-up for tomorrow's article, here's a look at 10 players who should open the 2013 season at a higher minor league level.
Begin Slideshow

»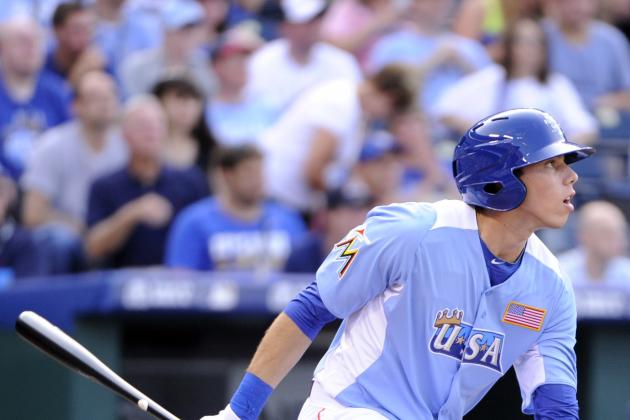 H. Darr Beiser-USA TODAY

Had it not been for two separate stints on the disabled list this season, there's a strong chance that Yelich would have finished the year at Double-A.
Instead, the 20-year-old spent the whole season at High-A, where he batted .330/.404/.519 with 46 extra-base hits and 20 stolen bases in 106 games.
Yelich possesses one of the best hit tools in the minor leagues and is more than ready for the challenge of Double-A in 2013.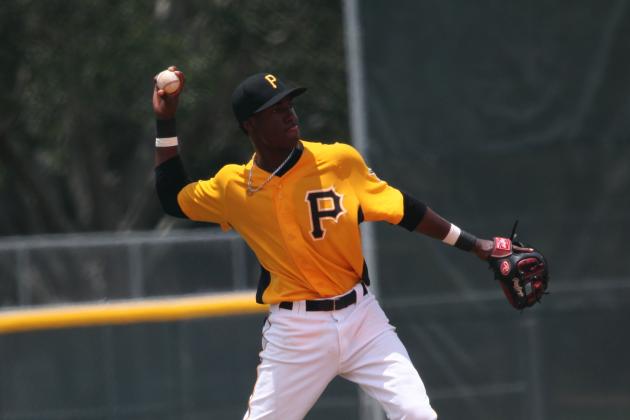 Courtesy of piratesprospects.com
The top breakout player among position prospects, Hanson tore the cover off the ball this season in the South Atlantic League (Low-A).
An incredibly toolsy shortstop, the 19-year-old switch hitter batted .309/.381/.528 with 151 hits, 62 extra-base hits (16 home runs), 35 stolen bases and 105/55 K/BB in 124 games.
While a move to second base may happen down the road, the Pirates will continue to develop Hanson as a shortstop and likely assign him to High-A to open the 2013 season.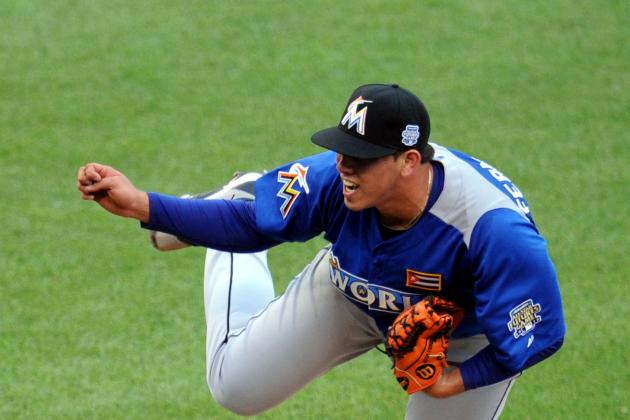 Peter G. Aiken-US PRESSWIRE

Fernandez is a rare breed of teenage pitcher; he already has advanced command of his arsenal of all above-average to plus offerings, has an impressive mound presence and works deep into games.
The 19-year-old right-hander was absolutely dominant this season, going 14-1 with a 1.75 ERA, 0.93 WHIP, .191 BAA and 158.35 K/BB rate in 134 innings between Low-A and High-A.
Matt Ryerson-US PRESSWIRE

After an injury-marred 2011 campaign that featured a .745 OPS in 99 games at Double-A, the 21-year-old exploded at the plate this season and nearly reached the major leagues.
Myers finished the season batting .314/.387/.600 with 26 doubles, 37 home runs, 109 RBI and 140/61 K/BB in 134 games between Double-A and Triple-A.
Regarded as the top hitter in the minors this season, he deserves a crack at a corner outfield spot in 2013. Now it's just a matter of whether the Royals have room for him.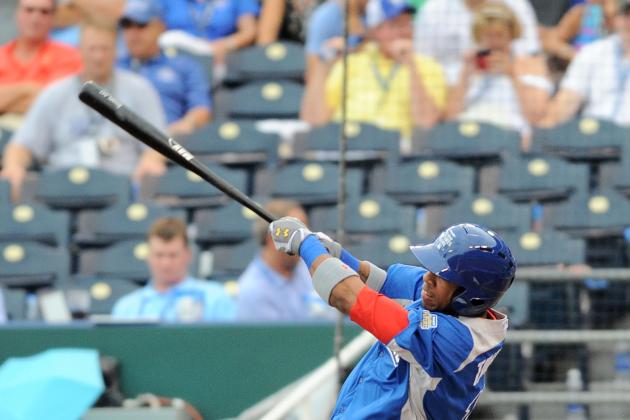 Denny Medley-US PRESSWIRE

While Myers was the best hitter in the minors this season from a statistical perspective, Taveras is the purest hitter among prospects.
As a 20-year-old, the left-handed hitter thrived this season in the face of advanced competition, batting .321/.380/.572 with 67 extra-base hits (23 home runs), 94 RBI and 56/42 K/BB in 124 games for Double-A Springfield.
With a quick bat and ridiculous hand-eye coordination, Taveras is the type of hitter capable of making a quick adjustment to major-league pitching.
He's advanced as any young hitter in the game, and, in my opinion, could battle for a spot in the Cardinals' outfield during Spring Training. If not, it should be a short stay at Triple-A before he reaches the major leagues.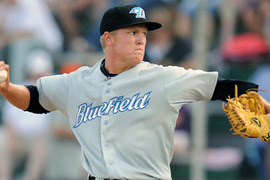 Courtesy of MiLB.com
One-third of the Blue Jays' "Big Three" at Low-A Lancaster—the others being RHP Aaron Sanchez and LHP Justin Nicolino—Syndergaard was dominant this season as he demonstrated both outstanding stuff and advanced command.
Logging 103.2 innings over 27 games (19 starts), the 6'5" right-hander posted a 2.60 ERA, 1.08 WHIP, .212 BAA and 122/31 K/BB in his age-19 season.
Much like the two other members of the Blue Jays' young three-headed-monster, Syndergaard should begin the 2013 season at High-A.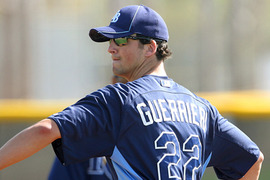 Courtesy of MiLB.com
A first-round draft pick in 2011, Guerrieri didn't make his professional debut until this season. Luckily, it was worth the wait.
The 19-year-old right-hander was the most impressive pitcher in the New York-Penn league this season (Short Season), as he registered a 1.04 ERA, 0.77 WHIP, .186 BAA and 45/5 K/BB in 52 innings.
Even though the Rays exercise caution with pitching prospects, it's clear that Guerrieri is ready for the challenge of Low-A next season. If it were me, however, I'd consider promoting him to High-A for his first full-season experience.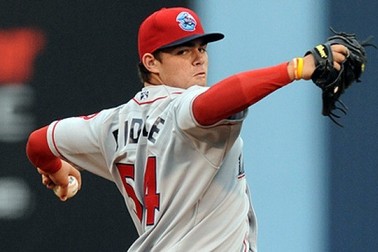 Courtesy of MiLB.com
After an impressive full-season debut in 2011 for Low-A Lakewood, Biddle made impressive strides this season in the Florida State League (High-A).
The 20-year-old left-hander finished the season with a 10-6 record, 3.22 ERA, 1.28 WHIP, 9.5 K/9 and 3.4 BB/9 in 26 starts, and in general, demonstrated improved command of all his pitches.
His adjustments this past year should be enough to warrant an assignment to Double-A to open the 2013 season.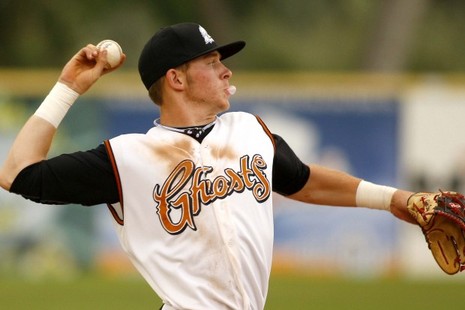 Courtesy of MiLB.com
A prospect that I'm very high on, Story had an outstanding season for Low-A Asheville after making the jump from the rookie-level Pioneer League in 2011.
In his first full-season experience, the shortstop batted .277/.367/.505 with 43 doubles, 18 home runs, 63 RBI, 15 stolen bases and 121/60 K/BB in 122 games. All facets of his game are advanced relative to his age, so expect Story to begin his age-20 season at High-A.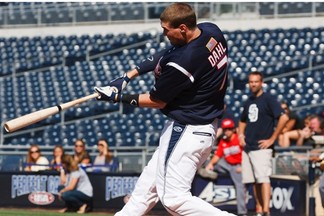 Courtesy of ESPN.com
The 10th-overall selection in the 2012 draft, Dahl signed quickly and began a season-long assault on Pioneer League pitching. Named the league's top prospect following the conclusion of season, the left-handed outfielder batted .379/.423/.625 with 106 hits, 41 extra-base hits, 12 stolen bases and 42/21 K/BB in 67 games.
Don't be surprised if they promote him to Low-A—as they did with Trevor Story—to begin the 2013 season.