25 Early Questions About the 2013 NFL Draft Class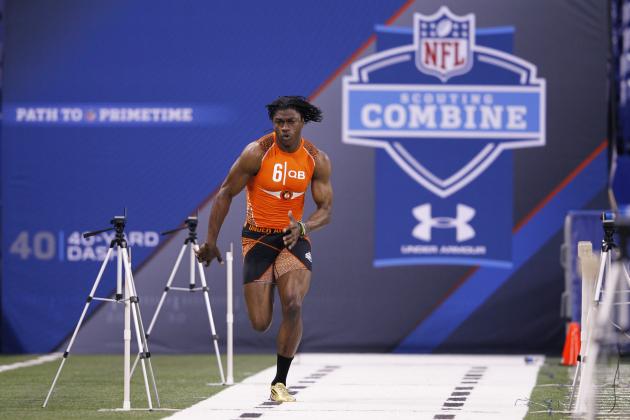 Joe Robbins/Getty Images

The first month of the college football season is now complete, but 2013 NFL draft prospects are only beginning to prove themselves to NFL front offices. General managers and scouts alike have many questions at this stage of the process, and will look for answers as we start to see more marquee match ups in October and November.
Here is a sneak peak at some of the more intriguing issues surrounding this year's class.
Begin Slideshow

»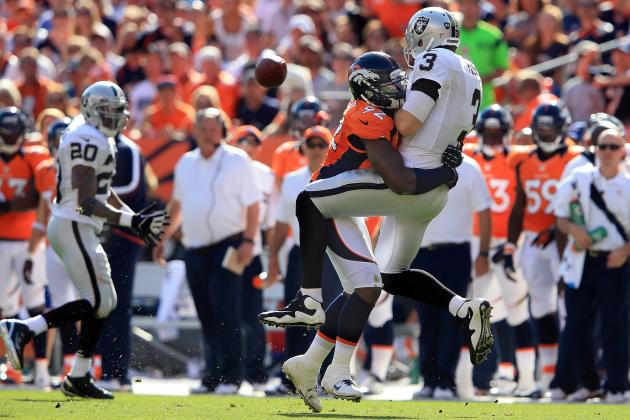 Doug Pensinger/Getty Images

With the decreased financial burden of top 15 picks, I believe we will continue to see teams willing to risk high selections on the quarterback position. With this being said, 8 quarterbacks have been drafted in the first round the last two years and the demand for the position may not be as high as it's been in past drafts.
I think it's safe to assume the Raiders and Bills will be in the quarterback market, but beyond these two teams, there are a lot of questions that need answering.
Will teams like the Jaguars and Jets be willing to move on quickly from young quarterbacks that have yet to live up to expectations? Has the new regime in St. Louis seen enough from Sam Bradford to want to look elsewhere? Is Cleveland's new owner willing to ride it out with a 29-year-old second year signal-caller?
Add in the seeming lack of elite talent at the position outside of West Virginia's Geno Smith, and we may only see one or two get their name called inside Radio City Music Hall on April 25th.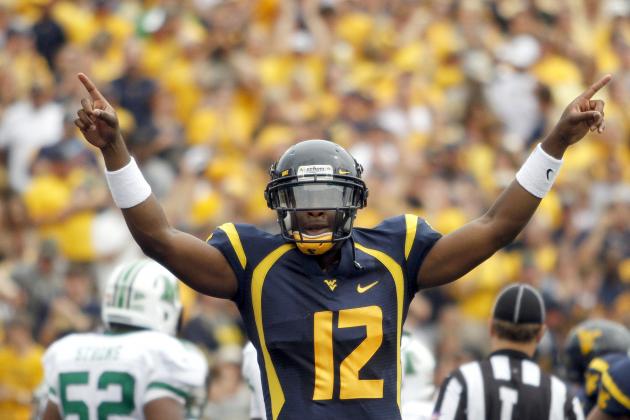 Justin K. Aller/Getty Images

Last weekend West Virginia quarterback Geno Smith torched Baylor to the tune of 656 yards and eight touchdowns, and in my mind is the early favorite to be the No.1 overall pick in April. While his accuracy, arm strength and mobility in the pocket have been impressive, he still has a lot to prove to NFL scouts.
While the lackluster early season schedule isn't his fault, the fact of the matter is he has not had the opportunity to prove to scouts he can produce under real pressure.
How will he perform when things are not going well? Will his mechanics break down when he sees constant pressure? What will be his response when he's down two scores early?
Hopefully Smith will get a chance to answer some of these questions this week when his Mountaineers take on Texas.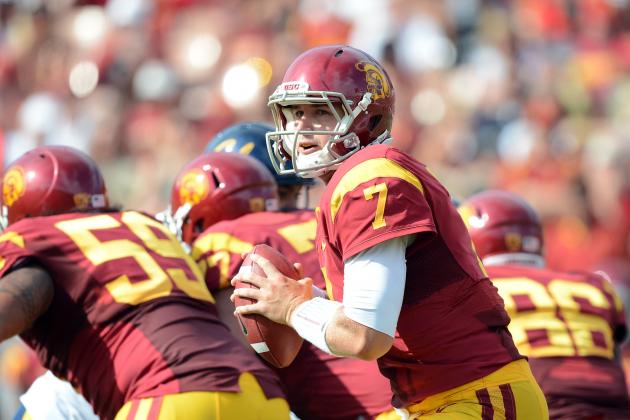 Harry How/Getty Images

USC quarterback Matt Barkley has been an assumed top 10 pick for quite some time, but does his production and physical talent actually warrant such a lofty status?
Its easy to get caught up on lofty career numbers like a touchdown-to-interception ratio of 92/38, but when I watch him on film I'm unimpressed by his poor decision making under pressure. He also appears to have just average arm strength and has benefited throughout his college career from the superior talent around him at USC.
Recent USC quarterbacks have not enjoyed the same success at the NFL level that they did in college, and I'm not sold that Barkley will be any different.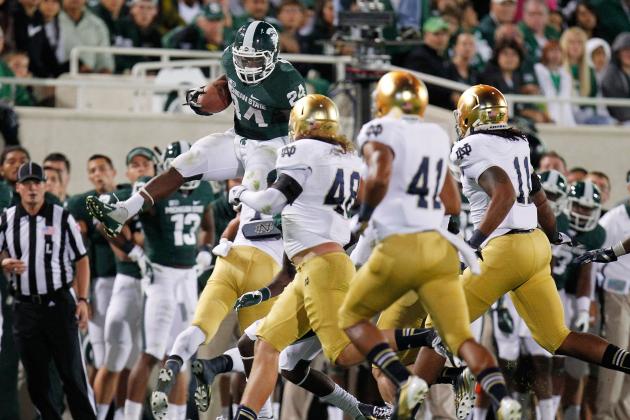 Gregory Shamus/Getty Images

Michigan State running back Le'Veon Bell was the star of week one of the college season as he ran over Boise State to the tune of 44 carries for 210 yards and two touchdowns while also tacking on six receptions for an additional 55 yards. However, despite his gaudy numbers and obvious power, I actually came away rather uninspired with his performance.
To me he is a one-speed athlete that runs upright and lacks the speed to get through holes before they close. When I watch him on film I don't see the agility needed to make tight cuts and don't see the elusiveness or ability to break tackles when defenders make contact before he gets to full speed.
While these criticisms generally suggest he should return to East Lansing for his senior year, Bell may not have much of a choice.
Teams are very cautious about drafting running backs that have extensive mileage on their tires, and Bell is on pace to break 400 touches this season. Factor in his previously mentioned upright, exposed running style, and teams are going to question his longevity regardless of whether he makes it through the full season healthy or not.
I believe these questions will drop Bell much further than some pundits are projecting at this point, and he will need to convince teams of his effectiveness as both a blocker and receiver in order to improve his draft status.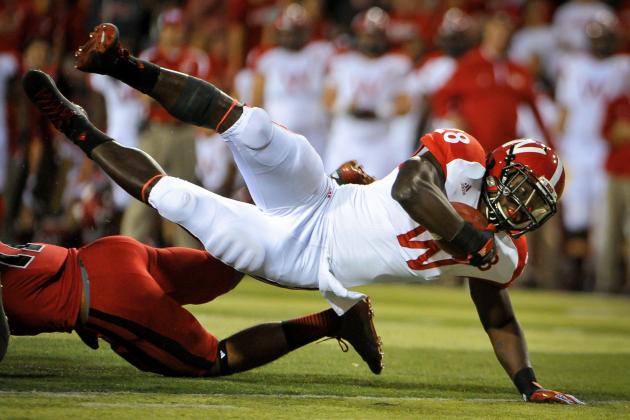 Eric Francis/Getty Images

In 2011, Wisconsin running back Montee Ball tied Barry Sanders' seemingly untouchable TD record, and some scouts projected him to be drafted as high as the late first round.
Despite knowing his quarterback and top two offensive linemen were entering the the 2012 NFL draft, Ball decided to stay in school for his senior season.
Thus far this has proved to be a disastrous decision, He suffered a concussion in a bazaar off the field incident over the summer, and got a second during Wisconsin's week four game versus UTEP (his third total during his football career).
While he played the following week against Nebraska his production throughout this season has been disappointing, as his yards-per-carry have plummeted from 6.3 in 2011 to 3.6 this year, and he has not looked as explosive or decisive at the point of attack as he did during his junior campaign.
To make matters worse, he is on pace for close to 350 touches this season which would put him over 650 the last two seasons and 1000 for his college career, further bringing into question his long term viability.
Barring a major second half turnaround, Ball could go from top 50 lock to day three afterthought.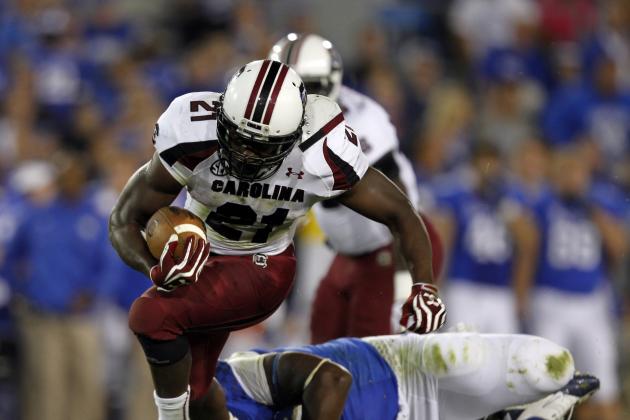 John Sommers II/Getty Images

Question No. 5 feeds into the big picture reality that running backs are not as coveted in today's NFL as they were in eras past in large part because even elite backs tend to have significantly shorter careers than nearly every other position on the field.
Ball's situation could certainly influence this year's underclassmen at the position, in particular South Carolina's Marcus Lattimore and Arkansas feature back Knile Davis, both of whom are coming off their own injury concerns.
Don't be surprised to see these two and other juniors declare early and cite Ball's fate as a big factor in their decisions.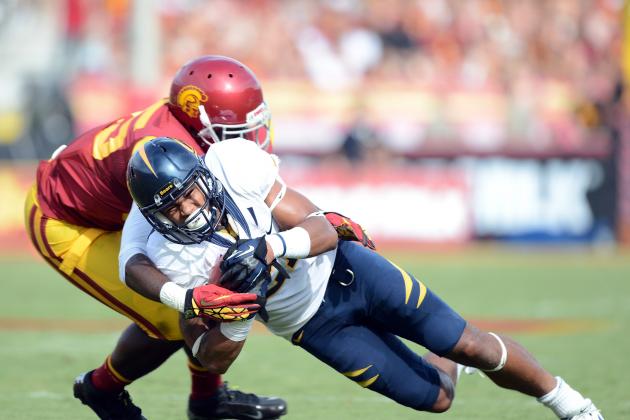 Harry How/Getty Images

After a very average 2012 receiver class that has struggled to make an impact early on during the NFL season, this year's crop of prospects appears much deeper.
The talent at the top stretches from east to west with the likes of Tennessee's Justin Hunter, Baylor's Terrance Williams and Southern Cal's Robert Woods, but right now our own Matt Miller lists California's Keenan Allen at the head of the class.
Regardless of which receiver is taken earliest in April, rest assured this is a very talented and diverse group. Expect to see at minimum 10 taken on days one and two of the 2013 draft.
Marshall's Aaron Dobson pulled of possibly the catch of the year in 2011, but despite limited production because of the limited talent around him he is much more one-highlight flash-in-the-pan.
He has good height and an excellent build, and looks quick and athletic on film.
While I don't expect his production numbers to be overly impressive this year, he will likely get his chance to shine in January during Senior Bowl practices.
Strong performances in the winter and spring could vault Dobson into second round consideration.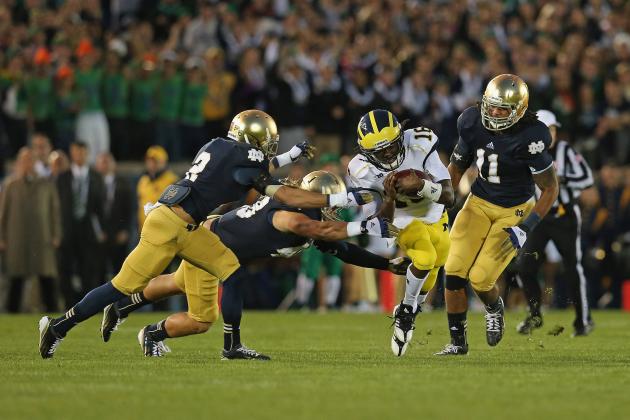 Jonathan Daniel/Getty Images

At this stage I don't think NFL teams would consider Michigan's Denard Robinson a legitimate quarterback prospect even if he was Cam Newton's size, as his footwork, mechanics and decision-making are all key reasons for Michigan's early season struggles.
This being said he is possibly the most explosive playmaker in the country once in the open field and will certainly have NFL offensive coordinators clamouring for his services.
While some believe he can be a versatile utility player on offense that line's up all over the field to create mismatches, I think he will struggle to adapt to such a diverse role. He has not shown the ability to diagnose defenses as a college quarterback, thus I worry he will have a hard time making proper sight adjustments in the NFL when lined up at receiver.
I believe his best chance to make it at the next level is to start off as a return specialist while picks up the nuances of a brand new position on offense. Regardless of his role initially, do not be surprised to see a team take a gamble on him late on day two, as his combination of elusiveness and speed is truly rare.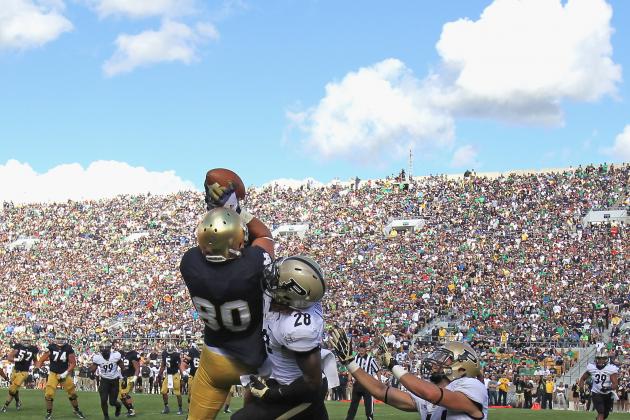 Jonathan Daniel/Getty Images

Tight End aren't often selected in the first round, and in fact Cincinnati's Jermaine Gresham was the last to have this honor back in 2010.
Notre Dame's Tyler Eifert could be the next if he continues to impress, as he is a very good athlete with the size and ball skills NFL teams covet at the position.
As is often the case with tight ends, blocking will be the key to his draft value. If Eifert proves in 2012 he can be an efficient in-line blocker in addition to a receiving threat over the middle, he might be wise to make the early jump to the NFL.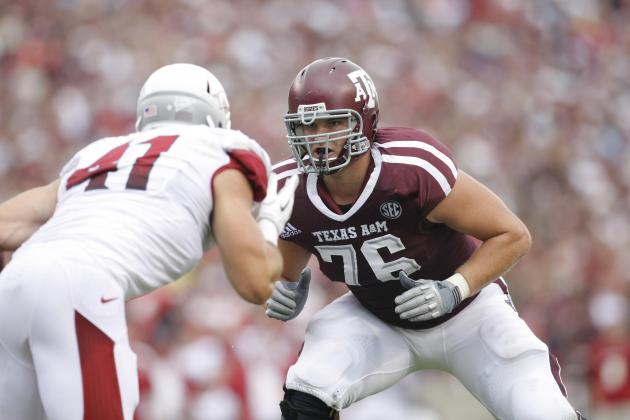 Brett Davis-US PRESSWIRE

Looking at Matt Miller's latest draft board, this appears to be a very average senior class at offensive tackle, as the top senior on his list (North Carolina's Brennan Williams) is only ranked 47th overall.
In fact, his top four players at the position are all underclassmen, thus making the strength of this group largely dependent on how many juniors declare early.
Only two offensive tackles were taken in the first round of the 2012 draft, and we could see a similar number taken in 2013.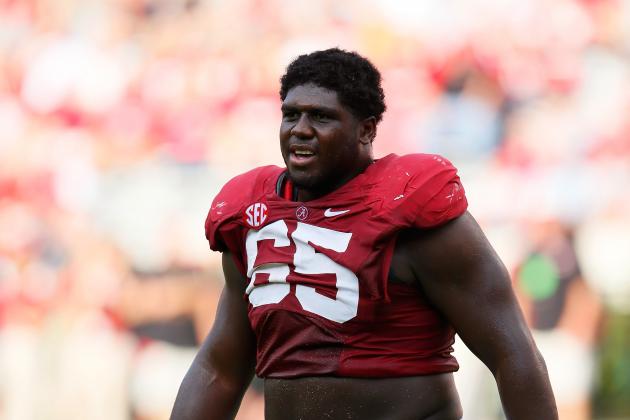 Kevin C. Cox/Getty Images

There have been several outstanding interior offensive linemen drafted in the first round in recent years including Cleveland's Alex Mack and San Francisco's Mike Iupati, but Alabama's senior guard Chance Warmack could become the best of the bunch.
Warmack has a rare combination of quickness and power, and more importantly a strong desire to finish.
He plays with consistent base and leverage allowing him to control the line of scrimmage with brutal punching power.
He is also an effective player in space because of his ability to get out of his stance quickly and play under control at the second level.
If he continues to play his current level of physical dominance and intensity he could hear his name called within the first 20 picks of the 2013 draft.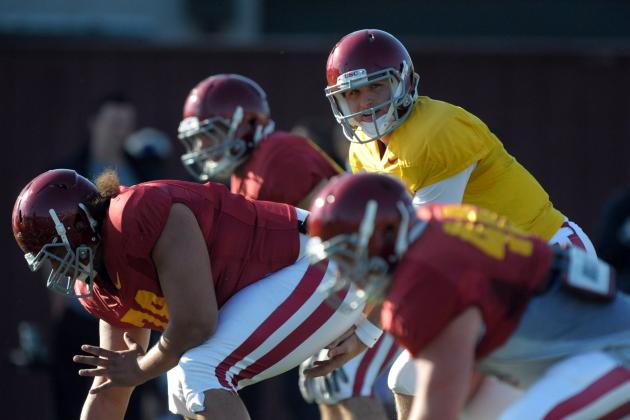 Kirby Lee-US PRESSWIRE

No centers were taken in the first round of the 2012 draft and while there doesn't appear to be any elite talents at the position this year, Southern California's Khaled Holmes has a huge opportunity to stand out from the pack with an impressive performance on Saturday against Utah defensive tackle and top 15 lock, Star Lotulelei.
Holmes is a three year starter at a school with a reputation for churning out NFL talent on the offensive line, and has experience at guard as well as center.
If he can hold Lotulelei in check this weekend, he could significantly elevate his draft stock.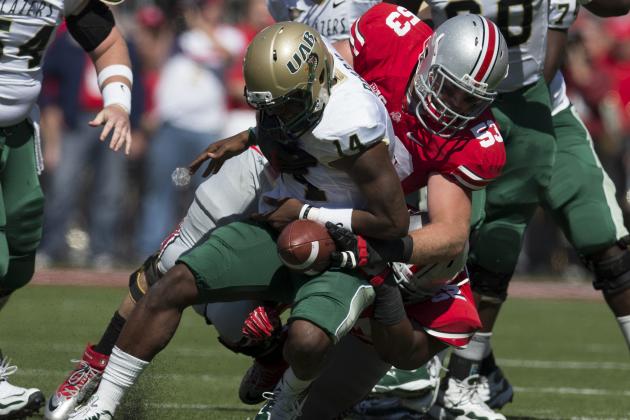 Greg Bartram-US PRESSWIRE

Lotulelei isn't the only elite talent at defensive tackle this year, as Ohio State's Johnathan Hankins has been just as impressive on film.
Both men are excellent athletes for their size and are known for dominating the trenches with their elite strength.
Thus far Hankins has been the more consistent player but depending on team need I would not be shocked to see both players taken among the top 10 picks of this year's draft.
Andy Lyons/Getty Images

At 6'7" and 280 lbs SMU's Margus Hunt is a physical specimen with huge upside for the next level.
After showing flashes of his raw potential in 2011, he has failed to live up to expectations so far this year, but the Estonian is still learning the game as he came to the United States on a track and field scholarship and has only been playing American football since 2009.
I like Hunt's first step burst but he needs to dramatically improve his hand usage.
He was the topic of much debate in war rooms throughout the offseason, as I fully expect defensive coordinators to fall in love with his size and athleticism.
Despite his average film, don't be surprised to see him make a post combine surge similar to that of New England's Chandler Jones this past year.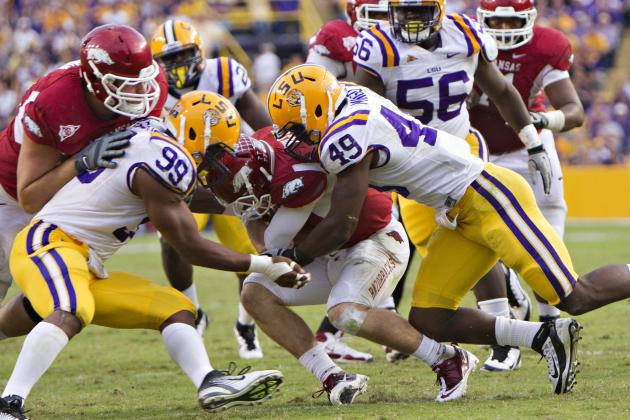 Wesley Hitt/Getty Images

2013 is loaded with 43 defensive end and 34 outside linebacker talent. In fact, Matt Miller currently has eleven 34 rush linebackers listed in his top 50!
While much of the early draft talk will revolve around Georgia's Jarvis Jones and LSU's duo of Sam Montgomery and Barkevious Mingo, but Oregon's Dion Jordan could be the head of the class come January.
NFL defenses are always hungry for explosiveness off the edge, and this is shaping up to be one of the better classes of pass rushers in recent memory.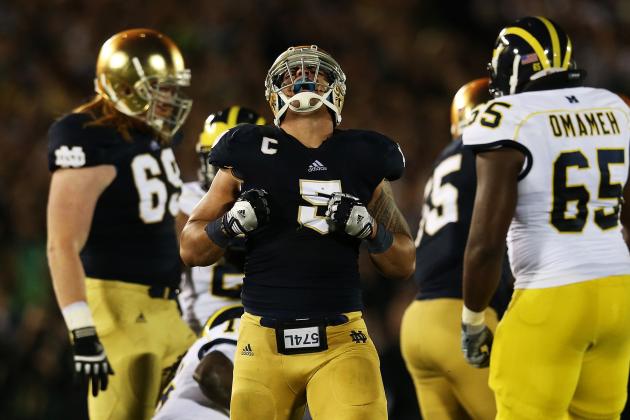 Jonathan Daniel/Getty Images

Inside linebackers are generally undervalued by today's NFL, and this year's class is thinner than most.
Notre Dame's Manti Te'o was a huge prospect coming out of high school and has enjoyed a productive college career. However, he will have to blow scouts away at the combine and at his pro day because on film he is not an elite athlete and does not make many plays behind the line of scrimmage.
Stanford's Shane Skov is another highly touted inside linebacker that I have felt lacks elite athleticism on film, and this was before he tore an ACL and missed most of the 2011 season.
Other prospects like Alabama's Nico Brown and Kansas State's Arthur Brown will be in the mix at the position, but I would not be at all surprised to see all of them still on the board once day one concludes.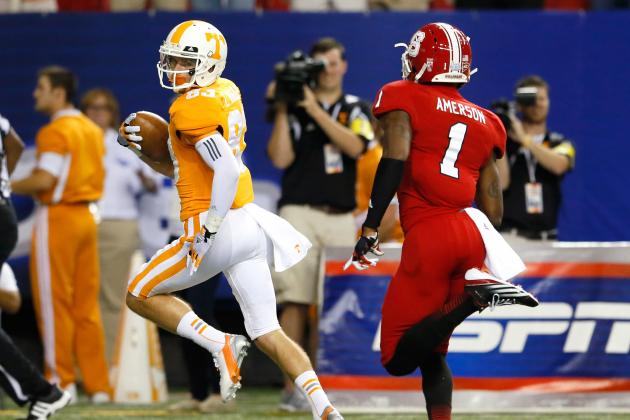 Kevin C. Cox/Getty Images

North Carolina State cornerback David Amerson exploded onto the scene with an ACC record 13 interceptions in 2011, but has struggled so far during his junior campaign.
He has been beaten deep on numerous occasions this season has appeared lost at times. While he is a very good athlete he lacks true elite speed, and may be better suited to switch to safety, where he has experience dating back to his high school days.
If he continues to struggle this season he could opt to return to NC State for his senior year, but either way expect the cornerback vs. safety talk to heat up when Amerson's name is discussed for the next level.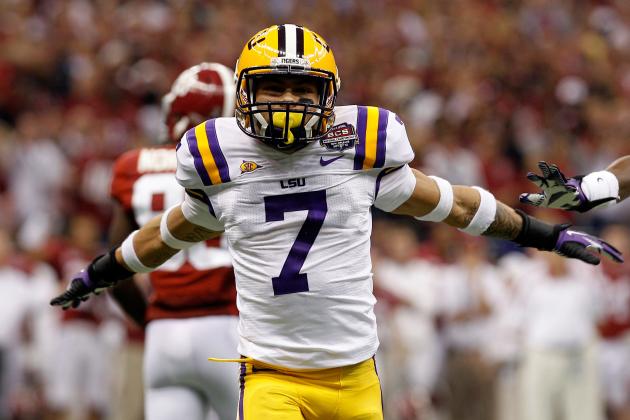 Chris Graythen/Getty Images

Former LSU CB Tyrann Mathieu followed up his 4th place finish in the 2011 Heisman ballot by getting dismissed from the team this summer after multiple positive drug tests. While other big name talents with similar struggles (i.e. Florida's Janoris Jenkins, Tennessee's Da'Rick Rogers) have opted to transfer outside of Division I in order to continue playing football Mathieu has essentially put his football career on hold and instead re-enrolled in classes at LSU.
While LSU head coach Les Miles has hinted that Mathieu could be reinstated in 2013, he could opt instead to make the jump to the NFL.
While he lacks ideal size for an NFL CB Mathieu is a dynamic player in all types of coverage and could be a coveted nickel prospect - a position of growing importance in today's pass-happy NFL.
Returning to LSU would be a great story and certainly go a long way toward repairing Mathieu's image, but the allure of the NFL and likelihood of being a day two pick may simply be too great.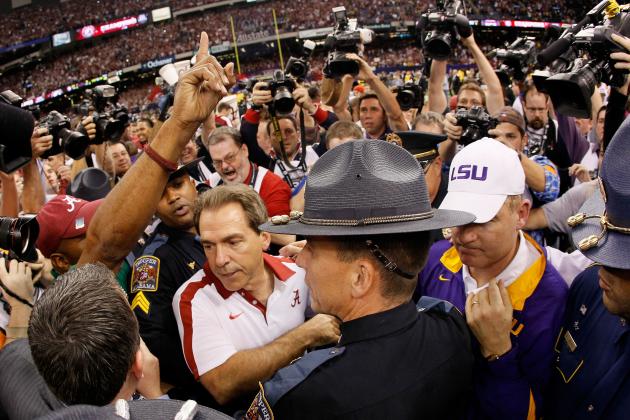 Kevin C. Cox/Getty Images

Alabama and LSU faced off in last year's national championship game but also made their presences known on draft weekend, as five prospects between the two schools were selected on day one of the 2012 NFL draft.
The two powerhouses could have an even bigger impact in 2013, as a whopping fifteen players between the two schools make it onto Matt Miller's latest top 100 prospect list.
Alabama and LSU clearly outclass the rest of the country in terms of depth of talent, and their are not only productive in college but they're making a huge impact on the pro game as well.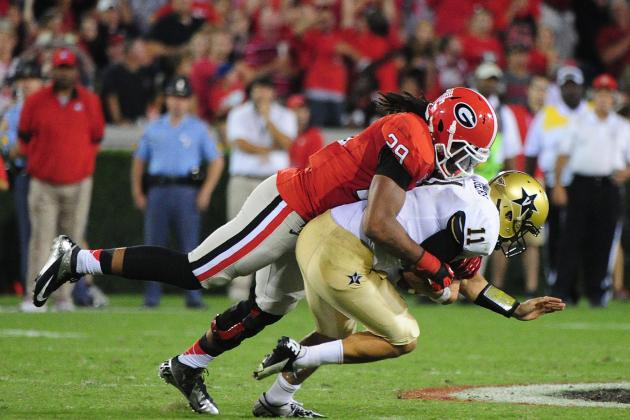 Scott Cunningham/Getty Images

Of the top twenty picks of the 2012 draft only three were upperclassmen. This has of course created a trickle down effect and weakened the current crop of senior as well.
With so many juniors dominating early draft boards at critical positions such as offensive tackle, outside linebacker and cornerback, it's safe to assume we could see a similar result in 2013.
While we're unlikely to ever match this past years numbers, don't be surprised if upwards of 20 juniors are selected in the first round of this year's draft.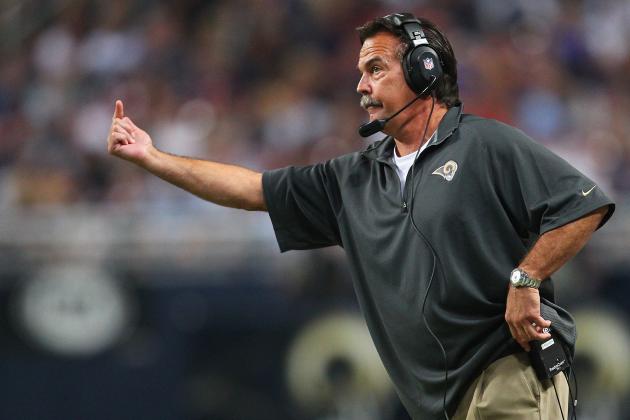 Dilip Vishwanat/Getty Images

While the Redskins have to be thrilled with rookie quarterback Robert Griffin III's rookie year progress, they paid a steep price to get him, which included giving St. Louis their 2013 first round draft pick.
Both St. Louis and Washington look improved thus far but are both likely to finish at the bottom of their respective divisions and out of the playoffs. This means St. Louis will have two very valuable high first round picks in the 2013 draft.
While the current regime could decide to replace quarterback Sam Bradford if he has another poor season, the front office is more likely to focus on glaring needs up front.
The Rams have holes throughout the offensive line and will also likely look to find a compliment on the defensive interior to 2012 first round pick Michael Brockers.
Regardless of positional need, the Rams must focus on acquiring talent—something they currently lack at all levels and on both sides of the ball.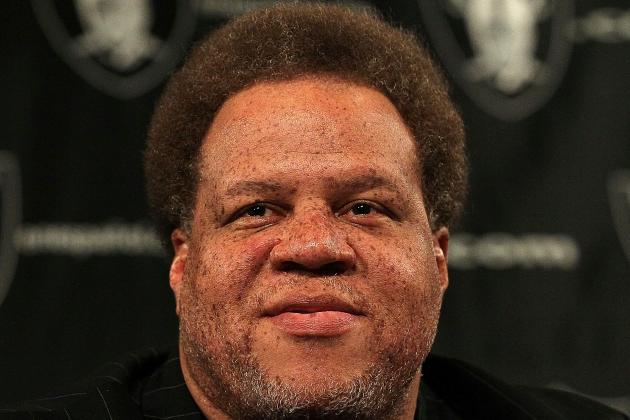 Justin Sullivan/Getty Images

Want to know one of the biggest reasons why the Oakland Raiders have been consistently one of the worst teams in the league as of late? Since I began evaluating NFL draft prospects in the 2008 college season, Oakland's first round picks have consisted of Darius Heyward-Bey and Rolando McClain.
Not only have they gotten just average production from the two players above, they have not had a first round pick since 2010! This obviously makes the franchise's 2013 1st round selection absolutely critical, especially when considering the Raiders gave their second round pick to Cincinnati as part of the Carson Palmer deal.
While new general manager Reggie McKenzie would love to lock up a legitimate franchise signal caller with the pick, this may not be a viable option if the Raiders don't secure one of the first two picks.
Like St. Louis, Oakland has holes at all levels and needs to focus more on accumulating the best talent possible than filling specific positions. McKenzie clearly has a long road ahead of him and the next big step is to hit on a first round pick for the first time since taking Darren McFadden in 2008.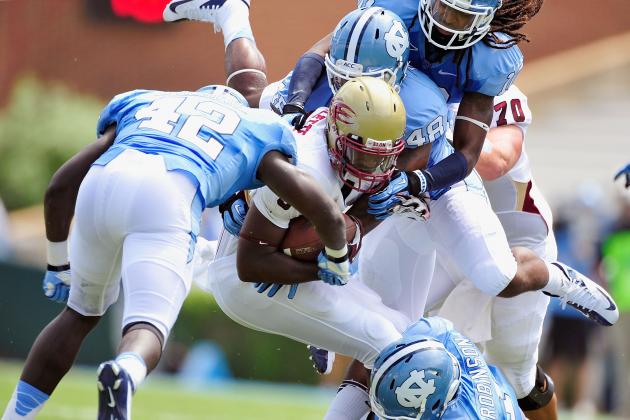 Grant Halverson/Getty Images
Elon WR Aaron Mellette
One of my favorite parts of the draft is grading small school prospects, and then re-evaluating them in January when best of the "little guys" get their chance to play with the "big boys" on the all-star circuit.
I had never heard of Andre Roberts before the former Citadel wide receiver lit up 2010 senior bowl practices, and now he is a dangerous No.1 wideout opposite star Larry Fitzgerald in Arizona.
Some of the top small school prospects to keep an eye on this year include Tennessee Tech wide receiver Da'Rick Rogers, Elon Wide Receiver Aaron Mellette and Southern Utah quarterback Brad Sorenson, but expect several new names to emerge as we get deeper into the evaluation process.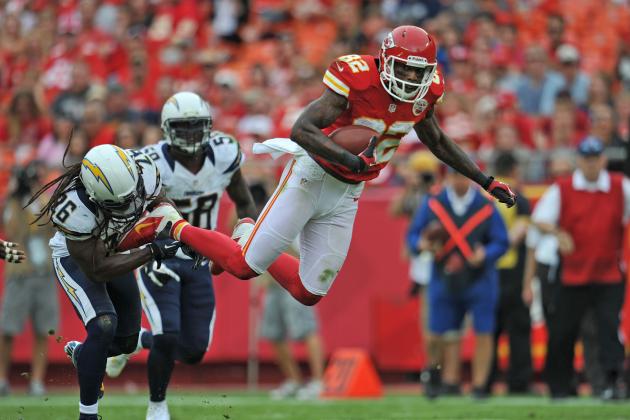 Peter Aiken/Getty Images

Mock drafts should be taken with a grain of salt this time of year, as not only are draft boards in their infancy but rosters will look very differently in April than they do now, and free agency plays a huge part of this annual turnover.
Last year Tampa Bay addressed major needs at wide receiver and offensive guard via free agency which undoubtedly altered their approach to the draft.
While the 2013 free agent class doesn't appear at first glance to have any elite names, current franchise tagged players like Kansas City's Dwayne Bowe and Detroit's Cliff Avril could make big splashes elsewhere if the Chiefs and Lions decide to let them walk.
It seems that more and more teams are adapting the approach of taking the top talent available in the draft regardless of position and relying on free agency to fill specific holes with role players, but its important to remember that free agency is still a major part of the draft process.